Photography and poetry are similar in many ways. It's not a strong relationship between the disciplines but is there is a tight one between the sensibilities. One of the greatest photographers of all times, Larry Towell is a visual poet indeed. He only shoots in black and white, and the accent is on the story. Working in some quite problematic areas of the globe, he had found himself in quagmires more times he could count. Palestine, El Salvador, Nicaragua, Afghanistan, all of them were seen and captured in a unique way. People, conflicts, emotions, everything that had some story to tell was immortalized. What makes him stand out among other great photographers is his love for home, his family and the land he grew on. Those feelings are so strong that one entire series is dedicated to, simply said, home.
The artist is a visual poet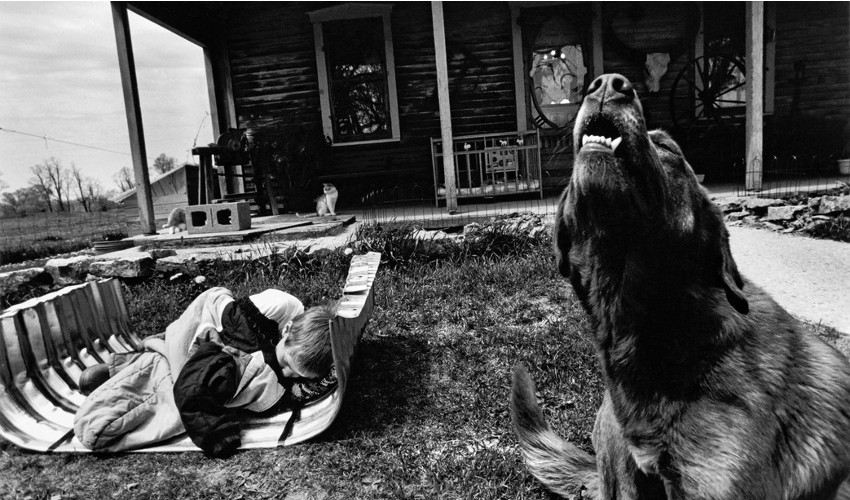 Poet, Writer and a Magnum
His experiences as a poet and a folk writer influenced his style of photography. A minimalist approach was chosen, and by shooting exclusively in black and white, the artist knows how to emphasize the story. Even the names of the photographs contain, other than the standard year and location, a short description of the moment captured. The words are a short version of the photograph, summarizing the picture in one sentence or in a short paragraph.
Joining the Magnum, the world's most prestigious photo agency, was a life-changing for Towell. Strict rules for new members made him a Magnum nominee in 1988, and after five years and two more revisions of his work, he finally became a full member in 1993. Other members had left an impact on the artist, both professionally and personally. Alex Webb, Sesan Meiselas, Gene Richards were some of the members who helped him in the process of editing, and they played a significant role in forming his distinct visual language. Josef Koudelka is another member Towell respects greatly, his dedication and the fact his work is non-commercial. Koudelka's support meant so much to Larry, and it still does. In fact, the very act of joining Magnum was so important that the artist admits he probably wouldn't be a photographer today, at least not a good as he is. Turning a poet into a photographer, that was all Magnum's credit.
Joining Magnum, the world's most prestigous photo agency was life-changing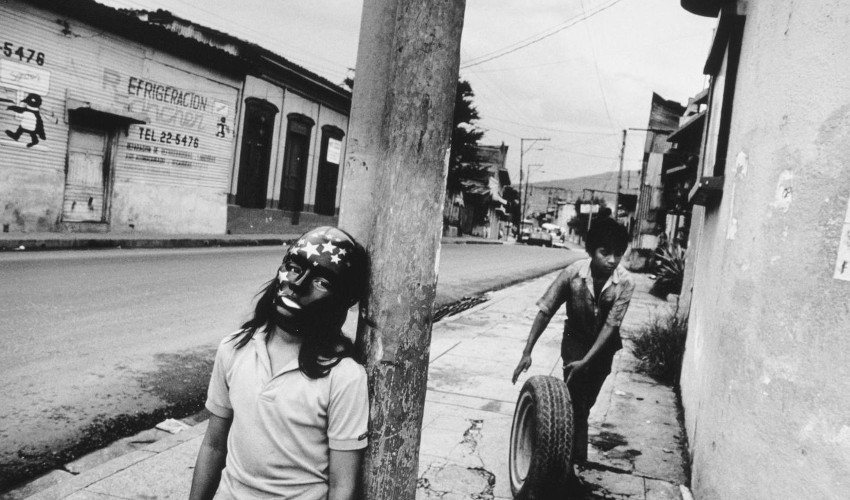 Afghanistan
The agency contacted Towell in 2008 about a project in Afghanistan. It was (and still is) a dangerous place, so he would have to be embedded with the British military. Since he just completed work in Palestine, the artist said he don't want to see the country for the first time with an embed, so he went there on his own. Before seeing what was happening militarily, Larry wanted to explore the social problems. He was always interested in a connection between people and the land. In this situation, casualties of war weren't only those who were dead or wounded, but all those who were forced to flee from the rural areas into the cities with absolutely no means.
Towell traveled to Afghanistan five times between 2008 and 2011, shooting both photographs and videos, documenting the variety of social issues that were hurting the people – the war and conflict, poverty, problems with drug addiction, all the way to the prevalence of land mines, many of being the remnants of the Soviet occupation in the 80's. This series is truly exceptional because the artist approached the work from multiple perspectives, so we can see ordinary Afghan people, cityscapes, weaponry, recreation, addiction and both US and British soldiers as well as rare portraits of Taliban warriors. The book containing the photos from this series is quite unusual, with all fibre prints and color prints taped to the page. It also has pencil writings, the words from Towell himself. All-together, it's a deep analysis of the conflict through his eyes.
The project was made possible with generous financial support from Mary Ann, Frank Arisman, Magnum Foundation, The Fledgling Found and the Rosenthal Family Foundation.
Social problems always came before military ones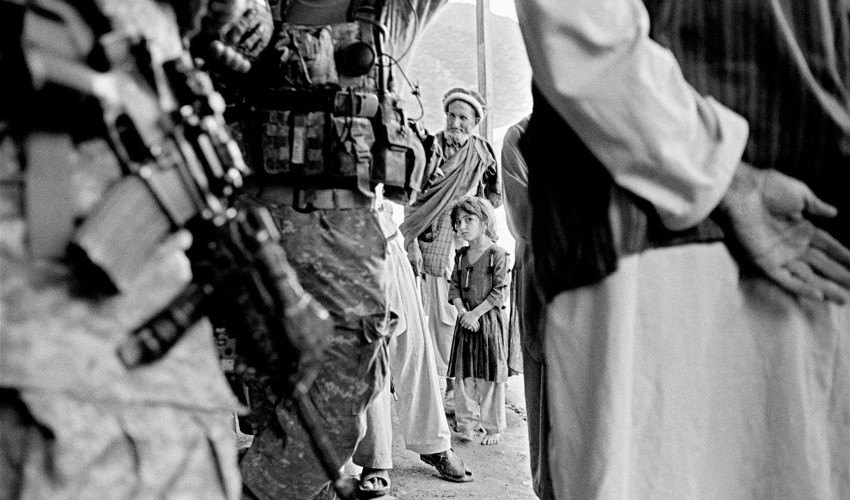 Around the World
The artist is known for working on several projects at the same time, and most of them took years to finish. El Salvador series took ten years before it was completed in 1996, and the Mennonite migrant workers project in Mexico was an eleven-year project that was completed in 2000. In 1997, his first book on the Palestinians was published, and the second one came in 2005, with the help of inaugural Henri Cartier-Bresson Award, both of which were highly acclaimed. As mentioned before, other than conflicts, Towell was very interested in the people, their everyday lives, customs and traditions. Problems they faced on a daily basis, struggles they had just to put some food on the table. Not strictly photojournalistic, his pictures and themes captured always seem to carry some message. Sometimes it was documentary and informational, very often it was a cry for help, a cry many could hear, but a few actually did something about it.
Several projects at the same time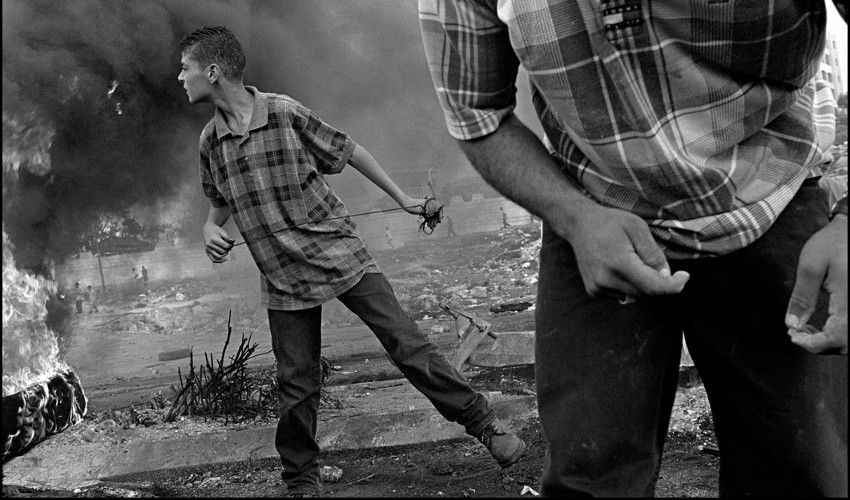 Raw emotions and spite spilling out of a Palestinian child, collective grief on a funeral of another young man, a civilian killed in protests, prostitutes in South America, transvestites having AIDS. The artist developed a certain connection with every single situation, and with each person captured, he felt the pain of them all, their fears and their struggle. He wanted to tell a story about all of them and right there lays the secret of his success and uniqueness of his work.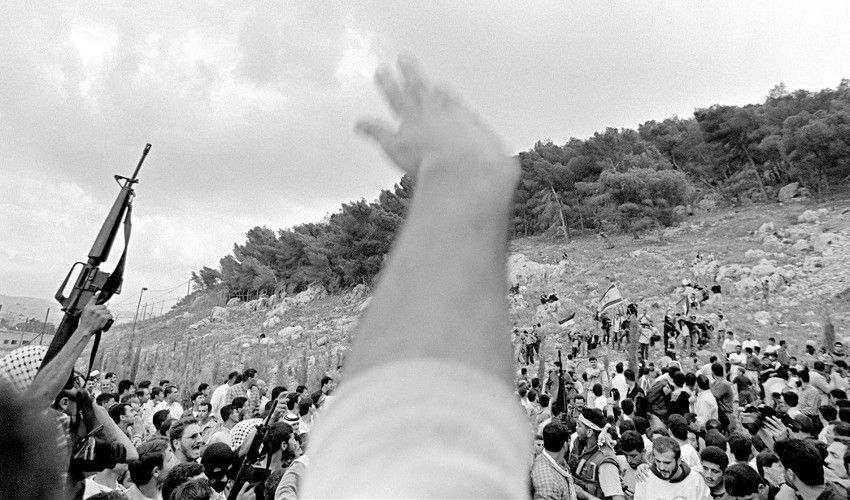 It's All About the Family
It would be a shame if the artist had managed to tell so many stories about people from all over the world, but not his own, the story of his family and the land he grew on. The world from my front porch is so much more than a mid-career retrospective and a collection of chosen images from the Larry's personal archive. In fact, it is well thought and a project that certainly evokes emotion on a different level from the rest of his work. The main theme is the importance of belonging and the true value of family. Wars and violence have been dominant in his previous work, but this is where the artist really shines out. Placed and surrounded by family, the artist is emphasizing the values many have lost in the modern days. In a way, his work around the world has defined him, but he became the person he is because of his family.
There are three parts in the series, first is a historical archive of documents, photographs and found objects that show the past of his Ontario farmstead. Many of these pictures were taken by his mother and his grandmother, who he considers being a better photographer than himself. The second part is a collection of images from the artist's life, portraying his family for over twenty years, and the third is another collection, this time of his projects as a Magnum's photojournalist. These are the three elements that shaped Towell into the man he is today. The series has a subtle message of no matter how much the work is important, family will always be No. 1. It presents an almost sentimentalist ideal that reinforces all the values the home possess and just how precious the family is.
Values of home and family mustn't be forgoten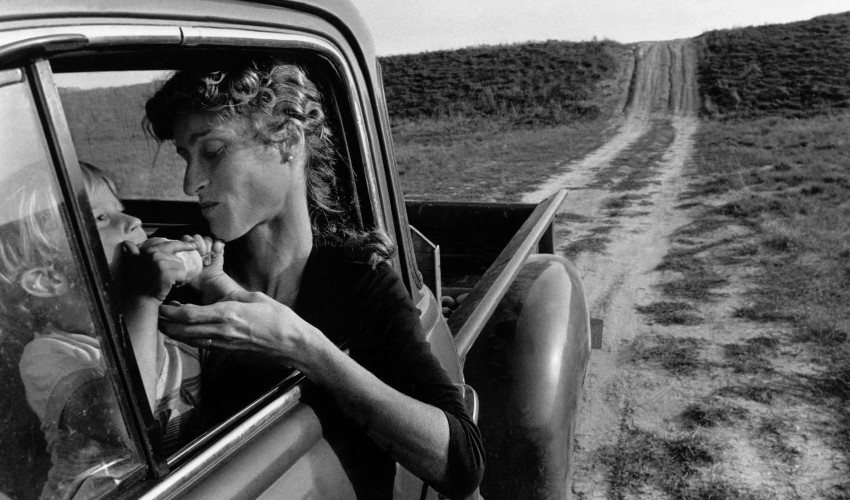 People and Their Stories
Larry Towell was born in Chatham, Ontario, in 1953. He studied Visual Arts at York University in Toronto, after which he volunteered in Calcutta where he began photographing. It could've been a much different path as he didn't really pay much attention to photography when he was younger. Studying visual arts, it certainly wasn't his ambition to become a photographer. It sounds weird since photography was a part of visual studies, but it wasn't photojournalism, it was art photography, which Towell never cared about. It's always been about people and their stories.
In the beginning, he was more interested in poetry and writing than being a photograph. Poets and writers were funded by the government, photography wasn't. There were no Canadian photographers, and the whole area was stagnant. Then he went to India and got interested in the questions of wealth distribution and the balance of power. In the 80's he went to Central America, and that's when and where he became quite serious about the photography. Suddenly, it was people's lives at stake, and photography provided an excuse to simply be there and interact with the people, hearing and capturing their stories. He was inspired by those folks, standing up for themselves, against oppressors and dictators. At this time, he was more of a writer, carrying tape recorders with him interviewing people.
After returning home, he didn't quite know what to do with his work. So he found about Magnum, and after one phone call sent them his pictures. Member gathered for an annual meeting and decided to invite Towell to join. It was a turning point in his career, but his parents, who were working class and never traveled anywhere, couldn't grasp the significance of this invitation. They had eight children and were somewhat poor, living on a small farm. Fortunately enough, because of their low income, the artist got a lot of student assistance, of which half were grants, so he went to college.
He is also a musician, the sound was always very important to him, and he always collected it. His first project was recording people talking and taking their testimonies. Then he began carrying a video camera and tapes. The artist was working in multimedia before it was even recognized under that name. In these days, there are expectations that every still photographer must also be a multimedia.
He didn't pay much attention to photography when he was younger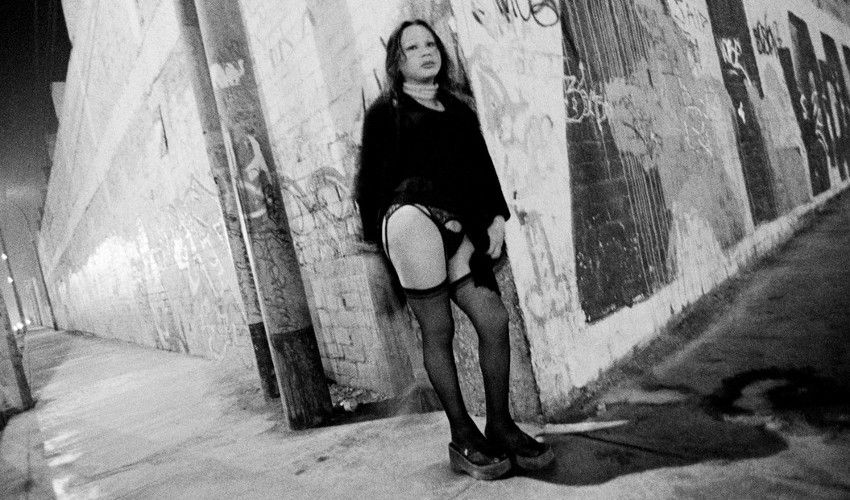 Larry Towell understands news photographers, but could never be one. Deadlines, short life of those pictures, constant running to fill daily quotes, all of that is the exact opposite of the artist's essence. Projects take years to complete. They provide a unique insight in specific countries, areas and people. War, violence, death, life, emotions, everything is there, clearly shown in pictures. Sometimes they will bring us sadness, sometimes joy, but they will always trigger an emotional response in viewers. It's an amazing accomplishment made by the pioneer of the Canadian photography.
During the many years he worked (and he plans to work many more, retirement is not an option), Towell risked his life, but the risk has paid off. Independent source of information was presented to the world, and the silenced voices were finally heard. One could only wonder where work will take Larry next, and what amazing photographs will he shoot this time. It isn't easy with all those expectations, but he never did it for the sake of money and awards. Sure, they feel good and make further work possible, but it's the people who were always in the focus of his work. People and their stories are presented in a form of visual poetry, captivating from the first moments eyes are laid upon it.
It feels only appropriate to finish with a quote from the artist himself: "There are two things everyone is in the world: one of them is a photographer and one of them is a poet."
He is represented by Stephen Bulger Gallery in Toronto, Canada.
Larry Towell is based in Lambton County, Ontario, Canada.
Feature image: portrait of the artist, photo credits Aaron Vincent Elkaim.
All images copyright © Larry Towell/Magnum photos.