Through the day Laser 3.14 roams the streets of Amsterdam, in search for the right place to write his graffiti. When the night comes, he returns to the same spot and decorates it with thought-provoking sentences. The word "laser" in his tag comes from his love for SF, while 3.14 is the number pi, which in this case stands for "public image". He writes 2-line phrases combined with his tag that are a fusion of squatter statements and political messages. They do have a strong political element but are more poetic than the usual graffiti you'll find in city streets.
Laser 3.14 writes sentences that are a fusion of squatter statements and political messages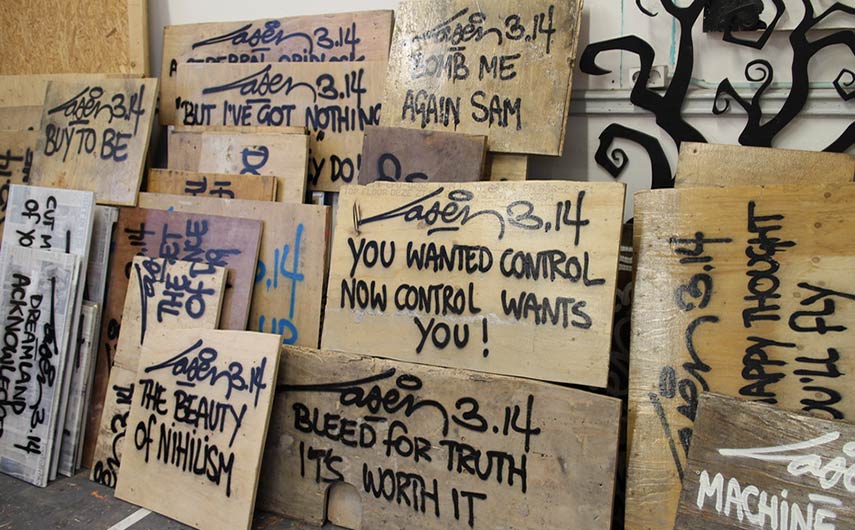 Sending a Clear Message
In a world that's confusing and complex, Laser 3.14 rarely writes euphemisms and goes right for the head. There isn't a lot of space for being polite if you want to say something direct, but you can still do it with elegance. Laser 3.14 knows that and even though his work often contains metaphors, you can easily understand them and create your own story about it. In a simple and honest manner, he writes his lines on walls and various temporary spaces, such as wooden plates that can often be found near a construction site. Laser 3.14 began writing poems in the early 90's, through which he developed his way with words. This helped him to create a unique style of processing his thoughts into clear and honest statements. Besides political themes, he often writes about popular culture, religion and everything else that it's important, but people have a tendency to forget. Today's people are busy and often don't have time to contemplate. Thus, it's important to send a message that will stick with them long after they pass by one of graffiti.
Laser 3.14 wrote poems in 90's, which helped him to develop his way with words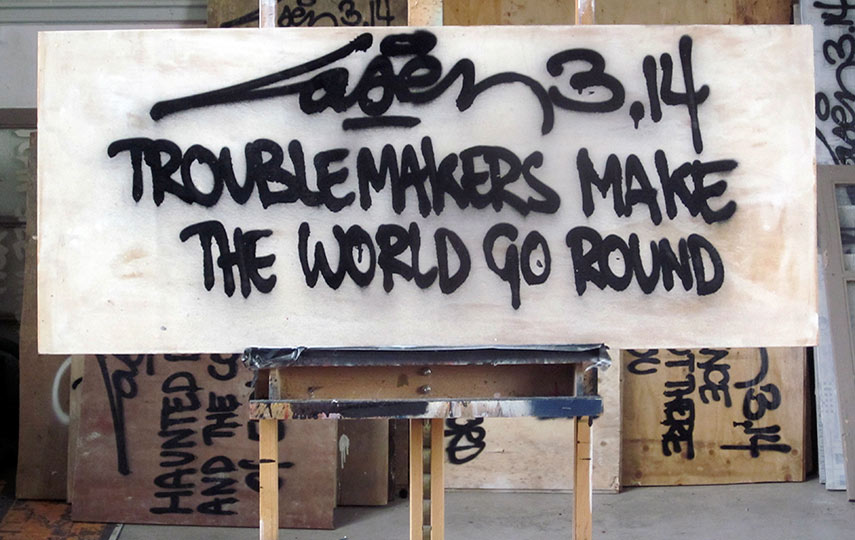 Anonymous Hero
Dressed in black most of the time, Laser 3.14 comes as a hero to the people of Amsterdam. Keeping his identity secret, he is able to switch the focus of citizens from him to his work. His art can be seen everywhere, but he is nowhere to be found. The only thing that connects him and people is his tag, left every time with his graffiti. This is an interesting concept that tells a lot about the way Laser 3.14 thinks. He knows it's not a person who moves people to action, but an idea that can live on forever if sent right. You can't think for others, but if you find a thought that connects your world and the world of others, the results are rewarding. Laser 3.14 found the "bridge" to connect with others and it's his graffiti poetry. His short, sharp and intellectual provocations will be known for a long time to come.
He knows it's not a person who moves people to action, but an idea that lives on forever if sent right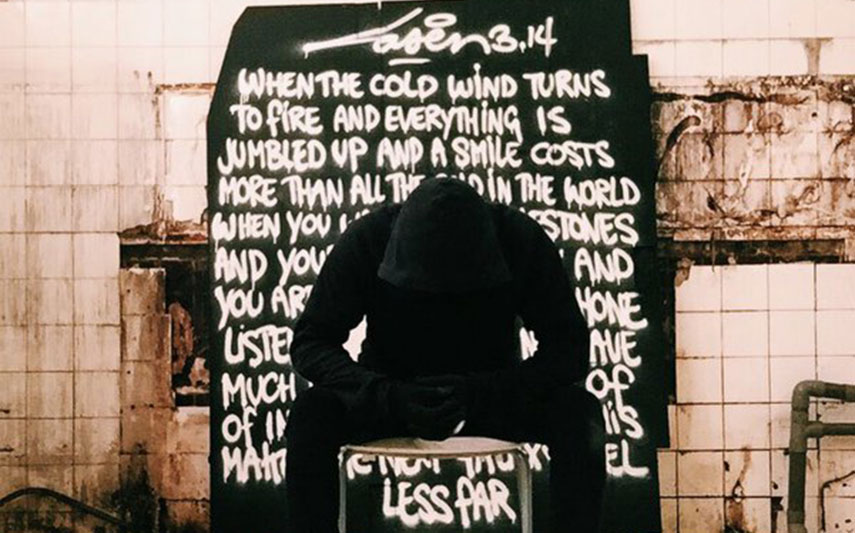 From the Streets to the Galleries
Besides walking through Amsterdam, Laser's artworks can be seen in galleries as well. As a person who combines the urban ferociousness and the aesthetical nature of art, Laser 3.14 has been recognized as a true artist - one that's always active in what he does and has no intention of stopping. No opportunism concealed by fake politeness- only respect and honesty with himself and people that surround him. Two traits every artist needs in order to create truly great art.
He is represented by Vroom & Varossieau in Amsterdam.
Laser 3.14 lives and works in Amsterdam, Netherlands.
Featured image: Laser 3.14 (Detail) Photo Credits; www.laser314.com
All images used for illustrative purposes only