As a multidisciplinary artist, Lauren Baker explores the fragility of life and what comes after that. Exactly as her approach to creating is multidisciplinary, so are the subjects of her art. She presents her interest in after-life through sculptures of animal and human skulls. Her ornate skulls have been recognized both in the art world and popular culture. Recent George Michael's music video – White Light, which featured Kate Moss had Lauren's skull art in it. Besides skull designs, she also does installations. 100 of her mirror eyes were attached to trees at Unknown Festival in Croatia.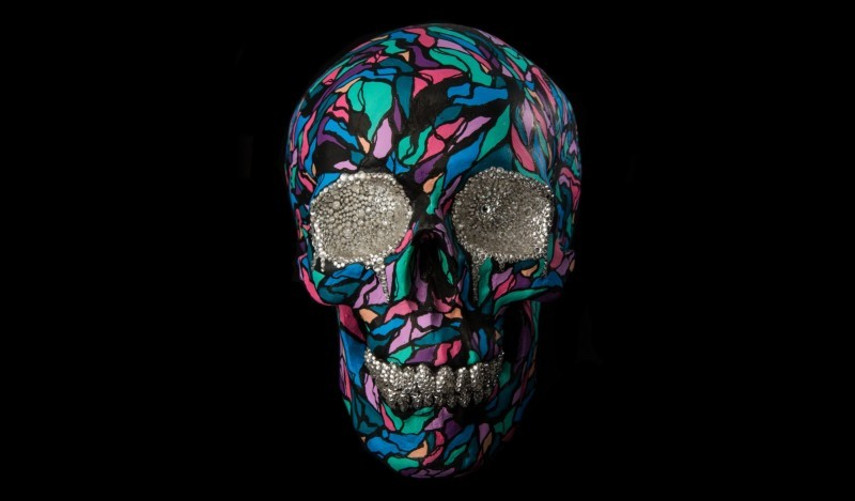 The Queen of Skulls
Lauren's journey to becoming an artist is a strange one. After a trip to South America where she helped to do street art and more importantly, had an epiphany in the Peruvian Amazon, she decided she had enough with her life, gave up on her daily job and started doing sculptures. For Lauren, skulls represent the connection between this life and after-life. In the traditional Day of the Dead in Mexico, skulls question death as the true end, the similar importance they have for Lauren. Her first exhibition was in the basement of a small pub, after which her career as an artist skyrocketed. Tate Britain heard of her strange mosaics and ravish sculptures and asked her to collaborate in the Damien Hirst exhibition. It didn't take long for galleries and people from popular culture to pay interest in her work. Soon enough, Lauren became known as Queen of the Skulls.
For Lauren, skulls question death as the true end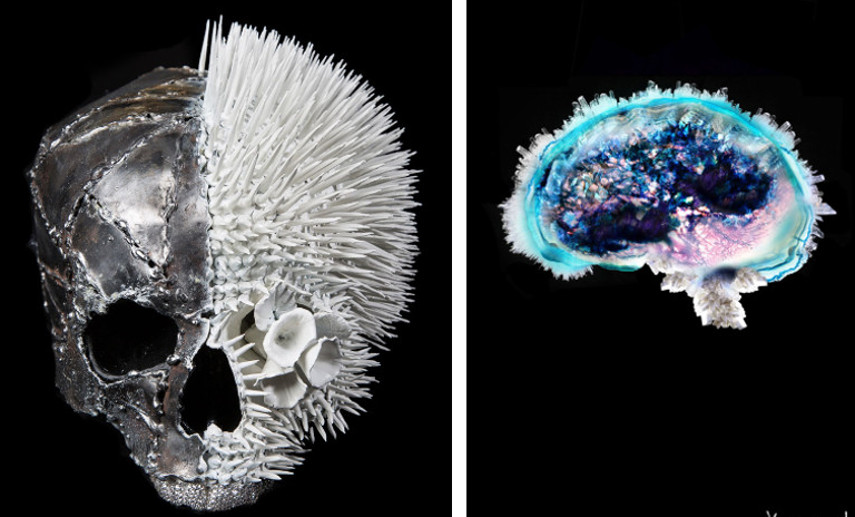 Lights, Space & Energy
Later in her career, Lauren started getting interested in incorporating neon lights with moving sculptures and infinity mirrors. With the intrigue for reflective material and the ways it could be used, Lauren created the first infinity mirror coffin, which was later presented in Tate Britain. Title The White Light, it served as a "door to another world". This installation deepened her interest in ways life and death are connected. But maybe one of her most intricate work as of recently is the one which was sold for 420k pounds. In collaboration with British piano brand Goldfinch, Lauren decorated a Steinway grand piano with half a million crystals, after which it was sold to a Qatar sheikh. Her lavish art pieces are both provocative and engaging to people. Why some might find it blatant, there are more of those who find her creativity both intriguing and worthy of presentation in various galleries.
Lauren created the first infinity mirror coffin, which was later presented in Tate Britain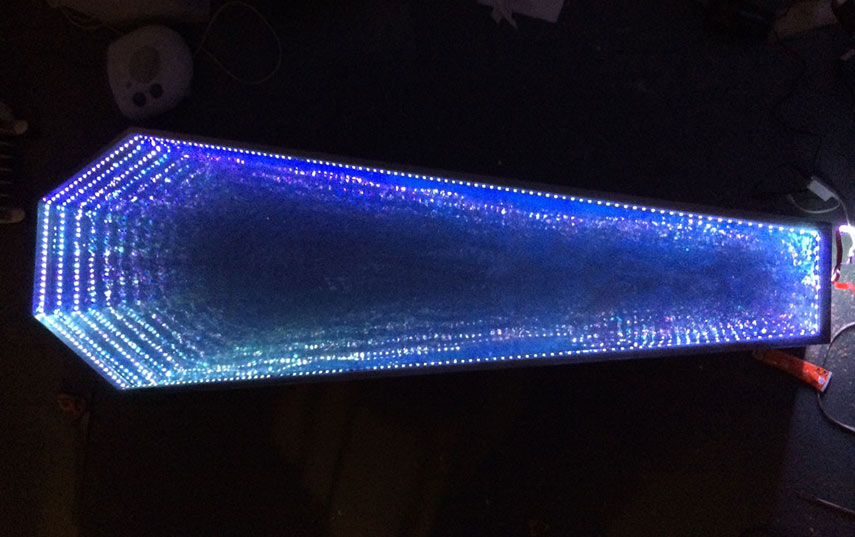 Tigers in Need
Lauren is a young contemporary artist who managed to achieve a lot in a short time. With every next project, she takes a different approach in which she implements her interest in the topic of life and death. Similar as it's impossible to really know what comes after life, so it is hard to guess what her next work will be. Besides doing art, Lauren is also an ambassador for Save Wild Tigers, where her artwork has raised more than 50k pounds. Besides that, she curated Thrive exhibition which featured 20 artists. Taking place at the Sanderson in London and auctioned at the Mango Tree dinner, the event raised £62K. In 2016, Lauren still supports and contributes to the charity.
She is represented by Hang-Up Gallery in London.
Lauren Baker lives and works in London, UK.
Featured image: Lauren Baker - portrait, photo credits Neil Collins
All images used for illustrative purposes only