Known for her pioneering work that spans over a wide range of mediums and techniques, Laurie Anderson is an American artist whose pieces can be best described as experimentations with performance and multimedia projects. A successful composer, musician and film director as well, this New York City-based author initially trained in violin and sculpting before she focused her attention on a variety of performance projects during the 1970s. It should be noted that, although she was always extremely well-regarded within the neo-avant-garde arts circles, Anderson became a musical icon in the 1980s for her hit single O Superman, a song that reached number two on the UK pop charts. It should also be stated that Laurie Anderson was married to the legendary Lou Reed and the two remained a couple up until the time of the late musician's death in 2013.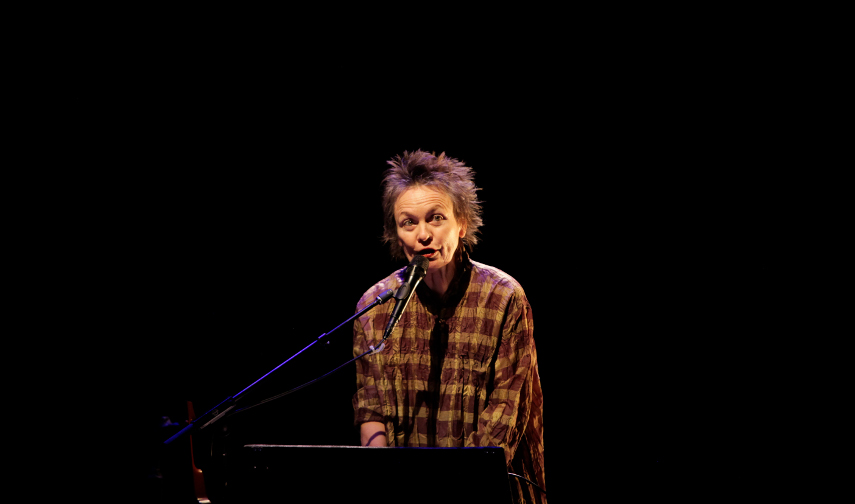 First Performances and Recordings
Laurie Anderson was born on the 5th of June in the year of 1947, in the town of Glen Ellyn, Illinois. She was the daughter of Mary Louise and Arthur T. Anderson. After graduating from the Glenbard West High School, young Laurie attended Mills College in California and eventually graduated from the Barnard College where she was mainly studying art history. By the end of 1972, Anderson received her MFA in sculpture from the Columbia University. Her first performance piece was a symphony played on automobile horns was performed in 1969. In the early 1970s, she was drawing underground comic books, working as an instructor, a critic for magazines such as Artforum and was in charge of illustrating a few children books[1]. Soon, Laurie will start dedicating all of her efforts to performance art and similar projects - one of her more famous early pieces was titled as Duets on Ice and it involved her playing the violin along with a recording while wearing ice skates with the blades frozen into a block of ice. The performance would end only when the ice block would completely melt, allowing the author to free herself.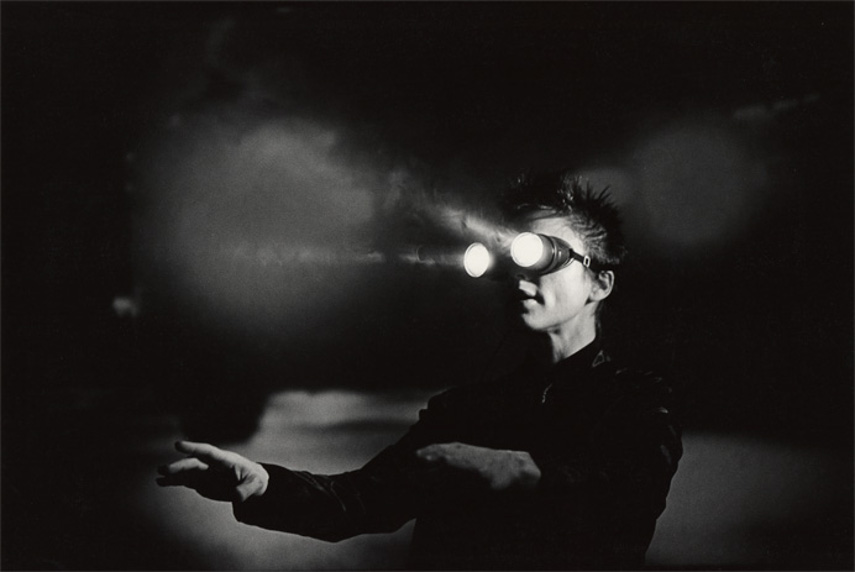 A Rising Star
Other notable projects from the early periods of the artist's career were New York Social Life and The Time to Go, both of which enjoyed massive success from the critics. During the late 1970s, Anderson made a number of musical recordings that were released either privately or were included on compilations of avant-garde music. However, it should really be noted that many of Anderson's earliest recordings remain unreleased to this day whilst many were only issued in limited quantities. In the year of 1980, Anderson was on the receiving end of an Honorary Doctorate from the San Francisco Art Institute. Two years later, she was awarded a Guggenheim Fellowship for Creative Arts—Film.
Above all else, Laurie Anderson is known for her artistic versatility and alternative approaches to creativity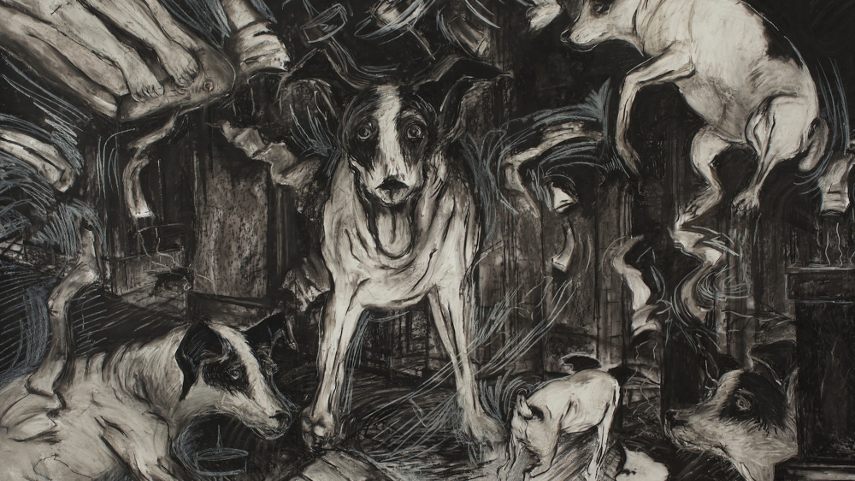 All the Shows, Film Projects, Festivals and Music
As it was already mentioned in the opening paragraph, Anderson became widely known outside the arts world in 1981 with the single O Superman, originally released in a limited quantity by B. George's One Ten Records in 1981. A few years later, Laurie starred in and directed the 1986 concert film Home of the Brave and also created a few soundtracks for other independent films. From the 1990s, Anderson and Lou Reed collaborated on a number of recordings together. Furthermore, Anderson became more aware of science and its importance to the human race, becoming a bigger part of scientific shows and festivals. This fascination with science eventually blended with her artistic practices, offering an interesting mix that will become a unique form of work Anderon is now known for. In 2003, Laurie even became NASA's first artist-in-residence, an event that inspired her performance piece called The End of the Moon. With the explanation that she provided an outstanding contribution to the beauty of the world and to mankind's enjoyment and understanding of life, this artist was awarded the 2007 Gish Prize. Over the course of the 1990s and the early portions of the third millennium, Laurie Anderson received an astonishing number of awards and held even more exhibitions of her work, as well as developing countless projects that were all deemed as being great accomplishments[2][3]. She was also the author of countless musical albums and singles, whether they were of the avant-garde, experimental sort or the more conventional type. Regardless of what she was working with, Anderson was always extremely successful and there is not taking that away from her.
Laurie Anderson is one of those rare artists in the world of art where using the word pioneering is not an overstatement in the slightest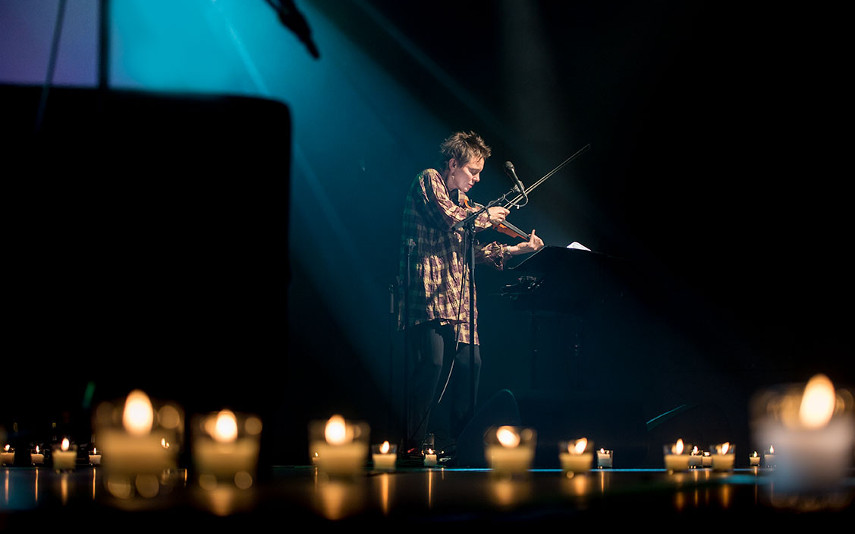 The Uniqueness of Laurie Anderson
The reason why the art of Laurie Anderson is so hard to define is also the main reason why everything she ever created is held in such a high regard - it's incredibly pioneering and utterly unique. It defies any attempt to be precisely categorized or fully defined simply because there are not many similar arts out there deserving of being compared with the pieces of Anderson. With that being said, Laurie's particular use of language, technology and visual imagery is simply astonishing. The way she was able to provide her expression with the circumstances to thrive and evolve is also been quite crucial as these types of artists need to constantly test themselves in order to be the best that they can be. Ultimately, the work of Laurie Anderson keeps developing to this day and we shall surely be surprised if at one point she stops being observed as one of the most pivotal artists that emerged during the course of the 20th century.
Laurie Anderson lives and works in New York City, The United States.
References:
Goldberg, R., Laurie Anderson, Harry N. Abrams; First Edition, 2000
Anderson, L., Laurie Anderson: Night Life, Steidl; First Edition, 2006
Anderson, L., Laurie Anderson: Dal Vivo, Fondazione Prada; 2nd edition, 1999
Featured image: Laurie Anderson - A Photo of the Artist - Image via pomegranatearts.com
All images used for illustrative purposes only.