The street art works authored by Lazoo are a delightful sight to behold in every sense of the word. They are fun to observe, have fantastic usage of color and are brilliantly shaped with a fine balance of curved and straight lines. Putting his graffiti pieces aside for a moment, Lazoo is also known for his excellent painting pieces made by the dripping method and has been designing album covers for bands since the 1980s. This French artist has been active on the art scene for over thirty years now, being present during every evolutionary step street art had taken during that time.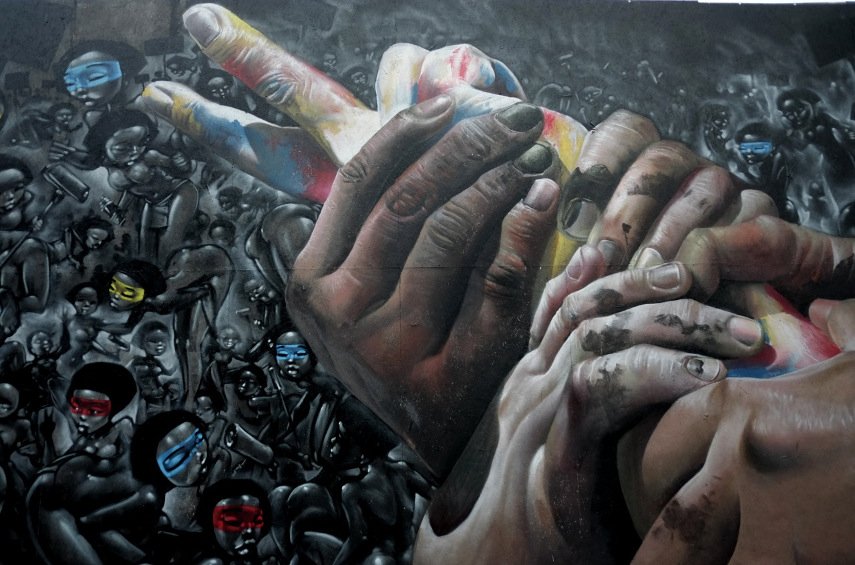 Lazoo's Beginnings And His Time With MAC Crew
Lazoo was born in the French capital during the year of 1969. His identity remains a mystery to this day, but we can trace his artistic beginnings to the year of 1986. It was at that time that Lazoo first experimented with graffiti and it was then that his first urban pieces started appearing. Practicing back then was not as easy and simple as the case is today because street art was still a bit of a taboo and was mostly illegal - plus there really were not too many people that already mastered the techniques and were available to teach eager newcomers. Completely self-taught, Lazoo practiced both on walls and paper, creating interesting illustrations that will later serve as a basis for his mature graffiti works. During these early days of his career, the artist mostly used stencils to cover medium to large surfaces of walls. Through many trials and errors, Lazoo managed to develop his talent to an incredible degree. Some of his early works were used by magazines, such as BEST, Rock'n'Folk and Displays. This kind of recognition really helped Lazoo as he was trying to make a name for himself in the growing urban art scene. Soon after the successful commissions by the magazines, the artist was hired by Big Cheese Records in order to design some album covers. Although you can see he was more than successful as a solo artist, Lazoo decided to accept the offer and team up with the graffiti crew named MAC in the 90s. The collective approach and group work were a incredible change for Lazoo who was used to working alone, but he eventually got the hang of it - the decision to join MAC allowed him to truly master large-scale murals, the focal point of every street artist. Through monumental pieces, the MAC group flourished and really developed a reputation as a leading street art crew of France.
Working as a member of MAC gave Lazoo the chance to perfect his mural techniques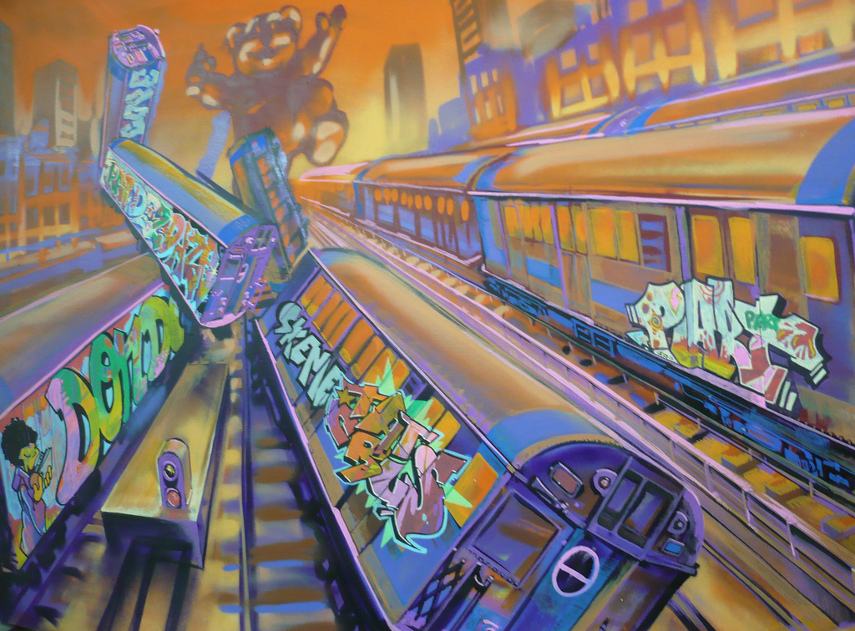 Lazoo's Graffiti
Although we do not know his true identity, due to his age we can be sure Lazoo has been there to witness some of the most crucial moments of the development street art went through during the last quarter of the 20th century. Like most street artists who spent their vital developmental years at that time, Lazoo as well has a unique and recognizable style of his own. His figurative form and brilliant use of color really give a spark to his pieces, making them extremely attractive and fun to look at. Another impressive element of Lazoo's graffiti is the usage of shades that really shapes the characters and letters of his pieces in a great way. It is possible to see just how much working on album covers influenced this artist's work - many of his graffiti are obviously depictions of the hip-hop scene characteristic to the 1980s. Another one of Lazoo's trademarks that can help with instantly recognizing his work is the way he portrays female characters - they look a lot like subjects from Pop-surrealism and are extremely curvy. Nowadays, Lazoo mainly works on his painting, giving space and a chance for the younger artists to impact the street art. He experiments with dripping technique and works tirelessly on portraits of celebrity icons. Lazoo has exhibited his works all around the world, including such countries as Germany, Belgium, Netherlands, Japan, Singapore, South Africa, United States, Brazil and, of course, his home country of France.
Later segments of Lazoo's career mostly focused on dripping techniques and canvas painting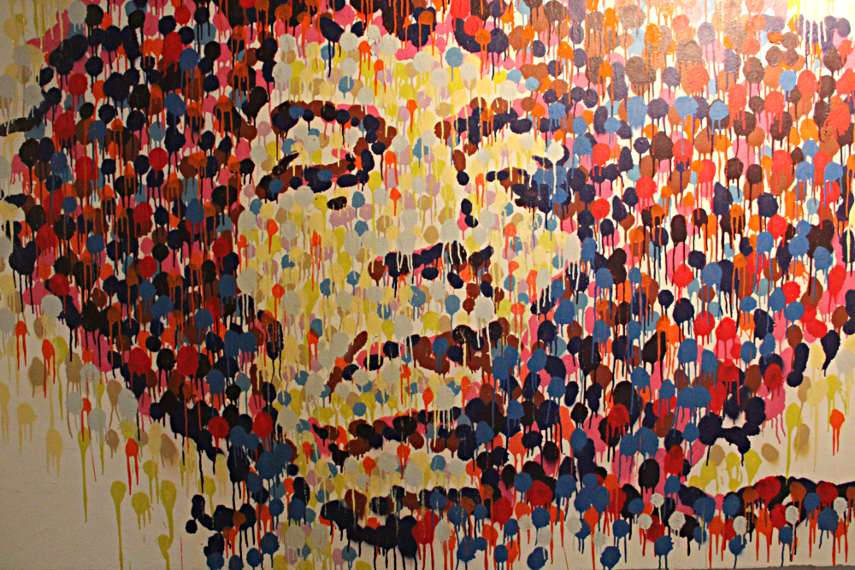 A Low-Profile Name That Echoes Pretty Far
It's a nice feeling when you find out there is an under-the-radar artist like Lazoo out there and that his work is so charming and mesmerizing that you can't quite figure out why you haven't heard about him yet. That really shows us that there are many more painters, sculptors and graffiti artists that are able to make an impact on the genre without having their name mentioned in every article and every headline. Lazoo is a perfect example of such a man as his pieces have evidently served as influences to many fellow street artists out there and his name has not been that frequently mentioned as the names of his more famous co-workers.
The artist is represented by Green Flowers Art in Paris, France.
Lazoo lives and works in Paris, France.
Featured Image: Lazoo - Sonic - Photo Credits Lazoo
All Images Photo Credits Lazoo