Korean painter, sculptor, and philosopher Lee Ufan became famous in the late 1960s as one of the main representatives of the Japanese avant-garde movement Mono-ha. This important movement, which gained a lot of international recognition, rejected Western concepts of representation and focused on the relationships between materials and perception. The main goal of Mono-ha was to embrace the peaceful coexistence of numerous beings, concepts, and experiences, which is evident in Lee Ufan's paintings and sculptures. As a writer, Ufan has expressed the artistic concepts in Japan during the late 60s and he posed some truly fundamental questions, such as - what does it mean to produce a work of art at the end of the twentieth century? [1]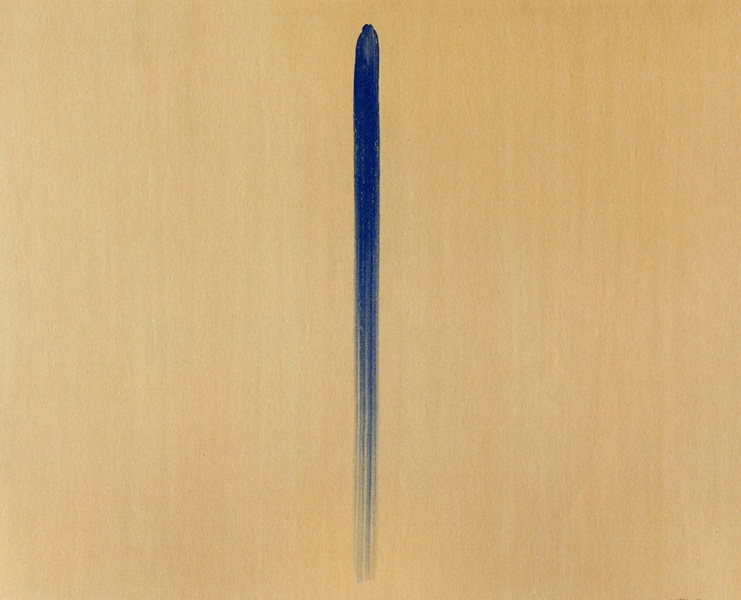 Ufan's Early Career: Between Korean and Japanese World of Art
Lee Ufan was born in 1936, in South Kyongsang province in Korea. He was interested in fine arts since his early childhood and he decided to enroll at the College of Fine Arts at Seoul National University. However, painting wasn't his only passion – young Ufan was equally fascinated by philosophy, which made him move to Yokohama, Japan in 1956, where he studied philosophy at Nihon University. Since Ufan continued his education in Japan, he started painting in a traditional Japanese style while studying philosophy. When it comes to the contemporary Japanese Gutai school which was popular at the time, Ufan wasn't interested in this form of expressive abstraction. In the late 1960s, the artist became an important member of the avant-garde Mono-ha movement which abandoned the typical Western practices of media manipulation in order to explore the depth of the relationship between various things and their surroundings. Moho-ha members often used raw physical materials in their work and their minimalism was an expression of de-westernization and de-modernisation, typical for the postwar Japanese society.
In the late 1960s, Lee Ufan became a member of the avant-garde Mono-ha school which abandoned the typical Western practices of media manipulation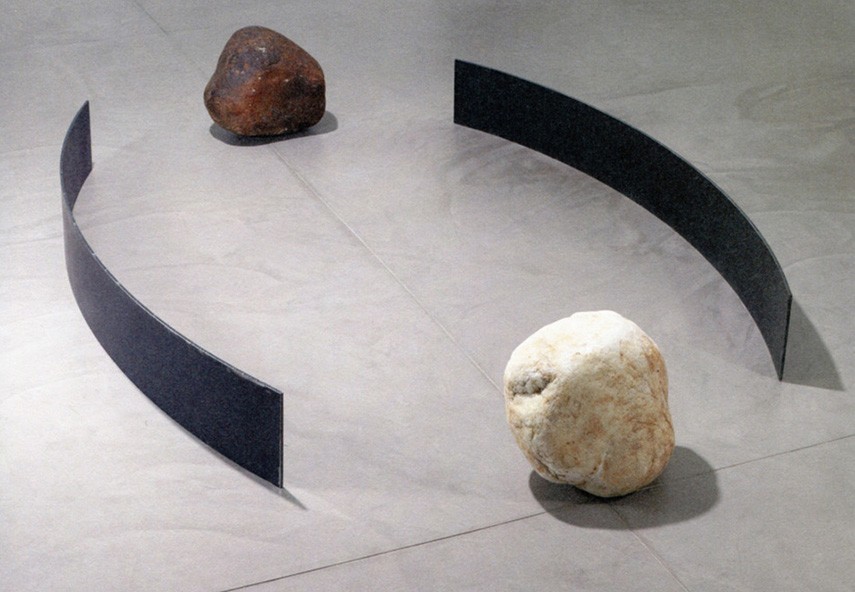 The Nature of Lee Ufan's Works : Auster Simplicity of Stone
In the early 70s, for the occasion of Paris Youth Biennale, Mono-ha was introduced to Europe and this led to international recognition of Ufan's artworks. Around the same time, he has opened his own studio in Paris. After Mono-ha became more popular in Europe, it became evident that it has a lot in common with Arte Povera, which also concentrates on the use of natural and found materials. When it comes to the nature of Lee Ufan's work, it revolves around austere simplicity, minimalism and philosophical points of view. His abstract brushstrokes offer a unique perspective on the very nature of painting process and the same goes for his sculptures which investigate the very essence of steel and large stone pieces. One of the artist's most famous series is called Relatum and it portrays the interaction between space and objects while simultaneously engaging the viewers in contemplation about the meaning of art. In 1991, he began his another iconic series called Correspondance, which consist of simple grey or blue brushstrokes applied onto a pristine white surface.
Ufan's abstract brushstrokes offer a unique perspective on the nature of painting process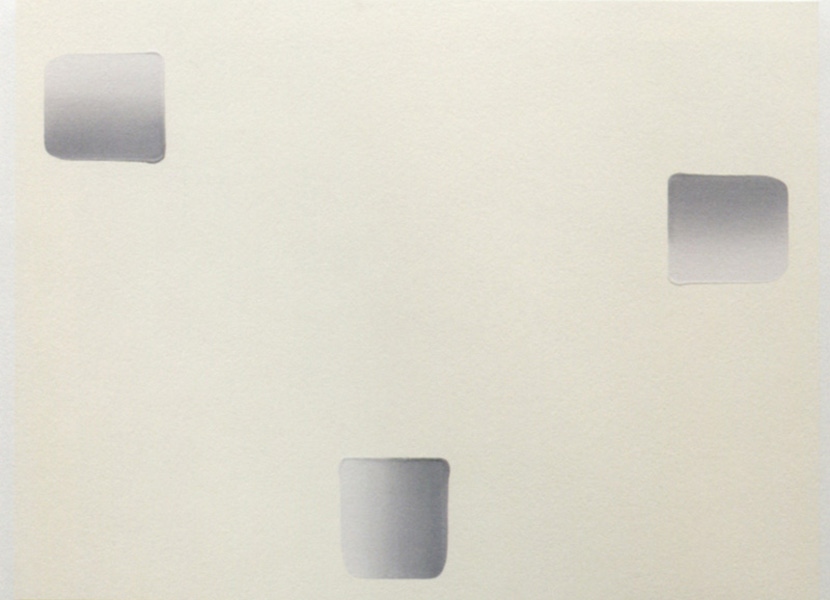 Ufan's Major Exhibitions and Auctions
Lee Ufan had a long and prosperous career when it comes to academic jobs as well - he worked as a professor at Tama Art University in Tokyo for more than 30 years. In the meantime, his artworks became a part of the prestigious permanent collection at the Hiroshima City Museum and he participated in numerous solo and group exhibitions, including important shows at New York Pace Wildenstein and the Solomon R. Guggenheim Museum.[2] Lee Ufan's first solo exhibition was held in Japan in 1967 and after this successful debut, he was invited to participate in Documenta VI show in Kassel, Germany and in the Bienal de São Paulo. In 1997, Ufan had a major solo exhibit at the Jeu de Paume Paris, while in 2001 the Kunstmuseum Bonn held an important retrospective of his works. His most notable success happened during 2007 Venice Biennale, when his Resonance exhibition became widely appraised by both critiques and audience. Nowadays, Ufan's paintings sell for six-figure sums at auctions. For example, his work from 1984 featuring a series of blue lines was sold for $410,000 at Sotheby's in New York.
Ufan's artworks became a part of the prestigious permanent collection at the Hiroshima City Museum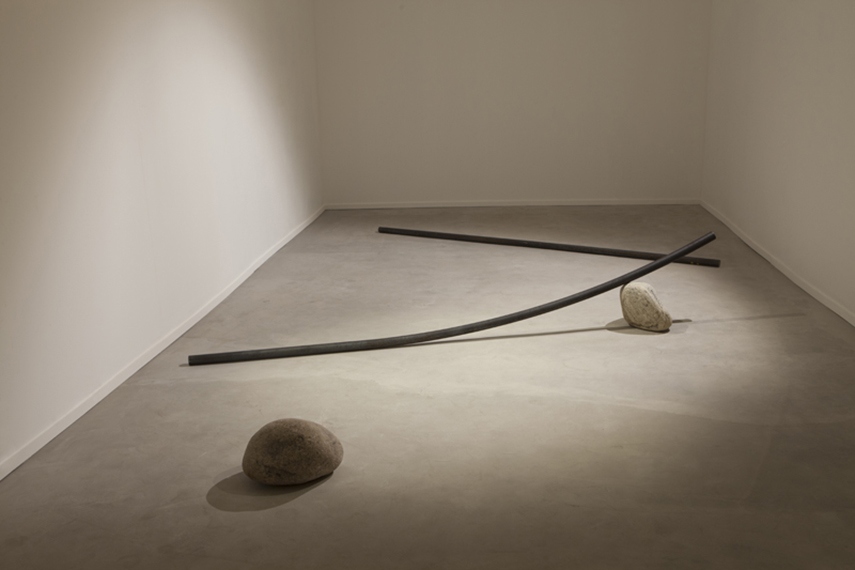 Exploring the Interaction Between Space and Objects
Ufan's minimalist installations and sculptures which emphasize the relationship between the artworks, the viewer, and the space seem timeless in their simplicity and universal appeal. The same goes for his paintings, which resemble Asian calligraphy because of the interplay of bold line strokes and plain backgrounds. Ufan was honoured for having contributed to the development of contemporary art in Japan, which speaks about the extraordinary importance and quality of his pieces.[3]
The artist is represented by Pace Gallery Beijing, Pace Gallery Hong Kong, Pace Gallery London, Pace Gallery Menlo Park and Scai the Bathhouse Tokyo.
Lee Ufan lives and works between Kamakura, Japan, and Paris, France.
Sources:
Ufan, Lee, Encounter with the Other, Steidl, 2008.
Featured image: Lee Ufan's Portrait - image via asiasociety.org
All other images courtesy of the artist.