Leisa Russell is an Australian artist, primarily known for her sculptures done in bronze, clay, silver, wood, forged steel, resin, concrete and even found objects.
Inspired by Nature
Leisa was born in 1967, on the Australian Gold Coast. She grew up in its hinterland, on a rural property, always strolling around the natural bush land, making sculptures out of clay and things she would find in those adventures. A very close relationship with animals and nature is what Russell nurtured during her childhood. Today, this artist has a strong appreciation of nature - something that is often seen in her environmentally themed works.
Leisa Russell is essentially a self-taught artist. She earned certificates in Fashion and Graphic Design and Part Bachelor of Visual Art from Southern Cross University. Besides that, Leisa participated in advanced workshops: the bronze foundry, blacksmithing, silver smiting, wood carving and welding.
Russell's Ceramics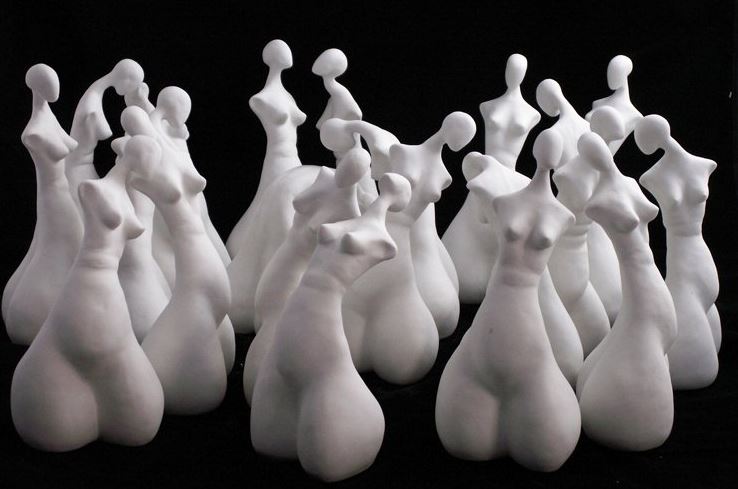 When it comes to her sculptures, Leisa really likes the variety: a miniature porcelain form, a sterling silver sculpture or a life size bronze and concrete piece is what one could find in her oeuvre, among other things.
Most of Leisa's sculptures, especially those made out of porcelain, offer a viewer not only a visual pleasure, but a tactile experience as well: all the surfaces and textures are created to arouse a certain tactile feeling when touched.
Russell won the 28th Gold Coast International Ceramic Art Award in 2012.
This artist is represented by 19 Karen Contemporary Artspace.
Leisa Russell lives and works on the Gold Coast, Australia.
Featured image: Leisa Russell - Anamenes, close up (detail)
All images copyright © the artist