German artist Lena Schmidt captures the dynamic spirit of the modern city in her art, channeling the gritty energies through her wood carvings. Schmidt explores the expressive possibilities of structure and material through an absolutely unique technique of carving found wood and combining it with illustrations. Deliberately leaving some segments of her work schematic, Schmidt celebrates the sunset as an aesthetic counter-design to the light-flooded tradition commonly found in the history of landscape painting.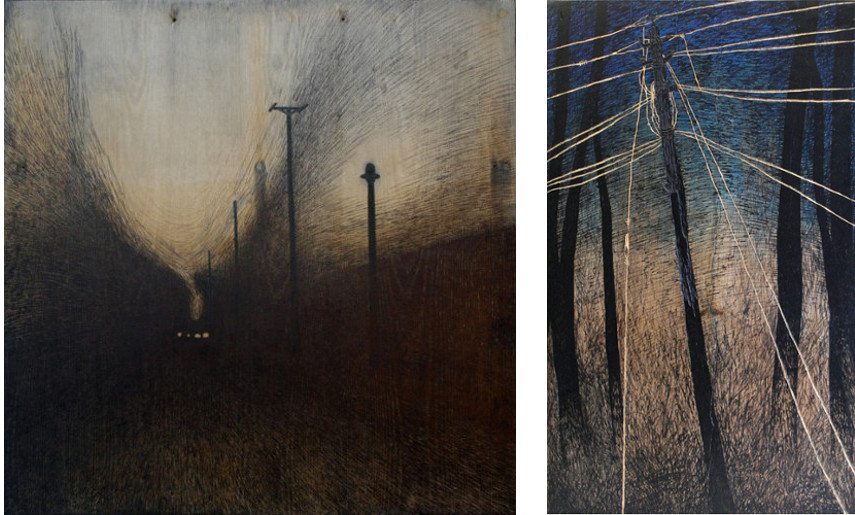 The Art of Lena Schmidt
Lena Schmidt has studied Fine Arts at the Hochschule für Bildende Künste in Hamburg and she holds a scholarship from the German National Academic Merit Foundation. These experiences served her extremely well in her future work as they allowed her to hone her technical skill and establish a strong conceptual level behind it. This is quite evident in her images of dark nighttime urban streets, both haunting and charming. The additional level of her art is found in the fact that Lena does not use regular canvases - she paints on pieces of found wood which she shapes with markers and knives, drawing and scraping all of that eerie light, the brick facades and the watery streets commonly found in her work. Schmidt calls her artworks urbanscapes, claiming they refer to places that generate themselves from nonplaces in a similar way her leftover wood finds a new purpose in Lena's art.
A Further Look at Her Work
For the most part, Lena Schmidt works hard at relinquishing the use of color and emphasizes the mainly wooden materiality of the work surface. As a result of this creative decision, urban shadow worlds and perspectives saturated with gold are being created. These alienated parallel universes devoid of organics are dissolving entirely into line, perspective and material structure, producing a dreamlike subtility and their very own optical tectonics. Levels shift and oscillate as secret windows are quietly being opened to enigmatic dimensions. Beautifully delicate illustrations and mark makings offer a perfect contrast to the dark, heavy and oppressive choice of the pictorial surface, rounding up the entirety of Lena's work into a complete body of art solid on all its creative fronts.
Lena Schmidt creates artworks she calls urbanscapes - compositions depicted on found pieces of wood where the content is created by the techniques of drawing and scraping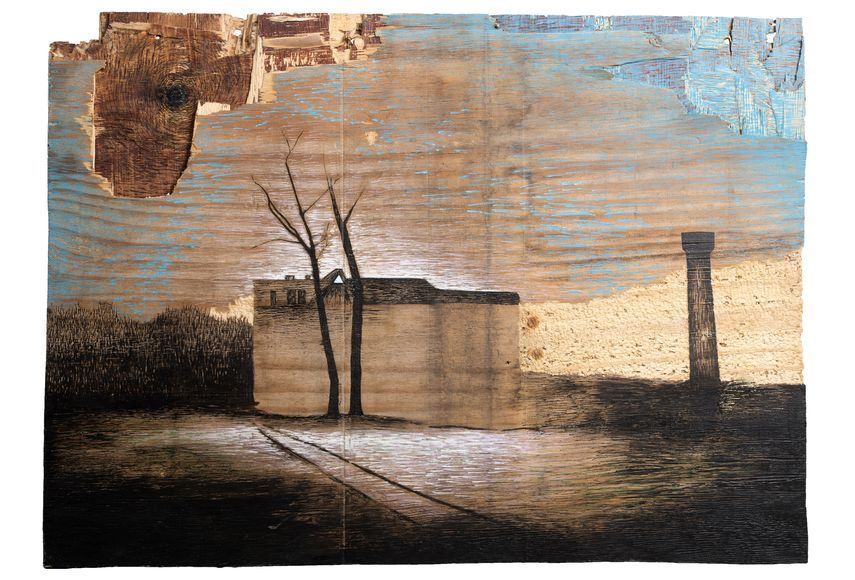 The Magical Note
In many ways, the work of Lena Schmidt seems otherworldly. Hypnotic, daring and extremely mysterious, it seems to exist in an interesting area that is somehow simultaneously abstract and perfectly clear, both familiar and completely foreign. When looking at her work, the viewer is left with the impression of witnessing an imaginary, timeless space that seems to have sprung from surreal dreams. Yet, he or she also feels quite comfortable and at home, as if they were already there at some point in their lives. It's a really interesting feeling and one that's tough to put into words - nonetheless, this feature will definitely serve the young German artist very well in the long run and we expect Lena Schmidt to soon make a big leap within the international scene of art.
This artist is represented by 30works.
Lena Schmidt lives and works in Hamburg, Germany.
Featured image: Lena Schmidt - Photo of the artist - Image courtesy of Lena Schmidt
All images courtesy of 30works.