Painting is a need, not a choice [1], said the legendary painter and novelist Leonora Carrington, who managed to completely redefine female symbolism through her own interpretation of surrealism. She was a restless and prolific artist throughout her career – she worked in oil painting, bronze and cast iron sculpture, but also mixed-media pieces that combined wood, glass, and various iron objects. Besides her important role in the history of surrealism, Carrington was also known as a romantic partner of another prominent surrealist, Max Ernst. The two of them shared their dream worlds and symbolic universes through their magnificent artworks. Carrington has also rejected the surrealist ideal of woman as the main source inspiration and she turned to novel realms such as the animal world, the occult, and Celtic mythology.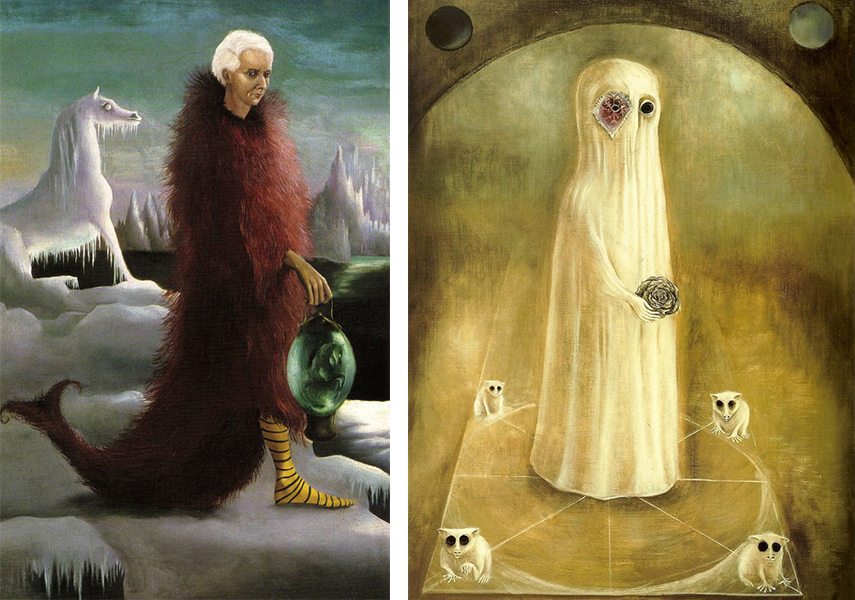 Childhood and Early Training
Leonora Carrington was born in 1917 and she was originally from Clayton Green in Lancashire, England. Her parents were quite wealthy, so young Leonora has received an excellent education from specially assigned tutors and nuns. However, her nature was rebellious and it was impossible for her parents to control her – she ended up being expelled from multiple schools. Eventually, Carrington was sent to Florence, Italy, where she attended Mrs. Penrose's Academy of Art. Afterwards, she moved to London, where she attended the Ozenfant Academy for three years. One of the most decisive moments in Carrington's younger years happened in 1927, when she saw a surrealist painting at the Left Bank Gallery. Later on, she happened to meet many surrealist painters, including the famous Paul Éluard. Leonora's father opposed his daughter's career as a painter, while her mother encouraged her. Carrington, who was a natural-born rebel, decided to trust only her own instincts, which led her to deep and passionate dedication to surrealism.
One of the most decisive moments in Carrington's younger years happened in 1927, when there was a surrealist exhibit on the view at the Left Bank Gallery
Interest in Surrealism
The young artist became familiar with surrealism thanks to Herbert Read's book, called Surrealism, from 1936. This book was given to Leonora by her mother, who decided to support her daughter's unstoppable artistic imagination. Young Leonora was impressed by surrealist ideas and she shared their curiosity about the unconscious mind and dream imagery. However, she didn't want to copy the already existing aesthetics; instead, she infused her own ideas and interests, revolving around a unique blend of cultural influences, Celtic literature, renaissance painting, American folk art and even medieval alchemy and popular Jungian psychology. Thanks to these bizarre multiple influences, Carrington's art is full of half-human half-animal hybrid figures or imaginary beasts. Through this brave and challenging imagery, the painter explored important and universal themes, such as transformation and sexual identity. Carrington never stereotyped women as objects of male sexual desire and she focused on the depiction of contact and interaction between women of various ages.
Thanks to bizarre multiple influences, Carrington's art is full of half-human half-animal hybrid figures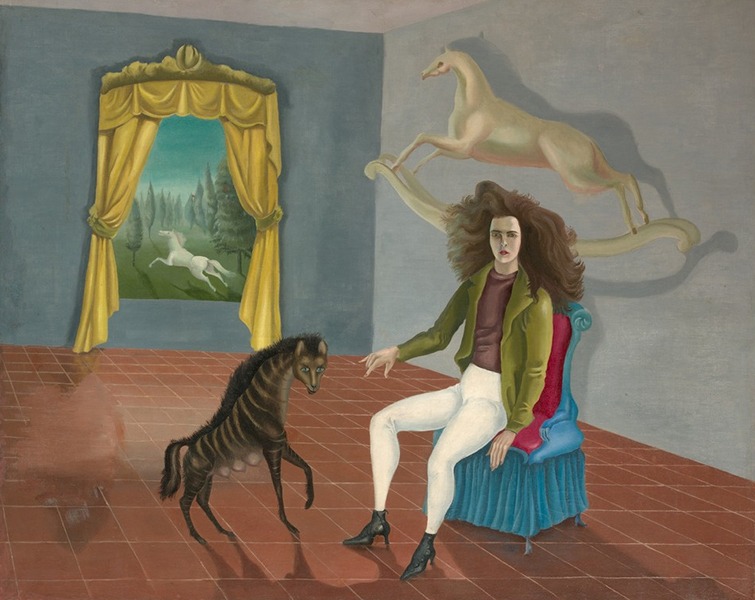 Meeting Max Ernst
In 1937, Carrington met the German painter Max Ernst, another key figure of the Surrealist movement. The two of them fell in love and formed a strong bond, beyond typical romantic relationship. They lived and worked together in Paris and supported each other's artistic ideas and vision. They also created a couple of collaborative pieces they used to embellish their home. Unfortunately, Max Ernst was arrested by the Nazis while he was living in France; consequently, Carrington had to move to Spain. Due to her anxiety and fears related to Ernst's situation with the Nazis, she suffered a mental breakdown and ended up being institutionalized. Her experience in the mental hospital catalyzed her career as a writer and many of her written and visual works were produced after she was released from the hospital, such as her novel Down Below from 1972 and her paintings Portrait of Dr. Morales from 1940 and Map of Down Below from 1943. When it comes to Max Ernst and his career, he was discharged from the Nazi prison thanks to the help of Paul Éluard and other friends. But soon after the Nazis invaded France, he was arrested again by the Gestapo, who considered his art to be "degenerate". Ernst couldn't stand being imprisoned again and he managed to escape to America with the help of Peggy Guggenheim. Meanwhile, Carrington's mental health was getting worse and has reached the final breakdown at the British Embassy in Madrid. She was given a strong therapy by her doctors – she was treated with both cardiazol, a powerful anxiolytic drug, and luminal, a barbiturate.
In 1937, Carrington met the German painter Max Ernst, another key figure of the Surrealist movement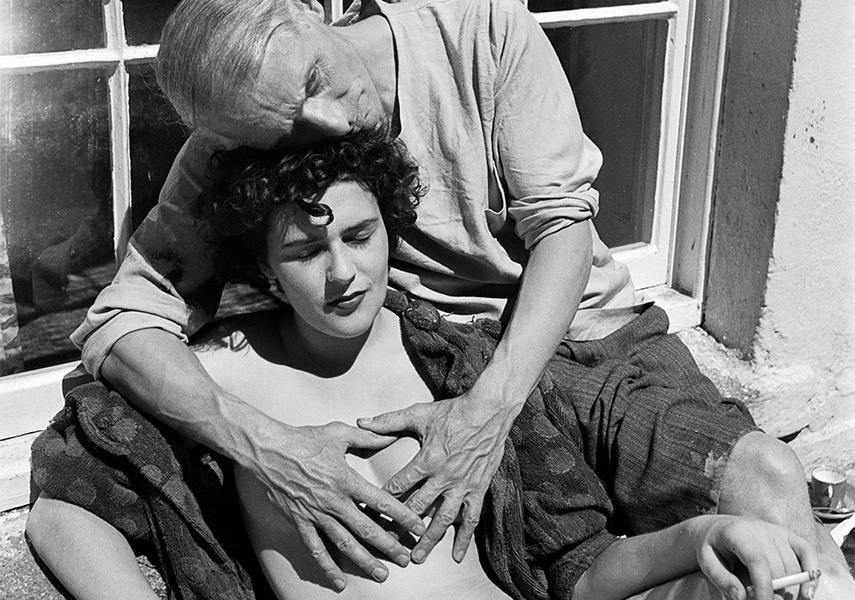 Living between Mexico and New York
After being hospitalized for a while, Carrington decided to run away and seek refuge in the Mexican Embassy. In the same period, Ernst married Peggy Guggenheim in New York in 1941. Even though their marriage was a short affair and it ended a couple of years later, Ernst and Carrington didn't resume their relationship. One of the reasons for this was Carrington's problematic mental health. Yet, despite her many troubles and chaotic state of mind, Leonora became well-known painter practically overnight. One of her early exhibitions was held at the Pierre Matisse Gallery in New York, where she was the only professional female exhibitor who showcased her ground-breaking pieces. She has gained even more international recognition when her painting entitled the Juggler, from 1954, set a new record as the most expensive work ever sold by a surrealist painter. Carrington lived and worked in Mexico after spending early 1960s prevalently in New York City and rarely came back to her home in Lancashire, London. When she moved to Mexico in 1963, she was asked to create a mural, which she eventually named the Magical World of the Mayas. This large-scale panoramic mural was influenced by Mexican folk stories and it is now located in the Museo Nacional de Antropología in Mexico City.
When the artist moved to Mexico in 1963, she was asked to create a mural, which she eventually named The Magical World of the Mayas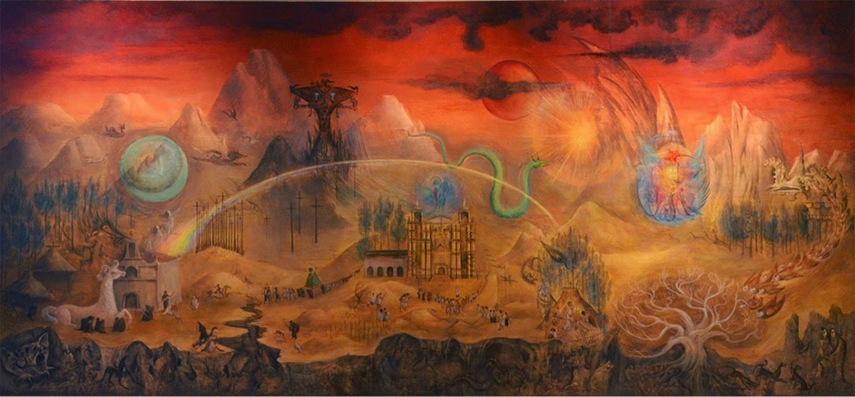 Late Period and Legacy
Starting from the early 90s, Carrington began dividing her residence between Mexico City, New York and Chicago. Around the same time, she also began producing various bronze sculptures , representing animals and humans. She also continued making paintings, prints, and drawings and she used to give interviews about her life and career, since the press was still curious about her activities. Leonora Carrington died in May 2011 in Mexico City due to pneumonia. She was 94 years; she has lived a long and accomplished life. Carrington's role in the internationalization of surrealism was truly important, in terms of her artistic practices that introduced new elements to this movement. Leonora has written a series of texts about her own surrealist theory in the years following World War II and even though she is frequently overshadowed by her association with Ernst, Carrington's work has received even more public attention than Ernst's in the 21st century. [2] Her approach is deemed visionary and strongly personal, while her symbolism is considered entirely new and authentic. The relationship between Carrington's writing and her paintings is another topic that has been popular among many art critics and scholars. The same goes for an important role in feminism in the new analysis of Carrington's art. The scholars claim that Carrington's highly personal visual expression which combines folklore and magic led the way aspiring female artists who wanted to explore new ways of addressing and portraying female identity.
The relationship between Carrington's writing and her paintings is another great topic that has been popular among many art critics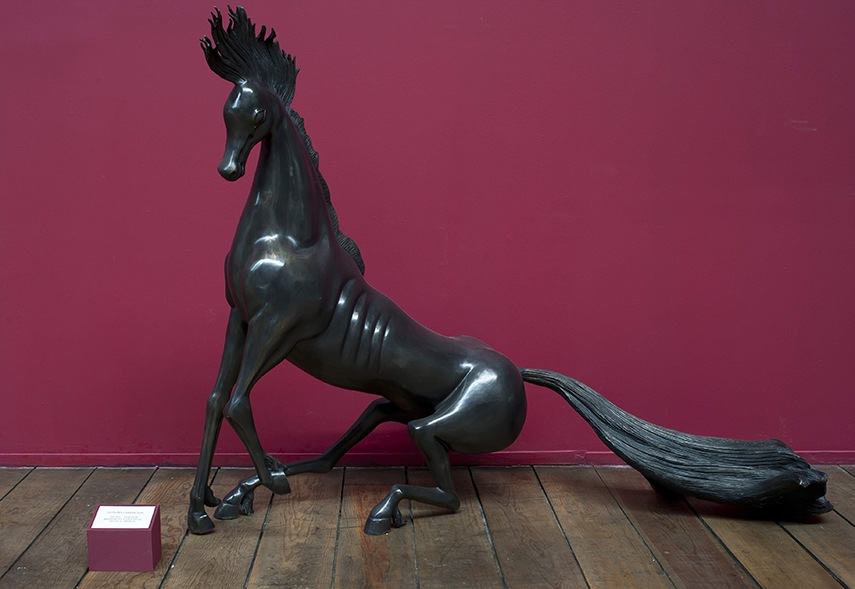 Most Influential Themes and Artworks of Leonora Carrington
During her long and successful career, Carrington was a truly eclectic artist. She wasn't dedicated only to painting and sculpture; she published many novels, short stories, and dramas. She was simultaneously involved in theatre, movies, and tapestry design. Thanks to the enviable quality of her work, her pieces now belong to numerous private and public collections, including the prestigious National Museum of Mexican Art in Chicago and the National Museum of Women in the Arts in Washington, D.C. It is interesting to note that Carrington, unlike many of her fellow surrealists, wasn't interested in the psychological theory of Sigmund Freud. She stayed focused on magical realism, symbolism and alchemy and used autobiographical detail rather than theories on the power of our subconscious. She was also interested presenting female sexuality in a different way - her work in the 1940s highlighted the women's role in the artistic process. For instance, her famous work from 1938, entitled Self-Portrait, offers a unique interpretation of female sexuality - Leonora has moved away from the common characterization of female sexuality subverted to the dominant male role. The same artwork, Self-Portrait, also offers insight into Carrington's curiosity when it comes to alchemy and transformation of matter and living entities. The hyena depicted in this work combines male and female traits into a whole, which was a novel idea in the era this work was created. Carrington often used to paint horses and write stories about them, which is rooted in her childhood fascination with horses. For example, in her first published short story, entitled the House of Fear, Carrington portrayed horse in the human role of a psychic guide. Generally speaking, Carrington often used codes and her own secret language in order to describe certain terms and to enable the interpretation in her mysterious artworks. It is known that Candlestick was her code for family and family issues, while the word Lord signified her father. El Juglar from 1954 is another Carrington's famous work. This dreamy landscape is filled with horses, imaginary creatures and occultist motifs, and every element had a personal value for her. When it comes to collaborations, the most famous one is with fellow female surrealist Remedios Varo.
El Juglar aka The Juggler from 1954 is another Carrington's famous work; this dreamy landscape is filled with horses and imaginary creatures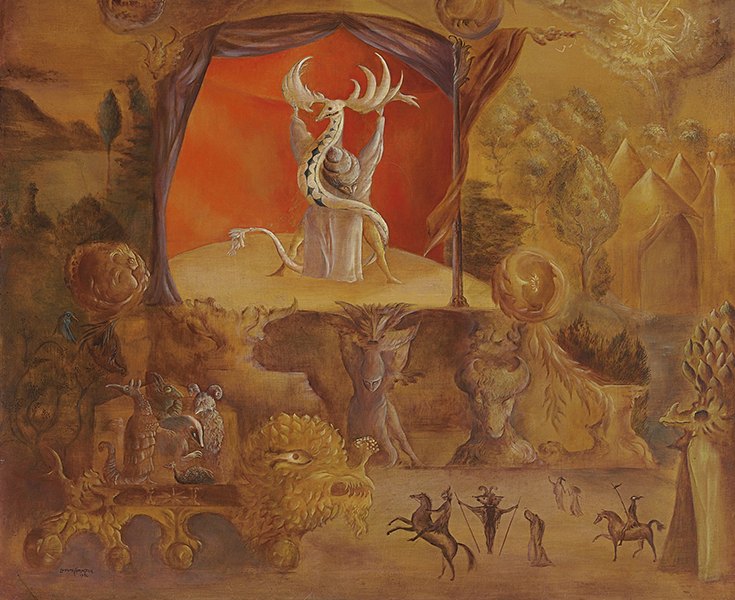 Major Exhibitions
The debut exhibition of young Leonora happened in 1947, when she was invited to showcase her early pieces at the Pierre Matisse Gallery in New York City. She was asked to show her work in an international exhibit of surrealism, where she turned out to be the only female British artist. This experience has launched her career and she became a true celebrity. Later on, when she moved to Mexico, she published several books. Her breakthrough in UK happened with an exhibition in Chichester's Pallant House Gallery, West Sussex, from 17 June to 12 September 2010. This exhibition was a part of a number of international exhibitions titled Surreal Friends which celebrated the part women took in the Surrealist movement. Beside Carrington's work, there were also art pieces made by her friends, the Spanish painter Remedios Varo and the Hungarian photographer Kati Horna. In 2013, the biggest retrospective of her work so far was presented at the Irish Museum of Modern Art, Dublin, the title was The Celtic Surrealist and Sean Kissane through Carrington's Irish background presented many social, cultural and political elements that can be found in her work. In 2005, Carrington's piece The Juggler was auctioned with a starting price at US$713,000 at Christie's. It set a new record as an art piece with the highest price set for a living surrealist painter. Carrington also did portraits of many actors, such as Enrique Álvarez Félix, son of actress María Félix. In 2015, Eleonora Carrington was honored by Google doodle for her 98th birthday. The subject of the doodle was her surrealistic painting, How Doth the Little Crocodile. This painting was inspired by a poem from the renowned writer Lewis Carroll and his book Alice's Adventures in Wonderland. Also, this piece was turned into Cocodrilo located on Paseo de la Reforma. The last big exhibition of Carrington's work took place in 2013 at the Irish Museum of Modern Art, entitled the Celtic Surrealist.
The debut exhibition of young Leonora happened in 1947 when she was invited to showcase her early pieces at the Pierre Matisse Gallery in New York City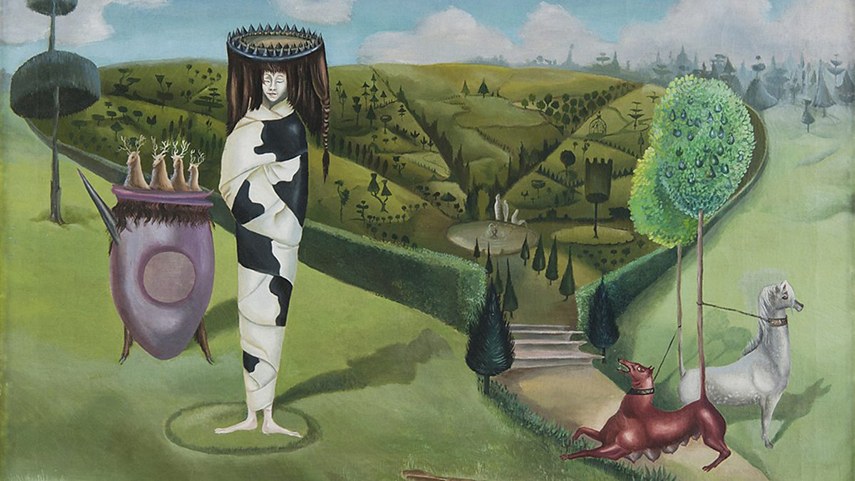 Nobody's Muse
I didn't have time to be anyone's muse... I was too busy rebelling against my family and learning to be an artist, [3] said Carrington who died in 2011, leaving behind a huge legacy. Through her work she didn't just prove herself as a true surrealistic artist, but also as a remarkable individual. Her life was full of turbulent events – from the romance with Max Ernst to the escape from the Nazis, mental illness, and expatriate life in Mexico. Almost all of her dreamy and highly detailed art has strong personal symbolism. The remarkable creatures set in some other worlds were made based on Carrington's experiences and psychotic episodes. Nevertheless, she never liked to explain this mystique. Despite the lack of explanation, the visual appeal was more than enough for her to get widely appreciated.
Leonora Carrington lived and worked between the United States and Mexico.
References:
Aberth, S., Leonora Carrington: Surrealism, Alchemy and Art, Lund Humphries, 2010
Warner, M., Down Bellow, NYRB Classics, 2007
Gooding, M., A Book of Surrealist Games, Shambhala, 1995
Featured image: Leonora Carrington's Portrait - Photo Credits Gabriel Weisz