LeRoy Neiman, born Leroy Leslie Runquist, was an American artist of Swedish descent, best known for his brilliantly colored, expressionist paintings and screen prints of athletes, musicians, and sports. LeRoy Neiman was one of the most popular living artists in the United States before he passed away in June 2012. Millions of people have watched him create his art during the live coverage of the Olympics and Superbowl, as well as other major American and worldwide competitions. LeRoy Neiman had the journalistic talent along with an enviable artistic ability to convey the essence of games.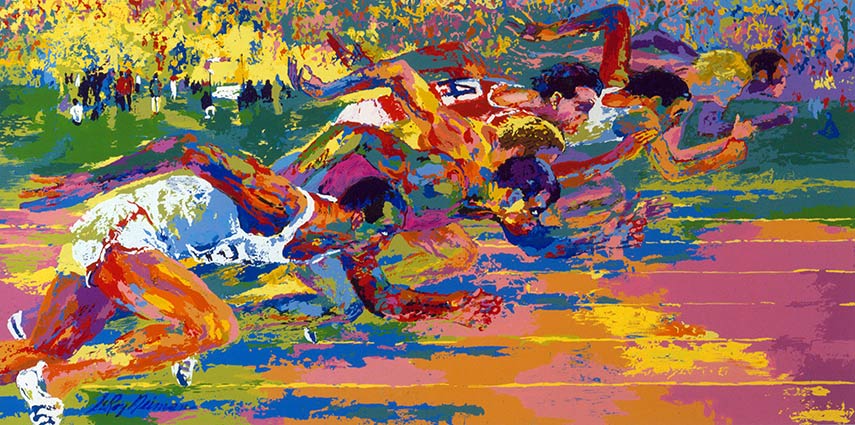 Early Life and Navigation through Social Structures
LeRoy Neiman was born on June 8, 1921 in Saint Paul, Minnesota. He was educated at a Catholic primary school in Saint Paul, where constantly drew, entered art contests in his home country, and produced posters for school happenings. Leroy Neiman studied at the School of the Art Institute of Chicago, and also taught there for 10 years. When war raged in 1942, Neiman dropped out of school and enlisted in the Army. Neiman put his talents to use by painting murals in mess halls. His works compared enlisted men to officers, and this interest in social structure was an inspiration for many future works. Neiman's professional influences include a variety of Impressionists, Fauvists, and Expressionists. The influence of Jackson Pollock is obvious, due to Neiman's use of the action painting style. His first painting using this technique was Idle Boats, which was purchased by the Minneapolis Institute of Arts. However, it wasn't until his mid-career that Neiman has finished the search for his very own, recognizable style of serigraph edition. The majority of his most prominent hand signed, paper based paintings focus on sport, such as basketball, boxing, billiards, hockey, gymnastics, shot put, swimming, and even cycling. No matter the subject, ever LeRoy Neiman's piece has the hand signed signature in the form of the bloody color red.
The majority of Leroy Neiman's most prominent and signed paintings and limited edition serigraph and print pieces focus on sport and entertainment

Neiman, Hugh Hefner and Playboy
Collaboration with Playboy and Hugh Hefner is one of the most important milestones in Leroy Neiman's career. While he was a young artist who was freelancing at a Chicago department store, Neiman met Hugh Hefner, who was then a copywriter there. A few after their initial meeting, Neiman showed Hefner some of his paintings. Hefner was very surprised, even impressed, and he decided to contact Art Paul, Playboy's art director, regarding LeRoy Neiman's pieces. Paul immediately commissioned Neiman to illustrate Black Country, which was a short story about a life of a jazz musician. Neiman's creation of those illustrations earned Playboy some prestigious awards and he gladly kept collaborating with the famous magazine. In 1958, LeRoy Neiman started making sketches and he decided to search for ideas for another notable Playboy feature, entitled Man at His Leisure. On this occasion, Neiman also wrote the text for the feature. Neiman's work kept appearing in Playboy for the next 15 years and the artist started traveling a lot thanks to various Playboy commissions. For instance, in 1960, LeRoy Neiman captured many sport scenes and competitions in England, such as the Grand National Steeplechase, Epsom Derby, Ascot and also the Tour d'Argent, Maxim's, the Lido, and the Folies-Bergere in France. He visited the Cannes Film Festival and St. Tropez too, along with the highly authentic Fiesta de San Isidro bullfights. Neiman never missed any of Monaco gatherings as well, such as the Grand Prix auto race. The variety of subjects that LeRoy Neiman depicted for Playboy in his later years don't include only happenings, but also portraiture, such as include the Beatles and the Carnaby Street scene in London. Neiman portrayed Prince Philip playing polo at Windsor Castle, controversial nudists relaxing on the Adriatic Coast of Croatia, America's Cup challenges and even Bolshoi ballet dancers in Russia. Between 1960 and 1970, LeRoy Neiman has produced more than 100 canvas-based works and two murals for Playboy. This magazine made the good life a reality for me and made it the subject matter of my work – not affluence and luxury, as such, but joie de vivre itself, LeRoy Neiman said about the nature of his vibrant and ever-changing pieces.
Collaboration with Playboy was one of the most important milestones in Neiman's career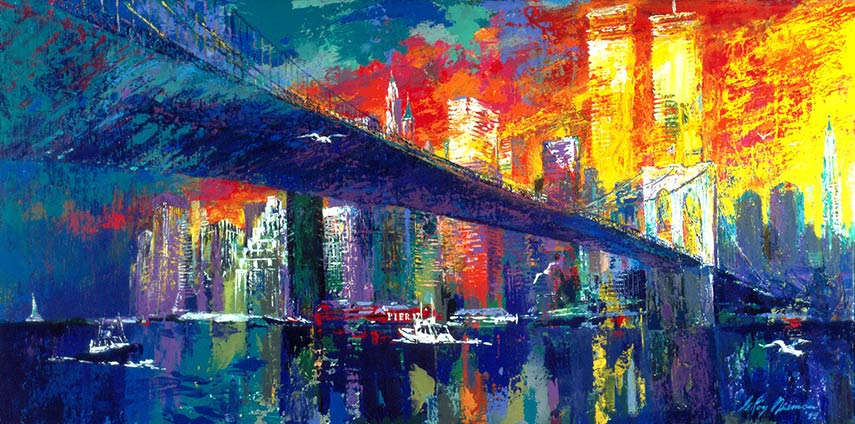 Worldwide Artistic Collaborations
In 1961, LeRoy Neiman rented a studio in Paris, which became his temporary home and artistic sanctuary. While living in France, Neiman has studied the Deauville social season and he won one of his earliest awards - a gold medal at the Salon d'Art Moderne, in Paris. After spending some time in France, Neiman decided to move to Italy for a while, where he painted a regatta of gondoliers in Venice and made friends with the legendary filmmaker Federico Fellini. Neiman's first solo exhibitions outside the United States were held in galleries in London and Paris in 1962. After returning to the United States in 1963, Neiman has established his own studio in New York City. During the same year, Leeroy Neiman had his first solo exhibit in New York, at the Hammer Galleries, where he showcased his entire oeuvre. After this initial success, more than 50 additional venues in the United States have hosted Neiman's exhibitions - Minnesota Museum of Art, the University of Texas in El Paso, the Abbey Theatre in Dublin and the Museo de Bellas Artes, in Venezuela.
While living in France, LeRoy Neiman has studied the Deauville social season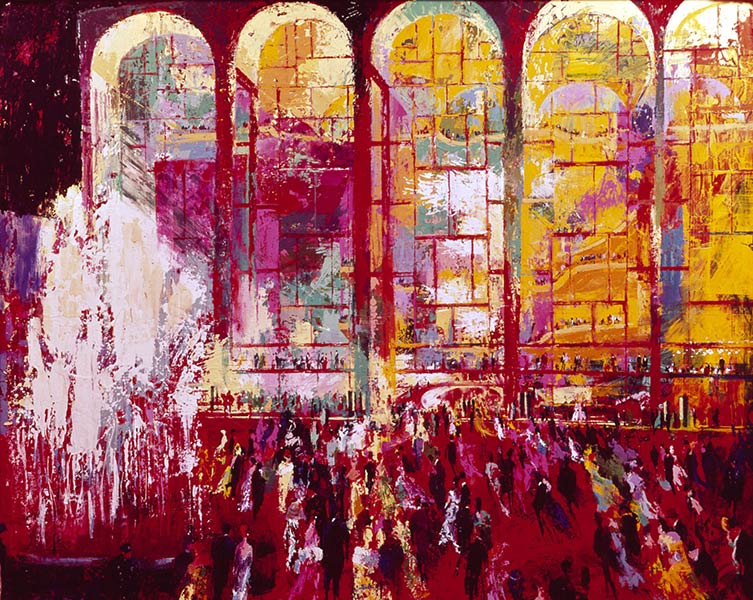 Neiman and Important Sport Gatherings
In 1972, thousands of curious people worldwide watched LeRoy Neiman sketching Boris Spassky and Bobby Fischer at the legendary champion chess tournament in Iceland.[3] Later on, Neiman started sketching various exciting duels and scenes at the Summer Olympic Games in Munich, Germany. For the creation of Olympics sketches, Neiman used an amazing combination of rather versatile materials. He combined watercolor, ink, gouache, felt-tip marker, chalk, colored pencil, graphite, and charcoal.[1] The artist has shown his remarkable skills at portraiture and stop-motion drawing many times during the next decade – Neiman visited the Olympic Games in Montreal in 1976, Lake Placid in 1980, Sarajevo and Los Angeles in 1984. In 1978 and 1979 at Super Bowl, he changed his regular techniques and started using a computerized electronic pen to sketch the live action for CBS-TV. LeRoy Neiman was the official artist for the Sports Spectaculars broadcast in 1979 and 1980, and also for the 1986 Goodwill Games, which were held in Moscow and supported by the Turner Broadcasting Network.
In 1978 and 1979 at Super Bowl, the artist changed his regular techniques and started using a computerized electronic pen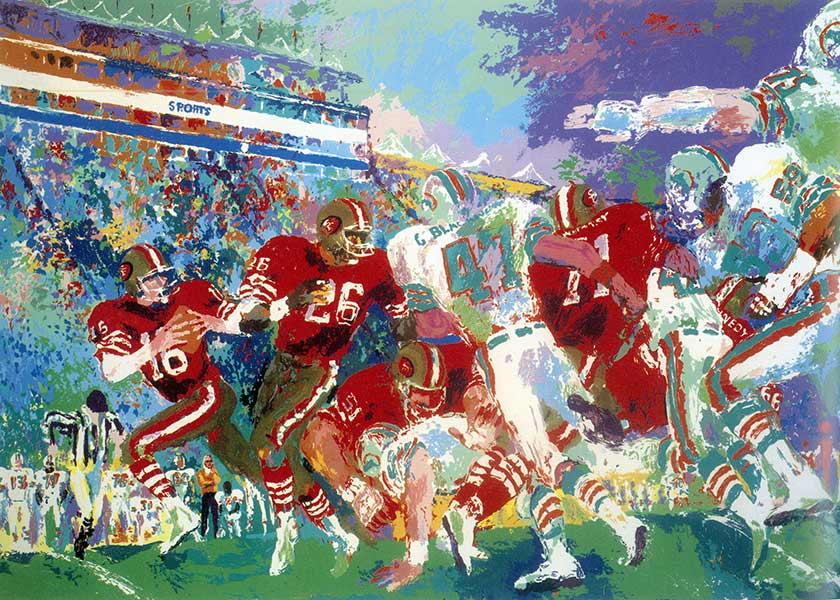 Most Successful Exhibitions of LeRoy Neiman
Some of LeRoy Neiman's most successful early exhibits were the Chicago Art Exhibition and Washington, D.C.'s Corcoran Gallery of Art's American 25th Biennial Exhibition. Neiman was commissioned to produce illustrations and other artwork for Playboy Magazine, his most famous series being Man at His Leisure. Neiman traveled the world, painting the best in entertainment industry, from English steeplechases to the Cannes Film Festival. Neiman also worked at studios in France and Italy. When Neiman returned to the United States, his first solo gallery exhibition was held at New York's Hammer Galleries. He has covered five Olympiads, holds four honorary degrees, and wrote nine books, including Horses and Winners. In 1995, Neiman endowed Columbia University with the funds to create the LeRoy Neiman Center for Print Studies. Also, it is well-known that hundreds of works by Neiman appeared in his nine books - Horses from 1979, LeRoy Neiman Posters from 1980, Carnaval from 1981 and Winners from 1983, which was one of his most popular works which got published even in Japanese in 1985.[2] The rest of his works were entitled Monte Carlo Chase, Big Time Gol, LeRoy Neiman, An American in Paris and LeRoy Neiman On Safari. Each year until his death, LeRoy used to create around eight limited-edition serigraph and silkscreen works, which were usually distributed by Knoedler Publishing. All of Neiman's works were sold in many galleries throughout the United States and Europe and around 150,000 of Neiman prints have been purchased to date.
In 1995, the artist endowed Columbia University with the funds to create the LeRoy Neiman Center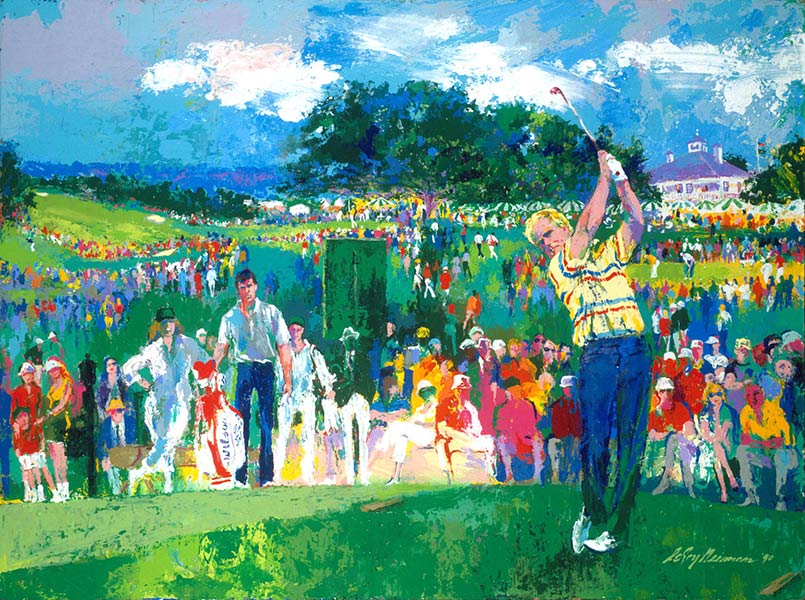 Enormous Appeal of Neiman's Work
The prominent Hermitage Museum in St. Petersburg in Russia has bought 19 of Leroy Neiman's works in 1973, which are still in their permanent collections. Despite such great recognition and success, art critics have often totally ignored LeRoy Neiman's, labeling it as superficial or vulgar. Yet, many of his colorful images of the so-called good life have appeared in the form of beautiful etchings, lithographs, silkscreen and even sculptures in the most important permanent collections of public and private museums, galleries and similar art institutions worldwide. These institutional acquisitions, more than anything else, speak of the great value and enormous appeal of LeRoy Neiman's art. Whether one approves of LeRoy Neiman's view or not, one must agree that he is a work of art himself, because of his constant efforts to depict entertainment industry and sport in the most enticing ways. Exactly this constant effort is what signed LeRoy Neiman's place in the history of art and sport alike.
LeRoy Neiman lived and worked in New York City.
References:
Neiman, L., All Told: My Art And Life Among Athletes, Playboys, Bunnies, And Provocateur, Lyons Press, 2012
Neiman, L., LeRoy Neiman: An American in Paris, Harry N. Abrams, 1994
Neiman, L., The Prints of Leroy Neiman: A Catalogue Raisonne of Serigraphs, Lithographs, and Etchings, Knoedler, 1980
All images © LeRoy Neiman Foundation