Lik Mi is a female Colombian street artist whose artworks are influenced by cartoons, animation, graffiti and women empowerment. She is also curious about the topic of sexual taboos and sexuality. Originally from Bogotá, she is currently living in NYC. Since 2009, under the name of Lik Mi, she has taken her art to various means, including Jewelry, fashion and garments, art pieces, graffiti and murals. She is also involved in the direction and management of artistic and social projects that involve indigenous and ethnic groups. Natalia has done abroad art residencies, solo and group shows, and participated in several international mural festivals. She has painted in countries like Colombia, Peru, Mexico, Cuba, the USA, France, Germany, Belgium, India and Japan. For more than nine years she´s been active in the art scene, Natalia has been recognized as a female exponent of the street art in Colombia.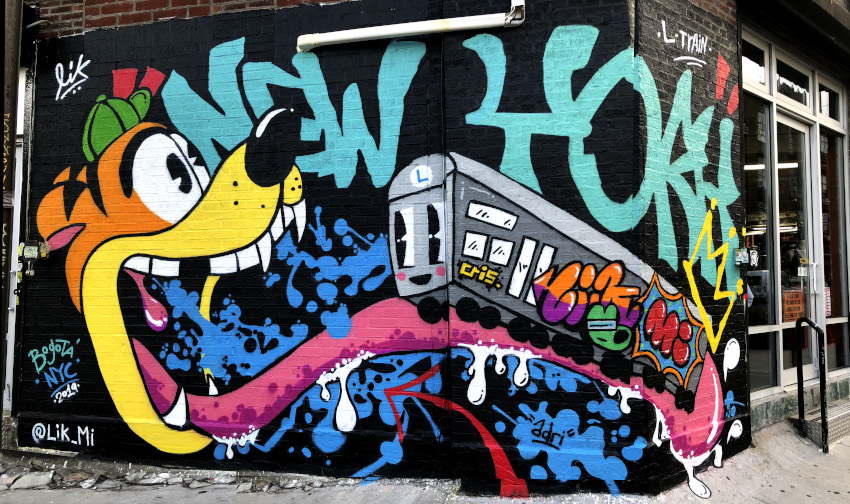 Lik Mi was born in Bogota, Colombia, and was originally a graphic designer. However, being unhappy about her daily life and work, she decided to make a radical change and try to follow her heart instead of doing what's logical. She quit her job and lived for a while with an indigenous community in the Amazon, which was a major crossroad for her. Because of this unusual experience, Lik Mi decided to become a full-time artist, working only on projects she finds truly interesting and motivating. She got involved in street art and jewelry design and has built her own style, based on an interesting blend of cartoonish drawings. She applies her art from big murals to tiny jewelry, canvas, garments and stickers.
Lik Mi became an artist after she quit her job and lived for a while with an indigenous community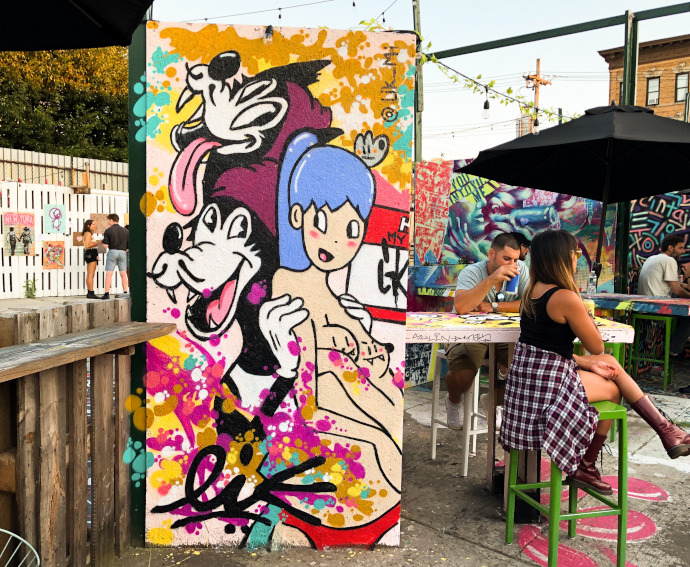 Interest in Sexuality
With street art that revolves around the concepts of sexuality, Lik Mi reinvented the New Age style – her paintings, figurines, stickers, and murals are all done in a recognizably playful, fun and child-like style. She sticks to bright, positive colors and her depiction of sexuality, even if explicit, never looks distasteful. Lik Mi is also famous for her hand-made jewelry – beautiful and delicate earrings and pins featuring simple, pleasant topics, each one has a story to tell!
Joy of Life
Lik Mi is a brave and curious artist who wasn't afraid to step out of her comfort zone and try to look for her happiness elsewhere, outside of the firmly established daily routine. Her free-minded and somewhat mischievous street art and cute jewelry which concentrate on the depiction of simple life pleasures are truly powerful because they infuse a sense of profound serenity and joy. Lik Mi's art can be found outside of her native Colombia in several countries such as Peru, Mexico, Cuba, the USA, France, Germany, Belgium, India and Japan.
Lik Mi lives and works in New York City.
Featured image: Lik Mi - portrait
All images courtesy of the artist.