Lilly Reich was a German visual artist and the first female interior design teacher at the Bauhaus. She was also teaching furniture design and she has closely worked with other prominent Bauhaus designers, such as Ludwig Mies van der Rohe. Reich is credited and best known as a collaborator on one of the most recognizable lounge chairs in the world, the famous Barcelona Chair. In addition to this, she worked as a designer for the German Pavillion during the International Exhibition in 1929 and she helped Van der Rohe get his architectural drawings to the United States. Nowadays, her well-known pieces can be seen at the Museum of Modern Art in NYC.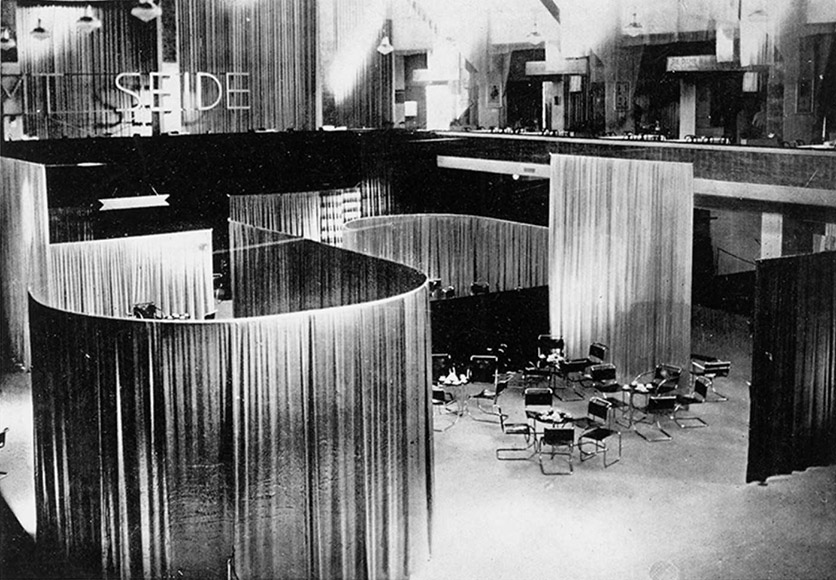 Background in Embroidery and Design
Lilly Reich was born in Berlin, Germany in 1885. She was interested in embroidery since her early age but is wasn't until 1908 that she started applying her formal education in embroidery. Around the same time, she moved Vienna and started working for the Wiener Werkstätte, also known as the Vienna Workshop, which was a visual arts company consisting of innovative designers, artists, and architects. She has stayed there for three years and decided to return to Berlin in 1911, where she began designing furniture and clothing. She even worked as a shop window decorator for a while, using her great sense of interior design. In 1912, she joined the German Work Federation, which was a group with the objective to make German companies more prominent in the global, international market. During the same year, Reich has visualized a sample of a working-class apartment for the Trade Union House. This work has received a lot of praise and it was an instant success because of its simplicity, clarity, and high functionality. The same work was shown at the exhibition in Cologne in 1914 and by 1920 Lilly Reich has become the first woman in Germany elected to be the part of the Deutscher Werkbund Governing Board. After 1926, she dedicated herself to organizing and designing trade fairs.
Reich was interested in the art of embroidery since her early age but it wasn't until 1908 that she started applying her knowledge and skills related to Bauhaus furniture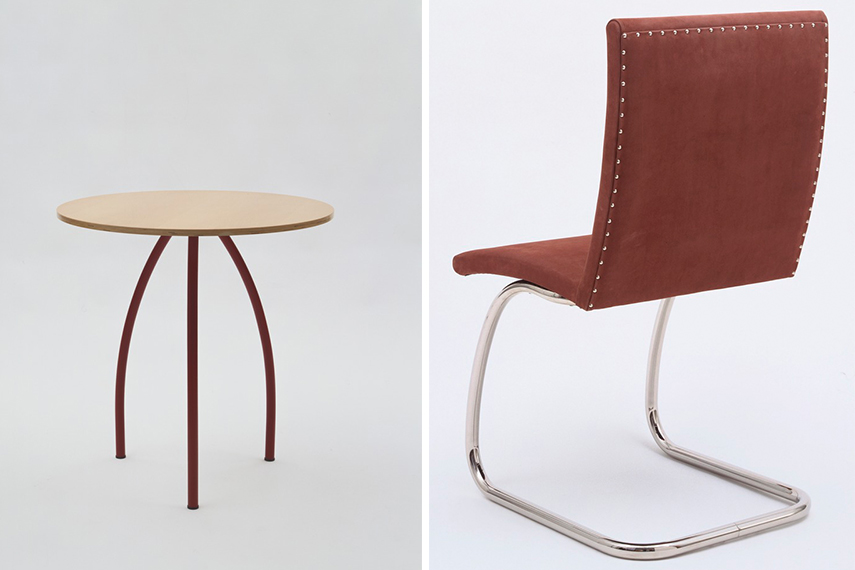 Collaboration with Ludwig Mies Van Der Rohe
Reich has met Ludwig Mies van der Rohe, vice president of the Deutscher Werkbund, during one of trade fairs. They started working together soon after this initial meeting involvement and during their 10 years long collaboration they had many successful projects together. In 1927, they worked on Die Wohnung in Stuttgart for the Werkbund, where Reich has created many interiors, such as her famous Wohnraum in Spiegelglas. During her collaboration with der Rohe and also afterward, Reich has designed numerous store windows, exhibition displays, as well as fashion items. Her great public recognition led to her becoming the artistic director for the Barcelona World Exposition in 1929. For the occasion of this exhibit, Reich has designed a pavilion and also this is where her famous Barcelona chair appeared for the first time. This pavilion Reich has crafted together with der Rohe is considered the peak of their collaboration. In 1932, Reich became interested in having an academic career and she started teaching at the Bauhaus – she was guiding the interior design workshop. Unfortunately, The Bauhaus school was closed in 1933, because the Nazis considered this style as a degenerate art, probably influenced by Jews. After the war, Reich didn't give up her career and started teaching at another school. However, she died a few years later, in 1947 in Berlin.
During her collaboration with Mies Van der Rohe and also afterward, Reich has designed numerous store windows and fashion items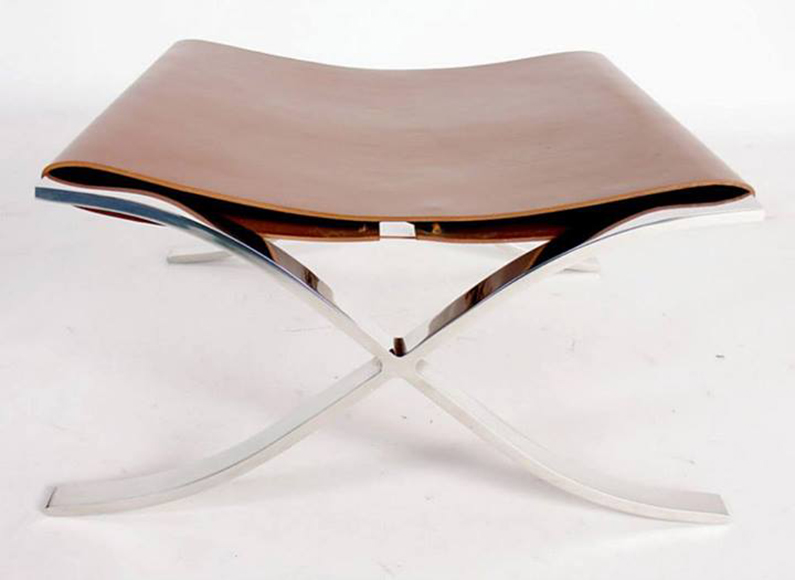 Kitchen and Caffe Designs
Reich's legacy is quite large – her numberless drawings inspired by interior design can be seen in MOMA in NYC. In addition to her ideas for chairs and simple apartments, she also made several designs for kitchens at the 1931 German Building Exhibition in Berlin. Reich's work has embraced the rational principles of the domestic reformers such as Christine Frederick and Erna Meyer. Reich's Apartment for a Single Person features a cooking cabinet that was actually put in the production later on. This apartment idea is surprisingly functional – from the drawing, it appears to be an ordinary closet or wardrobe, but when opened it reveals a sink, shelves, drawers and a lot of useful counter space for kettles and similar kitchen tools.
Reich's drawings inspired by interior design can be seen at MOMA in NYC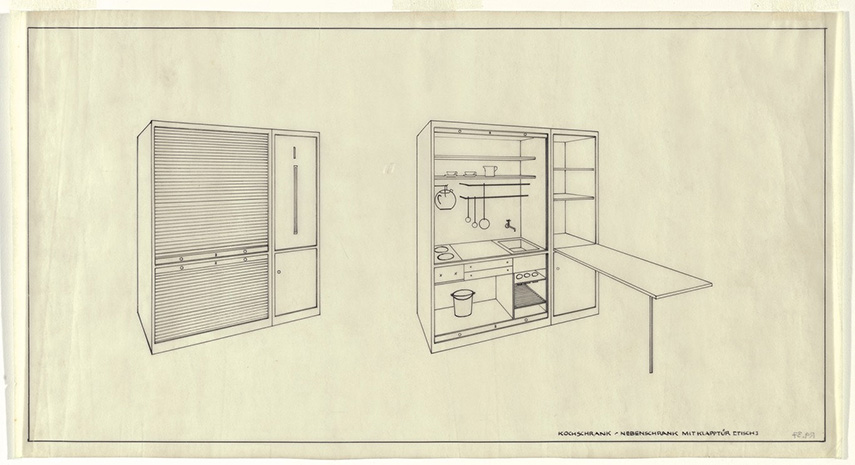 Power and Beauty of Functionality
Reich's work has a special flavor of beautiful simplicity that never gets old. Even though the Bauhaus movement originated in the early 20th century, the designs made at that time are growing popular again and again, which means they are timeless and extremely valuable - we can see a lot of these designs even on social media and picture sharing websites, such as facebook, twitter and pinterest. The famous Barcelone chair that Reich has designed is still one of the most popular chair forms and it is frequently used both in private and public surroundings, which speaks of Reich's strong talent and innovative approach that is praised even a century later.
Lilly Reich lived and worked in Berlin, Germany.
Featured image: Ludwig Mies van der Rohe and Lilly Reich - Barcelona Chair - image via worldofspeed.com