Lino is a Canadian interdisciplinary artist, painter, author of graphic novels, stage and multimedia designer particularly interested in "anything that can provoke emotion in the viewer".
The vacuum flavor, Shadow of doubt and Oblivion room
Lino graduated at the School of Graphic Design from the University of Quebec at Montreal in 2003. He teaches illustration and design at the University of Quebec in Montreal and at the University Laval in Quebec City. Lino gives lectures and creative workshops on the words and images over the International Summer School of Percé. He is also the author of three graphic novels: "The vacuum flavor" "Shadow of doubt" and "Oblivion room" published in the Éditions 400 coups (La saveur du vide in 2004, L'ombre du doute in 2006 and La chambre de l'oubli in 2008), a trilogy on the theme of the body, soul and spirit.. Lino also explored the animation in different artistic and commercial projects.
This artist is very interested in writing, drama, dance and set design. He also created many posters for the Montreal Opera, PAP Theatre, Market poetry, Design Center of the University of Quebec in Montreal, etc. Lino's interest in sociology, anthropology, philosophy, and his deep admiration for a family of painters like Giotto, Munch, Tapies, Magritte, Francis Bacon, Basquiat, CY Twombly, greatly influenced his creative path.
Wajdi Mouawad Opens a Door
Lino's first serious artistic endeavors date back to 2000 when he met Wajdi Mouawad, a playwright, at the time artistic director of the theater Threepenny and now large international theater name. This fruitful meeting literally kicked his career. Lino was given task to make a first painting exhibition and a first series of posters for theater Threepenny under his leadership.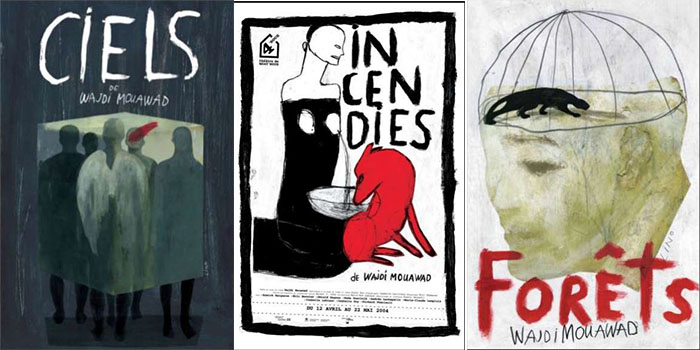 Soon, Lino got the opportunity to create all visual works related to Wajdi Mouawad. This was very inspiring for him as the work of Wajdi Mouawad holds an impressive emotional strength and a sense of the sacred that affected him deeply. Paintings, performances, lectures, posters, scenography and poetry all came together and Lino was making his way. His collaborations in the cultural sector have also allowed him to create the entire network of artists, directors, dancers, actors, writers, with whom he could share his artistic sensitivity. In spring of 2005, Lino had a pleasure to work with Estelle Clareton, dancer, choreographer and director. He was invited to participate in a laboratory dance, circus and painting at the Agora de la danse that was later the subject of a film.
Polish Posters as an Inspiration
Lino also collaborated with choreographer Jose Navas' Flak Company at the projects of great ballet of Vancouver, with the actress and director Céline Bonnier Momentum Company. He created an animated set that depicts the surreal, psychic world of Albrecht's mind, the character from ballet Giselle with music composed by Adolphe Adam in 1841.
In Montreal, his work has been especially noticed at the cultural scene, his illustrations for Threepenny Theatre posters, PàP Theatre, the Opera of Montreal as well as several international festivals like that in Avignon, France have earned him a notorious reputation and numerous awards. His posters are present in several Canadian exhibitions and books and his images have been published as the American market, as well as European and Canadian.
Lino creates vibrant work in order to shake us in our sleepy lethargic, it is an alternative work, very sensitive, able to use the emotional intelligence that resides in each one of us. During his studies, Lino had the opportunity to receive the teaching of the great masters of the poster many of whom were Polish (Mieczyslaw Gorowski Franciszek Starowieyski, Alfred Halassa). Surprisingly for the artist, this culture and approach to image seemed to him intuitively familiar. Today, Lino says, he understand better why the work of these many Polish artists inspired and influenced him that much. There is something in the Polish poster that is intensely human, something that speaks to body and mind: sensitivity, emotion... And, of course, there is also the presence of words.
"The images are everywhere in our lives. There our inner images and those waiting to be looked at. For me the pictures have something indiscociable to the human being. We are nurseries to both types of images. By creating them we transmit and participate in a great collective memory. The image is always for me a kind of meeting between the artist and the viewer."
The artist is represented by Galerie C.O.A.
Lino lives and works in Montreal.
All images copyright © the artist