Re-introducing the figurative into the contemporary painting starting from the tawdriness of today's life determined and deeply imbued with mass media and the psycho-social realm of the individual, Lisa Yuskavage has developed a distinctive approach and her own genre of female nude. Her lavish, erotic, and cartoonish characters, placed in fantastical landscapes or scenic interior narcissistically contemplate themselves and their bodies, tempting the viewer's imagination. Using the traditional oil painting and historical themes as the background base for the wild inventions and liberal imagination, Yuskavage is recognized as a feminist painter who explores social identities and conventions through depictions of women's bodies, strong in their frank sensuality.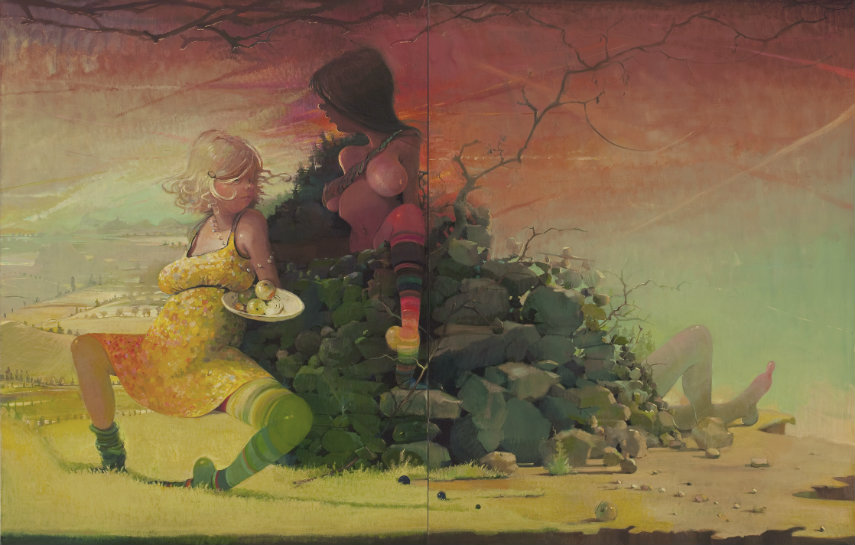 The First Solo Show and Quest for Appropriate Expression
Yuskavage was born in 1962 in Philadelphia, Pennsylvania where she studied the Tyler School of Art at Temple University spending one year in Rome through the school's program. After that, she received her MFA from the Yale School of Art in 1986[1]. Developing the style since the early 1990's, her work is characterized by often nude, angelic but provocative young women represented in the partly fictional blurred surrounding. Re-entering the figurative into the contemporary painting, her complex, loaded with tension narratives reveals themselves slowly in front of the viewer. Encompassing various genres, from still life and landscape to portrait and nude, the artist applies techniques ingrained in Renaissance, but also in modern approaches as the Color Field Painting, finding diverse inspiration from artists like Giovanni Bellini, Johannes Vermeer, or Edgar Degas. Having the mixed reactions, the critics respond to her paintings with diverse interpretations, from explanations that include terms like alienation and affection, vulgarity or self-loathing to associations with psychologically encouraged theories of viewing, particularly the one of a gaze. Still, they are right about one thing: her complex narratives and perplexed content enveloped in an air of mysticism surely deny singular interpretation.
His first solo show, held at Pamela Auchincloss Gallery in New York was a culmination of her student ideas and although achieved commercial success, the artist hated it so badly that she stopped painting for one year. She felt like she attended the exhibition of a person she was pretending to be and not the real her, a girl from a working-class family who had a lot of crazy energy that she obviously didn't know how to transfer into the paintings. Considering art as something for the "classy" people, Yuskavage tried to be one of them, facing the truth on that show when she comprehended herself as a fraud. She spent next year just walking around SoHo, looking at art, visiting film festivals and reading at the New York Public Library. Although depressed and convinced in an idea of wasting her own time, she was actually building the basis for her future profession, discovering who she really was.
Lisa Yuskavage's work encompasses various genres, from still life and landscape to portrait and nude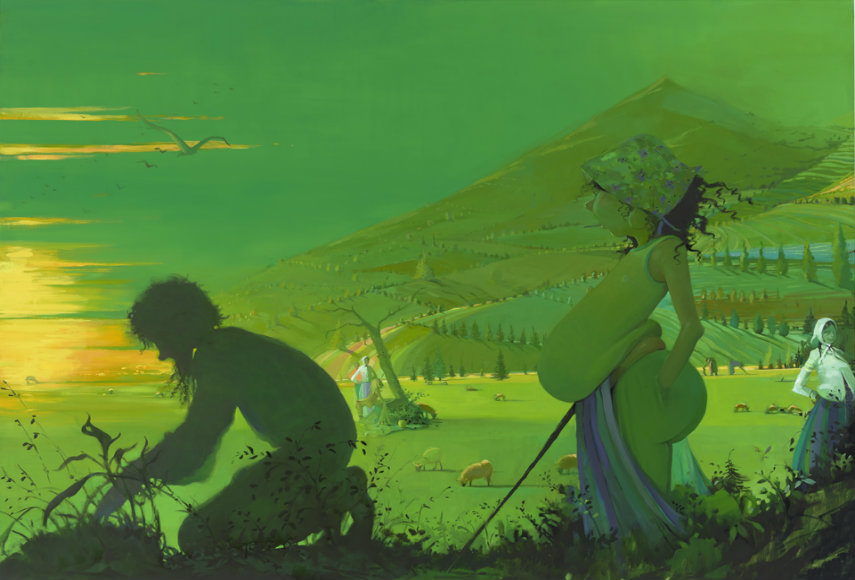 The Art of Lisa Yuskavage
As a symbol of her rebel character of a tough girl, Yuskavage chose to paint women putting her unusual subject matter as the opposite to her education reflected in Caravaggio's lighting by the hidden light sources, Raphael's Renaissance theories about perspective and Van Gogh's and Philip Guston's cartoonish figures. Already determined as a feminist painter, she suddenly decided to consider male subjects, creating the series of tall and skinny men in classic contrapposto postures, for the first time exhibited in New York in 2015. Noticing the lack of Christian iconography in contemporary art, Yuskavage made a decision a long time ago that if she ever paints man, that would be Jesus and his friends. Keeping her promise, she made Dude Looks Like Jesus, painted nude, staring at the viewer, while Dude of Sorrows, represented in close-up, has curly hair resembling halo and bruise on his eye. Focusing on single subjects and neutral spaces in her early pieces, her more recent body of work has more layers, characterized by a richer complexity. Starting with a monochrome palette and various hues of one color and connecting it to a mono-figure, she completely changed the approach[2]. Also, work from the early 1990's was entirely fictional and imagined without any sources, but only from her everyday life. Eventually, she realized that imagination wasn't enough, employing the real porn and later real people, like her friend Kathy as an embodiment of the girls who lived only in her head until then. It's long past the time when people wondered if Lisa Yuskavage's paintings should be hidden or hung up on the museum walls. Always drawing a lot of attention, her New York show (2015) was sold out even before the opening, while one of her pieces reached the price of more than $1 million.
Her new body of work includes male figure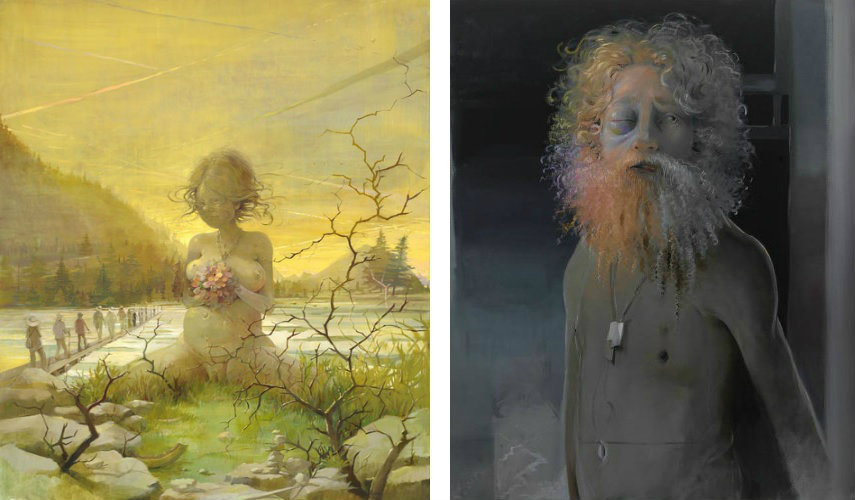 Entering the Gallery and Museum Spaces
Yuskavage's work has been exhibited in numerous solo and group shows worldwide, at numerous prominent institutions and galleries such as David Zwirner, New York (2015, 2011, 2009, and 2006), Greengrassi, London (2013, 2010, 2007, 2004, 2002, and 1999), The Royal Hibernian Academy in Dublin (2011), Museo Tamayo Arte Contemporáneo, Mexico City (2006), Royal Academy of Arts, London (2002), Centre d'Art Contemporain, Geneva (2001), and the Institute of Contemporary Art, University of Pennsylvania, Philadelphia (2000). It is also included in the museum collection of the Art Institute of Chicago, Hirshhorn Museum and Sculpture Garden in Washington, MoMA New York, Museum of Contemporary Art in Los Angeles, Stedelijk Museum, Amsterdam, and Whitney Museum of American Art in New York, among the others. Her great solo show that spanned twenty-five years of her artistic career has been held at the Contemporary Art Museum St. Louis in 2016, followed by publication by Skira Rizzoli[3]. The significance of her oeuvre and her attribution to the contemporary art scene was confirmed several times by notable awards and honors, including the Temple University Gallery of Success Award (2005); Founder's Day Certificate of Honor, Tyler School of Art, Temple University (2000), The Louis Comfort Tiffany Foundation Grant (1995), MacDowell Colony Fellowship (1994), and the Zimtbaum Foundation Fellowship, Fine Arts Work Center, Provincetown, Massachusetts (1986).
The artist is represented by David Zwirner Gallery.
Lisa Yuskavage currently lives and works in New York.
References:
Anonymous. Lisa Yuskavage. L. Yuskavage [September 6, 2016]
De la Tore, M. (2011) Interview, Bomb Magazine [September 6, 2016]
Crow, K. (2015) Painter Lisa Yuskavage Goes From 'Vulgar' Women to Saintly Men, The Wall Street Journal [September 6, 2016]
Featured image: Lisa Yuskavage - Artist's portrait, 2014 - Image via artisproject.metmuseum.org