Chinese contemporary artist Liu Bolin has become internationally recognized for his camouflage art. Known as 'The Invisible Man' and 'The Human Chameleon', he has developed a technique of painting himself into ordinary backgrounds. Fusing performance, photography, and protest, Bolin creates amazing works that deal with to the different emerging social problems that accompany China's rapid economic growth. He has exhibited his work nationally and internationally in such countries as France, the United States, Belgium, the United Kingdom, Germany, Russia, Israel, Italy, Venezuela, Argentina, and more.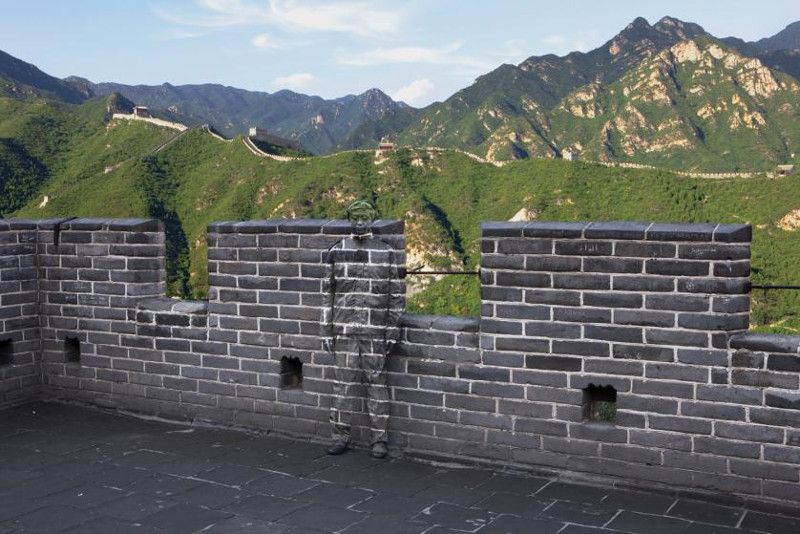 Liu Bolin, Art and China
Liu Bolin was born in Shandong, an eastern Chinese province on the Yellow Sea in 1973. He earned his Bachelor of Fine Arts from the Shandong College of Arts in 1995 and his Master of Fine Arts from the Central Academy of Fine Arts in Beijing in 2001. Liu belongs to the generation that came of age in the early 1990s when China emerged from the rubble of the Cultural Revolution and was beginning to enjoy economic growth and relative political stability. In the world's most populous country, state-society relations have been ground for making controversial artworks including Tank Man — one of the most iconic photographs of the 20th century depicting the lone man in front of the tank at Tiananmen Square in 1989, or Study in Perspective by Ai Weiwei — showing the artist flipping the middle finger against some of the most famous places across the globe. Both works voice political dissidence and pose questions to the authority. In this sociopolitical tradition stands the art of Liu Bolin who discusses the social concerns of his home country through his artistic practice, most notably through his 'camouflage' installations.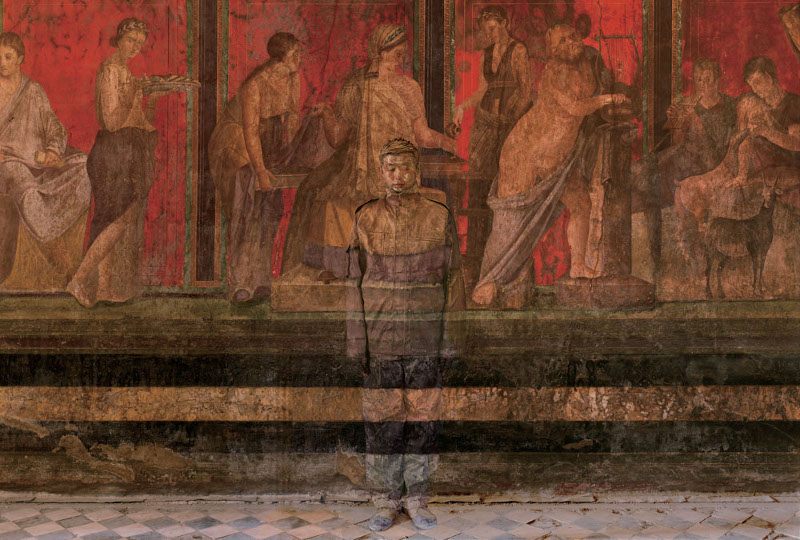 Invisible Man, Hiding in the City
His series Hiding in the City was born out of the governmental eviction and subsequent destruction of his Beijing studio in 2005. After Chinese police destroyed Suo Jia Cun, the Beijing artists' village in which he'd been working (because the government did not want artists working and living together), with the help of assistants, he painstakingly painted his clothes, face, and hair to blend into the background of a demolished studio. This was then documented as a series of photographs and so the 'invisible man' was born. His iconic series have included performances in Beijing, Paris and New York and have captured the imagination of a global audience. Using his own body as a canvas, painting himself into the background, he creates the scene that is a statement about our relationship to our surroundings, and reflections on Chinese artists and their status in modern China. To produce his works, Liu often chooses sites replete with the symbols of China's Cultural Revolution or suggestive of the immense changes in the country since the fall of Zedong's regime. For all of his Invisible Man (as the public began to call the artist himself) photographs, Liu always wears his Chinese military uniform as he employs concealment as a method for addressing aspects of identity and appearance.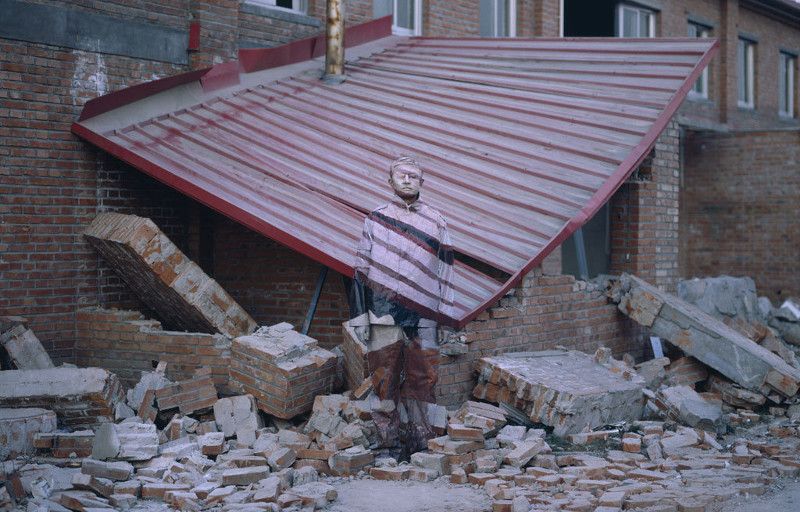 Liu Bolin's Silent Protest
Liu Bolin has been working on different subsequent themes through the years. Sculptures, as his photographs, show how the outside can blend with the inside and vice versa. Liu Bolin's work requires meticulous planning and execution. It all lies in the perfection of the vision, whether it is an illusion or just a mirror surface. Liu Bolin uses the city around him as a backdrop, covering himself in a paint and fades into the backdrop of a photographed scene. By literally blending into the city, Liu creates a tension that challenges the viewer to question what is above and beneath the surface. For the artist, the most important element of his images is the background. Each image requires rigorous planning and execution: as both artist and performer, Liu directs the photographer on how to compose each scene before entering the frame. With the help of assistants, he is painting his own body to match a portion of the chosen site, before photographing himself standing within the scene as he blends into the background. He said his work requires a lot of patience with him having to pose and work on his photographs for more than ten hours at a time to get it just right - the tension between his body and the landscape is an important aspect of the process.
"I am standing, but there is a silent protest, the protest against the environment for the survival,
the protest against the state." - Liu Bolin




Liu Bolin - final changes are made to his work Plasticizer, Beijing, 2011

Burning Man Obama
After his first solo show in Beijing in 1998, Bolin's work became worldly recognized and since then, he has participated in numerous individual and collective shows, festivals, and projects. To celebrate American President Barack Obama's visit to China in 2009, Liu made an effigy (a representation of a specific person in the form of sculpture or some other three-dimensional medium) of the president in his honor – made out of very traditional sculpture material, bronze, this sculpture of Obama is based on a Time magazine image of him. The statue is peppered with tiny holes for gas flames which engulf the statue giving it a nightmarish and satanic look unintended by the artist. Fiery flames are one of the 'Twelve Symbols' found on Chinese Imperial robes. It represents the Summer Solstice and the renewable energy of the emperor himself. However, the main impression of the work is one of the unintended consequences. Because it deals with a controversial political figure both at home and abroad, it speaks immediately to the viewer's own political orientation. The artist said he doesn't mean for the piece, called Burning Man Obama, to be seen as an attack. The Burning Man Obama controversy was propelled by the internet. Bolin finished this piece just in time for Obama's visit. He posted a photo of it on the Internet and it almost instantaneously made his work famous.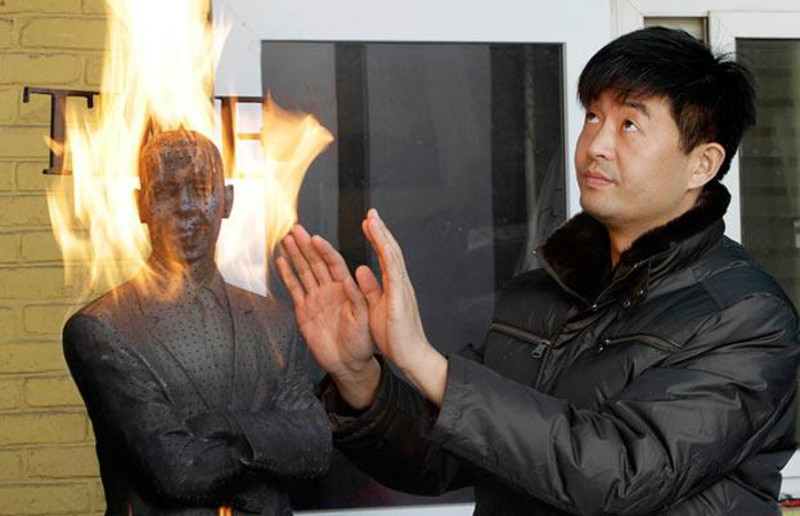 Liu Bolin's Colorful Universe
The Heroic Apparition was Bolin's first solo show in the UK. It was another wonderful series of politically themed works based on exploring identity and the position of the artist in China. Although Bolin's oeuvre includes sculpture, performance and photography, it is these 'camouflage' images that have become his signature style. So visually intriguing and playful, the works convey an unequivocal political stance and are implicitly potent in content. His exhibition A Colorful World? at Klein Sun Gallery in New York in October 2014, featured new sculptures, photographs, and light boxes referencing to the innumerable multicolored advertisements and consumer products that cloud today's understanding of oppression and injustice. The exhibition was a true testament to Bolin's artistic versatility, as well as an expression of his perspective on global issues of culture, society, and politics.
Bolin's In Magazine stainless-steel sculptures camouflage a casted face into the background of more than a dozen hand-painted magazines covers. The concern about losing our individual identities among commercial images found in magazines is a problem Bolin is obviously very interested in. Seems like the more we consume these products, the more we begin transforming into it until we disappear and completely lose our individuality. The largest work in the series yet, Cancer Village camouflages twenty-three individuals – who have been affected by a 100% increase in the rate of cancer-related mortality within their rural Chinese village – into a portrait of farm land with an ominously looming chemical factory in the background. The photograph exposes their plight and highlights their current position within Chinese society – that of complete invisibility and non-existence. Those who could prevent their continually increasing mortality rate choose to ignore the individuals featured in this photograph and thereby render them invisible well before and long after the photograph was taken.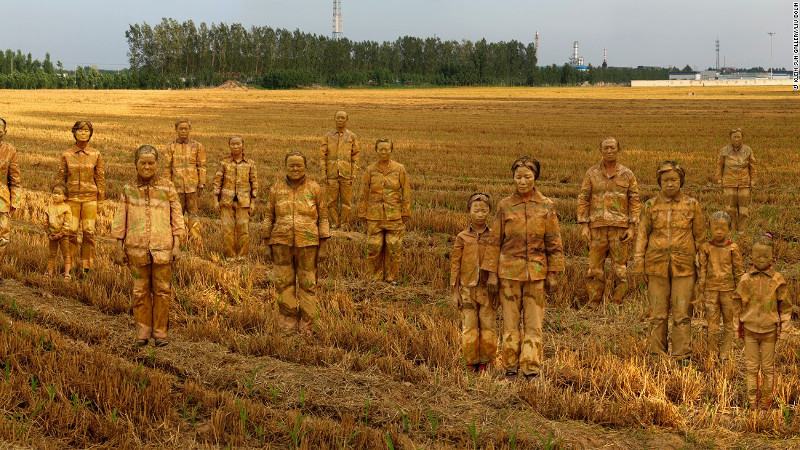 The Creators Project and Liu Bolin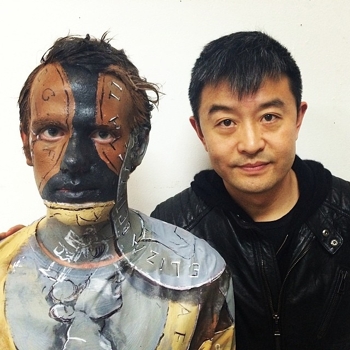 The Creators Project is a global platform that features the works of visionary artists across multiple disciplines that are using technology to push the boundaries of creative expression. There are more than 600 Creators from around the world. Participating artists include Karen O, Daft Punk, Spike Jonze, M83, Benh Zeitlin, Animal Collective, Chris Milk, Takeshi Murata, Andrew Huang, Vega Zaishi Wang, Mick Rock, David Bowie and Barney Clay… And, Liu Bolin! In a photo series released in 2015, Bolin expanded his scope to create two new "group" portraits focused around the theme of British currency. Through a personal connection, director/producer and friend of The Creators Project, Jack Newman, was able to join his cast of acting non-actors, to be painted into a large-scale portrait of scattered British coinage. Provided a computer with adequate image-editing capacities (Bolin is seen, on the right, using Photoshop), some patience, and a whole lot of acrylic paint, we could all take a page from Bolin's playbook and become invisible.
Making the Invisible Visible
While many animal species display camouflage to became invisible and protect themselves against any danger that they sense within their habitats, the Chinese artist uses it to draw attention to the problems he finds relevant. By using his own figure as a living camouflaged sculpture, Bolin interacts with the space surrounding him bringing to surface what is otherwise invisible or ignored. His exploration of identity, human rights, state control and the relationship between human beings and the environment has positioned him as one of the most exciting and relevant contemporary artists working today.
He is represented by Magda Danysz Gallery in Shanghai and Paris, and Fabien Castanier Gallery in Culver City, CA, USA.
Liu Bolin lives and works in Beijing, China.
All images copyright © the artist
All images used for illustrative purposes only