Liu Wei is regarded as one of the most prominent and fascinating artists in Chinese contemporary art and one of the leaders of his generation. He works in many types of media including installation, video, drawing, painting, and sculpture, changing the ways of his expression practically for every next exhibition and without limiting himself to one stylistic tendency. Wei is born in Beijing , China in 1972. Even though Liu is deeply rooted in the Chinese tradition and always makes reference to it, he managed to be freshly innovative and provocative on the international level with a constant dose of humor and satire. Liu Wei is constantly expanding the boundaries of his art and reflecting on the role of a contemporary artist, while at the same time originally using the gallery space in his every exhibition.
Liu Wei's Breakthrough After the Shanghai Biennale
Since an early age, he was an independent thinker with a raw and original vision. He graduated from the China Academy of Arts in 1996 with minor grades, since he was more into partying than studying at the time. As Liu recalls, he decided not to be a good student and that the studying technique wasn't the most important thing. It was after a lecture about Andy Warhol he was inspired to pursue his artistic career more seriously. Liu's first gallery exhibition was a part of an already famous subversive landmark show in 1999 – the underground event in a basement that promoted improvisation, irrationality, and intuition. It was the exhibition Post-Sense Sensibility, Alien Bodies and Delusion - a provocative and extreme group show of young Chinese artists who wanted to highlight their discontent with the art scene and the system. Liu Wei presented himself with the video work Hard to Restrain. But it wasn't until 2004 that Liu Wei gained more serious attention. His work was accepted for the 2004 Shanghai Biennale, under the condition that some changes must be made. So, Liu sent a new piece of art. As he recalls: I was really angry, really angry, so I decided to show them an ass. But it looked like a Chinese landscape, so they liked it.[1] It was a mural-size photograph It looks Like a Landscape capturing naked backsides that looked like a Chinese mountain barrier. From that moment onwards Liu Wei started living from his art and became a rapidly emerging star in the art world.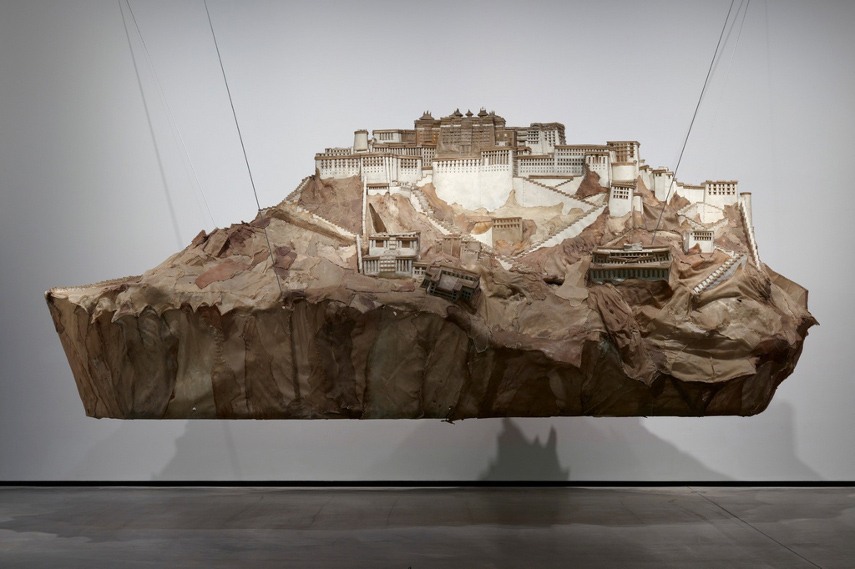 Main Themes of Wei's Work
Confronting the important themes with an intelligent and harsh attitude continued to color Liu Wei's work. Modern day China, with its accelerated urbanization of the megalopolis and corrupted hierarchal lines of authority served as a great polygon for Lui's creativity. Avoiding being bluntly critical or channeling a particular political line of thinking, Wei created some disturbingly beautiful pieces like Purple Air and Love it! Bite it! in 2006 (a model plan of a city made completely from dog chew) or ironic installations such as Indigestion II (a comically exaggerated two meters big turd), or Outcast I (an enormous hanger-size shelter made of discarded windows and doors from Chinese governmental institutions like hospitals and schools). In all of his works Liu Wei entangles a unifying sense of anxiety, aggression and excess. One could deduce a specific personal approach in Wei's work that can be read as his gesture. On one side we can trace a logical and systematic aspect often reflected in the use of strict geometric forms and industrial materials that refer to a personal order and the restraints of political and social structures. In this Liu Wei resembles artist such as Donald Judd and Carl Andre. And on the other hand, one can single out the chaotic, turbulent disorder in his works that can be connected with Liu's vivid imagination, a variety of media and modern societies.
Picture from Purple air series as an example of his painting style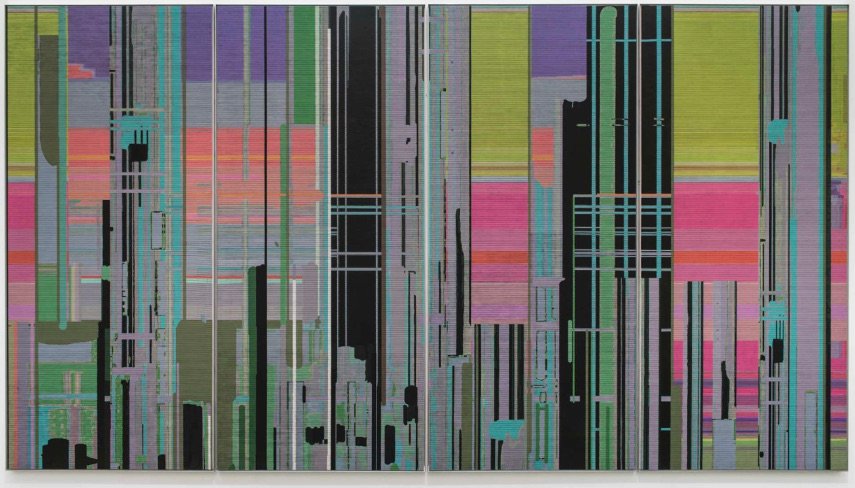 Returning to Paintings in a New Manner
In recent work, Wei returned to oil paintings in a specific and original manner. Liu uses computer software for generating pixels and patterns after which the paint is applied on the canvas by the workers in his Beijing studio who are without any knowledge about art whatsoever. Wei usually participates with his advice and instructions, but sometimes he doesn't intervene at all - he just lets the process find its on way of becoming an artifact. This procedure is very much in accordance with his approach to art in general. He often has a basic idea about what is he doing and what is he trying to achieve, but from the moment he starts working, he fearlessly lets himself go without conceptual interventions or rigidness of a previous idea he had. It might be that a combination of his boldness and originality is the reason he is such an acclaimed artist. Liu Wei received the Martell Artist of the Year Award in 2012 and the Atron AAC Award for Artist of the Year in 2016. He has presented numerous gallery and museum shows around the world.
Liu Wei lives and works in Beijing, China.
References:
Pollack, B, Liu Wei: China's Trickster Mixer-Upper, Artnews [March 23, 2017]
Featured image: Liu Wei - portait photo - Image via en.cafa.com.cn
All images used for illustrative purposes only