Liu Xiaodong is a Chinese contemporary artist that is mostly known for his figurative large-scale oil paintings. Besides, he is a documentary filmmaker, diarist, and occasional actor. He is from Jincheng, a small industrial town in Liaoning province in the northern China from parents that were both factory workers. In his work, you can trace the dedication to ordinary life and the margins of society within the circumstances of global issues, environmental crisis, natural disasters, economic turmoil that he depicts without beautification and in stark realism.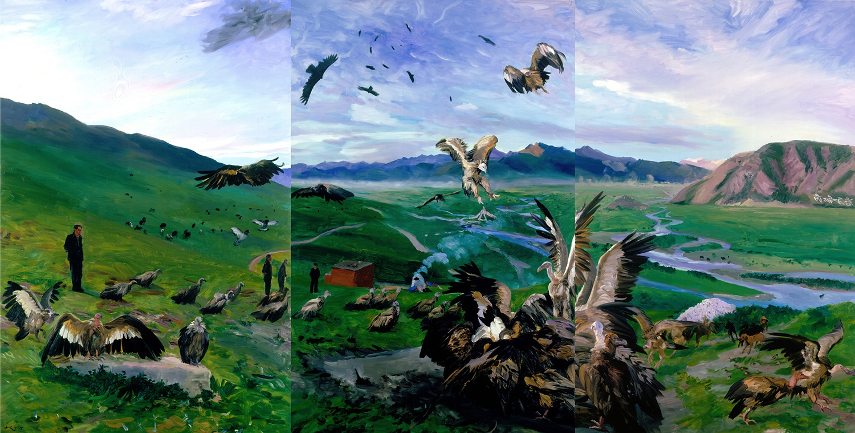 Documentary Style of Xiaodong's Work – Reinterpreting Recent History
Liu Xiaodong graduated from the Central Academy of Fine Arts, Beijing in 1995 in the Oil Painting Department. In that period the only allowed aesthetic was Social Realism and the important element of studying would involve painting the farmers and peasants working. Painting from life remained his hallmark until today. He earned an MA at the Academy of Fine Arts, University of Complutense, Madrid in 1999. He belongs to the neo-realist Chinese movement but is very categorical about confronting the notions of contemporary aesthetics. He is moved and inspired by a wish to most properly represent the people and context in which they are found. This forensic approach leads him in a pursuit for dogmatic details and documentary style narratives in his works. Xiaodong is interested in capturing the passage of time in front of him and very often needs to give a new perspective on Chinese recent history. He shows a specific awareness of the historical situation and the particular circumstances of the time and place he is portraying and he often uses documentary photography and video works as well.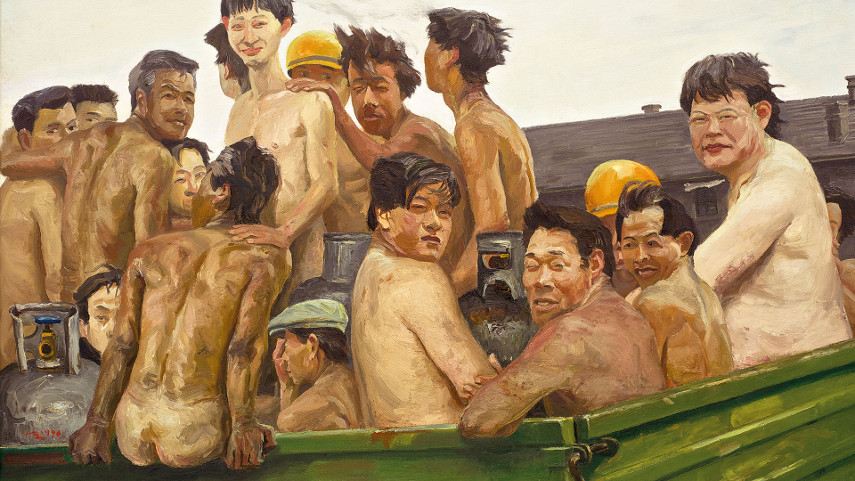 Xiaodong's Working Style
Xiaodong's style of working is in perfect balance with above-mentioned ideas. He settles outdoors in a temporary studio which is placed in an improvised location and stays at this residence couple of weeks or months. He brings his equipment – large-scale canvases and a temporary tarpaulin, camera, paint, diaries, drawings, sketches. Painting en plain air, among the people he portrays and being close to situations he wants to capture, creates a sense of interconnection that can be recognized on his paintings. But, he finds aesthetic reasons important for this kind of work. It is like a peasant laboring on the land. Physical labor and spiritual pleasure come together. They form a strange power. One is exotic while the other is provincial. They create a wonderful chemistry… As long as you do this the painting is good because the texture is born in the environment.[1] Liu is a professor at the China Central Academy of Fine Arts in Beijing.
The dedication to ordinary life and the margins of society

Influences and Recognition
Xiaodong gained international recognition with his Hotan project in 2012-13 when he was on a two-month self-determined residency program in Xinjiang province in order to paint jade miners. Among his eastern influences he cites the Song and pre-Song classics, and even though critics connect him with Lucien Freud, he quotes Cezanne as his main western inspiration. He is known to the international audience maybe even more by his leading role in the movie The Days which was nominated and is considered one of the hundred most significant international movies in the past century by the BBC. One of his newest exhibitions has as a central theme recent global migrations.
Liu Xiaodong lives and works in Beijing, China.
References:
Barnaby, B. Liu Xiaodong: life as he knows it, Financial Times [March 26, 2017]

Featured image: Liu Xiaodong - Image via straitstimes.com
All images used for illustrative purposes only