Creating dark and fantastical works layered with beauty, angst and significance, Liz McGrath has always had a talent for the unusual and grotesque representations. Finding her inspiration in the relationship between the nature and rubbish of consumer culture, she creates different fictional creatures from dark corners of the streets. She primarily works in the fields of sculpture, using the clay as a basic material, with the addition of paint, paper, gold leaf, rhinestones, parts of the clothes and different found objects. At the first glance, her three-dimensional figures seem cute and likable, but after more careful inspection, they reveal subversive side and little bit spooky appearance.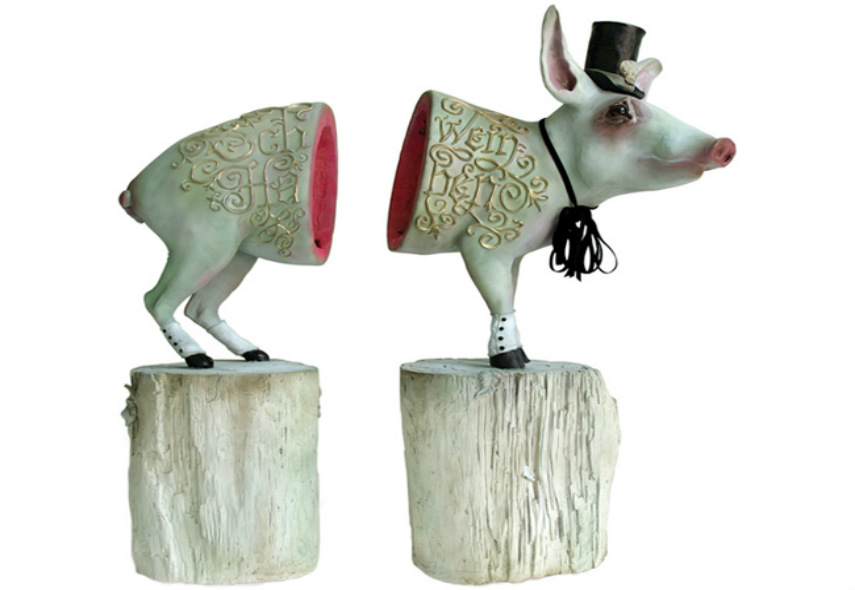 The Sculptor and The Singer
Born and raised in Hollywood, at the age of 13, her parents sent her to Victory Christian Academy, a fundamental Baptist lock-down facility for girls. After she has left the school, she lived as a homeless, struggling in the world of drugs and abusive relationships. Crediting her teenage life for much of the inspiration for her artwork, she has been nicknamed Bloodbath McGrath after the subject matter of her creations. Besides being a sculptor, she has a successful career as a lead singer of Los Angeles band Miss Derringer, cooperating with her husband, songwriter Morgan Slide.
She has been nicknamed Bloodbath McGrath after the subject matter of her creations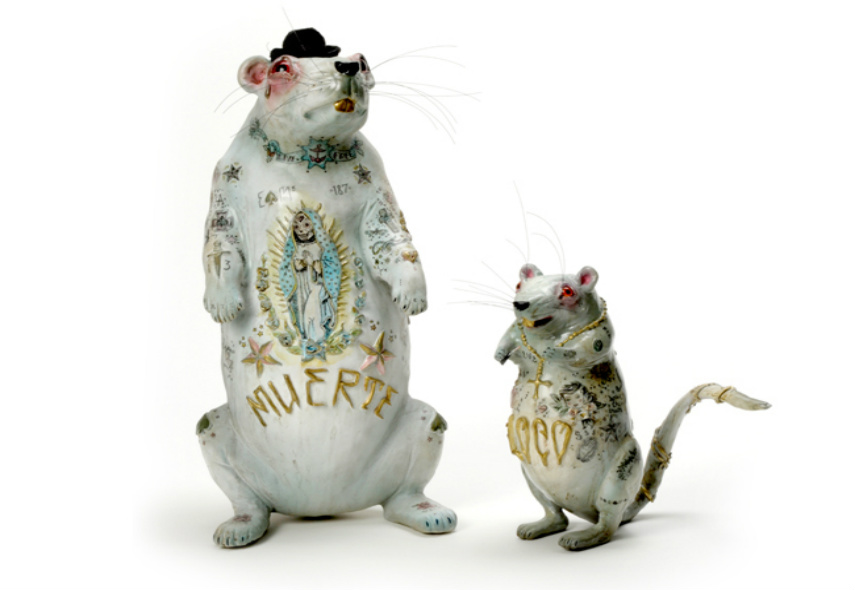 Talent for Discovering Strange Beauty
At the very beginning of her artistic career, McGrath was making flyers for her punk band and creating a fanzine Censor This with several other artists. Since her first solo show in 2002 at La Luz De Jesus Gallery in Los Angeles, named Everything That Creeps, she has been exhibited in numerous group and in couple solo exhibitions. All of her works carry a recognizable trademark, evoking the darker side of life and revealing her unusual talent for discovering strange beauty in familiar things. Her sculptures range in size and form, and dioramas represent the dressed animals and insects at the theater stage. With delicately balanced dark and pastel color palette, these subjects carry the melancholy weight of mourning. The highly detailed creatures reveal the skills of the self-taught artist.
All of her work evoke the darker side of life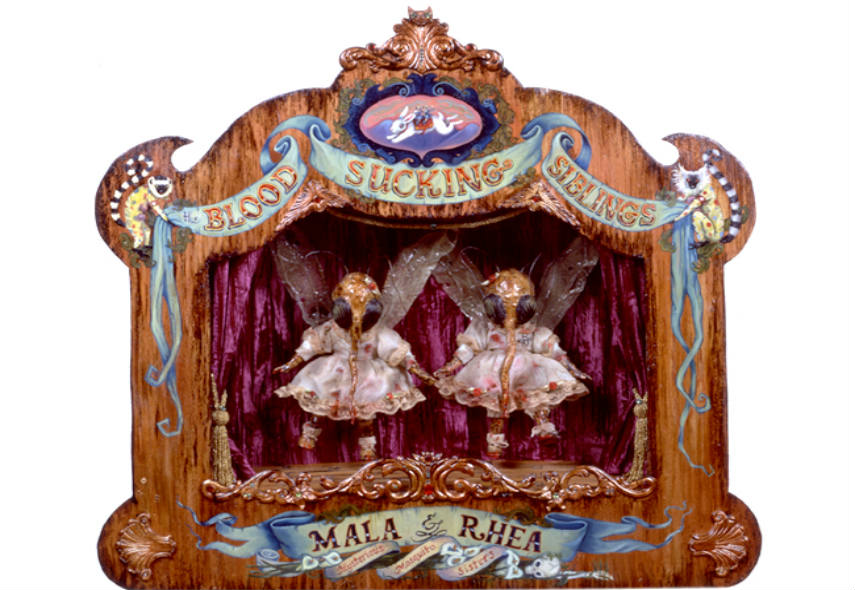 Aesthetics of Carnival Shows and Tattoo Art
Finding her inner peace through her music and sculpture, Liz McGrath is multi-talented artist whose work reveal her not so easy life. Recognizable by negative approach and dark side of every image, she creates three-dimensional pieces which evoke the detritus of everyday life. Her fictional creatures remind of products of our subconscious, anthropomorphized with human clothing. The animal figures are both gentle and frightening, with jagged teeth and oozing bloody eyes, they manifest horror and fragility at the same time. Using the aesthetics of Tim Burton, the carnival shows and tattoo art, every sculpture is dark miscellany which conjoin death with innocence.
Liz McGrath is represented by Corey Helford Gallery.
Liz McGrath lives and works in California, USA.
Featured image: Liz McGrath - Artist portrait, photo via roughdream.fr
All images © artist