Best known for his large-scale photorealistic murals, Lonac is a highly talented Croatian artist whose amazing works can be found throughout his native country and beyond. His signature huge, eye-catching pieces - created with spray cans and brushes - are usually influenced by skateboard culture, comics, graffiti, movies, music, but also current social issues. Strong knowledge of operating painting equipment including his masterful spray can control has allowed the artist to create a recognizable body of work that ranges from monumental realistic pieces to smaller, humorous and often surreal works.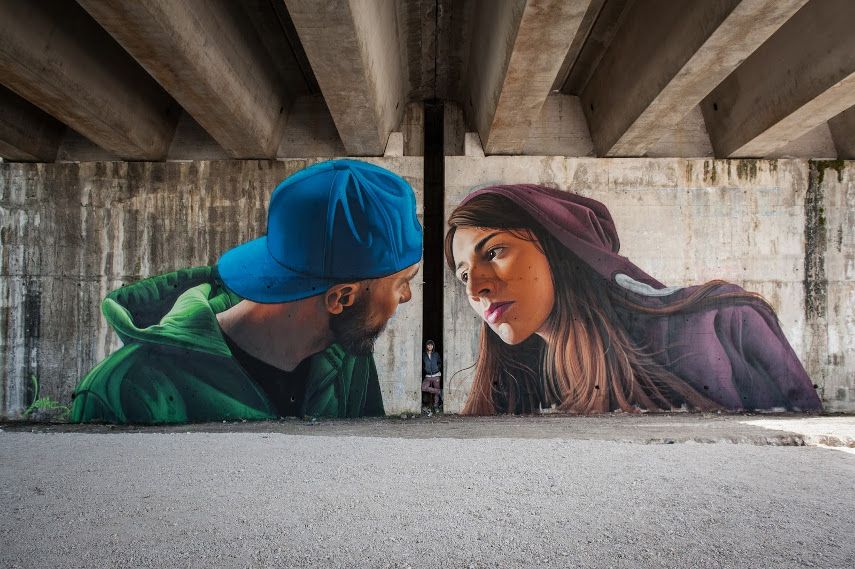 Early Works and Academic Background
The first piece Lonac did was on a wall in his backyard, and after a few times of painting there, he went to do the same thing on some wall of his primary school. His art teacher was so impressed with the work that she made the school council pay for the paint the young artist has used. "Moving boundaries in that way is fun, turning things around a bit, opening people to new stuff." Although he started doing graffiti back in elementary school, he never took it too seriously, so at the beginning of his college education the Academy of Fine Arts, University of Zagreb, Lonac almost quit painting on the streets because of the lack of time and energy. According to the artist, the only thing he learned in college was how to justify bad work: "There are not many people painting murals, or even painting with the spray paint in the way you do it with a brush, so I taught myself by hard work and by ignoring those with bad influences."
He became interested in graffiti during his childhood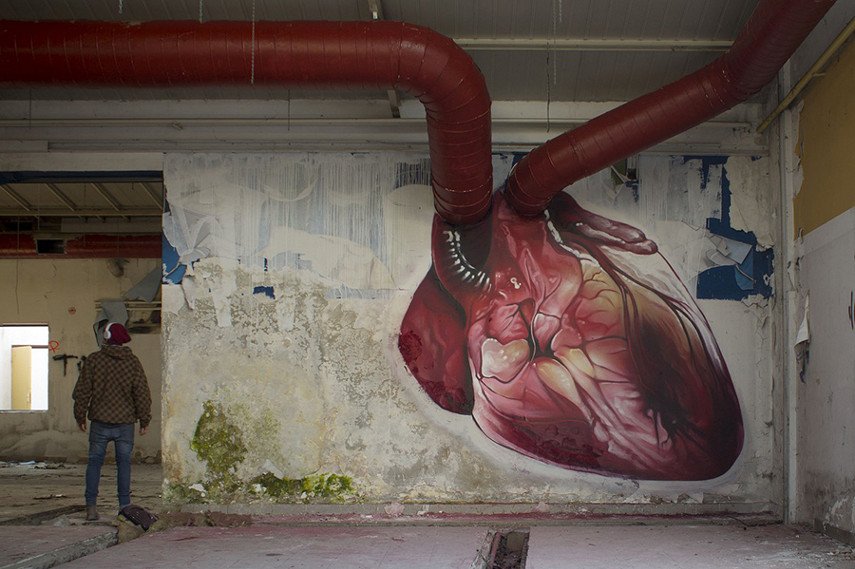 What Does Nickname Lonac Stand for?
In Croatian, "lonac" means cooking pot. That nickname was given to the artist when he was just a boy, and back then, he hated it. When he started doing graffiti, Lonac had to come up with some tag name for himself. At the time, all the graffiti writers had some cool gangsta nicknames/tags, but every name the young creative came up with sounded fake and pretentious, so he took the one he disliked the most. "Thinking about the beginnings really amuses me. It doesn't take too long to remember the feeling of child-like excitement and freedom I get while painting outside. It's easy to do it when you're a kid, but as people grow older they stop doing some of the things that made them happy."
Lonac recalls child-like excitement and freedom he gets while painting outside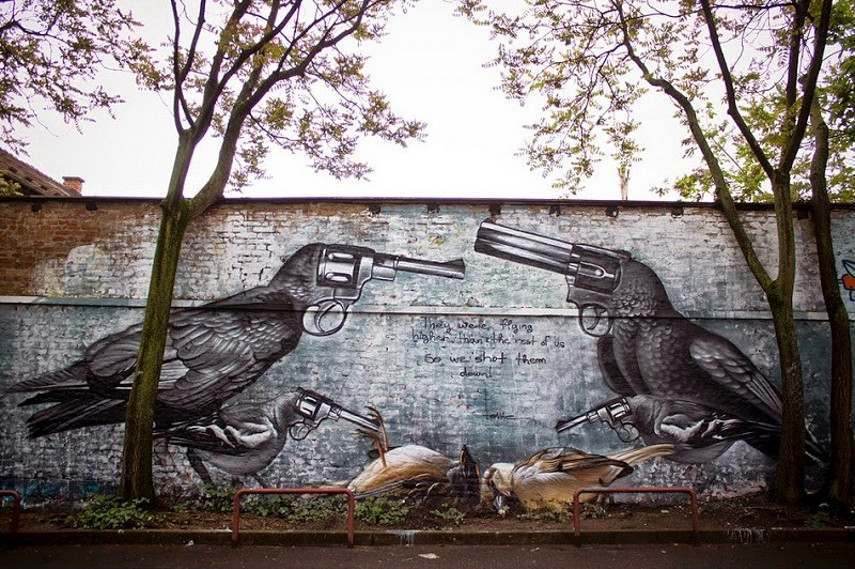 Lonac's Street Art Technique
Lonac was always interested in big murals, characters, classic paintings. It took him just a while to learn how to paint with a spray can, but it took him years to evolve and be able to do big walls in the way he makes them today. Over the years, the artist has perfectly learned how to use the wall as it is for a background, to compose the scene using the surroundings, to use already existing graffiti as a part of the composition. He improvises a lot and without it, for him, it isn't fun. He always has some sketches and a photo reference for the photo-realistic part that often characterizes his works. Sometimes, he likes to combine photorealism with the abstract background or with an illustrative 2D style. But, recently, he has worked mostly in freehand technique by painting realistic/surrealistic murals. "I think in Croatia people still don't take spray can as a medium too seriously. I see that as my window, my creating space. I feel that I'm upgrading from one work to another and taking it to the next level."
A short video of Lonac making a big mural for Re:Think street art festival 2016
Urban Philosophy
As someone who likes different types of creativity, Lonac feeds his brain with everything that is interesting, inspiring and worth of appreciation. For him, progress, improvement or constant upgrade are the most inspiring factors he can find in other people, either it is some painter, musician, skater or film director, among others. Instead of thinking about the possibility of problems with the law while painting on the streets, Lonac seems to have only fun and joy. "I had some funny moments on the streets, and it always feels like I'm in some Monty Python sketch… Even if it's a situation with an officer, I can't take it seriously. When a cop tells his younger sidekick 'look, this is cool, why did that lady call us, she has some issues with her husband', you just want to high-five him."
Lonac seems to have only fun and joy while creating his larger-than-life subjects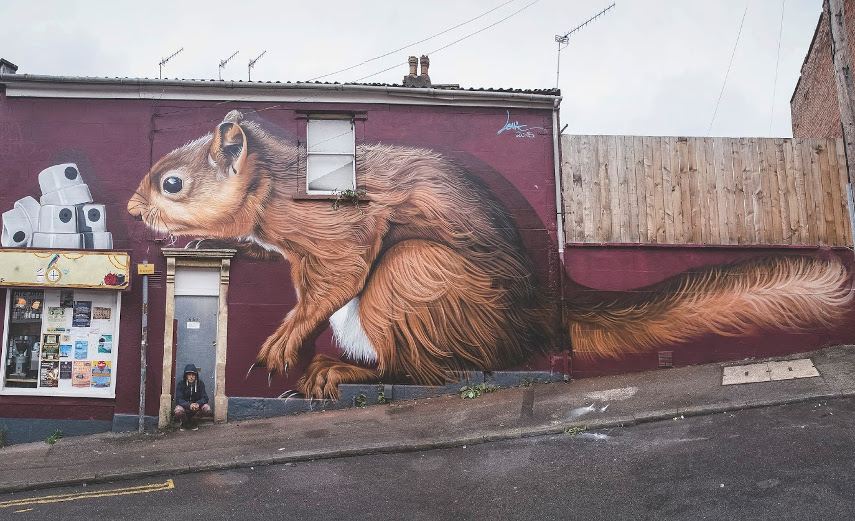 Get the Creativity Flowing
As an artist, Lonac wants to remind people that they should never stop expressing themselves creatively. To evoke. To challenge and explore. "Every experience, good or bad, should teach you something, especially if it's a total contrast to the routine." To date, his murals grace numerous walls in of cities like Zagreb, Sarajevo, Banja Luka, Bristol, London and others. Lonac's future plans are to paint more and bigger walls. As a contrast to that, to do some prints and smaller studio stuff, as well as to learn more, skate and hopefully travel.
Lonac lives and creates in Zagreb, Croatia.
Featured image: artist in fron one of his pieces
All images courtesy of the artist