Lora Zombie is a young self-taught artist born in Russia, known for her characteristic, self-described style of Grunge Art. She caught an eye of the art world through various social media platforms as her work circulated online, gaining a massive following of fans over the past few years.
Lora Zombie's Grunge Art
Born in a small town of Voronezh, Russia in 1990, Lora Zombie's professional career started almost entirely online. Through different blogs and social networking websites, her vibrant and unique grunge-style paintings reached millions of people. Lora was first noticed for her representations of the band members of Gorillaz. Her big muse is, as Lora herself stated, music, and many of her artworks are inspired by songs and lyrics created by her favorite bands. She continued to create drawings of her favorite musicians and bands, and has recently made a series of paintings dedicated to one of the most important figures of a grunge scene, Kurt Cobain. The series emerged from Lora's collaboration with HBO.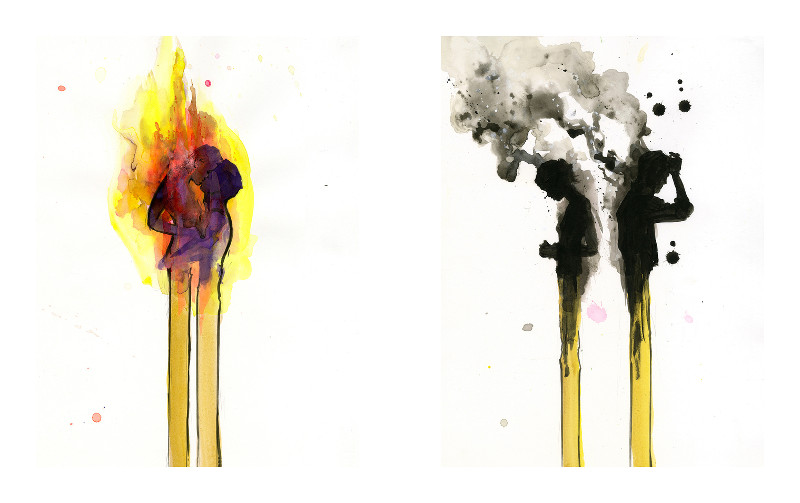 As a self-described Grunge Artist, Lora Zombie's raw trademark style is already unmistakable. Her great sense of color allows her to create intuitive impulsive drawings and watercolors with chaotic direction of vibrant colors, combined with careful and precise pencil and pen work. With her keen eye for beauty, Lora utilizes these bleeding, playful watercolors in order to depict pop-culture subjects and themes.
Many of Lora Zombie's works carry a social commentary and a message behind them, the artist's reflection, thoughts and vision. Focusing on problems such as pollution, war and poverty, Lora's paintings often illustrate her social and political awareness. The bold use of heavy watercolor creates a childlike, cartoonish style that contrasts sharply with confrontational subject matter, often accompanied by a humorous twist.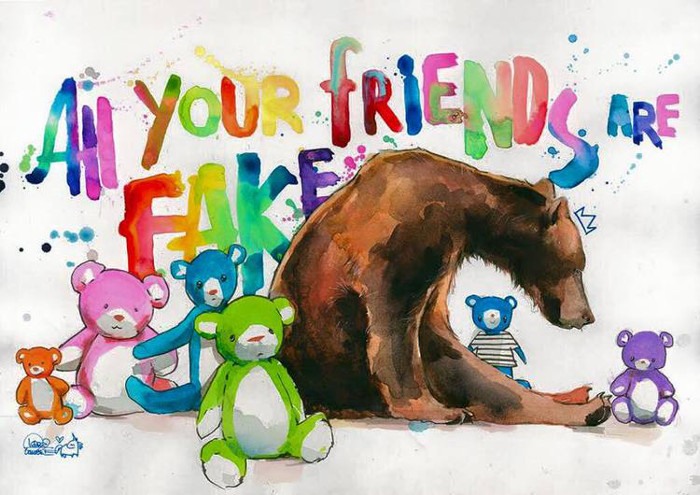 Exhibitions and HEROTIME Project
In recent years, Lora Zombie has caught the attention of the contemporary art scene. With many successful exhibitions throughout the US – in Los Angeles, San Francisco, Toronto and New York, she gained an international recognition as an artist. Apart from the United States, Lora's work has also been exhibited in her native Russia. From her modest beginnings as a lovable internet artist, Lora's journey has led her to become one of the top sellers on the urban art scene. Recently, Lora started designing for HEROTIME, an apparel and accessories company.
In 2013, Lora Zombie exhibited her works along with Sandra Chevrier, at Phone Booth Gallery. The exhibition, titled Pow! Pow!, brought together two artist sharing a similar sensibility – Sandra Chevrier and Lora Zombie both create paintings that riff on the superhero motif, rewriting these antiquated narratives to tell the stories of women.
Lora Zombie is represented by Ministry of Walls online gallery.