Considering universal and always interesting themes of change, isolation and fear of the unknown, Lori Nelson creates remarkable paintings that juxtapose contemporary expression and classic style of her work. The characteristic strangeness in her art is embodied by the physical appearance of her subjects. Drawing the viewer into the mysterious world of fantastical creatures, she develops special relations between the environments and her characters, giving every of them a personality of their own. Her movie inspired covered in hear characters are not much different from normal people, they also experience the insecurity and fear and their wistful look reveals venerable beings.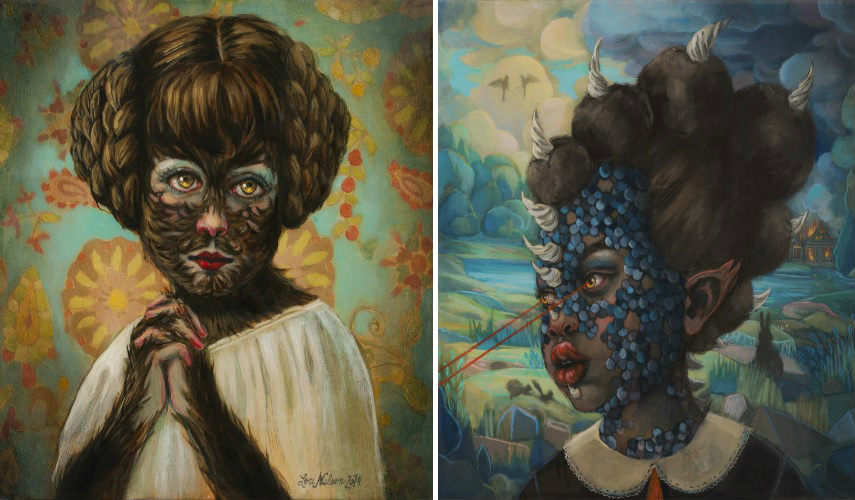 In the Ecstasy of Prayer
Growing up in religious, Mormon family, she was always fascinated with photographs and reproductions of devotional art. She considered portrayed children as the models of purity and sincere devotion. She admired their upturned eyes, pale skin and noble clothes, yearning to be sincere believer as them. Recalling the religious works from the past, her paintings from the series I Want to Believe represents exactly those beautiful children in the ecstasy of prayer. During the years, she has met numerous people who believe in different things, like hunters for the Yeti, conspiracy theorists that are in constant search for the aliens or those who can speak with dead. Persistent and avid in their belief, always ready to share it with all world, their experiences and passion inspired Nelson's artwork.
Children are the models of purity and sincere devotion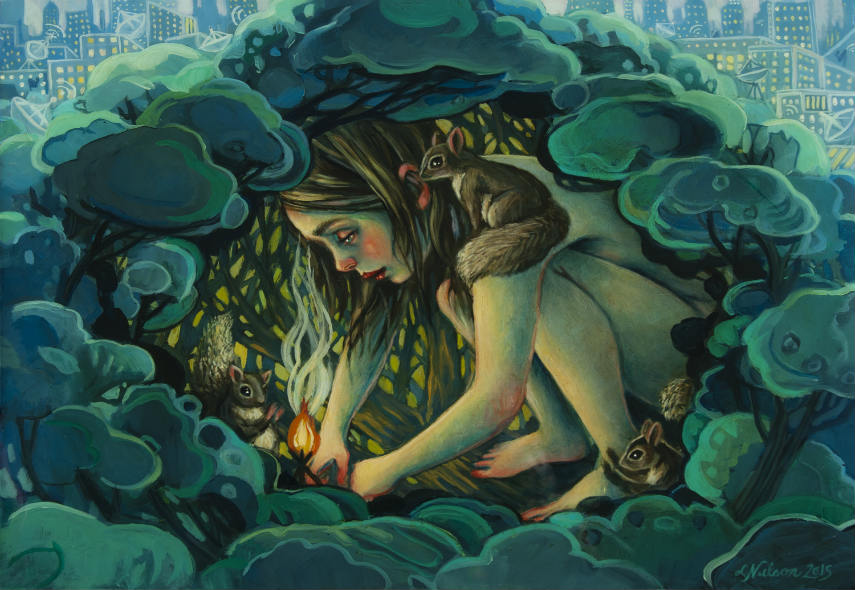 Exploring Fantastic Believer
Her images depict the world where Christian people live together with aliens, ghosts, yetis, conjoining the religion and otherworldly beliefs. In the ordinary images, there are beautiful children who prays. But on the reverse side, twisting the reality, Nelson represents little monsters, as human-cats, human-yeti or scaled reptilians, also in prayer pose, with clasped hands and eyes looking up. Identifying herself with these children, she strives to reach that kind of devotion. Aiming to explore not only the belief in fantastic but also the fantastic believer, the essence of her work makes a never-ending quest for persuasions.
Nelson represents the world where people live together with different creatures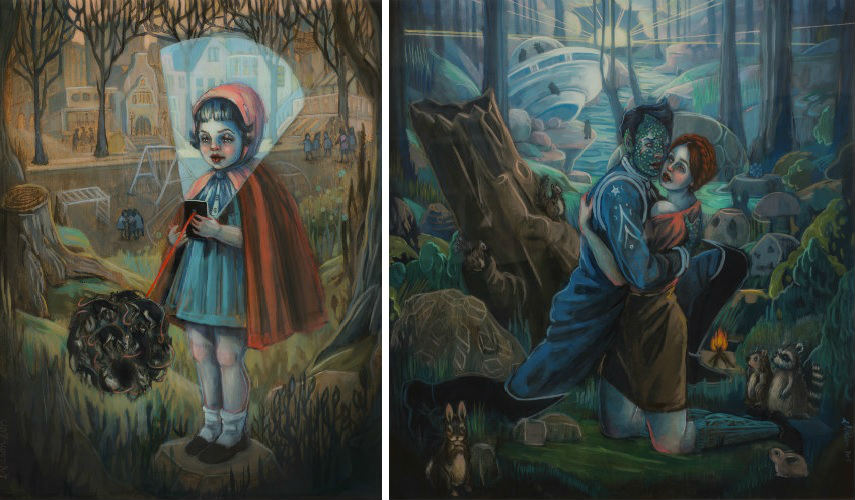 I Want to Believe
Earning a Bachelor of Fine Arts at University of Utah, Nelson's work has been shown in numerous galleries and juried art exhibitions. Her wooden panels represent mysterious landscapes and characters from fairy tales. Wishing to be the sincere believer, she explores different kind of persuasions, connecting Christianity with alien appearances and werewolf characters. The core of her expression makes the one's belief, not the subject, but pure devotion to something transcendent. Using the paint brush, Nelson reveals her inner being that searches for her own god.
Lori Nelson is represented by Corey Helford Gallery.
Lori Nelson lives and works in New York.
Featured image: Lori Nelson - Lila portrait (detail)
All images © artist