Louis Carreon is a California-born urban artist and painter strongly influenced by pop culture and art of his native region. He started painting back in the 90s and through passion, honesty, and a willingness to share his work, Carreon's art has evolved in terms of time, space, and his emotions towards it. Nowadays, he is one of the most influential and innovative contemporary artists in California and he has been commissioned by many prestigious venues and institutions throughout the United States, such as the SoHo House, Viper Room, Chicago Blackhawks and Autism Speaks. His creations are recognizable for their bold colors and sense of open-endedness.
[caption id="attachment_308809" align="aligncenter" width="865"]
Louis Carreon's Paintings - images via daville.co.za[/caption]
Early Days of Louis Carreon : Looking for Challenge across the US
Louis Carreon grew up in California and as a teenager he used to do a lot of skateboarding, surfing, rapping and tagging. Music and traveling were the crucial elements of his young days - he dropped out of school when he was only 16 and started traveling the country. By the time he turned 17, he tagged basically every bigger city in the US. His colorful and dynamic past enabled him to soak up various urban and street art influences, which he later expressed through his art, ranging from canvas-based paintings to street walls and even jets. Carreon's work always depicts a poetry and he puts emphasis on creating pieces with meaning. After having spent roughly 2 years in prison for drug related crimes, Carreon managed to find peace and solace in artistic expression and at the same cleanse his troubled soul and mind. This experience of immersing himself in art also helped him overcome his addiction issues.
By the time he turned 17, Louis Carreon tagged basically every bigger city in the US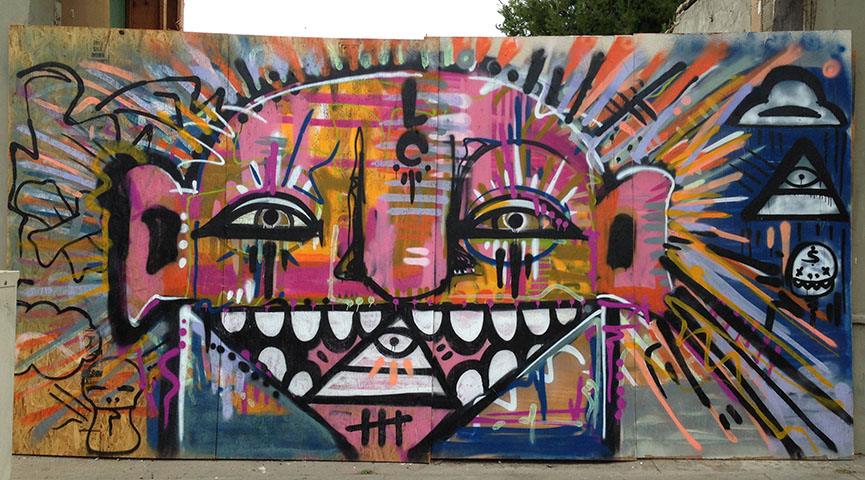 Painting a Jet during Art Basel and International Projects
In 2015, on the occasion of the famous Art Basel, Louis Carreon was commissioned to paint a private jet in collaboration with Landmark Aviation. This was one of the most important projects that Carreon undertook and it helped him understand even further the transformative power of art. He painted the jet in black and white throughout its exterior, creating an artwork reminiscent of Keith Haring and his Pop Art style. I dedicate this work to Keith Haring Foundation and the awareness of Aids, said Carreon for the press. The jet and a series of Carreon's paintings were exhibited at Miami International Airport's Lux Terminal during Art Basel. Carreon's studio, also known as The Drip Factory, is located in Los Angeles downtown and it is the artist's personal sanctuary where the majority of his artworks are born nowadays. However, he still travels often and creates outdoors pieces as well – for instance, in 2016, he started a new project and traveled to Camps Bay in South Africa and created a 17 x 6 foot canvas in which he collaborated with the local children and supported their community.
In 2015, Louis Carreon was commissioned to paint a private jet in collaboration with Landmark Aviation, which was also recorded in a video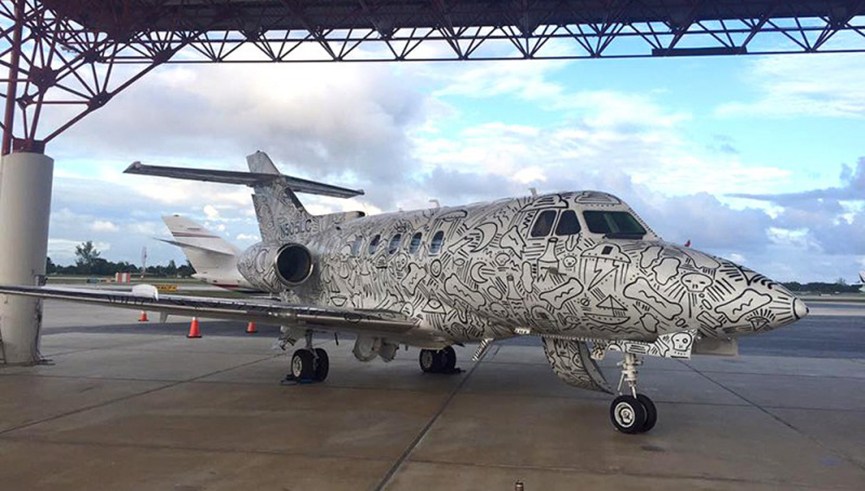 Jean-Michel Basquiat as the Biggest Influence
Visual arts had a transformative and healing power for Louis Carreon, which is evident in his works and his attitude towards his turbulent past - everything he's been through he puts out for the people who support him. He also claims that his biggest influence is Jean-Michel Basquiat and that he admires the way Basquiat used oil pastels and rollers and left his works unfinished and open to interpretations. I am not really into the art world, I just want to paint and stay humble towards my art, says Carreon about the very essence of his artistic work.
Louis Carreon lives and works in Los Angeles, California.
Featured image: Louis Carreon's Portrait - image copyright of the artist