Louis Comfort Tiffany is an American painter, philanthropist, decorator and one of the most creative designers of the late 19th century. He is known for patenting the type of glass named Favrile. During his prolific career which spanned from the 1870s to the 1920s, he made important contributions to the art of glassmaking. The artist was also one of the greatest forces of the Art Nouveau style, and one of the first American designers who received international acclaim. He was inspired by English cameo, Persian glass and Gothic stained glass windows. Tiffany felt that contemporary practice of painting on glass obscured the qualities of the material, so he developed new methods which resulted in Favrile glass, his most important innovation.
Angel of the Resurrection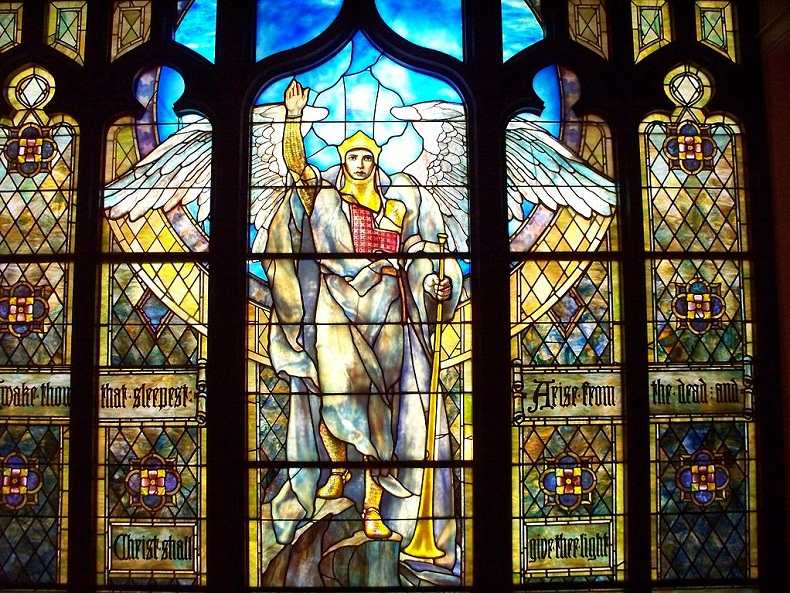 Early Life
He was born in New York City in 1848, to Charles Lewis Tiffany and Harriet Olivia Avery Young. His father Charles (1812 – 1902) was the famous jeweler and founder of Tiffany & Co, the most prestigious jewelry company in the United States.
Young Louis Tiffany attended Pennsylvania Military Academy in Pennsylvania and Eagleswood Military Academy in New Jersey. He decided to pursue his aspirations to become a painter, so he studied under George Innes in New Jersey and Samuel Colman in New York. He was also tutored by the painter Leon-Adolphe-Auguste Belly for two years, whose landscape painting had a significant influence on Louis. His early work was also influenced by the courses he took in Europe and his visit to Morocco. When he returned to the United States, he became an associate of the National Academy of Design in New York City.
Market Day Outside the Walls of Tangiers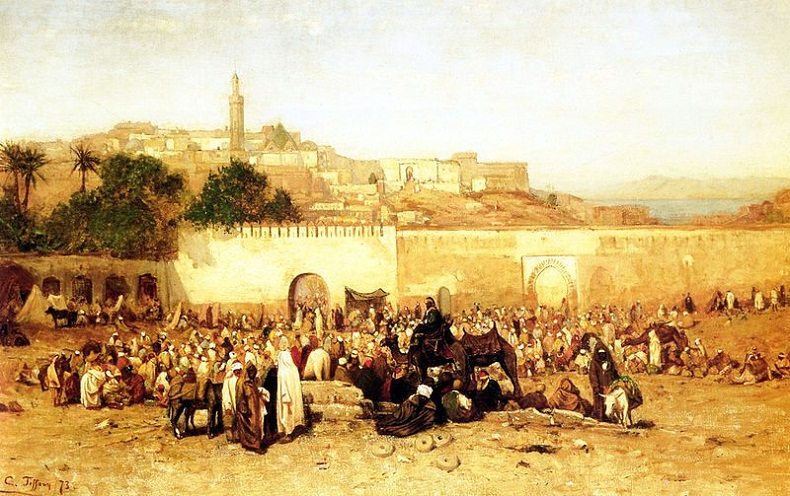 Career
His interest shifted from painting to glassmaking around 1875. In 1878, together with Candace Wheeler, Samuel Colman and Lockwood de Forest, he established a glassmaking company in New York, named Louis Comfort Tiffany and Associated American Artist. The company quickly earned popularity and respect for its blown glass art, lamps, ceramics and intricate stain-glass exhibits.
Already famed for the firm's interior design work, Tiffany was commissioned by President Chester Arthur to redecorate the state rooms of the White House, in Washington, D.C. The artist refurnished, repainted, added newly designed mantelpieces, changed the wallpapers, created the great stained-glassscreen in the entrance hall and included Tiffany glass in the rooms he worked on, namely the Red Room, the East Room, the Blue Room, the State Dining Room and the Entrance Hall. Much of the Tiffany's decorations were later removed in 1902, as Roosevelt wanted the interior to match the architecture.
Louis Comfort Tiffany and Associated American Artist closed in the mid 1880s due to the disagreement between Tiffany and his business partners. The same year, Louis Tiffany decided to establish his own firm, which would become known as Tiffany Studios in 1902. Tiffany continued working on jewelry, pottery, lamps, enamels, glass, mosaics, and large-scale stained-glass windows.
A Wooded Landscape in Three Panels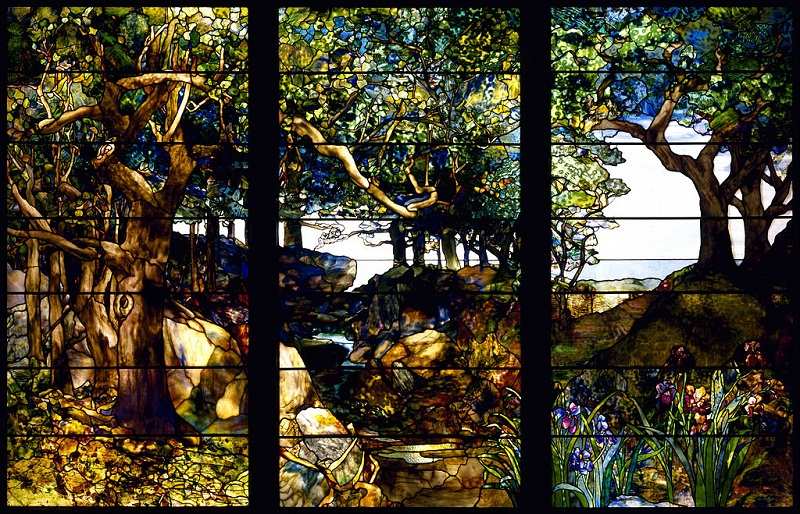 Favrile Glass
In 1893, the artist introduced the term Favrile glass, which he trademarked in 1894. It stands for the type of glass distinct for its brilliant colors and superficial iridescence, which causes the surface to shimmer, while maintaining its opacity. This effect was achieved by combining different colors of hot glass. Tiffany's glass was admired abroad, securing the artist's position of a world-famous glass maker. The artist was also known as one of the pioneers of Art Nouveau. His works were based on his conviction that art should be inspired by nature.
In 1902, when his father Charles Tiffany died, Louis Comfort Tiffany became the first Design Director of his father's jewelry company Tiffany & Co.
Collection of Tiffany Lamps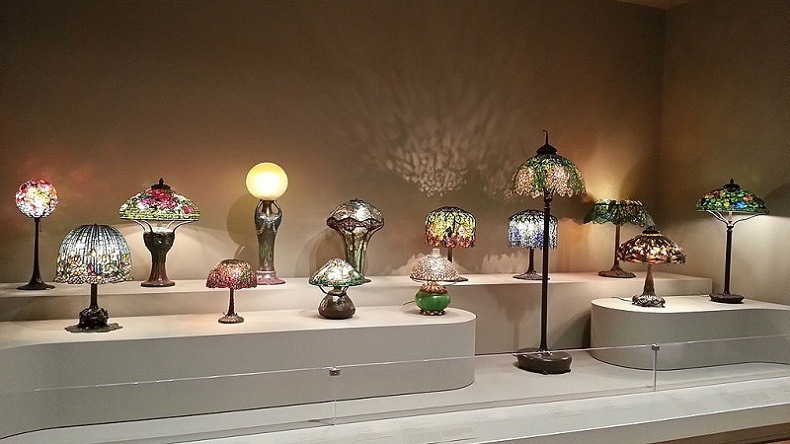 The Louis Comfort Tiffany Foundation
Tiffany established the Louis Comfort Tiffany Foundation for Art Students, a summer retreat for young artists and craftspeople located at his Long Island estate, situated on nearly 600 acres overlooking Cold Spring Harbor. The 84-room Laurelton Hall estate, which he had designed and envisioned as a work of art, was sold in 1946 to provide scholarships funds. The Tiffany foundation still provides direct grants to artists whose work shows talent, promise and artistic strength.
Personal Life
The artist's first wife was Mary Woodbridge Goddard, with whom he had four children. When she died, Louis married Louise Wakeman Knox. They also had four children.
Louis Comfort Tiffany died in New York City in 1933, at the age of 84.