Lucebert was a Dutch painter and poet, who made spontaneous art and revolutionary poetry. He propagandized revolution, reevaluation, and new beginnings. Born Lubertus Jacobus Swaanswijk, Lucebert used his art to express his deep beliefs and desire to change the world. His art was political, social and profound. He was a man of faith, and he relied on religion and his personal spirituality in challenging times. Growing up in poor conditions and struggling as an artist made him stronger, smarter and braver. He combined poetry and painting. Lucebert was a member of the CoBrA group, and he played a leading role in experimental poetry in the fifties.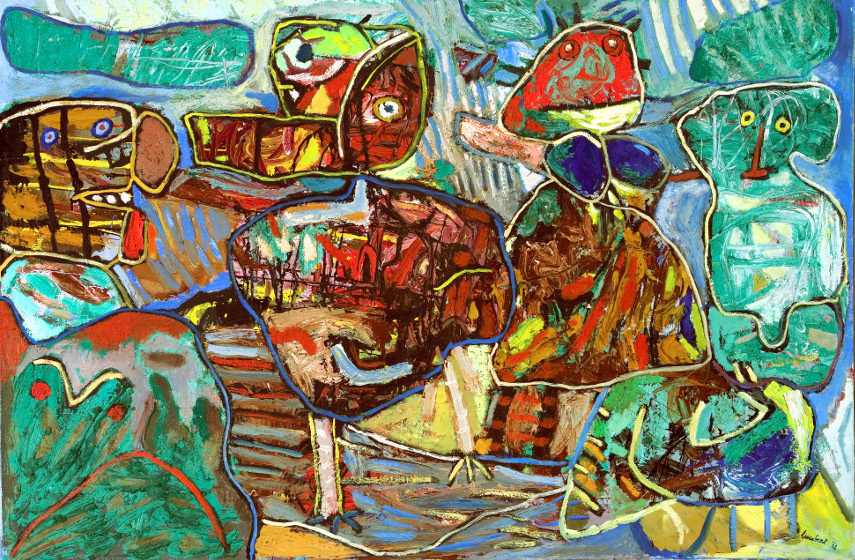 The One that Brings the Light
Lucebert was born in 1924, in Amsterdam. His father was a barman and a house painter, and his mother was a service maid. Since the early age, he showed great talent and affinity towards painting. He grew up in an impoverished neighborhood in Amsterdam and went to ULO Trade school. During his school years, he became interested in poetry and music and even took private lessons in painting from a teacher at a school. Lucebert did not have the opportunity to continue his education since his poverty-stricken father pulled him out of college, after just a few months of studying at the art school. His father gave him a job in his private painting company, where he painted houses and did manual labor. He spent his teenage years doing small clerical jobs. What kept his spirit alive is that he read poetry, wrote and painted as a hobby. During the adolescent years, he turned to Catholicism, and he was later invited to paint the mural at the Franciscan monasteries. However, the nuns of the monastery did not like his art, and it was soon painted over with white paint. The artist was a controversial person in a manner that he was a rebel, but his faith was strong. He chose his pseudonym by combining his given name and Latin word luce that means light, with German word bert that means shining. In the after war period, he felt his presence was needed in order to shine some light on a poor and hungry nation.
Lucebert made experimental art in naive and satirical form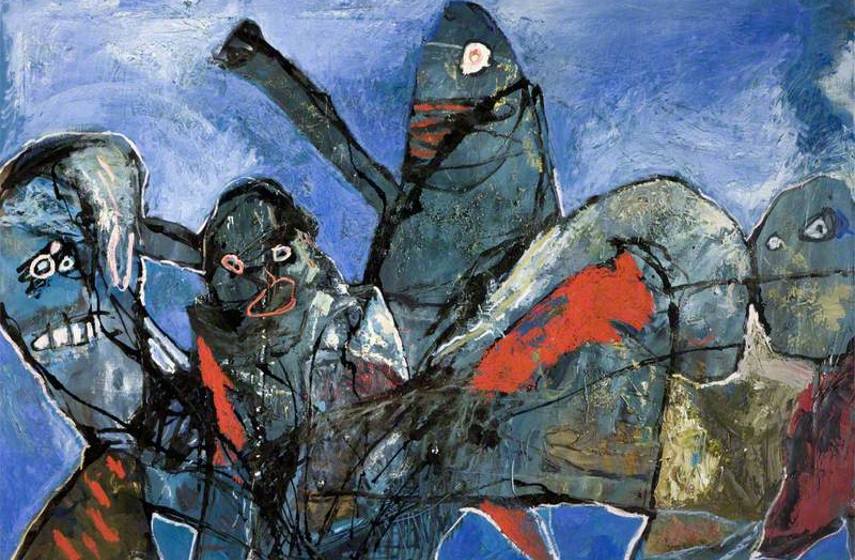 Poetry and the Avant-garde
In 1948, Lucebert became a member of the CoBrA group. It was an avant-garde association of the artist from Copenhagen, Brussels and Amsterdam. The name was made out of the first letters of the city names. Lucebert found the group thrilling and exciting since he joined them at an early stage. The group operated under the idea that the only way to heal the society is to preach the need for a new start. They propagated new beginnings, fresh and different from the old and traditional lifestyle. Lucebert first started with drawing in a naive style. He did his drawings them in black and white technique or in basic colors. His first exhibition happened in 1949 at the Stedelijk Museum in Amsterdam when he was a member of the Cobra group. His role at the group was to provide a fresh perspective on the issues that concerned them. His verses were raw and honest. A powerful wordplay made him a leading poet of experimental movement in the 50's. For his lifetime, he wrote about seven hundred poems, and made over thousand artworks. Besides drawing and painting, he did some clay work in the similar naive and experimental manner. In 1953, he won the prestigious award for his writing, by the city of Amsterdam. However, something strange occurred at that event. He showed up dressed as a monarch, a king, and he was living at the artist welfare at the time. The judges and the audience did not like his rebellious act, and soon after, he voluntary left the Cobra group and the city life. He moved to the north of the country, to the neighborhood where many artists lived, and started painting, photographing and making lithography prints.
Demonlike creatures were often the main characters of Lucebert's paintings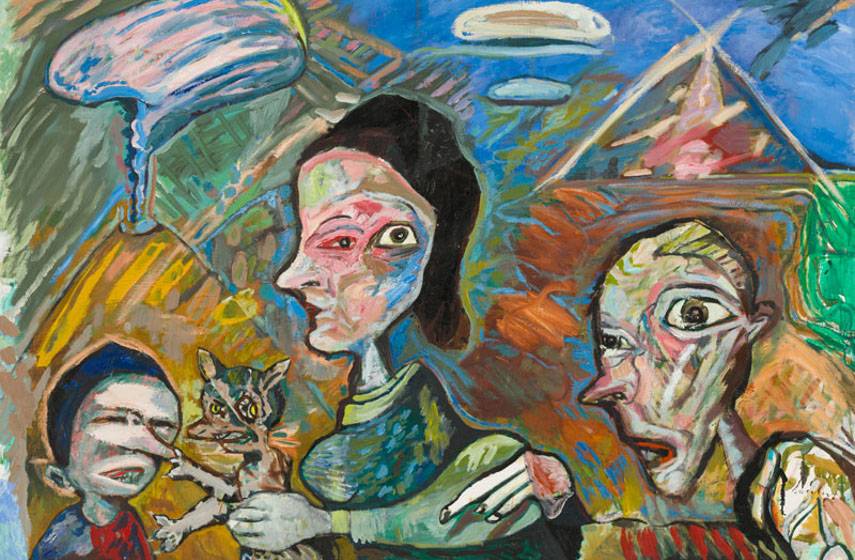 Experimental Leader of Freedom Revolution
His experience as the poet was crucial for his artwork. Being a part of the avant-garde and experimental group shaped his act and moved him to more profound areas of creations. He was a predecessor of visual poetry. Lucebert wrote the legendary lines anything of worth is defenseless. These words describe his life philosophy, too. He wanted to stress out everything that was ugly and corrupted in this world. His drawings were not as much naive as they were caricatural. Demonlike creatures were often the main characters of his pieces. In exaggeration and hyperbole, Lucebert satirically expressed what he thought of the post-war modern society. He wanted to loose the chains of context and syntax. In both painting and poetry, the conventional methods of creation always took the advantage of the word game. The initial power of painting, or versing, is to let the raw essence of the concept express the beliefs and visions. In a traditional game, this was sacrificed for the power of aesthetics. The artist spent his life fighting the traditional. However, he was rebellious even in his own rebellion. It seems that his only concern was to create, to enlight, to send some luceberting to the world. What he criticized were not just traditional values in culture, he also scrutinized the political and socioeconomic regimes, lack of freedom when it comes to sexuality and religion.
The artist scrutinized the political and socioeconomic regimes and lack of freedom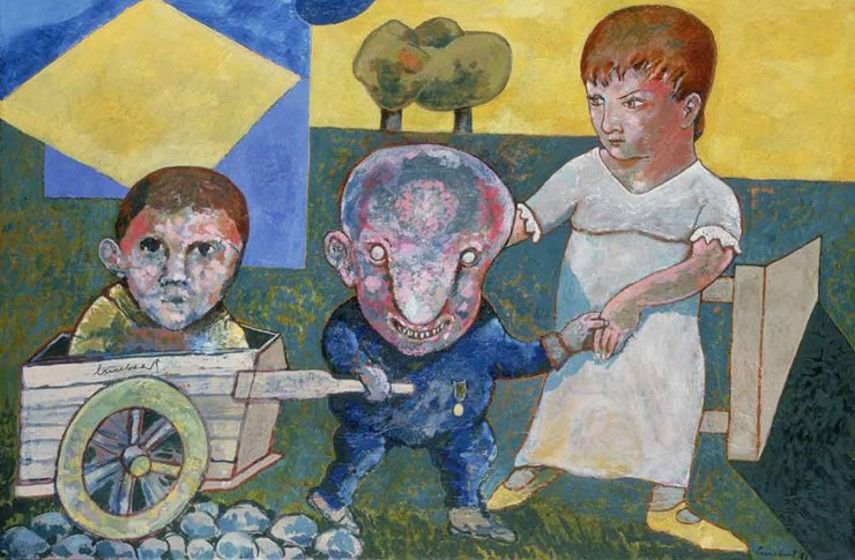 Rebel with a Verse
Lucebert made strong, at the times, rebelling art. His mission was to move people, sometimes even shock them. Emotional reaction was needed since it was the best way to put people in motion. The revolution of thought after the war was avant-garde and rebellious. Art inspired him for writing and writing led him to painting. This double game of inspiration kept him in a strong creative flow for years. He exhibited in Netherlands and over the Europe. He had few prominent exhibitions in London after his work was shown in the Trends in Modern Dutch Art traveling display. Even though he was the one to bring the light it, his views on human existence were quite dark and pessimistic. It had to do a lot with his upbringing and growing up in poverty. When he was fighting hard for individuality, he was misunderstood. When the was praised for his creativity, he argued against it. Rebellious in nature, this artist was a leader in experimental poetry and art. He fought hard to free himself from the imposed frameworks and traditional trends of writing and drawing.
All images © Lucebert
Profile image © Henk Jonker via IAMSTERDAM