One of the most celebrated portraitists of the late 20th century, Lucian Freud stood out for his resolute observations of anatomy and psychology of his sitters, exclusively close persons to him that he used merely as means for figurative innovations. Also, obsessive self-portraitist, the series of paintings dedicated to himself spanned over six decades, providing insight into his narcissism and self-sufficiency that fueled his creative tendencies. Maturing during the popular avant-garde movements such as Minimalism, Pop, and Conceptual Art, Freud belonged to a group of reactionary artists dedicated to figurative realism, gathered around the so-called School of London. Relying on the famous Expressionists Egon Schiele and Edvard Munch, but also tilted perspective and intimate depictions of Vincent van Gogh, Freud's style remained surprisingly consequent considering his enviably long career. Probably by default, the psychological intensity of his portraits was the result of many hours spent with sitters that could be compared with the psychoanalytic practice of his famous grandfather, Sigmund Freud.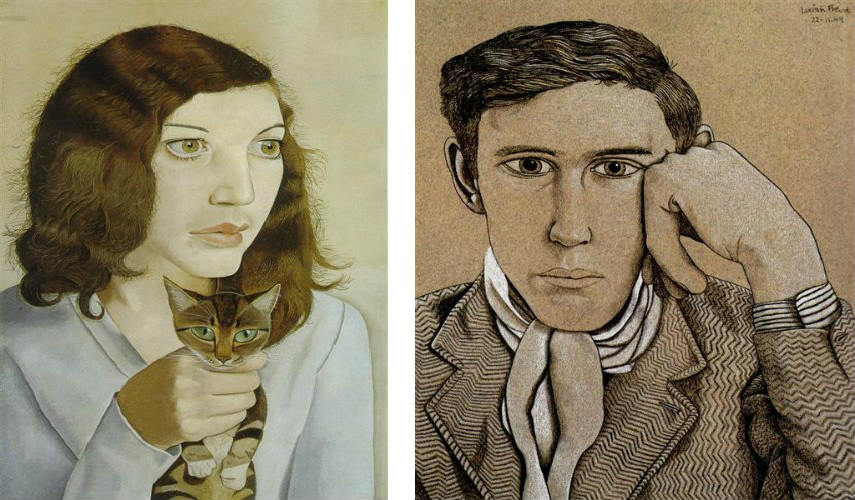 Early Life and Beginnings of the Artistic Career
Lucian Freud was born in 1922 in Berlin in an artistic Jewish family, from the art historian mother Lucie Brasch and architect father Ernst who was a son of the well-known Sigmund Freud. Fleeing from the Hitler's regime, they left to England in 1933 and settled in London. Although expelled from school at the age of 15, young Lucian was always interested in art and his talent was confirmed very early when one of his drawings that he made in 1930, was selected for an exhibition of children's art at Peggy Guggenheim's Gallery. Still, his rebellious behavior has not improved during the time and his studies of art at the East Anglican School of Paintings and Drawing were also marked by the scandal when his careless discarding of a cigarette caused the fire in the school building. He spent a couple of months in the Merchant Navy in 1941, and after finishing his education in 1943, Freud became seriously committed to painting, creating one of his first great pieces, The Painter's Room. During this period, principally interested in drawing, especially the face, his style was based on some experimentations with Surrealism and loosely relied on Neo-Romanticism, but he soon established distinctive identity reflected in his Realist artworks, permeated with a feeling of alienation. He was heavily influenced by a so-called Slade School group, particularly William Roberts and Stanley Spencer whose use of flat cubism, and distortions are evident in Freud's early work. Two years spent in Greece and France affected his artistic development, particularly influenced by the introduction to Pablo Picasso and Alberto Giacometti. After he returned home, it was to begin teaching at the Slade School of Art and exhibiting in London galleries.
In 1948, Lucian Freud married well-situated Kitty Garman, the daughter of the sculptor Jacob Epstein, but his tendencies over other women resulted in the soon divorce. Still, she was present long enough to be the subject of his first important series of portraits, characterized by their plain outlines, stylized drawing, and stark lighting. On the painting Girl with a Kitten (1947), she left the impression of the restless sensuality, resembling the 15th-century Flemish portraits, or maybe even Ingres' determination of expression. His next wife was Guinness heiress, Lady Caroline Hamilton Temple Blackwood, despite the disapproval of her parents. Although interesting and charming, Freud was a temperamental and fickle spirit, with the great interconnection with his work that was always in the first place in his life. Being very eccentric, Freud made a quite sensational appearance whenever he showed, carrying the hawk on his shoulder and wearing a fur coat. When he wasn't in his studio painting, he was gambling or hanging out in the bars in the company of the fashionable British aristocrats and artists, mainly Francis Bacon with whom he mutually exchanged impacts until their final argue that resulted in the end of friendship. One interesting story that was also the result of his urgent nature and disagreement with his colleague and friend, follow his name even after his death and concerns one of his portraits that was owned by his enemy, painter Denis Wirth-Miller. Due to their quarrel, Freud spent years denying his participation in the creation of the image of the man in a black cravat, but after the long investigation conducted by the leading experts, it was confirmed that this painting is Freud's work created probably in 1939, during his studies at the art school. The portrait was estimated at £300,000.
Freud was heavily influenced by his friend and colleague Francis Bacon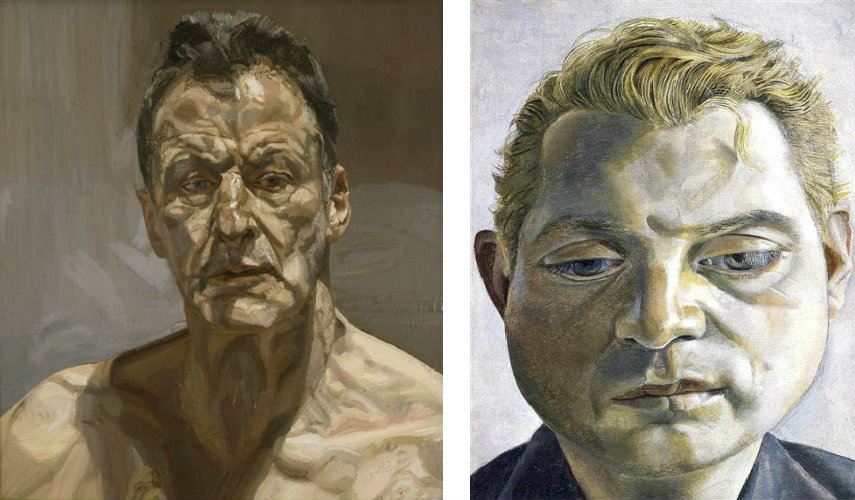 Freud as the Portrait Painter
Freud realized that the portraiture was the most convenient way of his artistic expression, putting his sitters on the difficulties, considering that the process of posing often took months of multiple hours in front of his easel. Everything was happening behind the closed door in a total privacy and the close relationship that they developed vas very important for the artist. Portraying exclusively his friends, lovers, relatives and own children, he rarely worked on commission. Portrait of a book dealer Bernard Breslauer was the first and the last time when he painted someone he didn't like, that much that he could not refrain from being unkind and spry, so the unhappy sitter wrote the protest letter and asked him to destroy the painting[1]. David Hockney, Francis Bacon, Kate Moss and the Queen of England were among his well-known sitters. Creating autobiographical paintings through his posing characters, Freud was actually telling a story about himself. Obsessively trying to capture every detail and flaw, his specific approach to figuration and the technique he used often was a source of frustration and, in a constant quest for the solution of this problem, Freud finally discovered the stiffer hog-hair brushes that enabled him to apply paint more broadly and faster, and as the most important, to stand while he painted. "My eyes were completely going mad, sitting down and not being able to move. Small brushes, fine canvas. Sitting down used to drive me more and more agitated. I felt I wanted to free myself from this way of working...."[2] That led to the great change in technique and accordingly, in effect that was reflected in heavier and freer strokes and more layers of paint.
Lucian Freud portraited only his close friends, lovers and relatives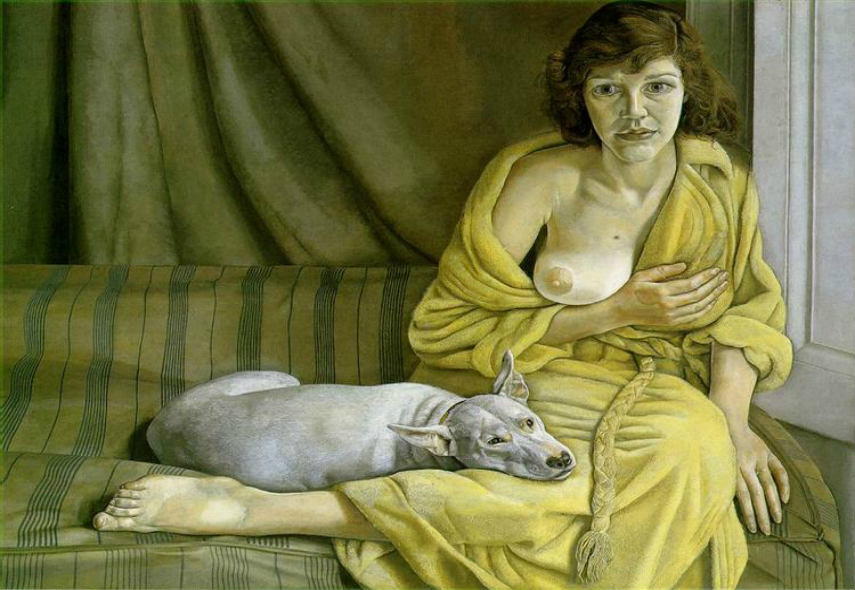 Nudes and Self-portraits
Concurrently, during the 1950's, he began to explore the "naked portraits", disapproving and often unflattering detailed nudes among which images of his children were the most controversial. This change of subject matter coincided with his technical innovations. Girl with a White Dog (1951-52) is a fine example of his transitional period, showing the characteristic of his previous works and announcing the future ones. Widely using the animals in his compositions, Freud often depicted pets with their owners, such as Guy and Speck (1980-81), Eli and David (2005-06) and Double Portrait (1985-86), but as passionate rider particularly fascinated with the horses, he created pieces like Grey Gelding (2003), Skewbald Mare (2004), and Mare Eating Hay (2006) where he depicted his favorite animals only. Different from his usual subject matter were his images of plants, huge piles of the linen rags used for the cleaning of brushes and several portraits with the views of London rooftops seen through the window in the background. Insisting on the fact that he painted from life, Freud spent a great deal of time on his subjects, keeping them present in his studio even while working in the background of the portrait. For example, one nude form 2007 took approximately 2,400 hours to finish. The sitter posed for sixteen months every day but four evenings and each visit lasted for five hours. His process has always begun by drawing with the charcoal on canvas, followed by the application of the paint to a small area and then to the rest of the surface. When he worked with the new sitter, he started with a head, explaining this as an introduction to the person. The eye contact and connection with the model was a necessary element. Regarding the difficulty in deciding when a painting is completed, Freud said that "he feels he's finished when he gets the impression he's working on somebody else's painting." Freud's self-portraits, the subject matter to which he returned frequently over the time, reveal the most obvious characteristics of his psychological conditions. The Reflection (1985) is one of his iconic pieces of this kind, in a complete contrast to his usual explicit nudity of portraits, only bare shoulders are visible. In openly self-aware posture, challenging the viewer with a direct look and eye-contact, his extraordinary crafts are evident in the opulence of strokes, the most expressive on the facial treatment and masterful balance of light and shadow. Freud admitted that self-portraiture was the ultimate challenge for him, that he use to emphasize his good-looking that he was immodestly proud of.
During the 1950's, he began to explore the "naked portraits"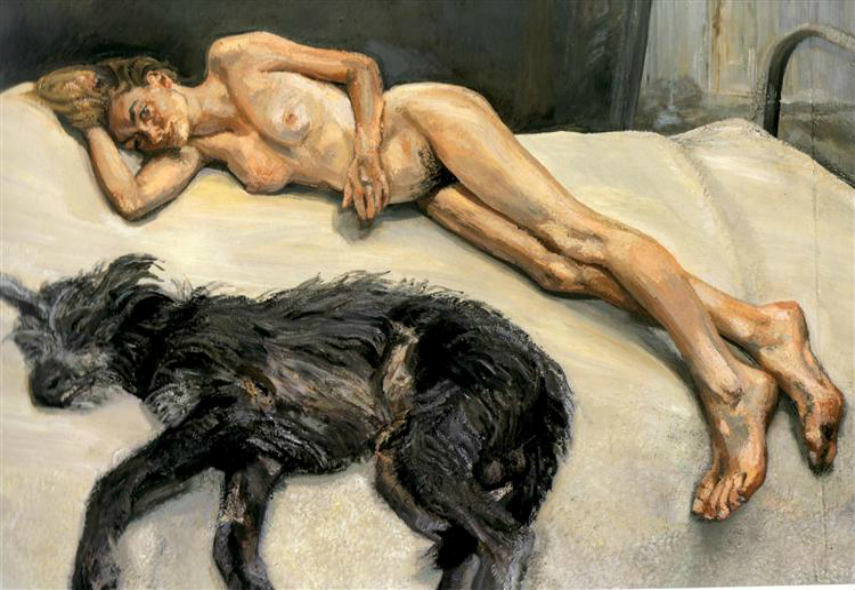 Lucian Freud's Later Period
During the late 1980's, he gained an international recognition, partially due to the great 1987 retrospective and his new represent, an American art dealer William Acquavella. Near the end of his career, Freud revived the etchings, a technique he used during his student period. His reputation of a great charmer and seducer remained on the same level even when he was older and in 2002 when he was 80, magazine Tatler declared him as the second most eligible bachelor in Britain. Two years later, Freud made two portraits of his fifty years' younger girlfriend, including the nude The Painter Surprised by a Naked Admirer (2004-2005). His life-long early established focus was portraits and nudes, which he often depicted in arresting close-up. His early work was meticulously painted, and so he has sometimes been described as a Realist artist, but the subjectivity and intensity of his work have always set him apart from the sober tradition characterized by British figurative post-war art. As an emerging painter, Freud was heavily influenced by British painter Francis Bacon's disruptive smear and portrayal of the innate perversity of the human existence. Like Bacon, Freud succeeded in turning his models' bodies into a painterly residue, recognizably human but still grossly material. His later paintings, from the late 1950s on, feature even broader and more expressive brushstrokes, and include series of portraits of Freud's friends and family, exhibiting his closest relationships. Freud passed away in London, on July 20, 2011, at the age of 88. Never slowing down his intense painting practice, the artist respected an almost seventy years-long routines of morning and night working and in the afternoon breaking until the very end of his life. Lucian Freud was one of the best known British representational artists, shortlisted for the Turner Prize in 1989[3].
The artist is represented by Marlborough Fine Art London and Marlborough Gallery Monaco.
Sources:
Foster, P. (2016) Portrait that Lucian Freud denied painting revealed as genuine, The Telegraph [August 19, 2016]
Anonymous. Lucian Freud, The Art Story [August 19, 2016]
Anonymous. Lucian Freud, Wikipedia [August 19, 2016]
Featured image: Lucian Freud in his studio - Image via anthonylawlor.wordpress.com
All other images via wikiart.org