Lucy McLauchlan is a British contemporary artist, she is best known for being a part of the Beat 13!, a collective since 1999, and the operations umbrella for Matt Watkins and Lucy McLauchlan working in paint, photography, video and animation, as a duo or in their own right.
Lucy's Birds and Faces
McLauchlan was born in Birmingham, England. In her art, she combines ancient, almost prehistorical influences with a contemporary graphic sensibility. What binds these two disparate references together is Lucy's clear vision, creating her immediately recognizable style. Other influences such as art deco, psychedelia, naturalism, contemporary female figurative work and even childlike motifs can also be found in Lucy's work.
Combining studio work and street art, Lucy McLauchlan creates mixed media paintings, installations, and public murals - she is very interested in the handmade and site-specific. The collision between industry, nature, and technology in contemporary life is her field of interest. Today, when visual images are processed to perfection using technology, McLauchlan craft is reflected in her use of permanent materials like Indian ink and marker pen: If I make a mistake I can't remove it; often though, the accidental details become my favorite, she says about her one-take philosophy.
Lucy works with markers, pen or paint, in black and white, on different surfaces like canvas, walls, metal, wood, cars and breasts. Her use of unlikely found materials ranges from builder's tools to antique amphorae. Lucy's art is usually in mono tone or with basic colors such as red, but always rich in graphic elements. Leitmotifs in her work are distinctive characters and freeform organic motifs, mostly faces and birds. Its characters interact with each other and the viewer to reveal the more intricate inner workings of the individual subconscious.
She often paints with little or no preparation and engages her instinctive approach to smother spaces with paint, creating chaotic and seductive environments.
Lucy McLauchlan owns a certain creative initiative that easily transforms the drabbest object, and even the exotic one, into unique piece of art. Such works include animal skulls, mock tribal fetishes and store mannequins. Lucy's anti-consumerist beliefs are over and over represented by her regular use of empty paint pots and other studio detritus; they are painted as part of her passionate support of Britain's Buy Nothing Day.
Expressive Deviant Phonology at Lazarides
In 2007, Lucy McLauchlan's held her first London solo exhibition Expressive Deviant Phonology. The show presented a series of canvas work alongside a site-specific installation. It also had a part with collaborative work that involved the participation of musicians whose music affected the artist's drawings. Expressive Deviant Phonology was hosted by Lazarides Gallery in Soho.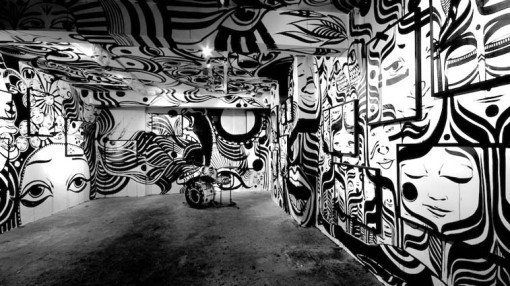 With two tone bold calligraphic strokes, Lucy inked her way in our consciences through the exhibition space while turning the show's preview into a chaotic union of light and noise.
Lucy McLauchlan has been represented by Lazarides since the exhibition and continues to show with the gallery regularly.
Ghosts of Gone Birds
For Ghosts of Gone Birds in Malta in 2012, Lucy McLauchlan painted potential prey on the exteriors of traditional hunting hides, scaring the true targets away.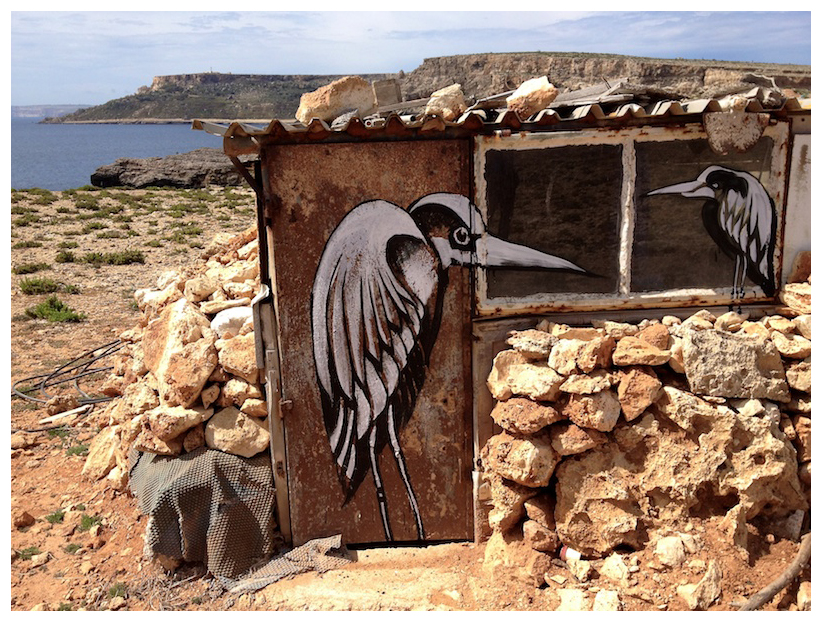 Ghosts of Gone Birds is an organization with a goal to raise creative army for conservation through a series of multimedia exhibitions that breathe artistic life back into extinct bird species, celebrating their diversity thru paintings and sculpture, talks and poetry, installations and live music. They count over 120 artists, writers and musicians contributing work to the project. Each one of them has adopted an extinct species and breathed life back into it through their creative talents.
Anything is Possible at Birmingham Central Library
Lucy's decorative, soothing and stimulating artwork attracts many mural commissions. In her native Birmingham her work provided a compelling contrast with the city's notoriously brutal civic architecture, including on the exterior of its Central Library.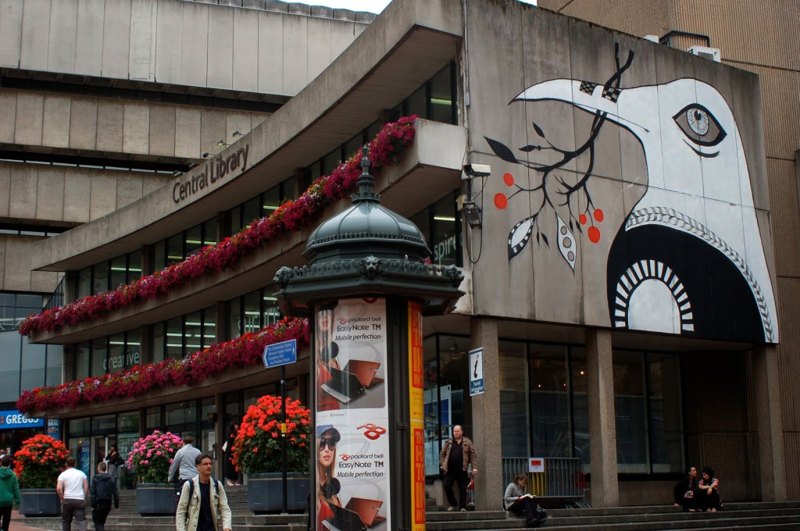 Under Section 1 of the Wildlife and Countryside Act of 1981 it is an offence to intentionally take, damage or destroy the nest of any wild bird while it is in use or being built. Learning that fact Lucy decided to participate in a project she named Anything is possible. In July 2010, Lucy painted three multi-storey birds on library exterior.
In 2013, she was invited to create a mammoth, site-specific installation within the Book Rotunda of the new Library of Birmingham:
"I spent some time in John Madin's library making sketches, rubbings and photographs, documenting the architectural features and absorbing Madin's style and use of materials. This research material has influenced my final artwork (which was important to me to include some of the old into the new, a nod of respect) as has the new library been my other source, with its constant circles, ever connecting."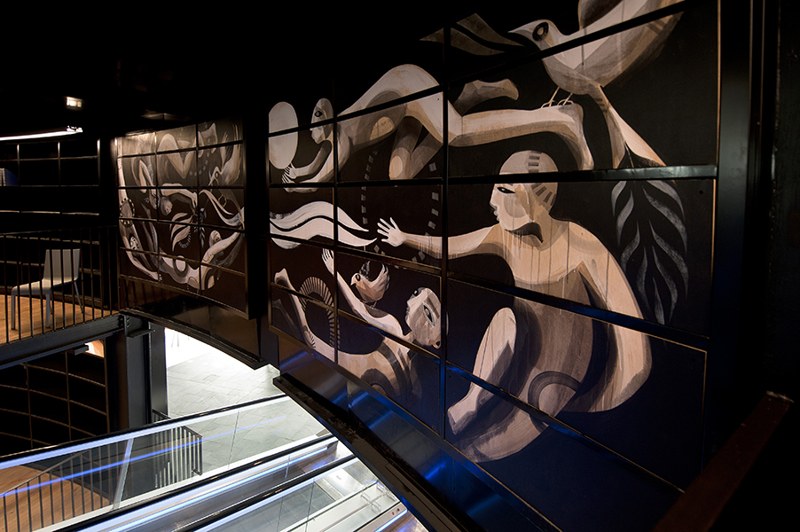 Lucy's work has appeared in magazines including Hidden Tracks, Hand to Eye, Creative Review, Graphic International, DPM, Graphic Britain, IdN magazine, Modart, Relax and Plus81.In July 2010, she painted three multi-storey birds on Birmingham Central Library and Lucy's work has also featured in other galleries in Europe, Japan and Australia. Four artworks from Lucy are featured in the permanent collection of the Victoria and Albert museum.
Lucy McLauchlan lives and works in Birmingham, UK.