Ludwig Mies van der Rohe was one of the greatest architects of the 20th century. His amazing philosophy of open space and clean surfaces, combined with Bauhaus school, made his buildings one of the most elegant constructions of post-World War I. He was usually addressed just as Mies. Mies firmly stood behind his opinions and did not compromise for the sake of quiet negotiation. Because of his opinionated and passionate nature, we now have amazing monumental houses and buildings, such as Barcelona Pavilion, Farnsworth House, S. R. Crown Hall and his famous chairs of Bauhaus design.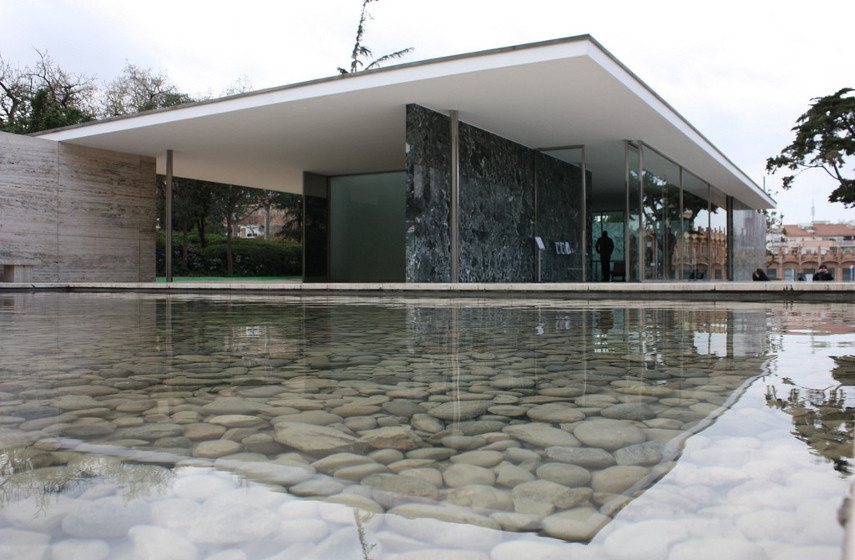 Early Works
Mies van der Rohe was born in Aachen, Germany in 1886. Since he was just a boy he started expressing his affinities towards creative arts and construction. He worked with his father in their family stone-carving workshop. His next job was in Berlin, where he worked in interior design, before pursuing architecture. Mies was an apprentice in the studio of Peter Behrens for four years. Being a part of architectural studio gave him an opportunity to be exposed and to stay informed about theory, practice and trends in German architecture. His talent was quickly recognized and he started working individually. First, it was just about redesigning houses, next came the larger projects. Quickly adapting to new challenges, he simultaneously wanted to adapt to new social circles he was in. He took his mother's last name Rohe and gave himself a title van der. He renovated aristocratic houses in Germany, sticking to the modern form of the purity and openness. The elements had to be simple and cubic. There was no room for complex, messy and piled up details. He disliked ornaments, irrelevant to the functionality and pure relationship between men and nature.
Villa Tugendhat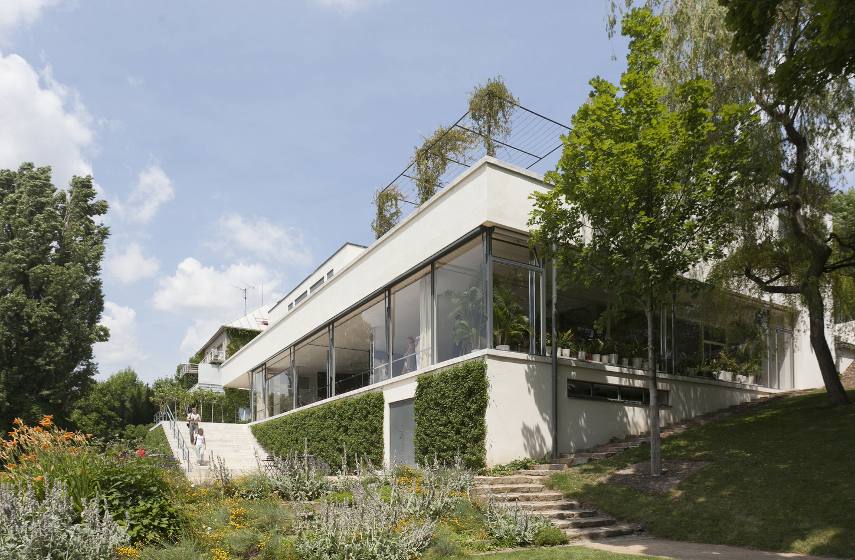 Opennes, Decluttering and Less is More
The houses we live in are meant to be functional and convenient. Are cities are meant to be lived in. Mies believed that the main property of housing objects or any public or private building is meant to be functional. The second most important feature is that object has to provide elegance, stability, and compliment the essence of human nature. Less is more is what he used as a mantra for every single project he worked on. Philosophy of modernism that Mies practiced at the beginning of his career implies that we need to focus only on important elements in life and physical space. All the unnecessary clutter has to go. There is no room for overdoing the details. When we make the room empty, decluttered and simple, we can find the elegance and beauty in ourselves and our relationship with an object. During the 1920's he started to define his style. It was the escape from the classic architecture of 19th century with remains of the Gothic design. Passionately reading about the theory of construction and philosophy, van der Rohe wanted to complete a theory of aesthetics that can unite the modern needs of modern man. Technological advancement dictated the lifestyle, and Mies wanted to celebrate this fact, but to unite it with man's natural instincts and desire for green and free outdoors.
The Farnsworth House is open to the nature because of its glass walls and one-room design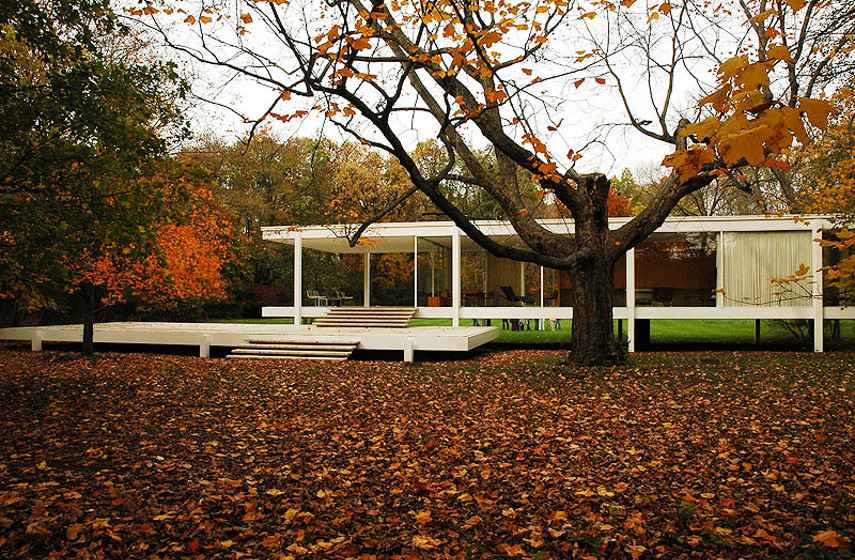 Career of Making Buildings as a Work of Art
Functional, modern and simply pleasing on the eyes, his buildings started to define a beginning of new era of architecture. New materials, such as steel and glass, were replacing the robust concrete. The project he did for Friedrichstrasse skyscraper in 1921, designed to be completely in glass, changed forever the way modern architecture was encountered. In 1927 he organized the main plan for the avant-garde exhibition of the International Syle. He designed an apartment building for the showcase and invited many famous architects to participate in the project, like Le Corbusier, Hendrik Petrus Berlage, Walter Gropius, Peter Behrens and Bruno Taut. Mies designed the Villa Tugendhat, an icon of modernism in Brno, Czech Republic. In 1929 he did a famous Barcelona Pavilion. Glass elements in the pavilion were used in order to emphasize the need to remove the barrier between outside and the inside. Mies constructed the pavilion a sanctuary of peace and harmony. He didn't want the building to be made with the focus on supporting art and sculpture. He wanted the pavilion itself to be a work of art. The Barcelona Pavilion represents the peak of German modernism. In 1930 Ludwig Mies van der Rohe became the director of the Bauhaus. His predecessor, Hannes Meyer was praised among students who loved his functionalism. It took some time for Bauhaus students to get used to Mies' philosophy and aesthetics. Bauhaus and modernism marked van der Rohe's career in the 20th century.
S. R. Crown Hall is the home of the College of Architecture in Illinois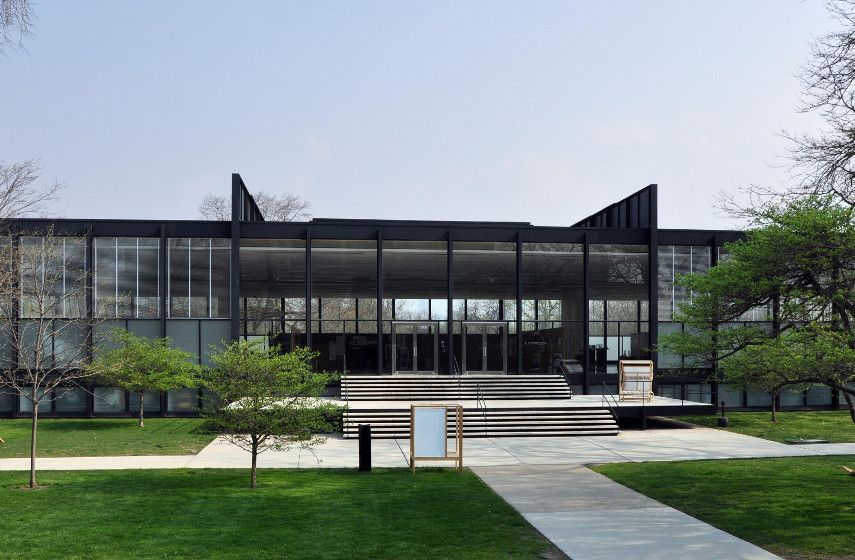 Years in the States
Before the World War II started, van der Rohe immigrated to the USA. He became the head of Chicago's School of Architecture. This was not the only offer. Before Chicago, there was place in Harvard University waiting for him, but he refused. He met Frank Lloyd Wright, and they became good friends. He liked to collect art, and his favorite artists were Paul Klee, sculptor and designer Oskar Schlemmer, and Wassily Kandinsky. Some of his most famous works in the USA are made as a result of his deep understanding of aesthetics, human nature and the importance of open space and mobile walls. The S. R. Crown Hall in Chicago was made in 1956, while van der Rohe was the head of the Illinois Institute of Technology's Department of Architecture. He is responsible for projects and designs of Martin Luther King Jr. Memorial Library in Washington, D.C. The building spreads on 37,000 m² and is made of brick, steel, and glass. One of the most famous houses in the world, Farnsworth House, was made between 1945 and 1951 in Chicago area, near the Fox River. This house has been studied at universities from the time it was made. It is considered one of the most important objects in modern architecture. Its open space, glass walls, central orientation, and lack of walls represent the best Mies has to offer for a housing construction.
Barcelona furniture is the great example how Mies Rohe look on interior complements the exterior

Furniture Design
Another thing important for his biography is his incredible work on furniture design. The most famous piece he designed is the Barcelona chair. He made it in collaboration with Lilly Reich and made it as a complementary piece to Barcelona Pavilion. There is also a table that goes in the pair, and both are rich in modern features. Mies is also known for the Tugendhat chair and the Brno chair. The materials he used for chairs are pure leather and mixed materials of rich texture. For frames and support, Mies used chrome and designed them only anchored at one end, so they would give the notion of buoyancy. They are designed to look delicate, but they are firm and timeless, as all of his architecture work is. The furniture is made to be used by a modern man with classical taste. The classical is supported by his words God is the details, and the luxurious materials he used. The modern is in Mies' sense of proportion, and the ability to deliver such a complicated, yet visually simple structure. The design of the chairs looks like the project for construction systems. Everything he did, he did with the same dedication. Taking care that no space is left blocked, and always emphasizing that less is more, he changed the way modern architecture exists today and made the timeless and immeasurable contribution to cities, art, science, and culture.
Featured image: Ludwig Mies van der Rohe - Portrait of the artist (Detail), photo credits Theredlist
All images via Archdaily.com