Luis Gispert is an American contemporary artist, whose oeuvre includes photography, installation, sculptural and video art. He is most famous for his staged photographs of ordinary scenes, juxtaposed with seemingly unrelated objects, individuals, and settings that fill the images with a sense of strange double meaning. Through his art, he references hip-hop culture and American stereotypes.
Born in 1972 in Jersey City, New Jersey, and raised in Miami, Gispert graduated with a degree in Film from the School of the Art Institute of Chicago, in Chicago, IL. In 2001, Luis got his MFA in sculptural work from the famous university - Yale University.
Decepcion Series
In Decepcion series, Gispert spotlights a subculture devoted to making both cars and clothes into personal showrooms for branded designer-logo fabrics. For this cultural enclave living in their favorite designers clothing is not enough - they bring haute couture brands beyond the closet and into the car. He also traveled around the country to find label-lovers who have customized not just their cars, but also their lives, wardrobes, and homes with luxury logos of famous brands - from Louis Vuitton to Gucci, Versace, and Burberry.
Decepcion series presents photographs of the interiors of these cars and trucks upholstered with designer logos, which are placed with separately shot images of landscapes across the windshields frame. Images of landscapes were made at different times, and depict a frozen Lake Michigan, the California desert and the Grand Tetons – locations far from the actual locations of the cars.
As well as Gispert's other works, Decepcion series began as an anthropological investigation into the aspects of present culture and the aesthetics of taste within different societies. It examines the relationship between luxury brands and the working class, by staging the convergence of the prosaic with the sublime. As the artist himself states, "It's the same as for an artist making aesthetic decisions in the studio. Some kind of fantasy is being played out."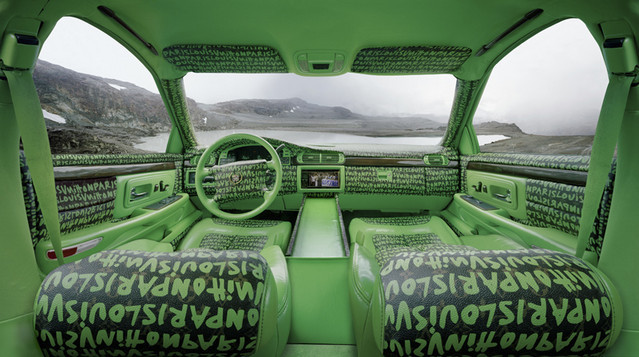 Between Sculpture and Photography
Luis Gispert's work from 2012, presented at All Oyster, No Pearl solo exhibition, presents a combination of elements of photography and installation. For this series of works, Luis pins together different elements in order to create minimalist, monochromatic totems of culturally dissimilar objects.
These staged combinations pair modern furniture with cheap items, such as Hans Wegner chair intersected by a fake gold hip-hop chain. By creating this compositions that defy standard definition, Luis Gispert confronts object hierarchy, plays with cultural currency and the invisible hierarchies that divide art from low culture and utilitarian objects. With his art and themes of cultural context, he examines how deeply cultural associations pervade simple objects.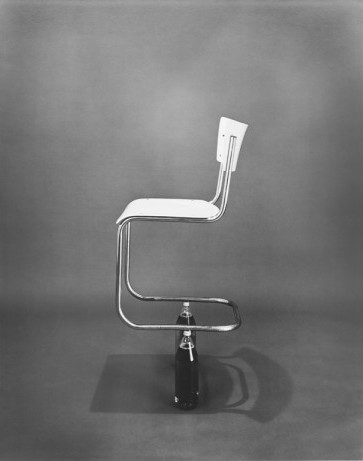 Films by Gispert - Smother and Stereomongrel
Style of Luis' short films is characterized by the constant shift between portraiture and complex narratives, which are intertwined with autobiographical motives. His films represent a never-ending exploration of different social themes – such as aesthetic and codes of urban and street culture.
Gispert's experimental 12-minute film entitled Stereomongrel was created during 2005. The narrative of this movie focuses on the exploring of two dissimilar worlds colliding, with the use of 3-D animation and stop-motion animation. The story is told through the eyes of a gifted 12-year-old girl, and is centered on the awakening of the protagonist – the girl herself, during her journey to the Whitney Museum. Filmed in Super 35 mm, it depicts high and low culture clash in the neutral battle field of a museum.
Smother represents another example of Gispert's film art. Created in 2006-07, in a collaboration with the artist Orly Genger, and with a soundtrack by the experimental duo Phoenecia, this 26-minute long film depicts a boy's journey through an intimidating and sometimes violent mature world. The boy's journey is also imbued by an effort to overcome his adolescent bonds between him, mother and home. Smother creates links between desire and pretense, and the socioeconomic power structures that frame contemporary human condition through a lens of fear, aggression, and domination. With its tropical palette and episodic magical realism, and with the camera that lingers over the spectacular landscapes of stucco-mansion Miami setting, Luis has suitably described this film as "narco-nouveau-riche."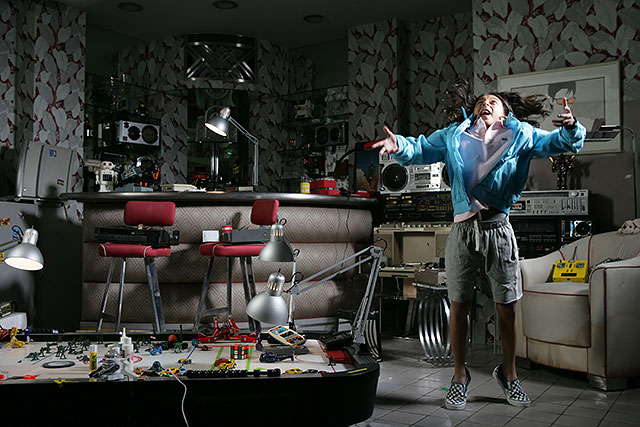 Collections - from Whitney Museum of American Arts to Miami Art Museum
Luis Gispert's work has been shown extensively throughout the US, Europe, South America, and the Middle East. His art is also a part of permanent collections of the Fogg Art Museum, Cambridge, MA, Haifa Museum of Art, Israel, Hood Museum of Art, Dartmouth College, Hanover, NH, Miami Art Museum, Miami, FL, Museum of Art, Fort Lauderdale, FL, Neuberger Museum of Art, Purchase, New York, NY, New Museum of Contemporary Art, New York, NY, San Diego Museum of Contemporary Art, San Diego, CA, San Francisco Museum of Modern Art, San Francisco, CA, Solomon R. Guggenheim Museum, New York, NY, UC Berkeley Art Museum, Berkeley, CA, and Whitney Museum of American Art, New York, NY.
In 2015, Luis Gispert's work has been exhibited in solo show held at the OHWOW gallery in Los Angeles.
Luis Gispert lives and works in Brooklyn, New York.