By taking inspiration from popular culture, Luiz Risi aka The Red Mice District creates illustrations that often pay respect to various characters from movies and cartoons. Instead of drawing a classical representation of the fictional characters, he implements comical elements in it. These elements are sort of a parody and they are closely connected to the topic's context. For example, in his homage to the original Godzilla movies (Toho Productions), he drew the illustrations in a cartoonish way, which symbolizes the silliness for which these movies are famous today. Another example is paying tribute to the famous 60's movie, Marry Poppins.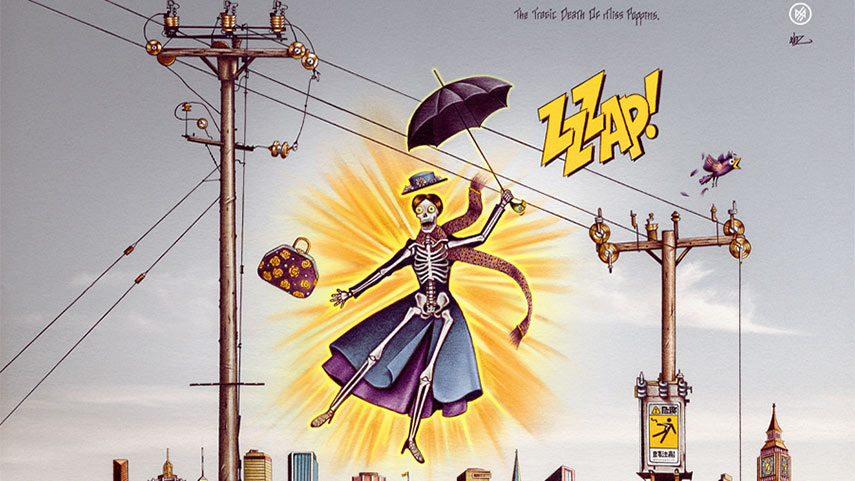 God Is in the Detail
Risi gives a great importance to the details. For him, it isn't enough to simply create an art piece. Instead, he inserts little factors which are closely connected to the subject. This enables him to create a richer context for his art. As Risi stated, his art isn't here to make a statement, it is here for the viewers to find them interesting. His 2015 art project, the Red Mice District, features mice who look like pin-up girls and the illustrations are installed through the famous Red Light District in Amsterdam. Every piece is mounted in a white frame with a red light on top of it, further giving the impression of an average prostitute bar. The details are tastefully put in every piece, giving a funny and an interactive impression. It is not often the pieces are located in the same location they were inspired by. With this, Risi creates a story where reality and fiction combine. Meaning, the location has directly become a part of an art piece.
The Red Mice District project features mice who look like pin-up girls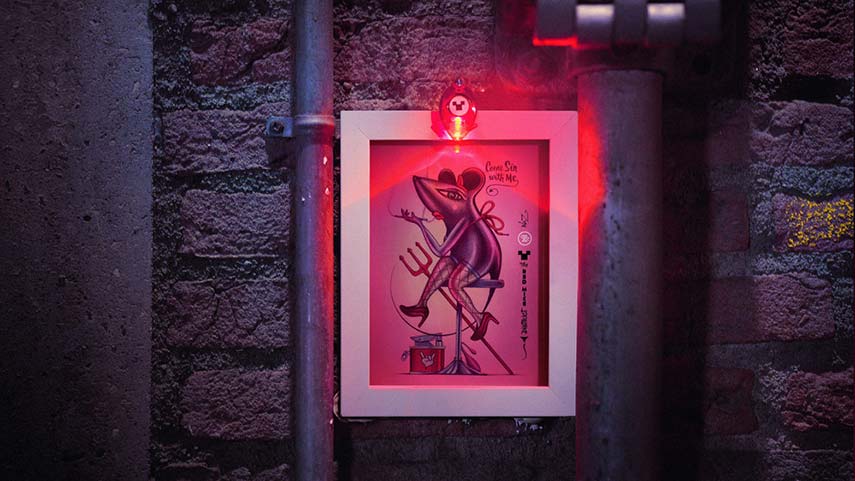 Pin-Up Mice Everywhere
The idea for the project came after Risi was commissioned by Café Belgique, which is located near the district. He drew a large illustration of a cat-woman, which now stands under the largest booth in the café. Besides a cat-woman as a focus point, there are a lot of famous mice in it. Mickey Mouse, Pinky and The Brain are just some of them. This gave Rizi an idea to broaden the topic through the nearby district. It didn't take long for the pin-up mice to overflow the walls of De Wallen. As this work is scattered across the district, it is left unprotected both from the public eye and the public hand. The museum rules do not apply to the street and viewers are left to do as they please. Many of illustrations have already been stolen by random passerby and Rizi takes it as a compliment. This gives him the motivation to create even more and although he had buying offers, he rather gives them away for free. With the district walls being his "trading place", this location inspired guerilla art has been proven to be a great success. A solo show by the Red Mice District project will open on November 11th in Amsterdam.
Many of them have already been stolen by random passerby and Rizi takes it as a compliment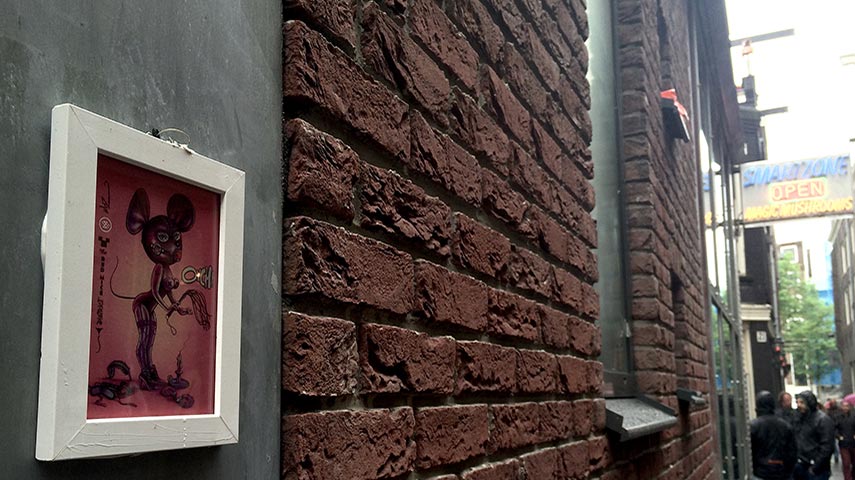 Visual Stories
Besides illustrations, Rizi also works in film, animation and on ATL. With every next project, Rizi proved his art to be creative and fun. Creativity comes in the form of a great eye for detail and fun in the way he uses this eye. Combining his love for popular culture with his art, he is able to play with it as he wants. This leaves a lot of space for improvisation and presenting each character in a new and original light. There is no need to be acquainted with the topic to enjoy it; Rizi's visual storytelling will tell you everything you need to know.
He is represented by Vroom & Varossieau in Amsterdam.
Luiz Risi lives and works in Paris, France.
Featured image: Luiz Risi portrait, photo credits of the artist