Luke Pelletier is a young American artist – he is painter and musician known for his West Coast vernacular and bright, sometimes tropical, imagery.
A Painter, Printmaker, Musician and Skateboarder
Pelletier was born in Florida but he grew up in Brevard, North Carolina and after living and going to school in Chicago for a few years, Luke Pelletier went back to his rural-tourist-driven-hometown. He stayed there for a few months, enough to create the work for his first LA solo exhibition, held at New Image Art Gallery in 2015.
In his early 20s, Luke already managed to become a painter, printmaker, musician and skateboarder and to have a portfolio that includes paintings, large murals, and a pinball machine. His vibrant, energetic, and fun work blurs the lines between celebrating (and condemning at the same time) a culture that agrees to be taken advantage of while it takes advantage of others.
While living in Brevard, a big part of his growing up was skateboarding, playing in the punk band and drawing, of course. Skateboarding and punk both have very distinct aesthetics and bounce off each other really well, but it is the skateboarding that was and still is the thing that comes in mind when this artist is asked about the primary source of his creativity.
"When you skate, you can look at a handrail and a switch can go off in your head and it's not a handrail anymore, it's something you can skate. That's how I learned to think about art – taking something that already exists in the world and then making something new."
Luke Pelletier's Americana
Luke Pelletier enjoys working in different mediums: photographs, paintings, sculptures prints, social practice, graphic design, writing, craft, collage works… His art has gathered a range of influences, such as American lifestyle, culture of tourism and consumerism. He is also a promising musician. Through his music and visual art, both ironic and satirical, Luke is exploring the paradoxes of the consumerist culture and service oriented economics.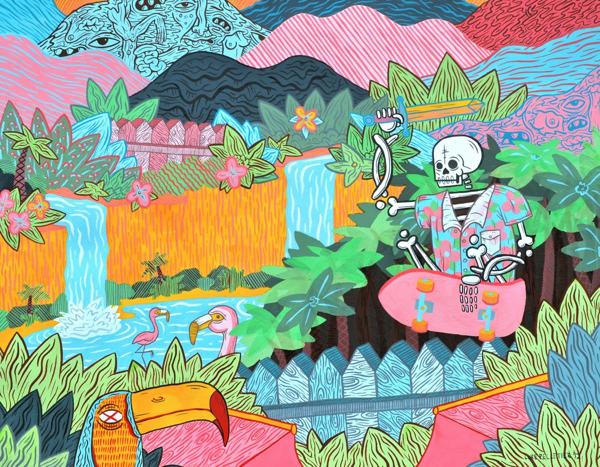 It consisted of paintings, prints, videos and sculptures, racing through fragments of narratives, personal anecdotes, and generalizations about the world around him. At the opening reception, he released a 'zine/sticker-pack and a solo album (which as available for free download afterwards.
Tourist Seizin' at New Image Art Gallery
Luke's first solo exhibition in LA was titled Tourist Seizin' and was inspired by his hometown. Living in a tourist town most of his life, he has been heavily influenced by seasonal economies, as well as the multi-level relationships, dependence and resentment, between tourists and locals.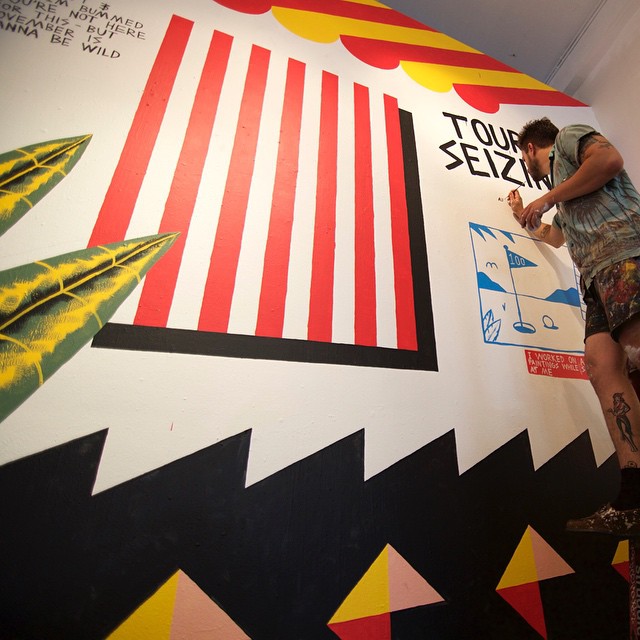 That tourist economy, so dominant in Brevard, brought a very specific way of life in this tourist city and that has left a pretty big trace on this artist's creative production. In order to fully commit to the show, Luke even spent some time painting back in his hometown of Brevard. What he created there was a mix of his moral dilemmas about romance, objectification, labor, competition, tourist culture, capitalism, addiction, free will, masculinity, fun, and Americana. The summer excitement, joy of life and carnival-like spirit of summer season are directly juxtaposed to gray moments of boredom that starts once the tourist season is over.
Luke Pelletier is currently living and working in Chicago.
All images copyright © the artist