If you are not from Croatia, a small warning is definitely in order - you might get a bit jealous of Zagreb residents for they are all lucky enough to share a city with the delightfully talented Slaven Kosanovic, better known by his artistic name of Lunar (which actually comes from the legendary video game Lunar Jetman). This graphic designer by day and street artist at night has been perfecting his work for over two decades now by painting imaginative graffiti pieces upon the urban parts of Croatia's capital. Having an incredible passion for what he does, Lunar never had doubts about what he wanted to be in life, showing us that if we all tried to be true to ourselves, maybe some change would be brought upon the irritating and dangerous inertia that surrounds modern life.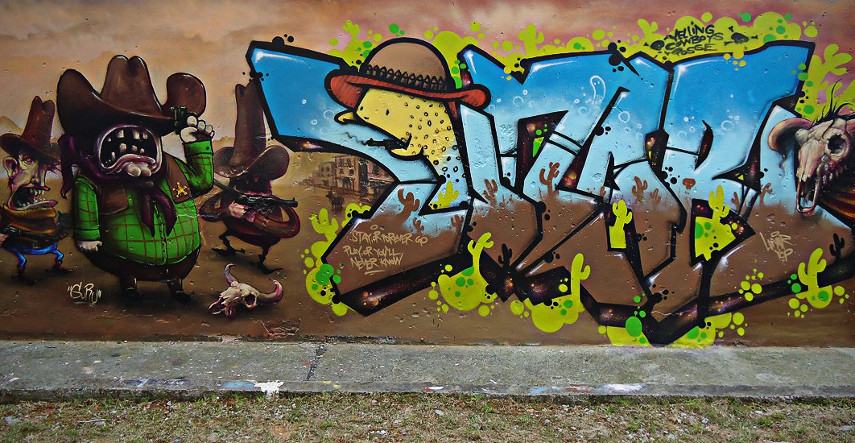 Meet The Jetman
Slaven Kosanovic started drawing and painting just as any other person you've met - by doodling as a child and learning through playful practice. In his case, however, the desire to draw did not die over time as it does for other people. In fact, Lunar's love for painting only got stronger over time. He was lucky enough to have inspiring and supportive parents who knew how critical it was for young Slaven to express himself in a way he was so passionate about. As he got older, he wanted to somehow find a way to live off contemporary painting - which was a bit easier then trying to succeed as a more traditional artist, but a risky task none the less. That was one of the reasons Kosanovic never wanted a formal education in his life. Besides proving to be a potentially fruitless task, Lunar was also aware that going to an art college of some sort would only mess with his way of painting and that he was able to develop himself much further by continuous drawing and painting then by attending some classes. It took some time, but Lunar finally realized that graffiti as a medium offered the most expression for his style. Kosanovic hooked up with a couple of his similar minded friends and started painting the streets of Croatia. He found inspiration in the people that surrounded him on the daily basis ever since he was a toddler- his parents, which is only fitting seeing they've supported him for the entirety of his life. Another strong influence Lunar admitted had an impact on his work are books he read as a child, written by such authors as Tolkien, Burroughs, May, London, Golding, Marquez, Dostoyevsky, Kerouac, Orwell, Hugo etc. Many of elements from novels these people wrote are still obvious in Lunar's graffiti, which ain't no surprise at all since one of his rare rules Kosanovic tries to keep to is to have as much enjoyment as possible when working - so naturally he will turn towards things he loved deeply ever since he was a child. As for the other sources of inspiration, Lunar turns to simple things in life - friends, strangers, the Sun, the rain, headaches, hangovers, travels, turbulence, sex, his cat Jinx and the famous 1979 flick The Warriors.
Lunar's pieces are simply delightful to look at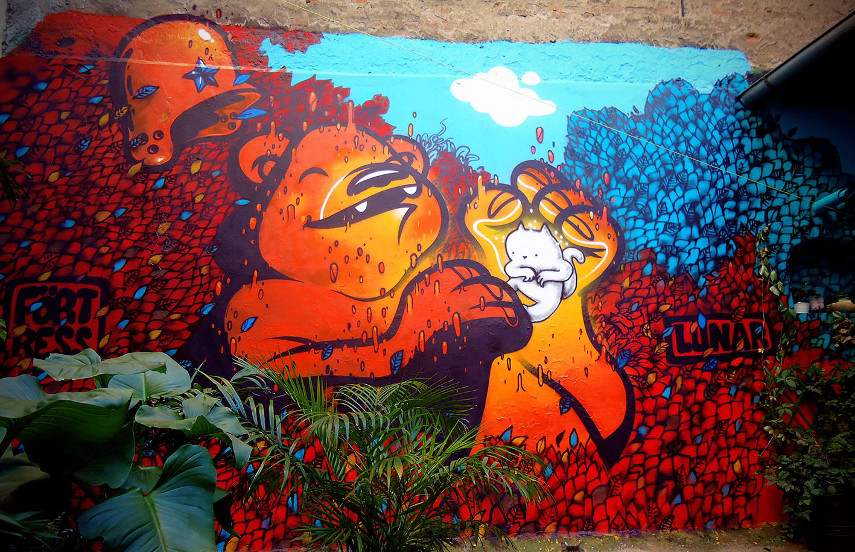 Analyzing Lunar's Work
Lunar's first solo graffiti piece came in the 1993 and it was a real defining milestone of his personality. He felt so sure his life was on the right track he soon started to forget taking breaks when doing graffiti. Needless to say, many works came to be after that year and they all seemed kinda autonomous from each other. That leads us to a problem that plagued many art lovers and critics over the years - when it comes to defining styles, Lunar can get quite troublesome. He tries to make his work independent of sticking to some sort of style of artistic movement. This fact helped when Lunar was building his career of a graffiti painter, as unpredictability and expressive autonomy are very useful feats to have when it comes to this particular profession. Slaven continually evolves and sometimes it seems hard to keep up with him. In regards to the techniques Kosanovic uses, he keeps it pretty regular by not usually using nothing but spray cans and brushes. Occasionally, he will use a pencil for sketching. However, if it comes to a situation in which none of these tools are available for any reason, Kosanovic does not hesitate to improvise by applying different techniques - to use the term very loosely. He will gladly practice cigarette holes, squeezed vegetables or spilled wine in order to achieve his artistic goals. In his opinion, techniques are nothing but a road to get somewhere and in that journey it's the destination that counts, not the way you get there. As for where that trip begins, Lunar is a bit different from his fellow graffiti painters. Where many of them are prone to improvisation and like to storm their ideas on paper, Kosanovic's ideas often need a bit of a push to come out in the open. In all honesty, his method of constructing concepts did not change much from the time he was a child - simply doodle till the cows come home or an idea reveals herself. This, of course, varies from time to time, as it does for any artist.
Often enough, Lunar will do some indoor pieces as well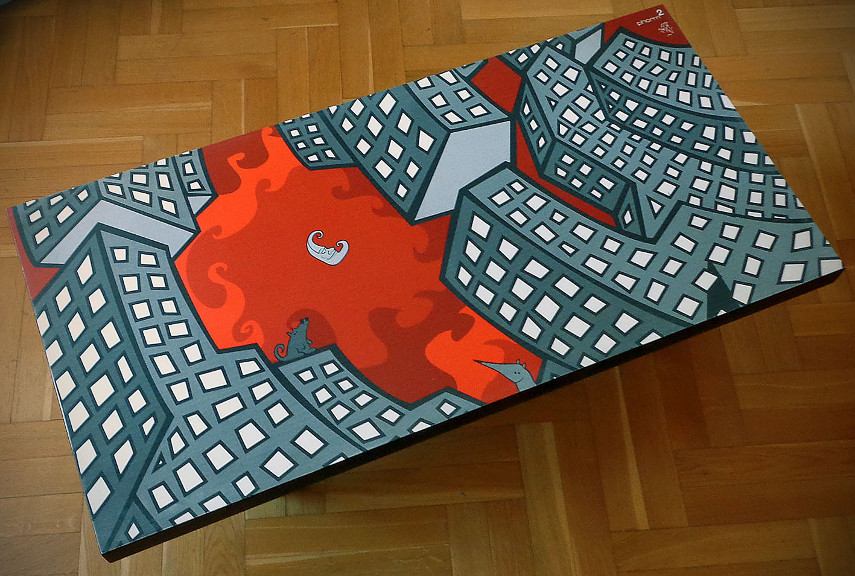 Another Look At Lunar
Lunar is primarily a graffiti maker, but he has many indoor pieces too. Whether it be outside or inside, one of the trademarks in Lunar's work is his characteristic portraying of people in animal forms. Similar to the concepts of the Herakut graffiti duo, Lunar finds animals far more honest then humans and is fascinated by their never ending will to live and fight through problems of all sorts. On the other hand, humans have a way of not being what they seem and it is often wise not to believe them - as all children are taught from early on not to trust strangers. For that reason, Kosanovic finds animals to be excellent metaphors for his depictions. With or without animals, his pieces are adorable to look at, with a lot of colors and great lines. It should be noted that Lunar can not be considered as a controversial artist, as he tries to send messages and statements in a pleasant and calm way, without provoking too much. This can be attributed to his positive personality and it actually comes as a fine refreshment, for too many of his colleges are trying to attract attention in such ways. But that is not necessary for Kosanovic. Naturally, as a graffiti painter, Lunar has been viewed by countless people in the urban environments. What makes Kosanovic different from similar artists such as Escif or DEM189 is the fact he tries to be personally active in his society, so the anonymous trait is pretty much out the window for him. It isn't hard to catch him giving speeches or witnessing some of his exhibitions - which he had an extensive number of during recent years. We can even expect a book from him in near future. Lunar is quite busy on the international level as well - it's possible to see his pieces in countries outside of his own, such as Germany, Holland, Portugal, United Kingdom and Greece.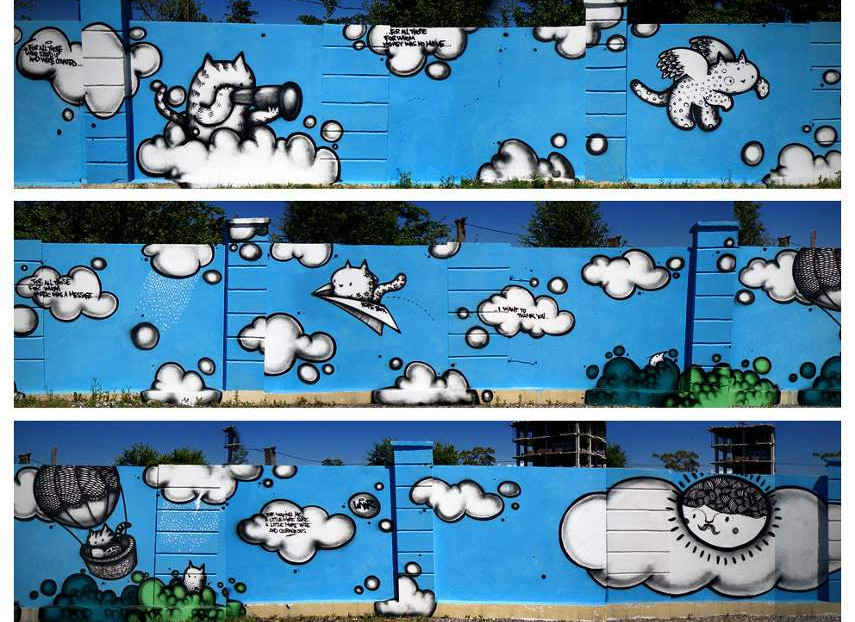 To The Luna And Back
Many years have passed since the time in 1989 when Lunar met his friend 2Fast, picked up a can and sprayed his first colors upon the wall. Over the course of these years, Kosanovic never lost his touch and hasn't failed to deliver perfection not even once. Why is that, you might wonder? Well, it's quite simple. As was mentioned before, he loves what he does. There is no way to make bad work when you are in love with the job. There are no bad business days, no painful writings for the weekend to come, no excuses not to work. This may be an important lesson for all of us to learn - find what you are passionate about and pursue it relentlessly. Who knows, maybe you too will find out that you are brilliant at it just as Kosanovic did. His art may be extremely dynamic and tends to change quite a bit, but what stays consistent is that desire to have fun, to enjoy while painting no matter what. Otherwise, what's the point in doing it at all?
Slaven Lunar Kosanovic lives and works in Zagreb, Croatia.
Featured image: Lunar - Photo of the artist, 2012 - Photo Credits Laura Piantoni
All Images Photo Credits Slaven Lunar Kosanovic