Lung Yuet Ching, known also as Joyce, is a young artist from Hong Kong, recognized for her sculptural artworks.
In 2015, Joyce graduated from Hong Kong Baptist University Academy of Visual Arts. She won the Academy of Visual Arts Award for her Honor's project. Meanwhile, Joyce also attended an exchange program at Maine College of Art in the U.S. This program is to "blame" for her passion towards ceramics. Very concerned for the relationship between people and human identity, Joyce started her art career on the topic of foreign domestic workers in Hong Kong due to her intense relationship with her maid.
Super Domestic Cleaning Bottles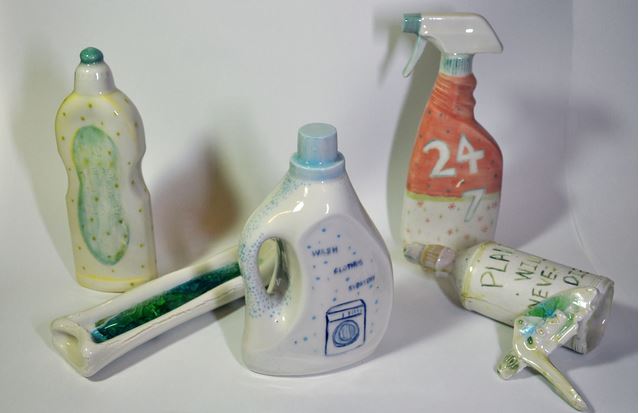 Joyce had made a breakthrough on a group show titled BACK TO THE FUTURE, organized by The Cat Street gallery in 2015. Together with another 17 HK artists, Joyce presented her work: utilities and cleaning products done in ceramics and hand painted by the artist.
They Belong To Nowhere Pots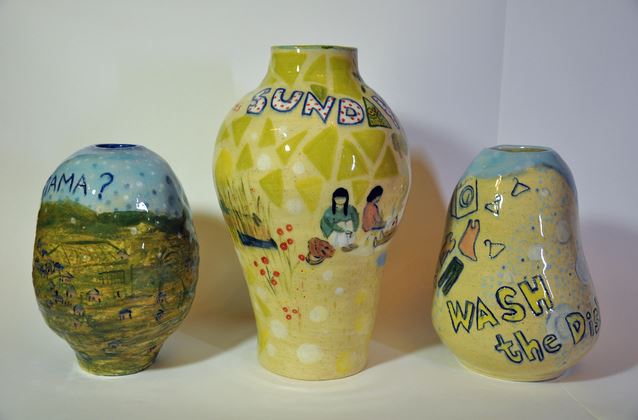 She is represented by The Cat Street gallery.
Lung Yuet Ching lives in Hong Kong.
All images copyright © Lung Yuet Ching Joyce