LX ONE is a French contemporary artist, born in 1979 in Strasbourg, known for his abstract works made by playing with shapes, colours and materials, mixing wood, paper, cardboard and paint.
Born in Strasbourg, LX ONE started making art during the mid 1990's, modulating his graphic talents into the science-fiction world of grids, decomposing the letter form into its purest version.
LX ONE's abstract works
Traveling between plain and empty space, LX ONE uses the colors as a bridge. Through his works, the artist has created his own abstract geometrical universe in which he explores the pixel, the smallest element of a picture.
Some of LX ONE works are inspired by nature and architecture, for example his piece titled Storm, part of the landscape series. It's a blend of photos taken of certain subjects and then turned into abstractions.
40 Jours
One of LX ONE's most known recent projects is 40 Jours, an abstract and temporary art installation, made in 2014. With some help from Remi Rough, Sébastien Preschoux and Studio Arro (Erik Arlen and Ludo Roth), LX ONE went through with making a mural on an big house in Biarritz, France, just before its demolition. Day after day, the walls called out for new forms, colours and textures. After 40 days of creativity, the work has turned into dust.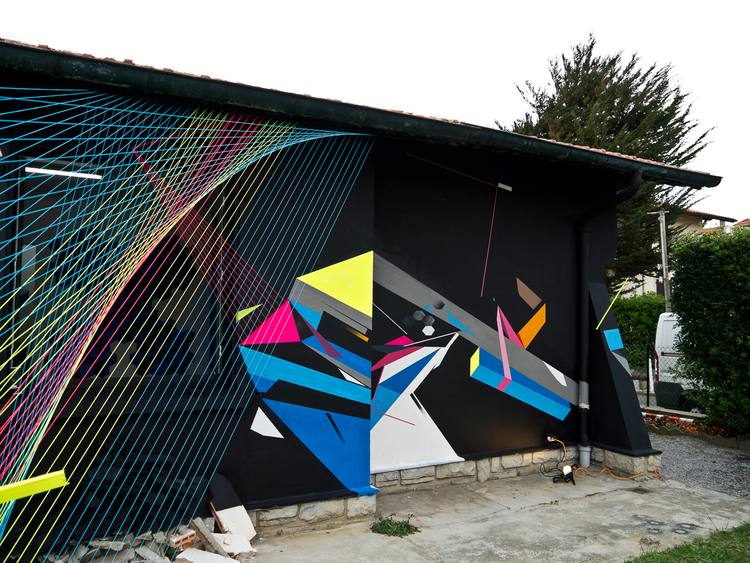 Agents of Change
LX ONE is a member of the international graffiti collective Agents of Change. Formed in 2009, group is composed of 13 artists who create work that responds on a site specific basis, integrating both the aesthetic and historical resonance of the environment they're working in. Each project brings greater potential for innovation, both on a practical level in technique and on a more emotive basis in dealing with ever larger historical and political ideas.
The Megaro project
In early 2012, LX ONE and his colleges from Agents of Change group – Remi Rough, Steve More and Augustine Kofie completed the largest mural in London, a monumental 450m2 painting opposite St. Pancras International Train Station. Encompassing two sides of a five storey Georgian building, the mural took three weeks to complete with the artists collaborating to create a single work that utilized their individual styles and perspectives. The influence of the mural continues inside the building with a permanent collection of artworks in the restaurant and a one of a kind reception designed for the attached hotel.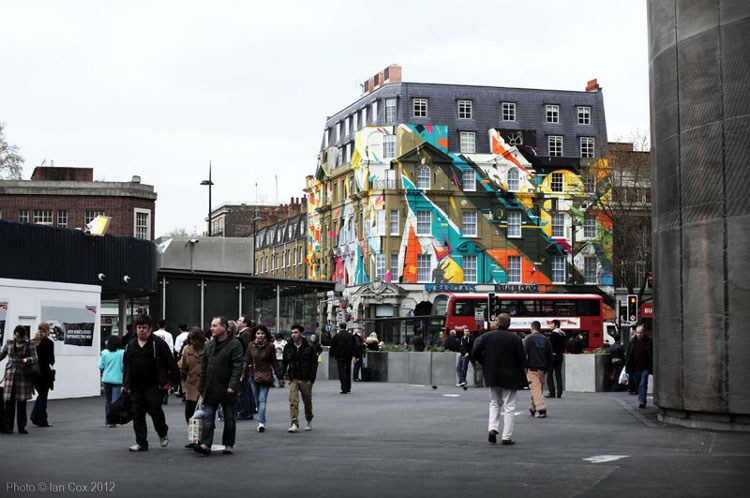 Represented by Galerie Zimmerling & Jungfleisch, Germany, and David Bloch Gallery, France, LX ONE has participated in many solo and group exhibitions.
LX ONE lives and works in Biarritz, France.