M.S. Bastian and Isabelle L. are Swiss graphic artist duo, famous for creating a unique world of 3D-comics. Inspired by different historic era and art styles these partners make their own reality, which is quite different from the one people are used to. Series of images and canvases are the result of various motifs taken from pop culture and artistic world. Throughout their graphics, viewers can see an element of an apocalypse. They manipulate with messages and images, by implementing a very eclectic approach to literature, advertising, and comics.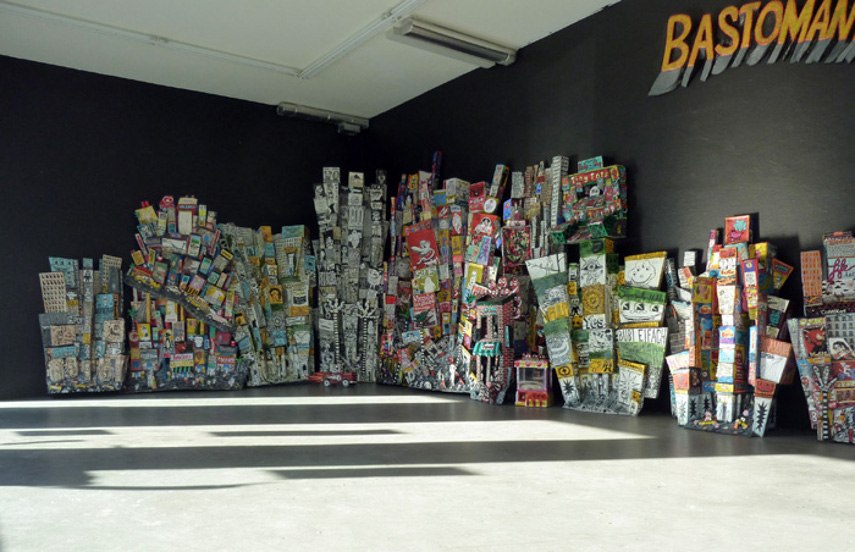 M.S. Bastian's and Isabelle L.'s Determination to Art
Marcel Sollberger, better known as M.S. Bastian was born in 1963 in Bern, Switzerland. He grew up in Biel, where he also studied graphic art at the School of Design. Before entering the world of comics thanks to the magazine Strapazin, Bastian made remarkable, super-detailed paintings, silk screen, illustrations, and sculptures, by using scrap metal, cardboard, tin, and wood. In 1991 after being inspired by comic duo Gary Panter and David Sandlin, and graffiti experts Keith Haring and Basquiat, Marcel begins to experiment with elements of pop culture and the world of art, for which he is considered to be a pioneer and ambassador. His paper sculptures and screen prints are known for incorporating exorbitant figures of comic icons, such as Mickey Mouse, Bart Simpson, Jimbo, Popeye, King Kong, and Tintin. Isabel L. was born in Biel in 1967, where she also studied graphics like her companion. Their collaboration began in 2004, and still lasts, alongside their solo careers. Since then they have made black & white, as well as vivid color paintings.
Since then they have made black & white, as well as vivid color paintings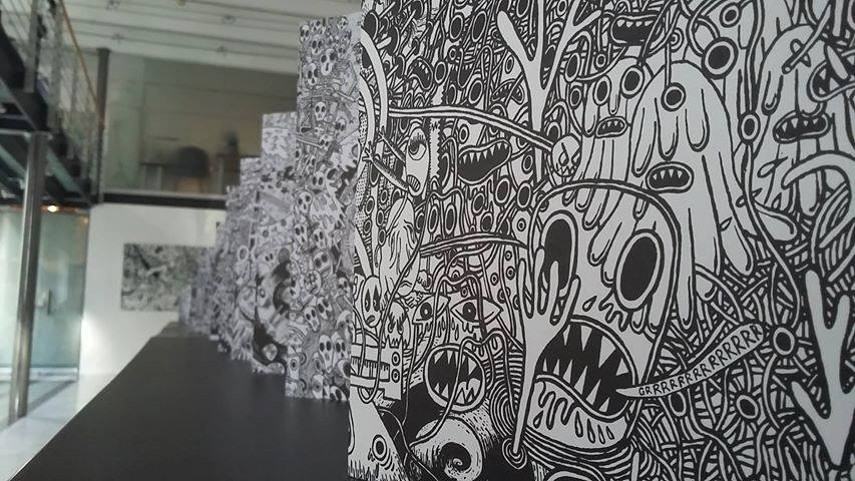 Style and Projects
The mutual passion for advertising and the world of comics allowed them to overcome limits of the classic narratives, and create special visual art, full of freshness and details. This commitment can be seen in a project called Bastokalypse, which is actually a series of canvases made over several years. This collage can be considered as an encyclopedia of diverse images that reflect aspects of the modern world, media, and culture, in which idealism and utopia collide with human destruction and terror. It erases the line between the high and low, by combining Ronald McDonald, Pablo Picasso, Mark Beyer, Ghost face and Jack altogether. The final outcome is a 52-metre monumental avant-garde work that recreates chaos and apocalypse of today.
Collage can be considered as an encyclopedia, in which idealism and utopia collide with human destruction and terror
Bastomania and Other Shows
Artworks of both M.S. Bastian and Isabelle L. have been displayed in numerous solo and group exhibitions and collections at galleries and museums around the world. In 2017 their joint exhibition called Bastomania, better known as Basti-City, which looks like a giant advertisement of the twisted world of today, was exhibited in Basel. Bastian's and Isabelle's creations were also shown in Slovenia, Germany, and France, as well as published in a number of graphic and comic newspapers and magazines.
The artists are represented by the Gallery Guillaume Daeppen, Basel.
They live and work in Switzerland
Featured image: M.S. Bastian and Isabelle L. working
All images courtesy of the Gallery Guillaume Daeppen