Storytelling can truly be a powerful instrument in drastically affecting one's emotions, whether for better or for worse. It has been used to inspire and to scare alike, but there's always a glimpse of hope and a certain nuance of innocent expectation no matter how dark the narrative may be. It has influenced and led minds throughout history and it does so for the American artist Mab Graves as well. Having been surrounded by various fantastical tales as a child, Graves' endless imagination and inspiration manifested itself in the form of painting and illustration. With a rich narrative reoccurring in each of her works, her beautiful pieces remind us of the innocence we all once nurtured and many of us lost along the path of life.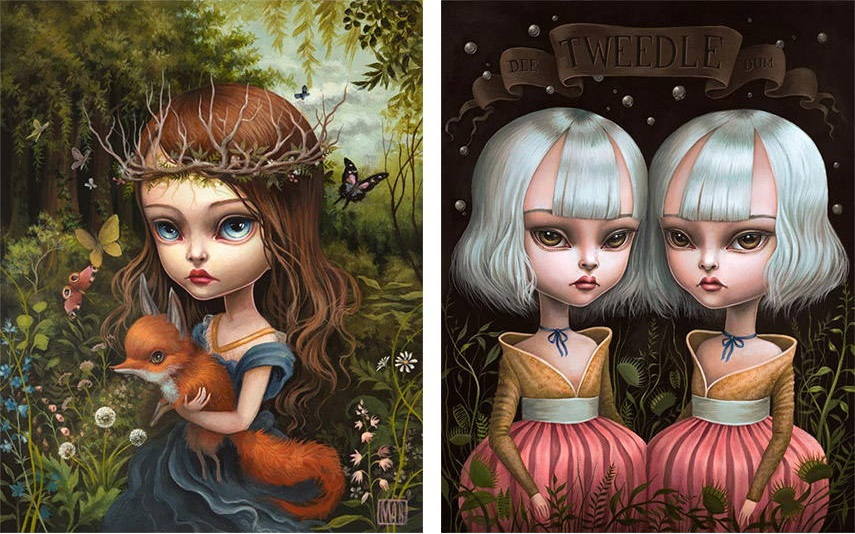 Wolf's Den
Based in Indianapolis, Mab Graves puts a lot of effort, time, and self into each of her mostly small scale paintings and illustrations. Being a completely self-taught artist, Graves' artwork is free of possible restrictions or suggestions of form and structure, and she creates completely based on her instinct. Her studio, in a way, matches this freedom - where some would prefer a distraction-free environment to create it, Graves' idea of a perfect creative surrounding is a wolf's den of a sort, untamed and wild. With several projects being worked on at the same time, she invests days, even weeks into each one, carefully creating and binding with every character she portrays. Doing more than simply coloring the canvas, her rich narratives and beautiful figures drawing out of a lush imagination and fantasy tales are always personal, describing innocence and its loss through her likable characters.
Graves' rich narratives and beautiful figures are always personal
Wonder of the World
Within the mysterious and wonderful lands she depicts, Mab Graves places distinct characters - girls of disproportional dimensions with a gloomy look on their faces. When asked why the girls aren't smiling instead, Graves reaches to the core of her practice for an answer, explaining that they represent the innocence that each of us had had when they were younger, yet lost as the year passed; some may have given it away willingly and some might have given it up reluctantly, but we all remember the wonder of the world seen through such eyes, and the artist is making a connection to those feelings. Whether you choose to see them for their child-like purity or as a reminder of its inevitable loss, the girls depicted are undeniably beautiful in their own realization of its imminent absence.
The girls Graves depicts are undeniably beautiful in their own realization of the loss of innocence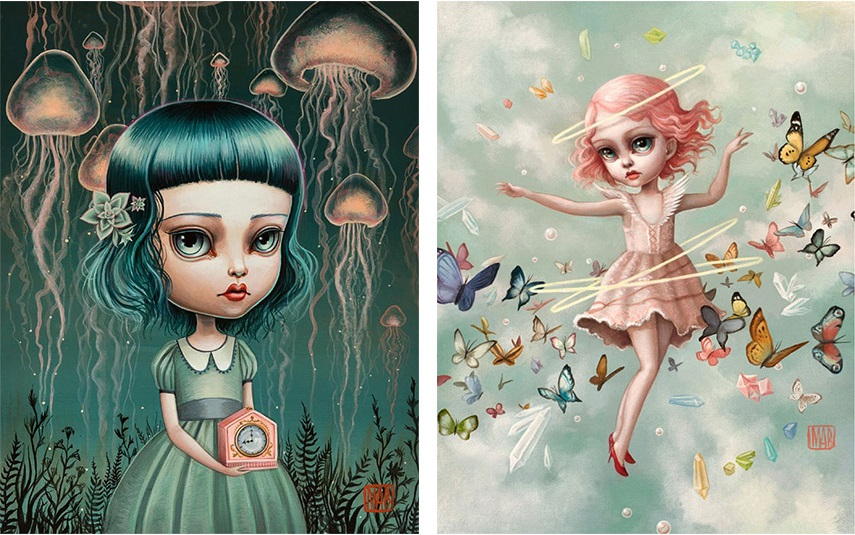 Sheer Beauty
Inspired by a childhood filled with tales of all sorts, Mab Graves places her characters within narratives alluring to both the eye and the mind, encompassing a universal, powerful moment that any viewer can relate to. Immersed into this shared vortex, Graves creates artwork both for the viewers and herself, offering people the chance to connect through the mutual feelings visually presented. With a story to be told in each of her paintings, it becomes easy to be reminiscent of the one's inner child, admiring the sheer beauty of the painted canvas.
The artist is represented by Corey Helford Gallery.
Mab Graves lives and works in Indianapolis, IN.
Featured image: Mab Graves - The Wanderlings (detail), 2013. All photos credit the artist.
All images used for illustrative purposes only.