Claudia Walde, better known by her alias MadC is a graffiti artist from Germany who is known for her impressive graffiti works. Although she created thousands of wall pieces, what brought her the most fame and fortune were her large-scale outdoor works that literally take your breath away. The artist has managed to create a personal universe of forms, colors and fonts that make sure her work is instantly recognizable. MadC is mostly based in her home country, but ever since her rise to stardom in 2010, she has been working around the world and it is possible to find her graffiti in many metropolises of the Old Continent and America.
Claudia Walde And Her World Of Graffiti
MadC was born in 1980, in Bautzen, Germany, as Claudia Walde. She started her artistic experimentations as a teenage girl, back in a time when Walde was attempting to paint her first graffitis in her neighborhood. She proved to be a quick learner - Claudia's first graffiti piece was in 1996, in the time when she was a little over 16 years of age. While she was developing her urban art skills tirelessly, Walde never lost track of her education - in fact, she managed to graduate from two different schools while simultaneously learning to paint murals! She holds degrees in Graphic Design from the University of Art and Design in Halle and Central Saint Martins College in London. Such a combination of two far apart worlds, one academic and the other more street-wise, proved to be a key moment in MadC's career. It is this confluence of situations – immediate connection with the street art subculture and a devoted approach to art research – which has been decisive in turning Claudia into the artist she is today. Since she began developing her talent at an early age, MadC managed to broaden her creative endeavors on many fronts - such as writing and fine art, as well as graphic design which she studied at her collages. She recently made a bold decision to transport her work indoors as she started to paint on canvases too. By transforming her work into gallery pieces, MadC investigated the relationship between overlapping colors, light, glass and calligraphic movement, as well as the differences and similarities between seemingly opposite mediums. Some of her more famous works on canvas are Nineteen Nineteen and Twenty One Zero Six - both of who had a recognizable ratio of black and white, characteristic for MadC's early tags. By her own claim, she is influenced by artists such as Vincent Van Gogh and the graffiti painter Dare (for whom Claudia dedicated a few mural pieces).
Although primarily a street artist, MadC paints on canvases as well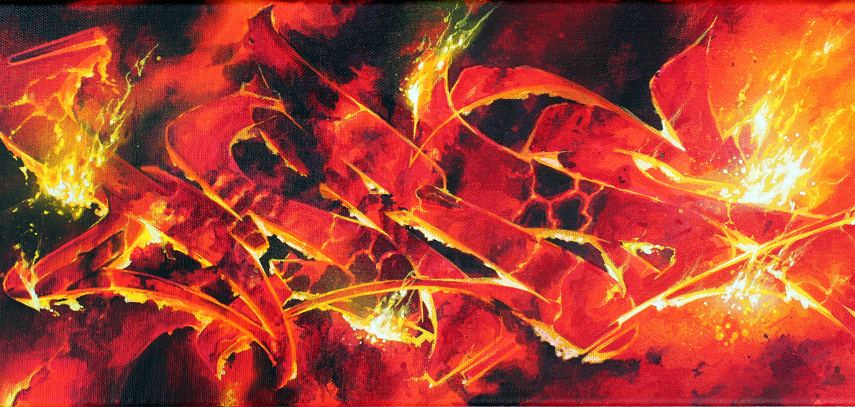 700 Wall - A Springboard Into Stardom And Public Awareness
Besides the inevitable spray paint without which there is no graffiti, MadC has been known to use other techniques, such as ink, watercolor, acrylic paint and acrylic markers. Her work incorporates elements common in science fiction and fantasy worlds which Walde obviously enjoys in her personal life. But, without any further delay, it is time to dive right into MadC's masterpiece, an already iconic mural titled simply as 700 Wall. This large graffiti can be seen along the train line between Berlin and Halle and it stands as a reminder, an insight into a specific period of the artist's work. The incredible piece represents at least two levels of MadC's creative capabilities: on the one hand, it is an homage to a meticulous approach to craftsmanship and, on the other, it resonates an intricate exploration of the artist's visual language and its boundaries. On this wall, MadC told the story of a graffiti writer in various scenes and painted her name more than 100 times in diverse interpretations and esthetics. This big project covers over 700 square meters and is a real graffiti milestone - both for street art in general and MadC personally, for whom this project proved to be a real springboard that launched her into the stars of urban art. It could be said that, after this piece, MadC became ready to start building her unique aesthetic universe. This is exactly what she did with a new body of work which was a part of Reflections show at Kolly Gallery during 2014 and The Tahiti Mural in Tahiti, during the same year. The seemingly reduced aesthetics of MadC's canvases and street artwork show a devotion to the exploration of roots of an entire subculture. MadC confronts us with the notion of addressing the essence of graffiti and urban art cultures, in a way that highlights the importance of a never-ending (re)interpretation of the two concepts. A "traditional" subject matter is re-contextualized into a completely new visual language. All of this can be attributed to her equally important street and academic education.
Undoubtedly one of the most impressive graffiti pieces ever, 700wall is MadC's masterpiece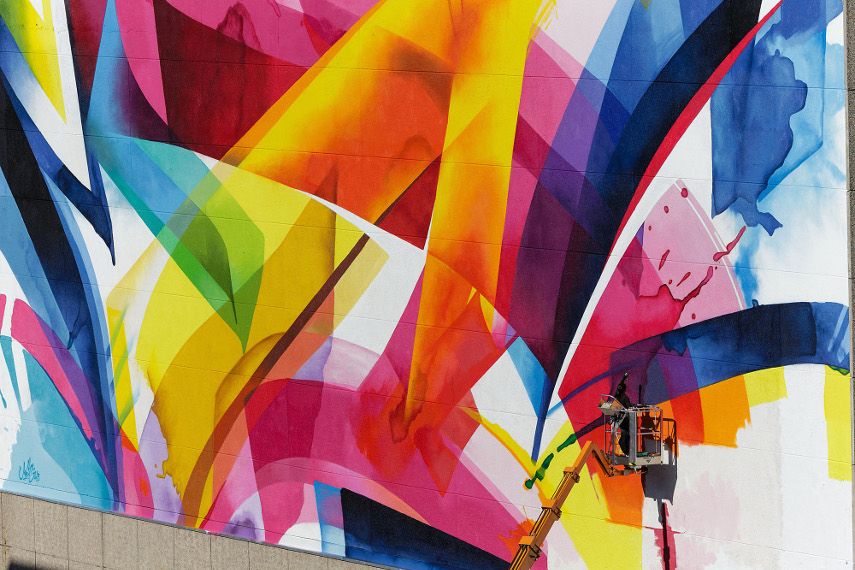 Sticker City and Street Fonts
Much about MadC's art can be found out by reading her two books she published in 2007 and 2011 - both were published under her birth name, so do not be confused. As a young investigator of an entire movement - she carried out this research in her twenties - Claudia showed remarkable cultural and anthropological insight. In Sticker City – Paper Graffiti Art (2007), she explores the culture of hand-painted and hand-crafted posters and stickers. The significance of the book lies in Claudia's success in capturing the transformation of the graffiti movement, enabling the reader to understand the evolutionary path of an entire art form. She offers first-hand explanations of how she developed her own style and, as a result, how the urban art reacted and evolved alongside her. The cultural comparative analysis is enriched with a large number of cities and artists which had been explored. For the other publication, Street Fonts – Graffiti Alphabets from Around the World, Claudia embarks on a different kind of reflection – one determined by an anthropological query and an artistic dialogue. 154 artists from 30 countries were asked to design the 26 letters of the Latin alphabet. If the first book reflects the myth of the street art movement, this one undoubtedly conveys its logos. Finally, the spring of 2015 brings a publication focusing on leading mural artists and major murals from various corners of the world. Here, Claudia, the author, takes up the role of an experienced muralist herself. Both books are noted for being written in a way that everyone can enjoy them, no matter if they ever researched urban art before or are the masters of the medium. It should also be noted that, although MadC primarily works solo, she is also a part of a few graffiti crews - Bandits, Wallnuts and Stick up Kids.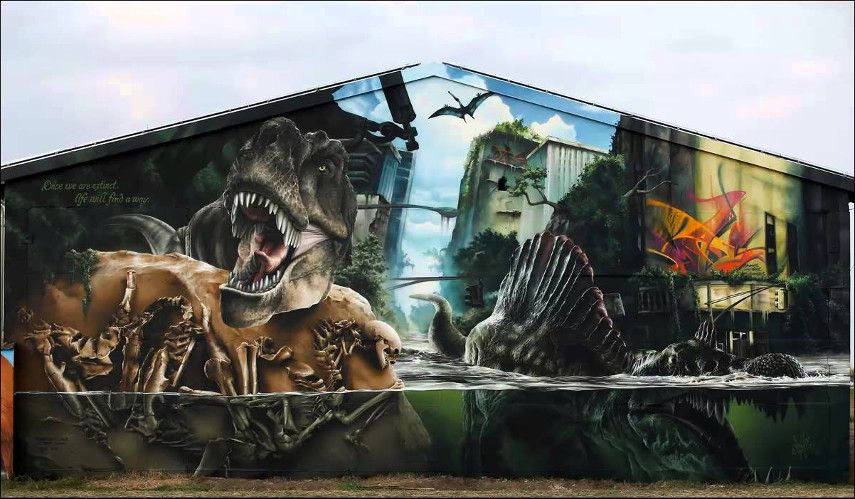 A Complete Street Artist
Ultimately, what is there to say about MadC that would be a worthy conclusion for such an artist? She managed to establish some incredibly crucial aspects of the medium, painted the world's most impressive graffiti, created an amazing visual dictionary, painted some of the most beautiful urban art pieces in recent history - and achieved all that before she was even thirty years of age. Her versatility, fanatical dedication and sheer talent are the Holy Trinity that will make sure the name of MadC will be on the lips of street art fans for years to come. An incredible artist without whom we do not even want to imagine how the urban art would look.
The artist is represented by 44309 Street Art Gallery in Dortmund, Galerie Brugier-Rigail in Paris and Kolly Gallery in Zurich.
MadC lives and works in Germany.
Featured Image: MadC - Photo of the artist - Photo Credits MadC
All Images Photo Credits MadC