As is the case with all forms of art, one of the most important aspects you should try and keep to is to be as original as humanly possible. Never losing that from sight, graffiti painter Made514's work is a hand in glove fit with the aforementioned statement. This graffiti artist from Italy established a reputation of an elite lettering painter that has been active for over two decades now. Made514's skill comes from many years of practice and experimenting with all sorts of different materials, techniques and styles. Since he has been in business for a very long time, it's quite logical that many young artists would look up and learn from Mode514 - unfortunately, as you will soon come to see, this graffiti painter did not have such privileges of learning from someone else.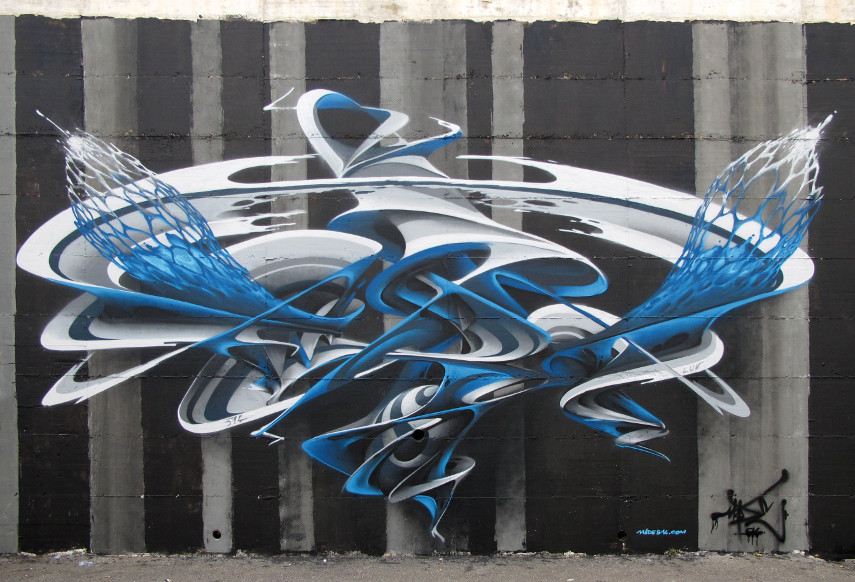 Let Us Meet Made514
Made514 was born during the year of 1975, in the city of Padua, Italy. He was drawn towards street art ever since he can remember and was painting graffiti from the moment he was able to hold a spray can. What started as an interest slowly grew into a hobby and soon turned to a full-time obsession - a constant compulsion to get better, more skilled, more noticeable and distinguished than his rivals. Made514's graffiti roots can be traced all the way back to the early 1990s, in time that the street art was at one of it's highest peaks. Since he was learning all he can on his own, this artist can be safely identified as completely self-taught. As he was developing his skill set, Made 514 also learned a lot about traditional painting and sculpture - experimenting with these crafts much different from the nature of the graffiti really allowed the artist to extend the expressive possibilities behind his work. Being a proud owner of such a skill set, it was rather natural that Made514 would prove to be a real asset to the urban art scene of his country that was a bit behind some other regions of Europe in terms of graffiti, mainly Germany and France.
Here's a video showing how it looks when Mode514 is in his graffiti painting mode
Recognizing His Work
Made514's work can be distinguished by soft shapes, spiral and slicing lines, emotional sketches and very dynamic movements. Most of his efforts are put into manipulating the written word, combining different styles and techniques in order to get the most out of his graffiti. Made514 has an interesting way of treating letters inside his graffitis - his words are disassembled and reassembled in order to create a timeless instant of his figurative painted world. However, lettering is not all Mode514 does - this artist has an impressive visual vocabulary that includes various creatures as well, like the ones located on the picture below. As it was clued before, Made514's experimentation with sculpture and painting have offered him enough knowledge to implement all sort of materials and techniques that would be otherwise unavailable to an ordinary spray can artist. Besides graffiti works, Made514 has also made many painted pieces on canvas, every single one of them incredibly unique and without any need to be signed by the artist in order to be recognizable. This brings us back to the beginning of this biography - Made514 puts great emphasis on making his work as originally as possible. This artist has a great number of exhibitions under his belt, especially when you consider that Made514 is a street painter and not a gallery oriented type of an artist.
Although lettering is Made514's signature, he is also quite skilled when painting all sorts of creatures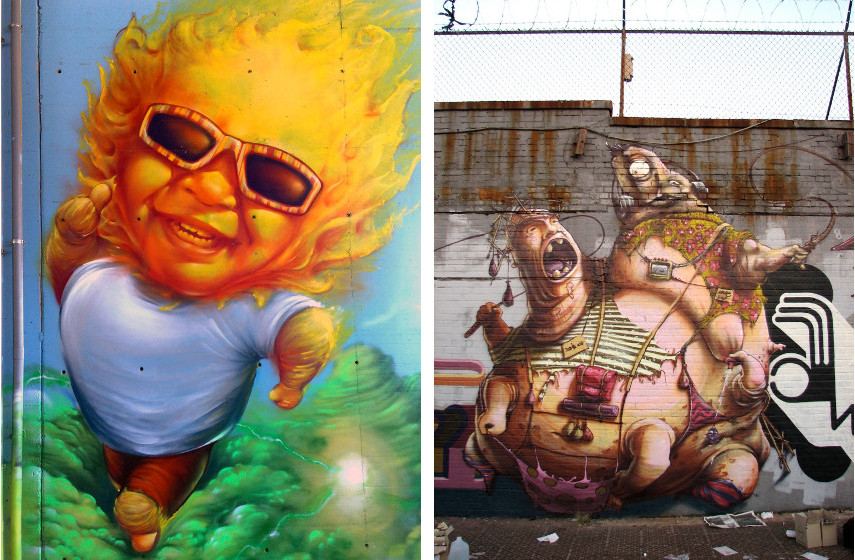 No Matter What He Does, Made514 Always Shines
The style and grace of MOde514's pieces in beyond words - his art is really a sight to behold. Fascinating lettering, creatures from his vivid imagination, the masterful skill of color and forms - these are all qualifications Made514 can put inside his artistic CV. From Padua to New York, you can find many of his pieces covering urban surroundings and brightening the surfaces of our great cities. This fine urban artist is surely one of the most important graffiti painters that ever came out of Italy and, as was said before, you do not have to look too hard to find the influences Made514 had on the street art scene.
The artist is represented by MAGMA Gallery.
Made514 lives and works in Padua, Italy.
Featured Image: Made514 - Graffiti piece in Padua, Italy - Photo courtesy of Made514
All images courtesy of Made514