One of the most internationally recognized 20th-century Indian artist was definitely Maqbool Fida Husain, who became famous for his diverse narrative paintings , usually created in series, but also for making prints, photography, and films. Also known as MF Hussain, he has earned fame and controversy with his works that combine Cubism and classical styles, and are worth millions of dollars on art markets. He includes various topics and themes, from Indian rural and urban life to symbolic and iconic history figures and events like Mohandas K. Gandhi, the Ramayana, the Mahabharata, and the British raj. The author developed his technique characterized by sweeping brushstrokes and bright palette of colors, while he was in Bombay, now Mumbai.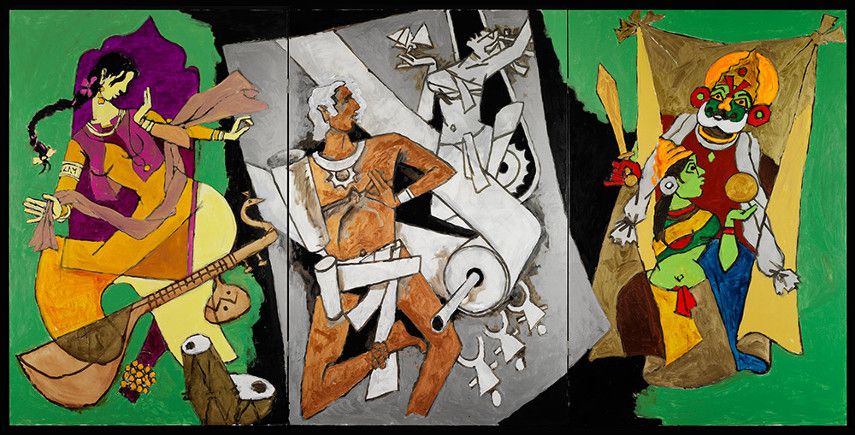 Maqbool Fida Husain's Beginning
The artist was born in 1915 in Pandharpur, India, but he spent his childhood in Indore. He attended art school in Bombay during where he made hoardings and movie billboards for the cinema. To earn more pocket money, he also made furniture and designed toys. Husain studied calligraphy while staying in Madrassa, and later attended the Sir Jamsetjee Jeejebhoy School of Art. In 1948 after being invited by Francis Newton Souza he joined the Progressive Artists Group (PAG). His early paintings represent 'new' India, after the Partition in 1947. Throughout his career, he depicted horses, as he was fascinated with their free spirit that he wanted to transfer to his paintings and drawings. Whenever he had a chance he traveled to Gujarat to make paintings of landscapes.
Husain studied calligraphy while staying in Madrassa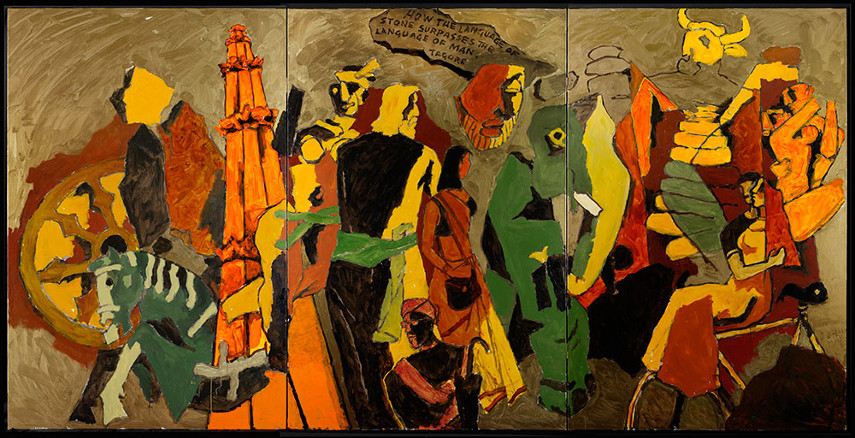 Controversial Art
The artist also regarded as the 'Picasso of India', came from a secular Muslim family. He tried to show the contemporary India, by applying formal lessons of European modernists like Cézanne, Matisse, and Paul Klee to traditional Indian scenery and national epics. Two women, 1990's sex symbol Madhuri Dixit, familiar as Oomph Girl, and Mother Theresa were his muses. He began working on series of triptychs paintings called Indian Civilization, which represented its history, and his own personal mythology. MF Hussain was criticized by the Hindu nationalists for his interpretation of nude Hindu goddesses, which led him to self-exposed exile and dealing with a number of lawsuits. Because of this situation and the fact that the painter got death threats he moved to Qatar and took its citizenship.
MF Hussain was criticized by the Hindu nationalists for his interpretation of nude Hindu goddesses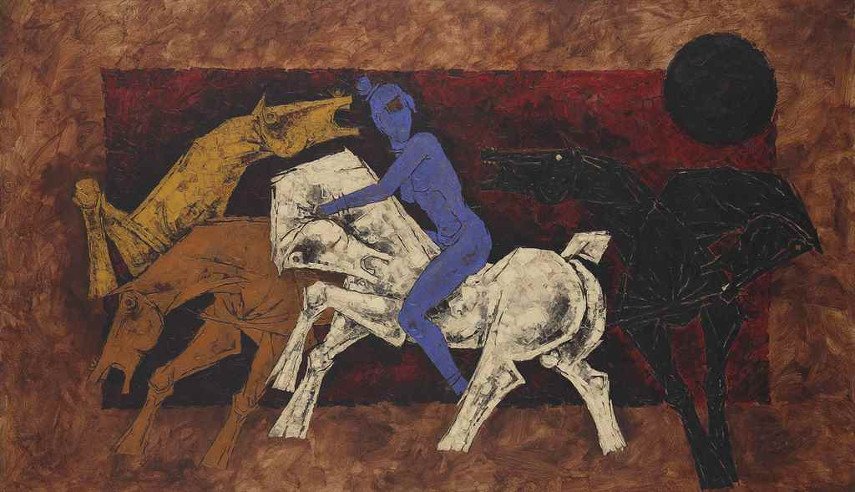 Other Interests and Exhibitions
The Indian painter also worked in the movie industry, and his Through the Eyes of a Painter won Golden Bear at the Berlin Film Festival in 1967. He got the award Padma Bhushan in 1973 and Padma Vibhushan in 1991. and was nominated to the Rajya Sabha in 1986. In 2011 at the age of 97, he died from a heart attack in London. Since his first solo exhibition in 1952 in Zurich and his first show in the USA in 1964 Husain has displayed his artworks in international galleries like at the São Paolo Biennale or at the Victoria and Albert Museum among other places.
Featured image: Maqbool Fida Husain – Portrait – Photo via webneel.com
All images used for illustrative purposes only