Marc Chagall was a Belorussian-born Russian-French Modernist artist whose career spanned over seventy years. He left behind him numerous works in various techniques and media, including painting, book illustrations, stained glass, ceramic, and fine art prints that have established him as one of the leading artists of the Last Century. Chagall has created his own artistic style in which he combined elements of Expressionism, Symbolism, Cubism and other Modernist art movements.
Early Years and Education
Marc Chagall was born Moishe Shagal on July 7, 1887, Liozna, near the city of Vitebsk, in the north of present-day Belarus, then part of the Russian Empire. The eldest of nine children, Moishe was raised in a financially poor but loving Jewish family. His father, Khatskl (Zachar) Shagal, was a trader of pickled herring, and his mother Feige-Ite was a housewife who ran a shop and sold groceries. His brothers also worked low-paying, unqualified jobs.
As a child, Moishe attended a primary Jewish religious school where he studied Torah and Talmud in Hebrew, and then gymnasium where lessons were taught in Russian.
His family name, Shagal, is a variant of the name Segal, which is according to the Book of Genesis, a member of the Hebrew tribe of Levi, descended from Levi, the third son of Jacob and Leah. Moishe Segal adopted a pseudonym Marc Chagall in the French manner when he came in Paris in 1910.
At the age of 19, Marc entered the private School of drawing and painting of one of the most significant Jewish painter in the Russian Empire, Yehuda Pen, under the influence of his mother although his father did not agree with it. Pen liked Moishe's bold manner of using colors so he allowed him to attend courses without any charge.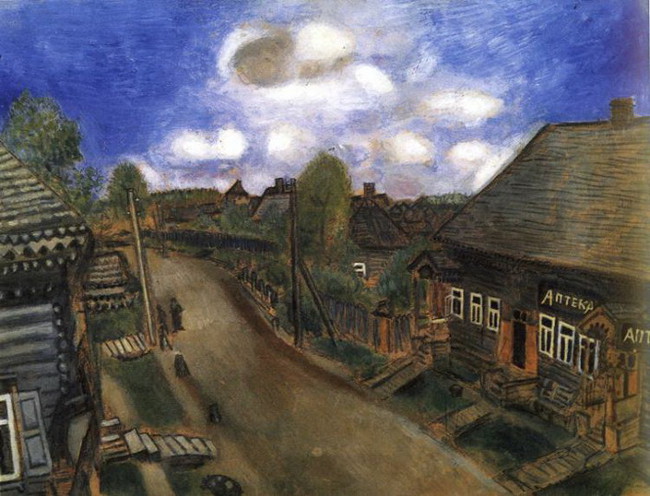 Saint Petersburg
Supported by his mother, Chagall moved to Saint Petersburg in 1907. There he continued his artistic education and studied art with Russian stage designer and artist Leon Bakst. In the same year he joined the school of the "Society of Art Supporters" and studied under Nikolai Roerich. From 1908-1910 Chagall studied under the Russian painter and scene- and costume designer Leon Bakst at the Zvantseva School of Drawing and Painting.
Influenced by contemporary Russian painting as well as by his childhood, Chagall's distinguished, inimitable style began to emerge. One of his earliest pieces is Young Girl on a Sofa, made in 1907, presenting a portrait of his sister Mariaska.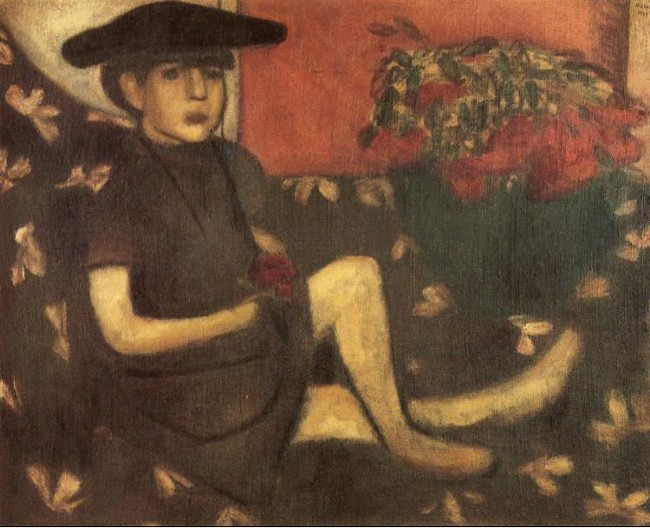 Life in the former capital of Russia was difficult for Chagall. It was a time when Jewish residents could not live in Saint Petersburg without permission and he was jailed for a short period for an infringement of this rule. Despite this, Chagall remained in Saint Petersburg until 1910.
Marc Chagall and Bella Rosenfeld
During one of his visits to his hometown in the summer of 1909, Chagall met Bella Rosenfeld, the graceful and well-educated daughter of a Jewish local jeweler. Although she was only 14 years old at the time, the couple fall in love at first sight. The two got married on July 25, 1915 and got a daughter Ida in 1916. Marc and Bella stayed together until the moment of Bella's too early death 35 years later.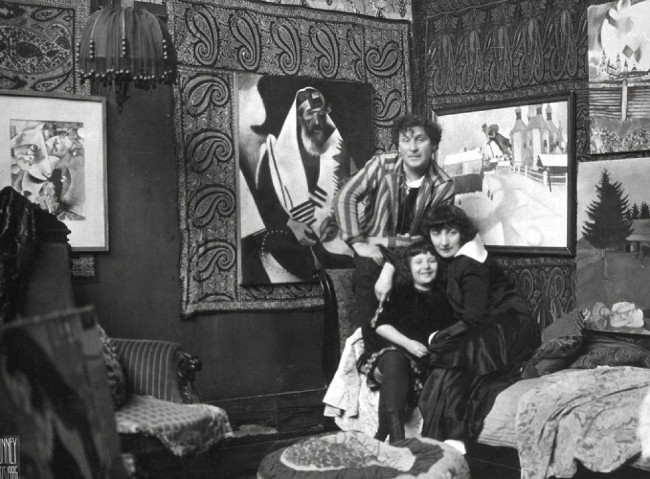 Through his career, Bella Rosenfeld would always be his first and biggest love, wife and muse, the subject of many of his paintings. One of the earlier paintings inspired by his beloved Bella is The Birthday or Anniversary as it is also known, painted in 1915 and filled with closeness, caring affection, love and warmth. The Birthday is in the permanent collection of the Museum of Modern Art in New York.
The pieces such as Pink Lovers (1916), The Promenade (1917-1918), Bella with White Collar (1917), and Double Portrait with a Glass of Wine (1917) are just a few in which Bella Rosenfeld appears.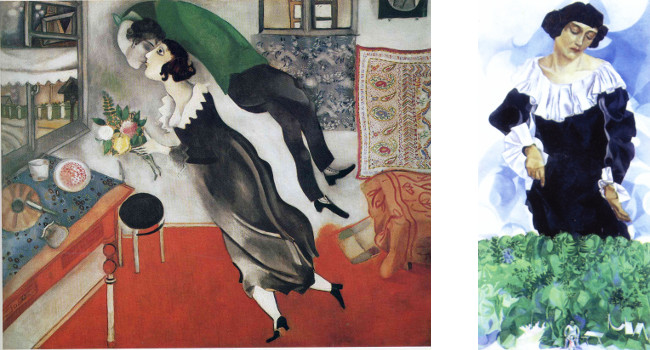 Paris (1910 -1914)
In 1910 Marc Chagall moved to the capital of France, where he became an important figure within the so-called Ecole de Paris. For four years, Chagall lived on a stipend of 125 francs a month from a respected Russian-Jewish lawyer Maxim Vinaver.
In Paris, he met many writers and artists, including Guillaume Apollinaire, Robert Delaunay and Albert Gleizes. In such artistic company, Chagall began developing the poetic and innovative tendencies that had begun to emerge in Russia at the time. At the same time, he witnessed the emerging new styles of Fauvism, Cubism and Surrealism, and was influenced by the Impressionist, Post-Impressionist and Fauvist pictures he saw in Paris museums.
Chagall participated in the art showings at the Salon des Indépendants and the Salon d'Automne in 1912. His first individual exhibition was held at Herwarth Walden's Der Sturm Gallery in Berlin, Germany, which established him internationally as a leading artist.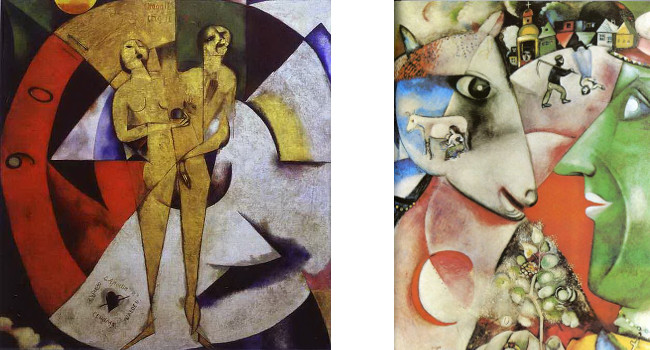 Russia and World War I
Because he missed Bella who was still in his home town, Chagall returned to Vitebsk in spring 1914. Although he planned to stay long enough to marry her, the Great War broke out and postponed their return to Europe as the Russian borders were closed indefinitely.
His works from this time are executed mostly in the Cubist or Expressionist styles, like in The Smolensk Newspaper (1914), Window in the Country (1915) and Bella with White Collar (1917), but he also embraced local scenes from Vitebsk in his art, working in an outstandingly realistic style like in The Praying Jew (or The Rabbi of Vitebsk, 1914), Self-Portrait (1914) and Jew in Green (1914).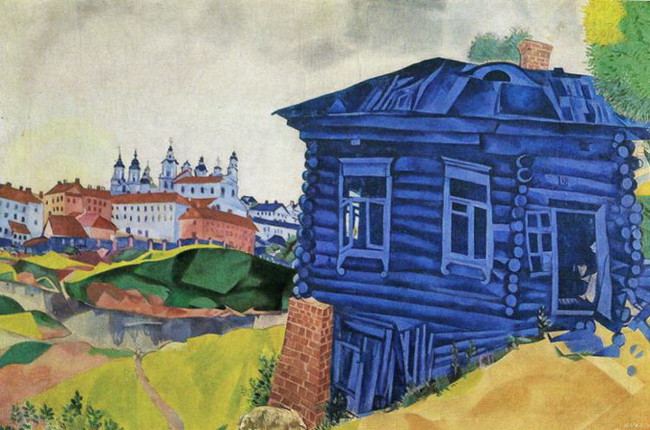 Marc Chagall and Bella married in 1915, when the artist began exhibiting his work in Moscow and one year later in St. Petersburg. After he participated at a Moscow show of avant-garde artists, many well-known collectors began buying his art. The painter also began illustrating a number of Yiddish books with ink drawings including I. L. Peretz's The Magician in 1917.
In 1918 Chagall was appointed Commissar for Art. The same year he founded the Vitebsk Popular Art School and directed it for the next two years.
In 1920 he moved to Moscow with his wife and daughter, where Chagall actively participated in theatrical life by creating draft of sets for performances, including the stage decoration for the production of Fiddler on the Roof, based on the story by a leading Yiddish author and playwright Sholom Aleichem.
He executed his first stage designs for the State Jewish Chamber Theater there.
Paris (1923–1941)
In 1922 Marc Chagall left Russia with his family, going first to Berlin, where he spent one year and found out that a large number of the pieces he had left behind before the Great War began in 1914 had been lost.
In 1923, this time with a wife and daughter, he moved once again to Paris, as did many Russian intellectuals. The painter would not come back to Russia again for more than half a century.
In Paris he met a French art dealer Ambroise Vollard who commissioned the artist to draw and paint various religious scenes from the Old Testament, and similar sources.
Marc Chagall made illustrations for Dead Souls a novel by Russian author Nikolai Gogol.
Marc's first retrospective took place in 1924 at the Galerie Barbazanges-Hodebert, Paris.
His fame in artistic circles brought him a financial freedom, so he could travel and explore different parts of France, the Netherlands, Spain, Poland, and Italy with his family. The paintings made in this period were bright and joyful.
In 1933 the Kunsthalle Basel held a major retrospective of his work.
Marc Chagall became a naturalized French citizen in 1937.
My Life
My Life is a Chagall's autobiography written in Moscow in 1921–1922, when the artist was thirty-five years old. It is illustrated with 50 sketches and prints also by the artist.
Vibrant, optimistic and mystical, My Life contains all the important moments from the first part of the artist's life – his early age, childhood and raising in Vitebsk, studies in St Petersburg, his first contact with the art world in Paris, return to his homeland and World War I.
Palestine and The Bible illustrations
In 1930 Ambroise Vollard commissioned Chagall to make a series of etchings illustrating the Bible. The artist used the assignment as an excuse to spend some time in Palestine. During two months the artist discovered the land of his ancestors and perceived the center of his faith.
A series of over one hundred etchings illustrating the Bible was completed in 1956. However, Vollard died in 1939 so the series was published by Edition Tériade. The series incorporates numerous elements from Jewish folklore and from religious life in Chagal's home town Vitebsk.
The other Chagall's illustrations include works by La Fontaine, Y. L. Peretz, and his autobiographical Ma Vie (1931; My Life 1960) and Chagall by Chagall (1979).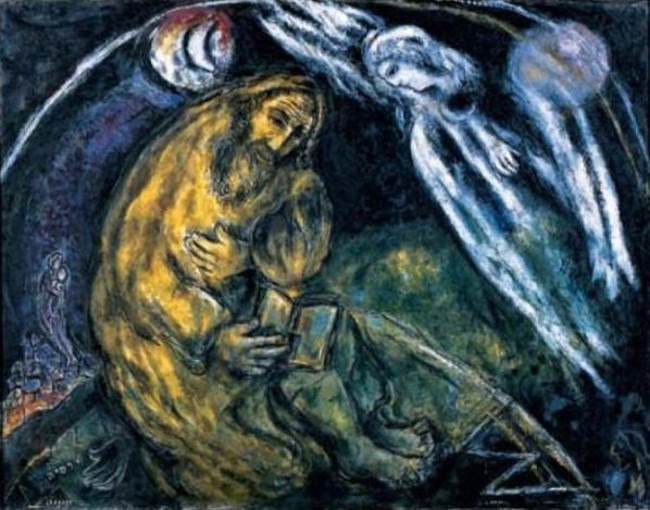 World War II and the USA
In the beginning of World War II, Chagall Marc Chagall and his family escaped to the USA along with more than 2,000 artist and intellectuals who were smuggled out of Nazi occupied territory to the USA via forged visas provided by a group of Americans who ran a rescue operation.
They arrived in New York on June 23, 1941 — just the day after Operation Barbarossa, the invasion of the Soviet Union by Nazi Germany — and spent most of the next few years in the New York area.
In the United States, Chagall continued to explore themes he had already treated in France until his wife and muse Bella passed away on September 2, 1944. Thereafter, depictions of memories of his beloved recurred in the pieces such as Around Her (1945), The Wedding Lights (1945) and Nocturne (1947).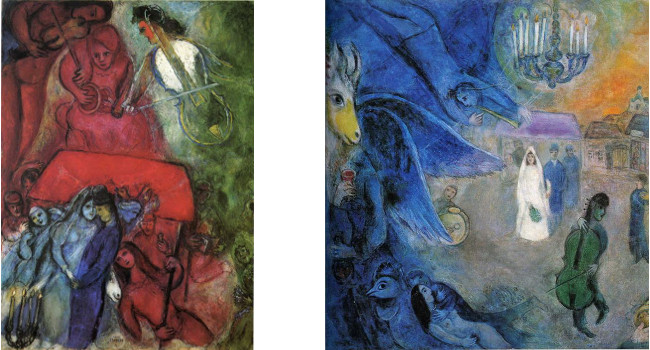 After a death of his loved Bella, he experienced the sadness and depression that was alleviated when he met Virginia Haggard-McNeil, interpreter from French and daughter of former consul of Great Britain. She was almost two times younger than Chagall but she resembled Bella by her appearance. Marc entered into a romance with Virginia and they had a son David (McNeil), born on June 22, 1946. Their relationship lasted until 1952 when she left him with their son.
Chagall's oeuvre made in that period is dedicated to love and the joy of life, visible in such works as Cow with Parasol (1947).
He also began to work in others media, including sculpture, ceramics, and stained glass.
Chagall was honoured with a large retrospective exhibition at the Museum of Modern Art in New York in 1946 and at the Art Institute of Chicago a few months later.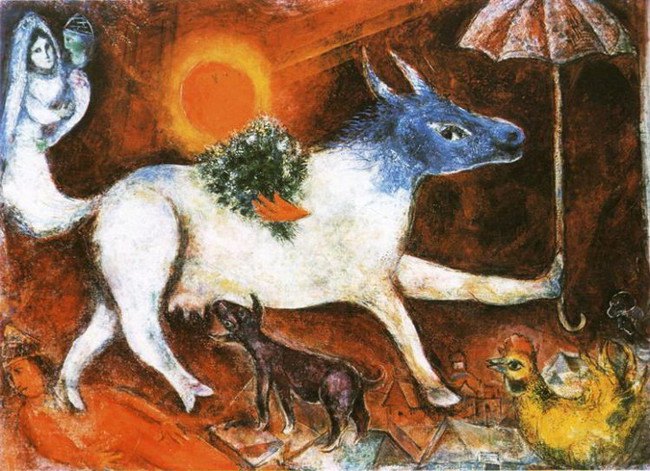 Aleko - Chagall's First Ballet
Two years before Bella died, the Ballet Theatre of New York (now the American Ballet Theatre - ABT) commissioned Chagall to design scenery and costumes for a new ballet Aleko by Léonide Massine, a Russian choreographer and ballet dancer. The ballet was based on Pushkin's romantic poem The Gypsies and accompanied by the music of Tchaikovsky's Trio in A Minor.
Aleko had its world premiere on September 8, 1942 in Mexico City and was shown at the Metropolitan Opera House in New York on October 6. Both the shows were a great success.
Chagall painted four backdrops which was 30 by 48 feet each, including the one that set the stage with his famous folkloric symbolic elements and expressive color. He also hand-painted the wildly inventive costumes, almost 70 in all.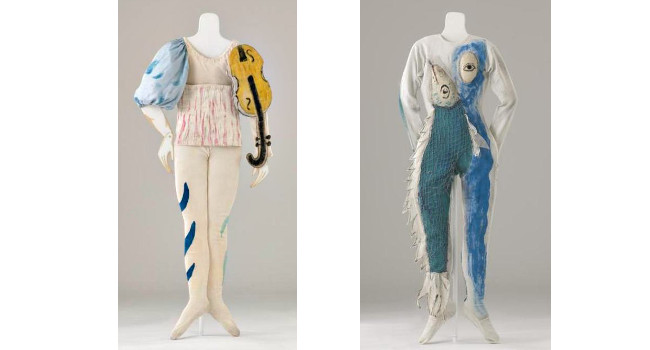 Also during this period, Chagall designed the backdrops and costumes for a New York production of The Firebird (1945), with the music of a Russian composer, pianist and conductor Igor Stravinsky and choreography by one of the 20th century's most prolific choreographers George Balanchine.
Daphnis and Chloe
In the autumn 1947 Marc Chagall returned to France that had already become so native for the artist. There he attended the opening of his solo show at the one of the most visited art museums in the world - National Museum of Modern Art (Musée National d'Art Moderne) in Paris.
After his relationship with Virginia ended in 1952, Chagall met Valentina "Vava" Brodskaya who became his official wife. In 1950s Chagall and Viva went on many journeys, especially across the Mediterranean - in Greece and Italy. Inspired by the wall paintings and icons, characteristic of the Mediterranean culture, the artist created a stunning color lithograph series entitled Daphnis and Chloe. Based on the Daphnis and Chloe by ancient Greek novelist and romancer Longus, which captures the triumphs and tragedies of young love.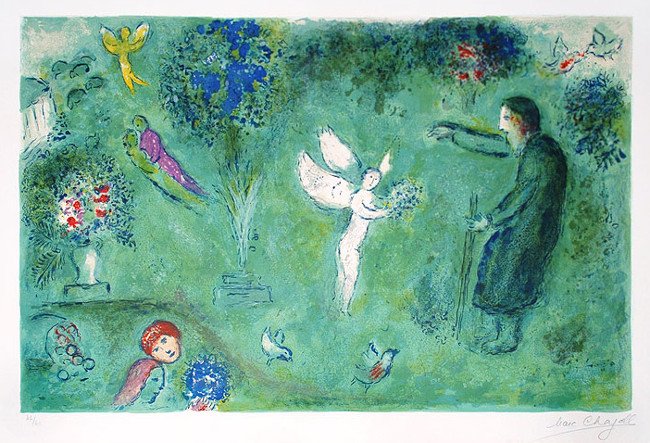 Between 1953 and 1956, he produced his renowned Paris series inspired by his affection for Paris. In all the pieces from the series, a sequence of fantastic scenes is set against the background of views of the capital of France.
The Chagall State Hall in Jerusalem
Since 1960s Chagall expanded his creativity into monumental types of art such as mosaics, stained glass windows, tapestries, sculpture and ceramics.
At the beginning of 1960s, the government of Israel commissioned Chagall to make mosaics and tapestries for the Knesset (Parliament) building. Chagall designed 12 floor mosaics, one wall mosaic and three large, colorful Gobelin tapestries for the hall which later was named after the artist - The Chagall State Hall. The tapestries are presented in the form of a triptych in which each of the parts is both part of the whole and a separate unit representing the history of the Jewish people. The Chagall Hall is used for state receptions.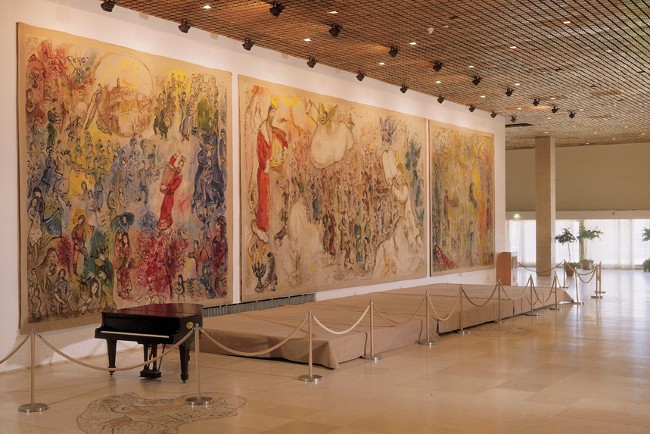 The Chagall Windows at Hadassah Hospital
After the great success with The State Hall in Jerusalem, Marc Chagall received many commissions to decorate churches and synagogues all over Europe, USA and Israel.
The Chagall windows at the synagogue of Hebrew University's Hadassah Medical Center in Jerusalem are considered by many to be one of Chagall's major accomplishment in stained glass.
In 1960 Chagall and his assistant and friend Charles Marq began creating those windows and devoted the next two years to the task. During that time, Marc and Charles developed a new technique which allowed them to use more than three colors on a single pane of glass. The famed Chagall Windows are composed of twelve abstract stained glass windows, each about 11 feet tall and 8 feet wide, representing the 12 Tribes of Israel.
Completed in 1961, the stunning windows had been on display in Paris and then the Museum of Modern Art in New York, before were installed permanently in Jerusalem in February 1962.
Ceiling of the Paris Opera
In 1963 André Malraux, France's Minister of Cultural Affairs, commissioned Marc Chagall to paint a new ceiling for the Grand Opera in Paris. A stunning ceiling for one of the symbol of Paris is composed of 12 canvas panels and a round central panel totalling about two hundred and forty square meters and required 440 pounds of paint. The work is signed "Chagall Marc 1964" on the central and main panels and it was inaugurated on 23 September 1964 in the presence of Malraux and more than two thousands invited guests.
Although the commission had a lot of opponents, Chagall, who refused to be paid for his ceiling, gained great acclaim for the project.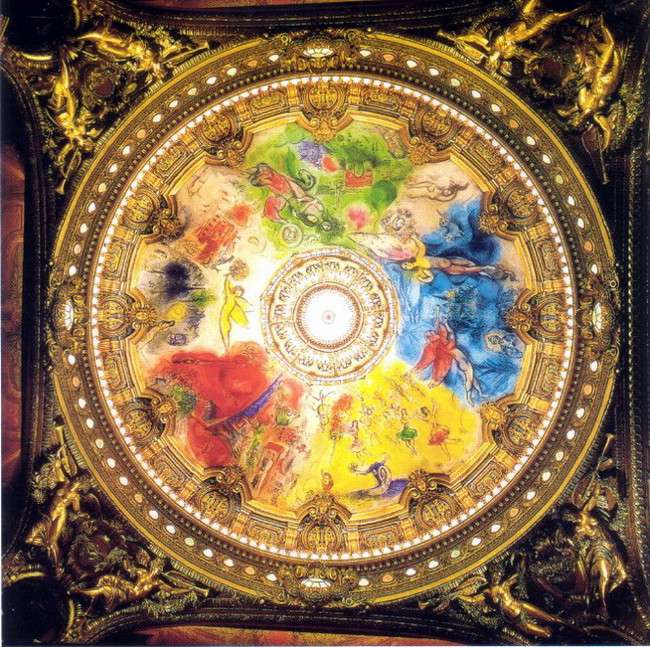 Peace at the United Nations building
Over the years Marc Chagall mastered the art of stained glass, and his making decorative windows could be find at many international locations.
One of his most famous stained-glass windows, entitled Peace , is located at the United Nations building in New York. Peace was presented in 1964 as a memorial to Dag Hammarskjold, a Swedish diplomat and the second Secretary-General of the United Nations, who served from April 1953 until his death in a plane crash in September 1961. The memorial, which is about 15 feet wide and 12 feet high, contains various symbols of peace and love, including the young child in the center being kissed by an angelic face which emerges from a mass of flowers, as well as the musical symbols which evokes thoughts of Beethoven's Ninth Symphony, which was a favorite of Mr. Hammarskjold's.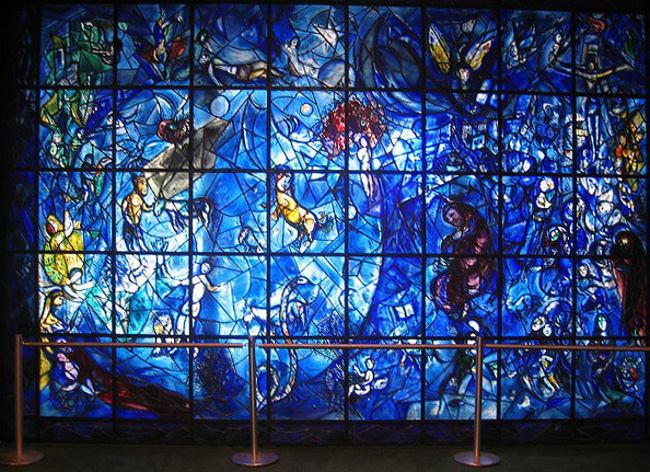 Other Chagall's Stained Glass Windows
In 1967 Chagall began working on five large stained glass windows at the Fraumünster cathedral in Zurich, Switzerland. Entitled Prophets; Jacob; Christ; Zion and Law, each of the five has an intensive color and depicts a different Christian story.
In 1963 Sir Henry and Lady D'Avigdor-Goldsmid commissioned Russian-French artist to design a stained glass window for the All Saints' Church in Tudeley, Kent, England. Made in a memory of memory Sarah, the daughter of Sir Henry and Lady D'Avigdor-Goldsmid who was drowned in a sailing accident off Rye, East Sussex, it is just one church in the world whose entire stained glass was created by Chagall.
Between 1978 and his death in 1985, Chagall created nine stained-glass windows for St. Stephan's church in Mainz. Unique in Germany, the figures on Chagall's choir windows depict scenes from the Old Testament, showing the similarities between Christian and Jewish traditions.
The America Windows, Chagall's remarkable stained glass tribute to America installed at The Art Institute of Chicago was presented in 1977, while his last commissioned work, located in the north side of Chichester Cathedral and created when Chagall was at the age of 90, was unveiled by the Duchess of Kent in 1978.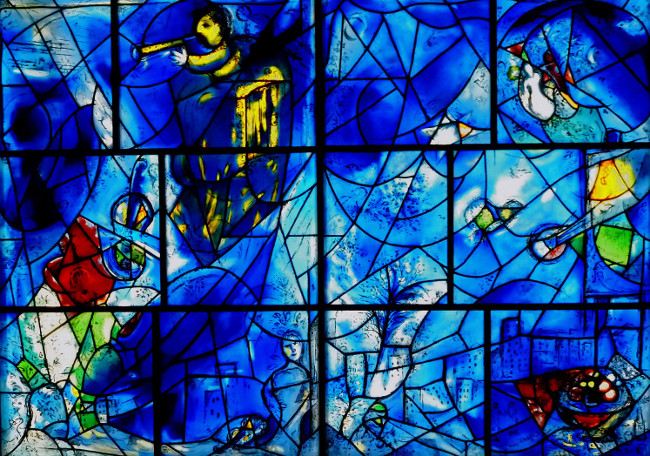 Retrospective at the Louvre
Chagall's pieces are in collections of leading museums and institutions around the world. Some of the major retrospectives of his oeuvre was held at The Museum of Modern Art, New York (1946), The Philadelphia Museum of Art (1985) and The San Francisco Museum of Modern Art (2003).
In 1977, the Louvre Museum, one of the world's largest museums, exhibited 62 of his works created between the years 1967 to 1977. The show was the rare opportunity for the visitors of the museum on the Right Bank of the Seine to see the works of a living artist.
Chagall's work also was shown in numerous exhibitions at galleries and museums worldwide including at Der Sturm Gallery, Berlin (1913); Galerie Barbazanges-Hodebert, Paris (1924); Palais des Beaux-Arts, Brussels (1938); Museum of Modern Art, New York (1946); National Museum of Western Art, Tokyo (1963); Musee du Grand-Palais, Paris (1970); National Museum of Modern Art, Centre Georges Pompidou, Paris (1983); Philadelphia Museum of Art, Philadelphia (1985); Royal Academy, London (1985); Tale Art Museum, Lillestrom (2006); Louisiana Art & Science Museum (2007); Nassau County Museum of Art, NY (2012), among others.
In 1977 Marc Chagall became the only living French painter to hold the highest French decoration - the Cross of the Legion of Honour.
Musée Marc Chagall and Marc Chagall Museum
A museum dedicated to Marc Chagall, The Musée Marc Chagall (National Museum or Chagall Biblical Message), is a French national museum, located in Nice, the French Riviera. Created during the lifetime of the artist, The Musée Marc Chagall was inaugurated in 1973 and it celebrates Chagall's life and work, especially his pieces inspired by religion.
The Marc Chagall Museum is located at the Chagall family home on Pokrovskaia street in Vitebsk, Belarus. Inaugurated in 1992, it continually organizes the exhibitions of Chagall's graphic works including lithographs, wood cuts, etchings and aquatints.
Marc Chagall continued to work vigorously until his death on March 28, 1985 in Saint-Paul de Vence on the French Riviera, at the age of ninety-seven. He was buried at the local cemetery.