If you were to make a list of who you believe are the most controversial artists in history, the name of Marcel Duchamp would be topping many of the lists. He was a French painter, sculptor, writer and a master chess player whose work is often associated with Dadaism and branches of conceptual art, although he does not really seem to fully fit with neither of the two. Duchamp is considered by many to be responsible for the 20th century's change in perception of what art is and how art is made. We believe it's appropriate to start this biography by quoting Marcel himself: You cannot define electricity. The same can be said of art. It is a kind of inner current in a human being, or something which needs no definition.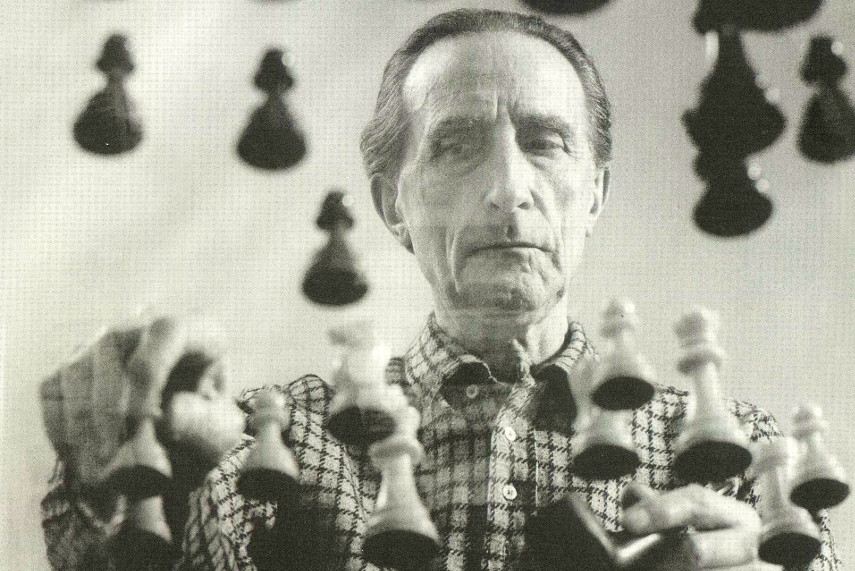 Duchamp's Childhood
Marcel Duchamp was born on 28th of July, 1887, in Blainville-Crevon, a commune in the Upper Normandy region of France. He grew up in a family that enjoyed cultural activities and were great admirers of traditional art - Marcel's maternal grandfather was a painter and engraver by the name of Emile Nicolle, so naturally the Duchamp residence was filled to the brim with his various pieces. Besides the presence of grandad's paintings, other characteristics that surrounded young artist as he was growing up were frequent sessions of chess playing, collective composing of music and group readings of classic literature. When Marcel was eight years of age, he left home and began studying at the Lycée Pierre-Corneille, a prestigious school in the heart of Rouen. Duchamp spent next eight years of his life in this institution, being submitted to a strict regime which focused on intellectual development. Interestingly enough, his favorite subject was mathematics.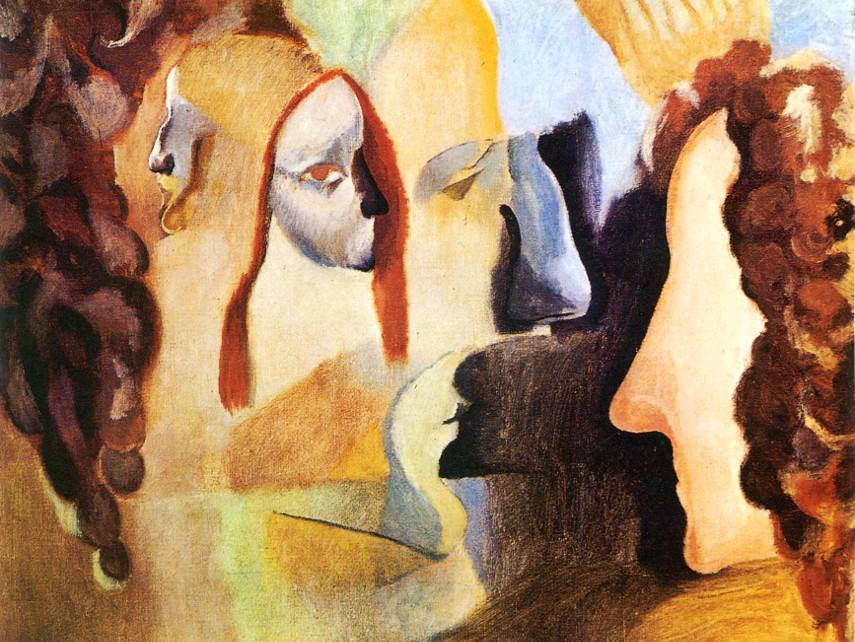 First Artistic Steps
Whilst he was a student of Lycée Pierre-Corneille, Duchamp considered drawing and painting to be nothing more than unavoidable obstacles that were placed in between the classes that focused on calculus. The reason behind such a relationship with artistic subjects can be attributed to the Marcel's professor, a man that desperately tried to protect his students from the harmful concepts of avant-garde movements such as Impressionism and Post-Impressionism. This resentment towards modern art that was literally planted in Duchamp lasted up until the time he started spending time with his brother Jacques Villon, a young painter that was a follower of contemporary artistic ideas. Marcel began learning from Villon and from then on tried to copy his brother's fluid and incisive style of painting. This experience convinced young Duchamp to further his artistic education instead of pursuing a career of a mathematician. With that goal in mind, he studied at the Académie Julian from 1904 to 1905, spending much of that time drawing humoristic cartoons and trying to sell them to whoever was willing to pay anything for them.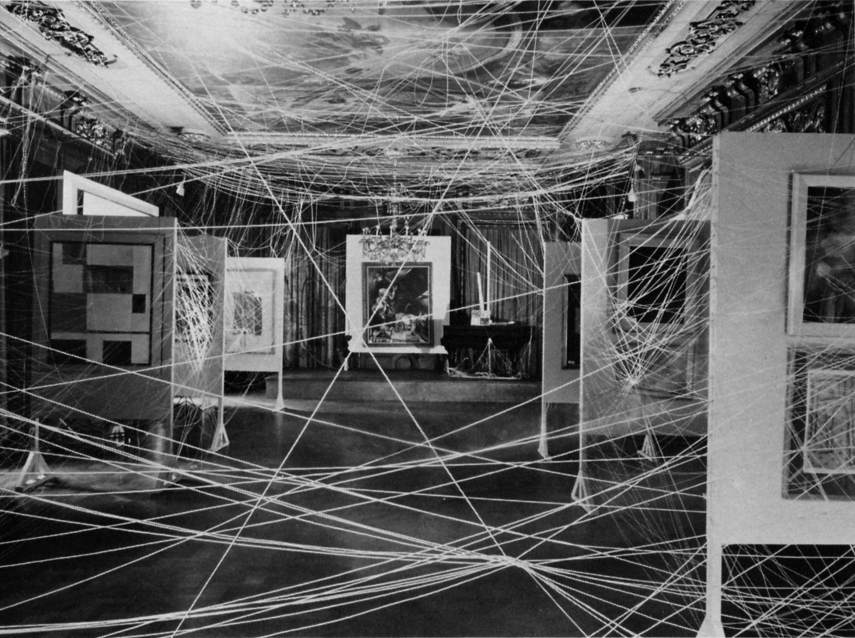 The 1908 Exhibition
Due to his aforementioned brother's membership within the society known as Académie royale de peinture et de sculpture, Marcel Duchamp was given a chance to display some of his cartoons and humoristic puns in 1908. The drawings were exhibited in the Salon des Indépendants and were met with harsh judgment, with many critics agreeing to accept the term their colleague Guillaume Apollinaire chose in order to precisely describe Marcel's work - Duchamp's very ugly nudes. These insults were meant to discourage the young artist, to bring him down to the ground and demoralize him, but Duchamp's reaction was nothing like that. In fact, it was quite the opposite. Soon, Marcel started spending time with Francis Picabia and the duo was spending many nights in French clubs, living a fast-paced life of drinking alcohol, chasing women and discussing their views on art.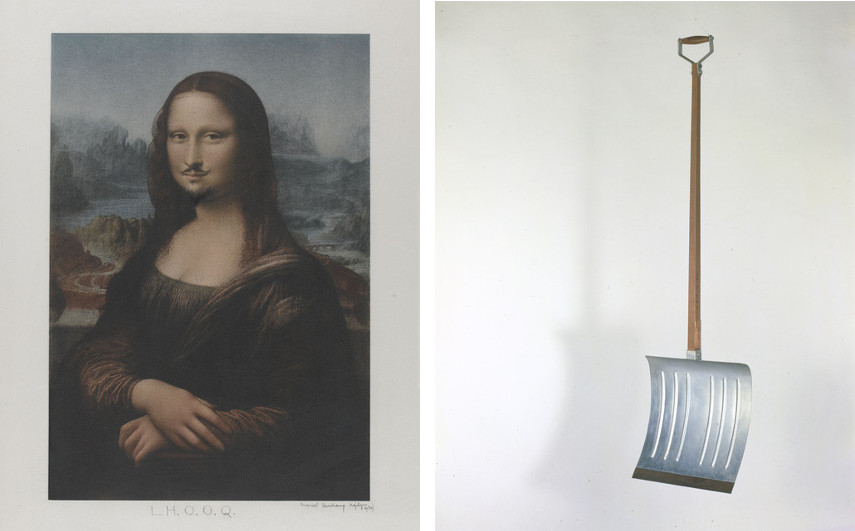 Early Career As An Artist
During these starter years, Duchamp is said to have experimented with Post-Impressionist styles, classical techniques and traditional subjects. By his own admission, Marcel was able to draw the biggest inspiration from the works of Odilon Redon, a symbolist painter that was trying to find a balance between academic and individual style. Soon after the debacle of the 1908 exhibition, Duchamp began his unique career of an artist with goals of provoking and outthinking his colleagues. His first significant controversy came in 1912, in a form of a piece titled Nude Descending a Staircase, No. 2 (Nu descendant un escalier n° 2), a painted depiction of the mechanistic motion similar to motion pictures. Back then, it was accepted as a blend between the shapes of Cubism and the constant dynamics common to the Futurists. Soon after that, Duchamp started working with different musical ideas - most of them based on the concepts of unpredictability and chance.
Duchamp's earliest paintings were said to be a mixture of Cubism and Futurism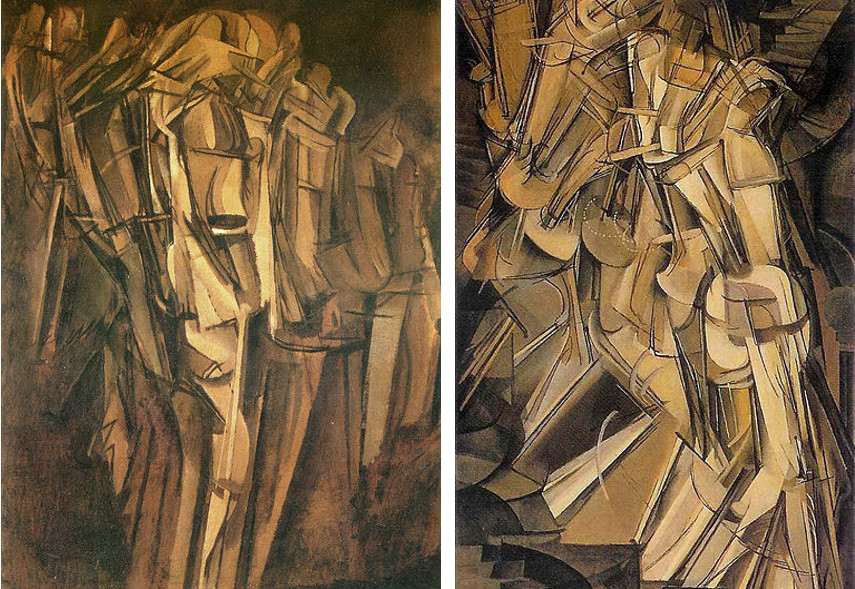 The Infamous Readymades
Another critical moment of Duchamp's artistic and intellectual development was the book The Ego and Its Own, authored by the writer Max Stirner. The theories Marcel partially draw from that book led him to publicly rejecting works of Henri Matisse and other popular artists, with the explanation that their art is too retinal in character. He did not agree with any shapes or forms of art that were only aiming to be pleasing to the eye - Duchamp wanted to put art back in the service of the mind. Keeping this in mind, the artist started developing the idea of Readymades, a concept in which seemingly random objects were presented as art without any major alterations. In 1913, Duchamp installed a Bicycle Wheel in his studio - you can see it on our Featured image. The idea was to question the very notion of art, it's adoration and public perception.
Duchamp wrote the critical pages of art history with his Readymade pieces and the concepts behind them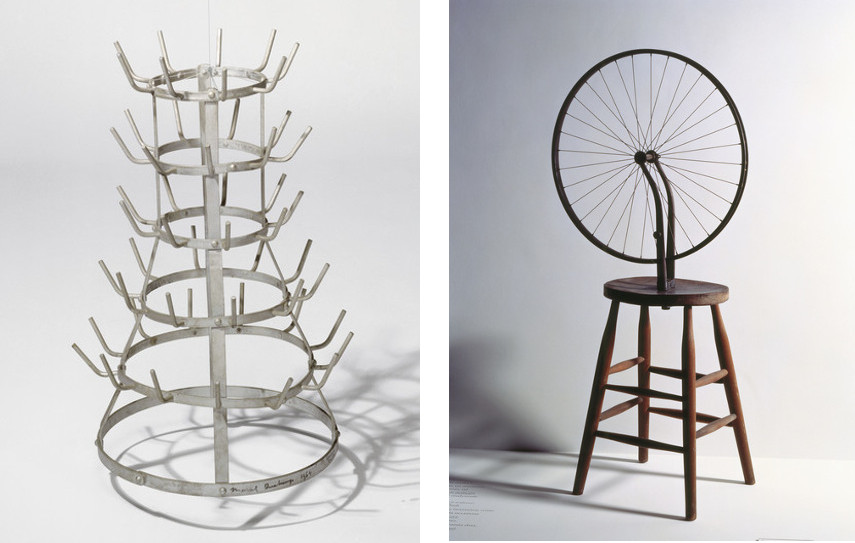 Later Artistic Endeavours
The years of the First World War were the time that Duchamp was shaking the very foundations of the New York's art scene. After his arguably most famous piece titled The Fountain coming in 1917, it seems that Duchamp partially lost interest and stepped away from his battle against retinal art. In 1920, the artist created a motorized sculpture with his friend and colleague Man Ray. The duo named the piece Rotative plaques verre, optique de précision (Rotary Glass Plates, Precision Optics) and they insisted that it is never called art. This unique piece was just an introduction to Duchamp's' interest in mechanical sculptures. In 1918, Duchamp left New York and went to Buenos Aires, where he remained for nine months and often played chess on top of the set he personally carved.
In the eyes of the public, Duchamp's iconic piece The Fountain was nothing more then an upside-down urinal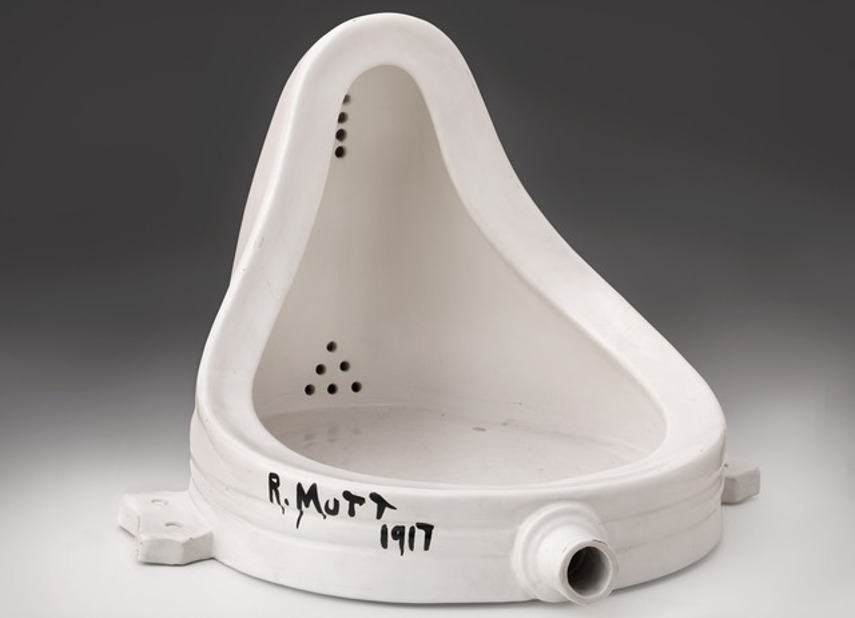 The End Of Marcel's Weird Artistic Fairytale
During the year of 1918, Marcel Duchamp decided it was the right time to return to his home country. Although he took a sudden trip to The United States, the artist did not leave France ever again. Duchamp stepped away from art and stopped considering himself as a practicing artist. Why that came to be is anyone's guess, but it probably had something to do with Marcel's stressful approach to everything he ever did. He focused his interests on chess and studied it extensively for the rest of his life. Duchamp died suddenly and peacefully in the early morning of 2 October 1968 at his home in Neuilly-sur-Seine, France.
Starting with the early 1930s, Marcel seems to have lost interest in creating art with such passion and fire he did while he was a young man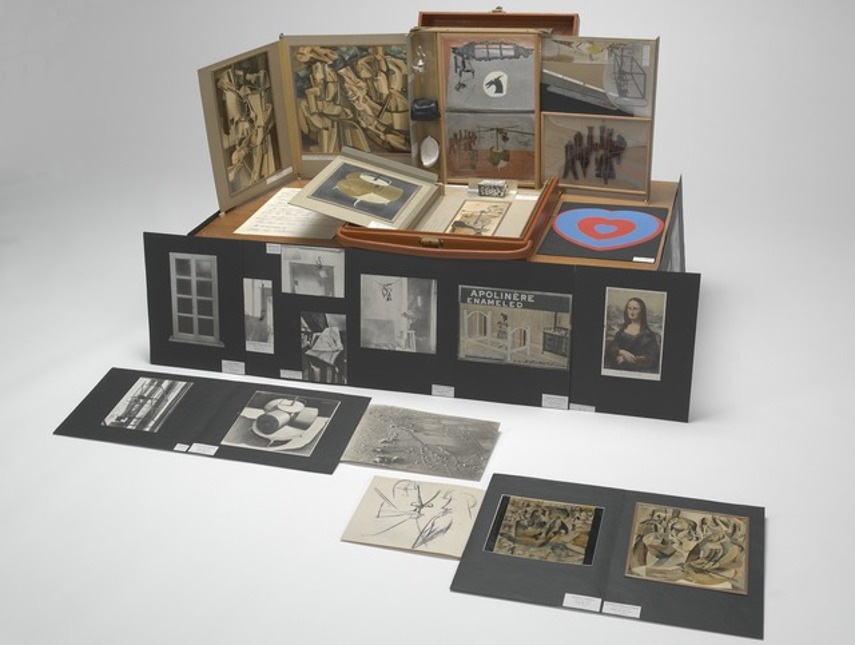 A Genuine Legend Of Art History
It is not a coincidence that Duchamp is regarded, along with Pablo Picasso and Henri Matisse, as one of the three artists who helped define the revolutionary changes in the plastic arts that occurred in the opening decades of the twentieth century. He was responsible for significant advancements in both painting and sculpture, but especially in the conceptual art department which is basically a whole genre whose origins can be traced to Duchamp's ideas. His provocative and brave approach has left the entire art history in his debt and it is a big question if art would be the same as it is today if Marcel never existed.
The artist is represented by Gagosian Beverly Hills in California, Gagosian Britannia Street in London, Gagosian Madison Avenue in New York, Gagosian Park & 75 in New York, Gagosian West 21st Street in New York and Gagosian West 24th Street in New York.
Featured Image: Marcel Duchamp - The artist in front of his work - Photo Credits Mattatuck Museum
All Images Photo Credits Marcel Duchamp