Playing with the use of space by accentuating white and over-painted areas that emerge out of improvisation, Maria Zerres explores the aesthetic language of figuration and abstraction. Her emotion is liberating itself throughout bold, gestural brushstrokes and bright colors. Sometimes she draws realistic and familiar depictions, but often they are just products of her imagination. Disposing of the forms, the idea of entropy became visible throughout chaotic brushstrokes. Her composition represents a bridge between abstract and figurative painting.
Zerres uses gestural brushstrokes and bright colors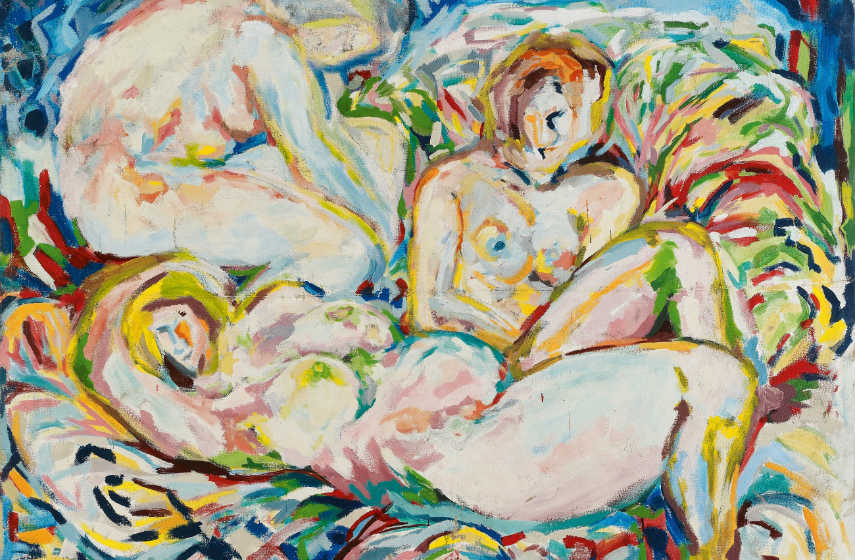 Between Germany and USA
In 1981, Maria Zerres began her studies of art education at the Pedagogical University of Cologne and in 1982 moved to the University of Applied Arts in Vienna. From 1983 until 1990, she had a studio in Cologne and during the 90's a workshop in Bad Breisig or Sinzig. Zerres was a visiting professor at the Hamburg Art Academy (Polke class). Since 1992, she has a studio in New York, and since 1999, she was working parallel in a studio in Traunreut (Germany). Maria Zerres is represented by Galerie Brigitte Schenk, Cologne, Galerie Ulysses, Wien and DASMAXIMUM, Traunreut. Her work has been exhibited in several galleries and museums and it has been sold at auctions.
Based in New York and Germany at the same time, Zerres has participated in many of Europe's main exhibitions, including The Venice Biennale. The main characteristic of her paintings is the idea of movement towards chaos. Harmony and structure of form are in contrary with the manifestation of dynamism. Her expressive brushstrokes create a sense of homogeneity. Self-intersecting, overlapping, often brightly colored lines provide an image depth away from intentional perspective. On usually monochrome background, colors, lines and shapes meet each other creating the harmonious composition with emphasized contrast. While the color choice, as well as the implementation of the motives, occur seemingly intuitive, Zerres very successfully manages to implement symbiosis of drawing and painting and color and composition.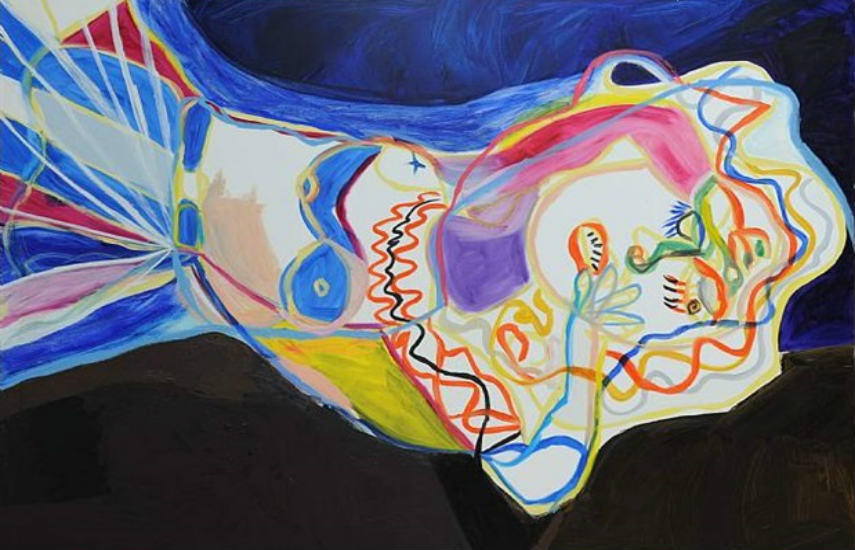 Consolidating Abstraction and Figuration
With Zerres' paintings, forms of disfiguration and strategies of abstraction are deployed. In her works, ideas of entropy appear through chaotic brushstrokes that result in a sense of homogeneity. Inherent to both artists' practices is a congruous representation of the idea of a movement towards chaos. Even more clear than in her paintings, her extensive graphic work evolves process in the pictorial invention. Considering color the equally important as line and form, Zerres is trying to make herself to constant change and improvement of expression. Maria Zerres is an artist whose paintings explore and consolidate the aesthetic languages of abstraction and figuration.
Maria Zerres lives and works in New York, USA and Traunreut, Germany
All images used for illustrative purpose only