Today, she is a celebrity. A mentor to the likes of Lady Gaga and the haute society's curious ones. She exhibits at the most prestigious venues, has an own institute and an artistic method named after her. But if we look back only three to four decades in the past, we will find Marina Abramović to be somewhat of a rebel, a young woman who dared to try and redefine contemporary art in a rather turbulent society. Her path was not light, but neither was her determination, as this often disputed, but undeniably intriguing woman rose from a burning star, into stardom.
With a name that echoes loudly throughout the contemporary art sphere, Marina Abramović can also be described as a Serbian artist whose vanguard works proclaim the use of her physical body as the basis of her creative vocabulary. During her long career, Abramović pushed both physical and mental boundaries in order to explore themes of emotional and spiritual transfiguration, authoring some of the most mesmerizing performance acts to date. Expanding her performative practice, she utilized a variety of creative mediums over the years, such as sound, video, sculpture and photography. Often, she was a pioneer in this approach, effectively setting the stage for all younger generation artists who desired to become part of the performance genre[1].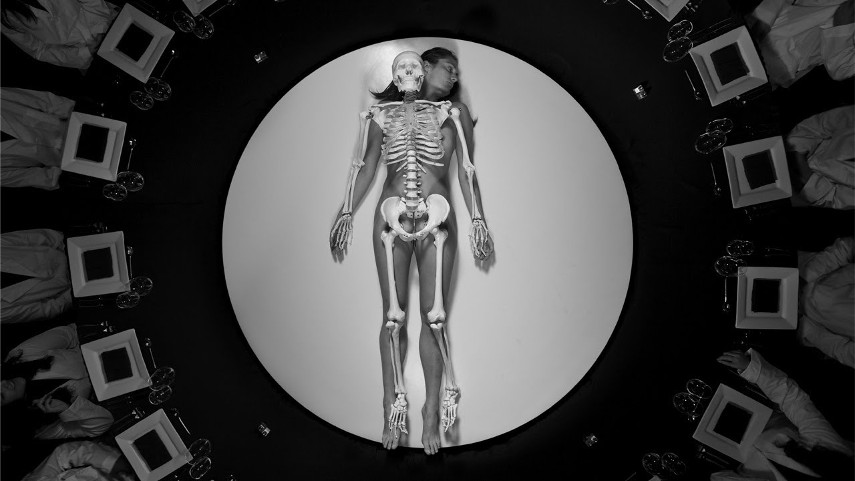 Early Youth in Yugoslavia
Marina Abramović was born in Belgrade on the 30th of November in 1946, in what was then Yugoslavia. Both of her parents, Vojin Abramović and Danica Rosić, were Yugoslav Partisans during the Second World War, experienced in combat and officially announced National heroes. In the post-war years, both of the artist's parents were awarded high positions in the Yugoslav government, as distinguished members of the young communist society. Strong and dedicated to their political beliefs, Abramović's parents enjoyed a prosperous lifestyle, but led a rather strict household, marking the young artist's life for good. In one of her numerous interviews, Abramović described her family as having been Red bourgeoisie.
Due to their commitment and the passion for the new state of Yugoslavia, Marina's parents were always away from home, which meant that the young girl had to spend the most of her time with her grandparents. Her grandmother was deeply religious and Abramović describes her upbringing with the following statement: I spent my childhood in a church following my grandmother's rituals – candles in the morning, the priest coming for different occasions. Furthermore, the artist's uncle was the Patriarch of the Serbian Orthodox Church, Varnava, a fact which was not looked upon with sympathy at the time by the establishment.
Perhaps it was this obvious dichotomy in lifestyles Marina Abramović experienced as a child that triggered such a strong proclivity towards the arts and the free thinking, and finally, towards the exploration of self.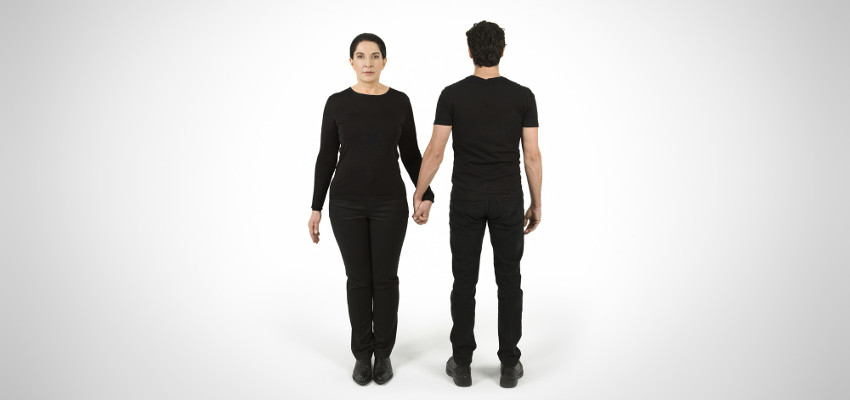 Family Issues and First Performances
When Marina was six years old, her brother was born. This may have served as a sort of wake-up call to her parents who started living with their children at that point. By Abramović's own acclaim, her mother had an extremely militant approach to raising her two children and she was no stranger to beating them as well. From the moment Marina started living with her parents, strict lifestyle was a necessity. However, she was also provided with piano, French, and English lessons. Interestingly, she took an early interest in art and rather enjoyed painting during her childhood, yet she never took any sort of art lessons. She was a student at the Academy of Fine Arts in Belgrade between the years of 1965 to 1970. Even in her college days, Abramović was still tightly grasped by her militaristic mother who had a say in all aspects of her life. In an interview published in 1998, Marina described the relationship she had with her mother during the time she was a student in Belgrade: I was not allowed to leave the house after 10 o'clock at night till I was 29 years old. All the performances in Yugoslavia I did before 10 o'clock in the evening because I had to be home then. It's completely insane, but all of my cutting myself, whipping myself, burning myself, almost losing my life in the firestar, everything was done before 10 in the evening. Additionally, her parents had a terrible marriage which was no stranger to long verbal fights and even physical confrontations. Abramović finally escaped her mother's clutches in 1970 when she set her sails for Zagreb, wishing to complete her post-graduate studies at the Academy of Fine Arts. She did so in 1972, after which she taught at the Academy of Fine Arts at Novi Sad until 1975. She was also implementing her first solo performances during that period[2].
What may be the greatest early accomplishment of Marina Abramovic is that she displaced art from traditional media and moved it directly onto her body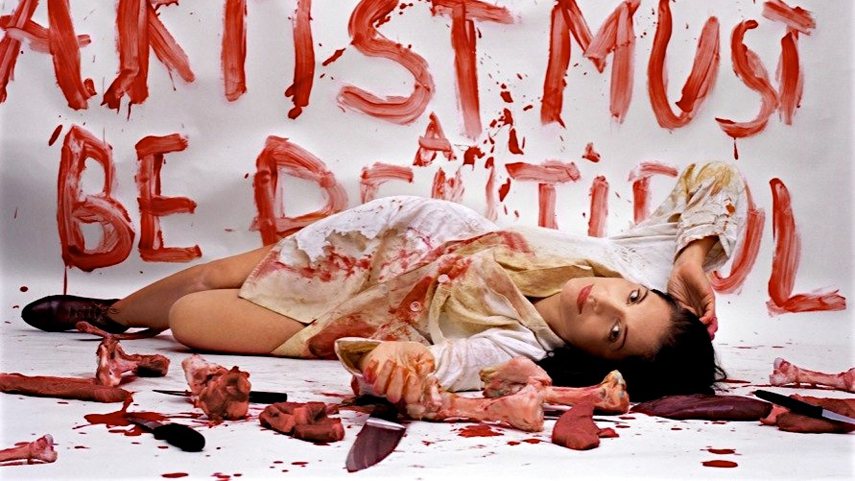 Marina Abramović, the Performance Artist
Between the years of 1971 and 1976, Marina Abramovic was married to Neša Paripović. Among other things, he is considered to be one of the key protagonists of conceptual art in Serbia during the 1970s. When the marriage between Abramovic and Paripovic came to an end, Marina went to Amsterdam to perform a piece. After seeing the state of Netherlands' scene at the time and the overall acceptance of her work, Marina decided she would like to stay in Amsterdam permanently. Both her earliest work from Yugoslavia and her more mature works from Netherlands have been pioneering, to say the least. She used her body in an extreme way no other has done so before her, transforming it into both the subject and the medium of her art. Exploring the physical and mental limits of her own well-being, she has withstood pain, exhaustion and danger in the quest for emotional and spiritual transformation - the main aim of her performance acts[3]. Ever since she arrived in Amsterdam, her main concern was creating artworks that ritualize the simplistic actions of everyday life, such as lying, sitting, dreaming and thinking, in a way that they become a manifestation of a unique mental state[4]. By presenting the public with such notions, Abramovic became arguably the most important member of the generation of pioneering performance artists that includes the likes of Bruce Nauman, Vito Acconci and Chris Burden.
Marina Abramović formed a creative vocabulary that frequently involves putting herself in grave danger and performing lengthy acts that result in her being cut, burnt or enduring some sort of privation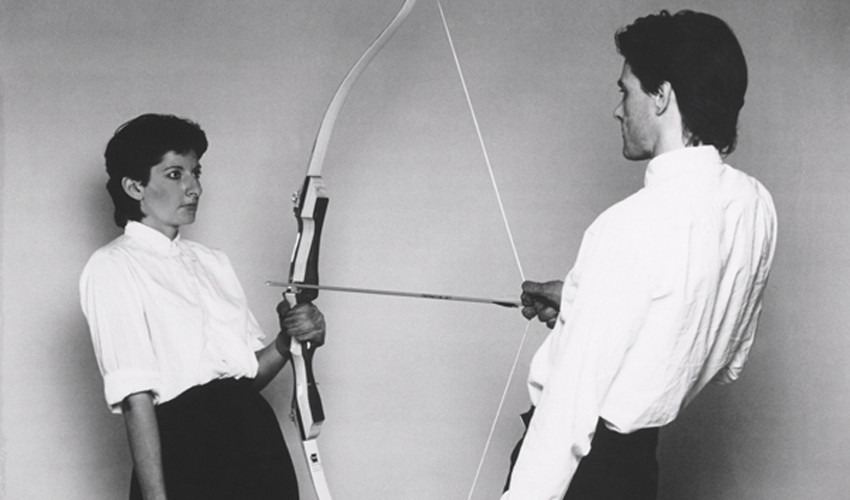 Abramovic and Ulay
From 1975 until 1988, Abramović performed alongside the German artist Ulay (his real name is Frank Uwe Laysiepen). The duo became an international sensation and represent one of the finest long-term collaborations between any two artists to date[5]. Since Ulay was a like-minded artist, Marina and him had no problems connecting on every creative level. Much of their work together was concerned with gender identity and the topics revolving around sex. Arguably the most notorious one of them all was Imponderabilia from 1977, a performance in which they stood naked while facing each other in a museum's tight and narrow entrance, forcing visitors to squeeze between them and, in so doing, to choose which of the two to face. The couple traveled extensively and some of their works, such as the Nightsea Crossing, were performed in more than a dozen locations around the world. Some acts were controversial and some delightfully charming, but all of them managed to attract mass attention from the local audience and media. When they finally decided to end their relationship in the year of 1988, they symbolically marked the dissolution with a performance act in which they walked from separate ends of the Great Wall of China and met in the middle in order to say goodbye[6]. After the famous Abramović - Ulay duo came to an end, Marina returned to solo work in 1989 after taking a short one-year break from performing.
To this day, the collaboration between Abramovic and Ulay stands as one of the most productive and conceptually matching artistic duos that ever emerged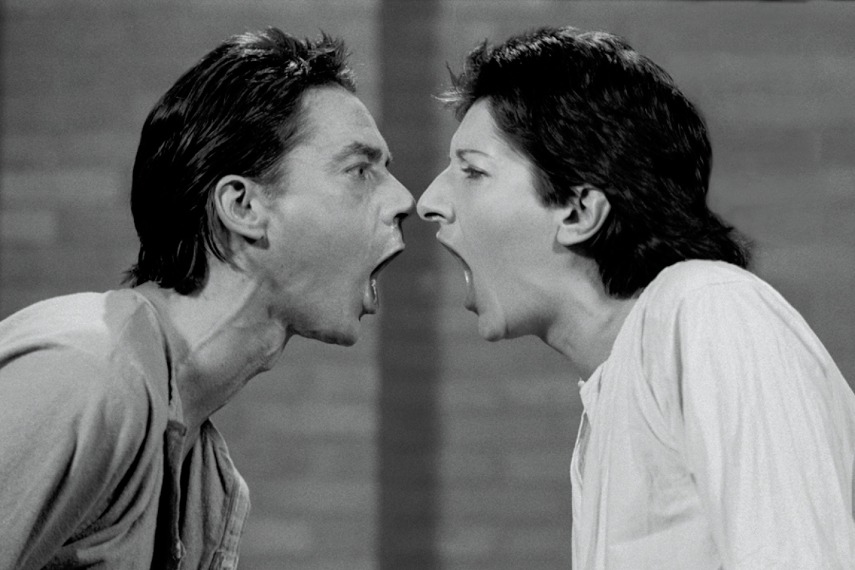 Pieces and Awards After Laysiepen
Since ending her relationship with Ulay and going her separate way, Abramovic has taught and lectured extensively in Europe and America. Among the places she held lectures are the Hochschule fur Bildende Kunst in Hamburg and the famed Ecole des Beaux Arts in Paris. Her teacher roles were rewarded in 2004 when Marina received an Honorary Doctorate from the Art Institute in Chicago. This, however, was not the only award Abramovic got during her career. She was awarded the Golden Lion for Best Artist at the 1997 Venice Biennale for her extraordinary video installation/performance piece titled Balkan Baroque. In 2003, the artist received the Bessie for The House with the Ocean View' a 12-day performance held at the Sean Kelly Gallery in New York, the city serving as Marina's home to this day. The performance artist remained active on the creative front as well for all those years as some of her finest pieces were produced during this time. In 2005, Abramovic presented Balkan Erotic Epic at the Pirelli Foundation in Milan, Italy and at the aforementioned Sean Kelly Gallery in the Big Apple. That same year, she held a series of performances called Seven Easy Pieces at The Guggenheim Museum, events which were awarded the prize for the Best Exhibition of Time-Based Art by the United States Art Critics Association. In the spring of 2010, she had her first major retrospective in the United States at The Museum of Modern Art and simultaneously performed her durational piece The Artist is Present[7] for more than 700 hours. This retrospective boasts of having been seen by a staggering number of viewers - more than 850,000 visitors set across Marina during the duration of The Artist is Present. In 2011, a theater piece authored by Robert Wilson called The Life and Death of Marina Abramovic. Similarly entitled, the 2012 HBO documentary concerning the performance artist's life was premiered at Sundance Film Festival in Utah and The Canadian Film Premiere in Toronto. Many other performances followed, and in the meanwhile, her work was also featured in many large-scale international exhibitions, such as the Venice Biennale and Documenta VI, VII and IX.
Marina Abramović observes her performance art almost as a sacrificial and religious ceremony, conducted by herself for a congregation of attending viewers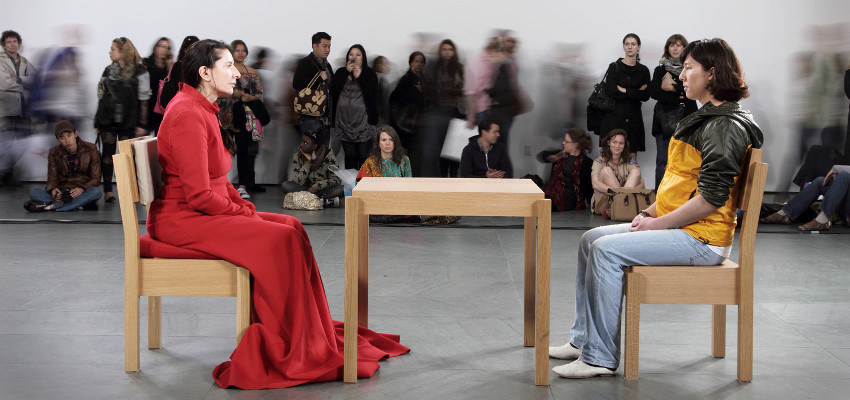 Marina Abramović - The Symbol of Performance Art
Working in an extremely broad range of media in order to achieve her creative goals, Marina Abramović can literally be described as an icon of performance art. There is simply no studying or disusing this art form without at least mentioning Marina's name. Although Joseph Beuys can be credited with forming and establishing performance art as a valid medium, Marina Abramović is the one that investigated and ultimately set the range of this art. She is the one that explored how far the boundaries of performance art can go if one is truly committed to their work, raising the bar to a point that we do not see anyone reaching anytime soon. In other words, "The Grandmother of Performance art" is a genuine pioneer and someone who paved the way for many younger artists who followed in the same creative path.
This artist's works can be found at Me Collectors Room and kunzt.gallery.
Marina Abramović lives and works in New York City, The United States.
References:
Von Furstenberg, A., Madoff, S., Marina Abramovic: Balkan Epic, Skira, 2006
Iles, C., Abramovic, M., Biesenbach, K., Marco Anelli: Portraits in the Presence of Marina Abramovic, Damiani, 2012
Pejic, B., Marina Abramovic: Artist Body, Charta, 1998
Abramovic, M., Marina Abramovic: The Dream Book, Gendaikikakushitsu, 2012
Abramovic, M., Walk Through Walls: A Memoir, Crown Archetype, 2016
Westcott, J., When Marina Abramovic Dies: A Biography, The MIT Press, 2010
Iles, C., Danto, A., Spector, N., Stokic, J., Marina Abramovic: The Artist is Present, The Museum of Modern Art, New York, 2010
Featured image: Marina Abramović - Photo of the artist - Image via cdn.com
All images used for illustrative purposes only.