If there ever was such a thing as cuteness overload, Marion Peck's work would be cutting it pretty close. But luckily for both us and her, such a foolish concept does not exist. Via her oil paintings, she takes us into a wonderful world full of solitude and detachment that's simultaneously heartbreakingly sweet and full of humor. Her compositions are characteristically cartoonish and the style she uses is instantly recognizable. She and her beloved husband Mark Ryden have been present on the art scene for years now and are partly responsible for one of the most defining movements of the late 20th century - Pop surrealism.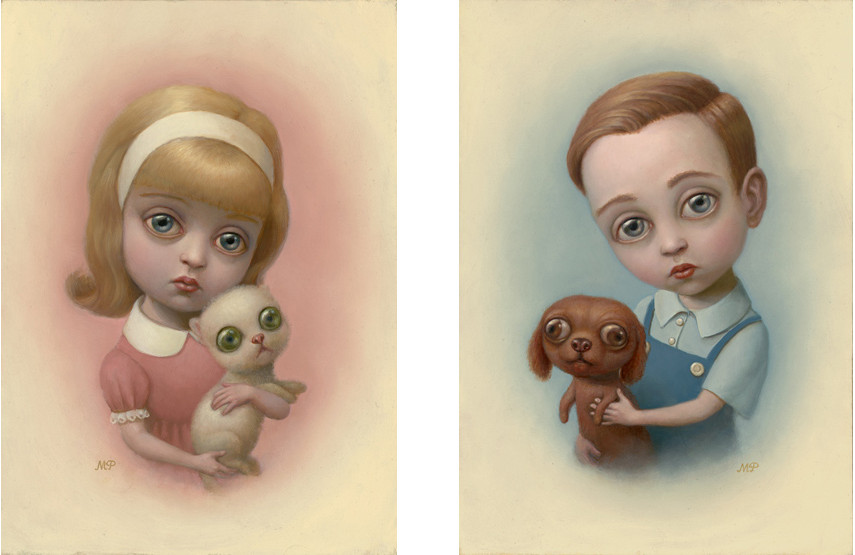 Peck's Roots From Rome
As a matter of fact, Marion Peck's life began as a scenario perfect for one of her compositions. She was born in 1963 while her family was on an inspiration trip around the world. She could have been born in any of the places her parents visited, but fate chose to have little Marion brought into this world in Manila, Philippines. After the birth, Pecks decided to cut the journey short and return home with their new baby daughter. They went back to Seattle and introduced the newcomer to the rest of the family - Merion was the youngest of four children. There she spent a childhood full of artistic support and creativity. When she got a bit older, Marion Peck decided to enroll in the Rhode Island School of Design where she received a BFA in 1985. Following that, she studied in two different MFA programs: Syracuse University in New York and Temple University in Rome - the artist spent a couple of years living in Italy whilst studying. This will prove to be a key moment in her artistic career as absorbing all the art Rome offered was an enlightening experience for young Marion. It was here that Peck decided to pursue the career of a painter, aspiring to reach the masterful level of skill attained by Italian masters of the 16th and 17th century. Little did she know just how conceptually far apart her future art will turn out to be when compared to works that Rome is famed for. After many failed trials and uninspirable attempts to copy the paintings of Italy's greats, she realized traditional art Renaissance is known for is not a good fit for her expressive side. Peck turned to fresh concepts and found what she sought in a combination of Pop art and surrealism - an interesting blend that has reached a peak when the artist met her soulmate in Mark Ryden, a similarly minded artist that turned out to be the love of Peck's life.
Peck's work can be very dark in its sarcasm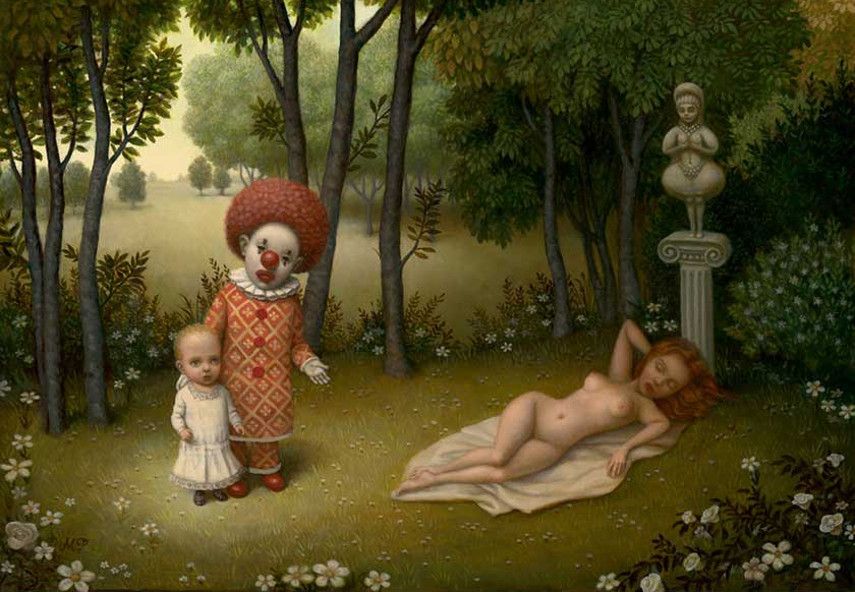 Meet Me Where Pop Met Surrealism
Peck became known for her work in Pop surrealism, infamously known simply as Lowbrow art. It was an underground visual movement that arose in the late 1970s. Lowbrows cultural roots can be found in underground comics, punk music and hot-rod cultures of the street. What this kind of artwork is notorious for is a specific sense of humor, which ranges from joyous to quite sarcastic. The surrealism part is due to the tendency of this movement's artists to depict in a way that resembles a dream or imagination - a feat shared by the original Surrealism of the early 20th century. It's a delightful little movement that won the hearts of many viewers who were ready to give it a chance. Ultimately, Peck turned out to be a leading artist of Lowbrow. With her perfect oil technique and a bright palette, it's not that hard to fall in love with her art. The form she uses is of a cartoonish type as all her characters have big, puppy eyes and their overall cuteness level is rather admirable. Despite obvious differences, Peck's artwork does have many elements that can be traced back to the Italian Renaissance pictures that surrounded her during college days - mainly the fact all of her works are very narrative. They all have a specific story to tell, be it a dark tale or a sarcastic depiction - such as her compositions in which cats have stigmata. Her two strongest influences can be found in the very name of the art movement she represents - Pop and Surrealism. The dreamlike segment can be attributed to the latter, but all her subjects and the way they are depicted can be defined as pure Pop art. When it comes to places Peck draws inspiration from, we won't even dare to change a word of her perfect answer - I think of nature as void. Allusions to Eden, Jehova's Witnesses' pamphlets, The Last Supper. Russian orthodox iconology and religious oil prints. Something unknown, possibly scary, under the surface. Sad clowns, scary clowns. Masks. Extinct creatures. Dodo Bird. Old Dutch oil paintings of home interiors, 19th-century cabinet photography. Sweet, sweet Halloween. And something wicked this way comes..
The main feature of Pop surrealism is the humor it uses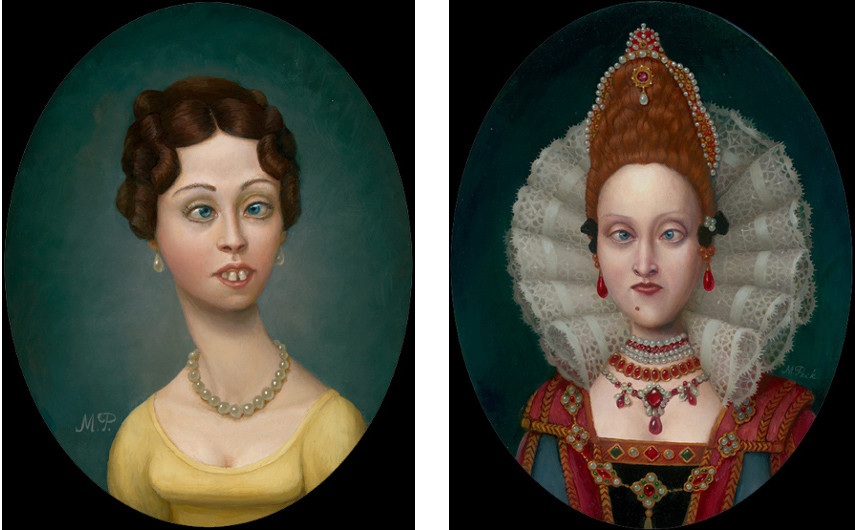 Examining Peck's Art A Bit Further
Peck's artworks are full of fantasy, outlandish landscapes inhabited by circus creatures, fluffy characters or crosseyed noble ladies. When asked to describe the story behind some of her pieces, Merion responded: If there is a narrative to emerge from my paintings, I hope it would be just like a very short poem. I imagine my characters as ones speaking slowly, carefully and quietly, not hiding their hesitations or even stumbling. Their awkwardness is, to me, a part of their personalities. Her artistic pieces are filled to the brim with memorable characters straight out of dreams, full of life and most of them are, simply put, charming - whether in a fluffy, cuddly way or simply too funny not to be cute. She often does works in codependent series, so her works are usually somehow connected with each other, like all the ones placed inside painted picture frames. Since she is considered to be the main artist of an entire style, it's only logical that Marion Peck has been frequently invited to present her artwork by renowned museums and galleries. She has mostly exhibited her work in Paris, Rome, New York, Los Angeles, San Francisco, and Seattle. It should also be noted that her compositions have been used as album covers, such as Waking the Mystics by Portland art rock group Sophe Lux. She also published a book with her husband, appropriately titled as Sweet Wishes.
When she is not playing her humor hand, Peck's compositions can get seriously weird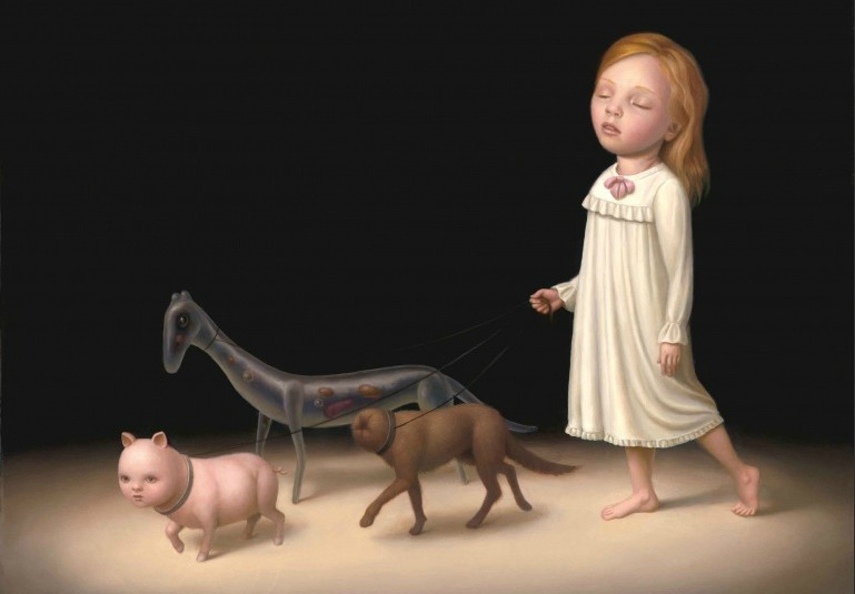 A Bond That Can Not Be Undone
The way Marion Peck spends her days is a perfect fit with her art. When you look at her studio, her home, the way she dresses and acts - it's almost as if she lives inside one of her paintings. She even made sure her wedding with Mark Ryden was to be in the woods of the Pacific Northwest rainforest instead of some church! The only thing that was missing was the presence of her cartoonish animals and crying clowns that she regularly depicts inside timber groves. This artist is literally her art incarnate, she herself is the fuel for her work - and vice versa. Such a bond and commitment to a profession is a rare sight to behold these days.
The artist is represented by Magda Danysz Gallery in Paris, France.
Marion Peck lives and works in Los Angeles, United States
Featured Image: Marion Peck - Photo of the artist - Photo Credits The Hundreds
All Images Photo Credits Marion Peck