Marisol Escobar was born in Paris, France in 1930. Her given name was Maria Sol Escobar, but she preferred to be called just Marisol. The name Marisol became her artistic persona and her identity during the 1950's when she started showing her sculptures at many New York exhibitions. She was an American artist of Venezuelan descent. Her most significant items are her boxlike figurative sculptures. Marisol fundamentally used wood, but she combined it with other materials, such as glass, plastic, bronze, door knobs, and even shoes and sneakers. She used various fabrics on her wooden sculptures, in addition to collage paper. Along with the wooden carvings, she also painted and mixed different styles into her intriguing woodwork. She rose to fame in the 1960's for her mixed media, human-size figures. They were usually positioned in groups, and they represented families, a group of friends, public figures or sometimes different faces and moods of herself. Escobar is often linked to Pop Art movement, although she consolidated various different styles into her carvings. She is famous for the creations such as The Last Supper, that was inspired by Leonardo Da Vinci and her personal faith, in addition to pieces such as The Party, and The Kennedy family portraits.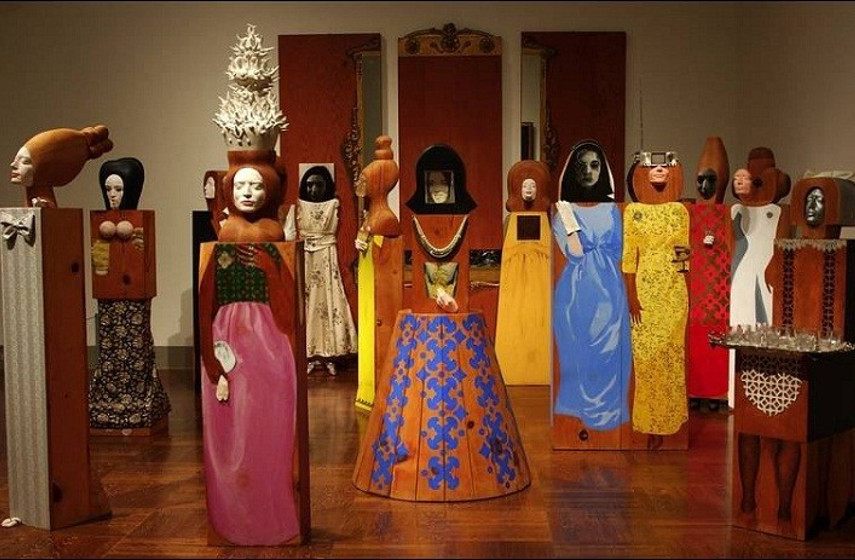 Moving to France and the United States
During her lavish childhood, she lived in Venezuela, and various European countries, and the United States. After the suicide of her mother, Josefina Hernandez, that occurred when Marisol was 11 years old, the Escobars settled in Los Angeles, United States. Josefina Escobar had been a patron of the arts in Venezuela, and young Marisol, at the age of 16, started studying art at the Jepson School in Los Angeles. Encouraged by her father, Gustavo who worked in the real estate, Marisol went to Paris, France, and enrolled at the prestigious art school Ecole des Beaux Arts in 1949. She was not happy with the strict and akin education in Paris and after a year of studying she left for the USA. When she got back to New York she started taking courses at the Art Students League of New York. Her teacher was Yasuo Kuniyoshi who made a huge impact on how her style developed over the years. Under his influence, she started getting into naive and ornamental style. Along with the Kuniyoshi courses, she enrolled at the New School for Social Research, where her mentor was Hans Hofmann, the so-called dean of Abstract Expressionism.
Women and Dog, the work from 1964 which consists of self portraits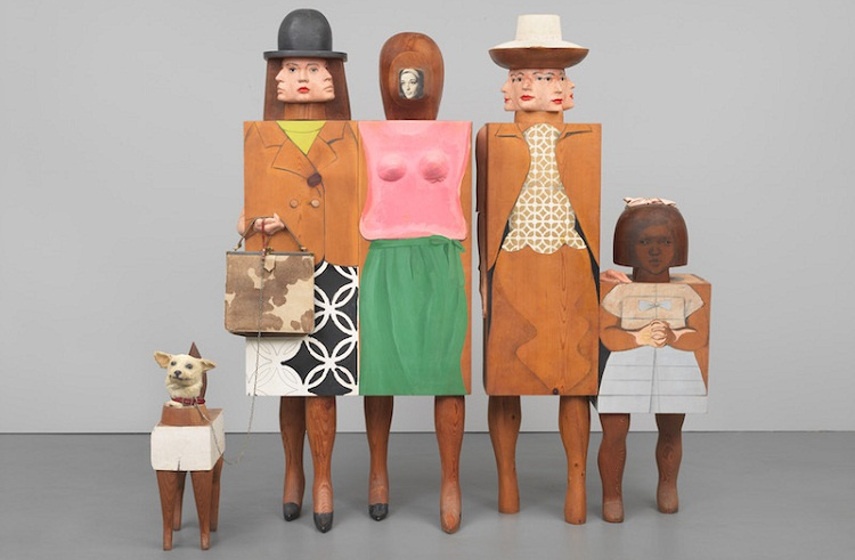 From Various Paintings to Sculpture
In 1951, the Marisol was introduced to Pre-Columbian artifacts, which led her to abandon painting and start sculpting. Apart from a clay molding class at the Brooklyn Museum Art School, Escobar was a self-taught sculptor. Her fist solo exhibition took place in 1957 Leo Castelli Gallery in New York. In the 1960s, her works were influenced by Pop Art and the artist such as Roy Lichtenstein and Andy Warhol, in whose two films she appeared (The Kiss and 13 Most Beautiful Girls). Along with her artistic success, she was also a cultural icon. Marisol lived on a strict and firm principles. She thought that the artistic talent was crucial for creativity, but also that hard work is the only road to success. Her wit and charisma fascinated art critiques and her fellow colleagues. She believed that she was born as an artist and that her life mission is just to explain that to other people. Her faith was very important to her, and she believed in herself and positive values, more than anything. Marisol was a spiritual person, and she started exploring religion and faith at an early age. She was fiercely independent and she never let anyone label her, or her work. She made sculptures out of pure passion and exposed her sentimental side through her wood carvings. Leo Castelli invited her to participate in a group show in 1957 with artist Jasper Johns and Rauschenberg. That was the year she had her first solo exhibition, too. Soon after those events she moved to Rome, where she spent two years taking a creative break from all her work.
Marisol told the stories of ordinary and famous people to the whole world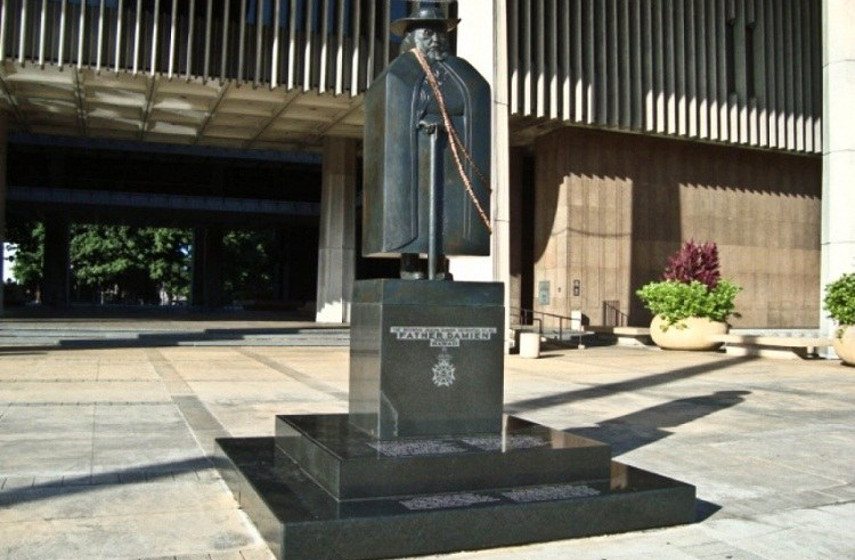 Modern Totems
When she came back to New York after some time in Italy, she soon regained her fame and popularity in the art world. At MOMA, she participated in the The Art of Assemblage exhibition in 1961, and two years later she was given her own space to exhibit her works for the Americans, 1963. In 1968, she showed her work at the Venice Biennale. During those years, she changed her style and the characteristics of her art. Marisol started making more naive, folk art and she let her mysterious side take over her creative output. She was no stranger to opaque and dark themes, and she often named her works using disturbing captions. She mixed wooden carvings with different fabrics, drawings, and random objects that she found and implemented in her pieces. Her wooden figurines were always placed facing the audience, like some sort of modern totems. In The Family collection she made the characters wear real shoes and sneakers. The Kennedys carvings are a real example of modern totems, too.
Marisol used free hand moves and steady tools to wake up the essence of the sculpture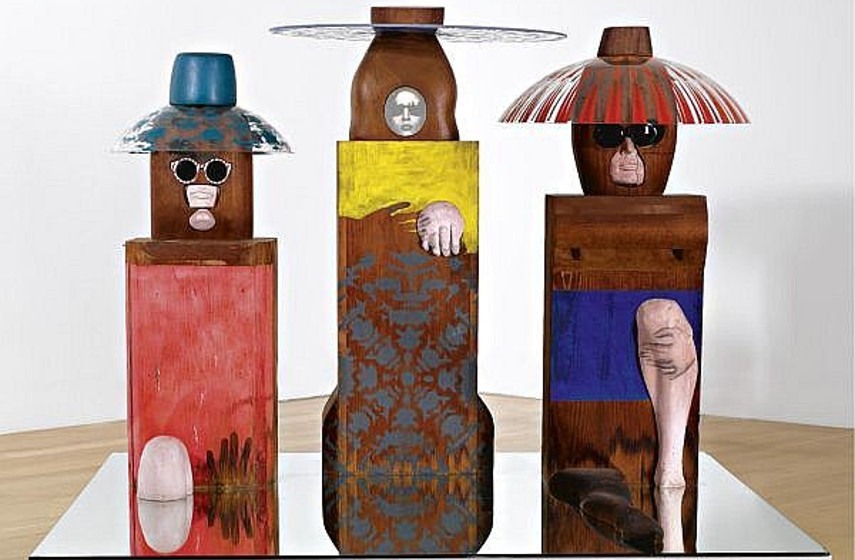 Ingenious Wit and Joyful Character
Marisol did not want to be labeled as a Pop Art artist. In fact, she did not want to be labeled at all. She was a very spirited character and favored silence and solitude over fame and glory. She was a very beautiful woman, and at the time she was an it-girl, but her elegance and style transcended the range of ordinary New York art scene. In 1997, she was awarded Premio Gabriela Mistral by the Organization of American States, and for her work she received Honorary Doctorates from Moore College of Art in Philadelphia, Rhode Island School of Design, and New York State University. In 2014, a major retrospective and scholarly catalog of artist's work at the Memphis Brooks Museum of Art in Memphis, Tennessee, helped her regain the international attention and interest. Her vivacious personality made her one of the most praised and loved artist. Marisol was known for her silence and grace. She never spoke too much publicly about her personal life or her creative career. Instead, her work spoke for her. She gave the world wonderful creations, full of joy and cleverness.
Featured image: Marisol Escobar - Portrait of the artist at work on The Family (Detail), photo credits Jack Mitchell
All images copyright of the artist