Painter Mark Grotjahn is best known for his exploration of perspective. His career started in mid-90's and since then has taken a couple of major turns. He began with colored pencil drawings which were followed by oil paintings. Through his oil paintings, pencil and cardboard works and sculpture, Mark started to experiment with the perspective often employing multiple vanishing points in his museum and gallery work and it's at this time that Grotjahn started getting noticed for his unique art. In the Butterfly paintings from 1997, he created complex compositions of radiant, tonal color. This was under the great influence of many artistic milestones such as Russian Constructivism and Op Art. His Butterfly work was interrupted in 2008 when Grotjahn tore his rotator cuff and broke a shoulder bone in an accident. This unfortunate turn of events forced him to adapt his work style to his injury to a less intensive painting. By drawing simple geometric untitled face parts on paper and linen Mark began his Face Paintings and Untitled series.

Butterfly Art - New Untitled Randomness
Besides perspective, Grotjahn also explored the ideas of color restriction, seriality, and the sublime. His art style originated out of sign making. He would reproduce an interesting graphics and slogans from various stores in Los Angeles, where he's located to this day. After creating a faithful copy he would trade it with the store owners for the original signage. The transition from perspective drawings to perspectival paintings opened the doors to what later became his signature work – The Butterfly Paintings. Using multiple colors, Mark Grotjahn's work is an interesting combination of rationality and intuition not often available in gallery and museum contemporary world. Although there was a lot of experimenting and chance, all of the untitled paintings followed a strict work system. He would first start by mapping out the triangular radii with a black pencil. After creating the skeleton, he would carefully pick a precise number of color pencils. The main rule for the color-picking was for the color to make sense in correspondence on to another, meaning they had a connection according to their value and intensity. After picking a satisfying number of pencils he would choose them randomly one segment of the painting. At the end of 20th century, Grotjahn started to focus more on the investigation of the radiant motif in his work, which can be seen in his later Butterfly paintings. Using Renaissance techniques in order to expose the perspective of his subjects, he managed to create an illusion of narrowing and expanding geometries. Although all of these paintings seem very ceremonial, their true essence lies in emitting a succession of parallel lines which create the illusion. Probably the most intriguing proof is the fact these parallel lines are never parallel to the edges of the canvas. His untitled work might look as if it's strictly glued to aesthetic ideals of modernism, but there are many references to nature. The butterfly motif alongside flowers and water in his untitled pieces enabled him more than one opportunity to break this misconception and participate in worldwide museum and gallery exhibitions. The probabilistic elegance inwrought with systematic rules created untitled paintings which are both mysterious and direct. With the unique approach, Grotjahn managed to create a two-way street between abstract and figurative. His sculpture and paper based untitled works became an indispensable part of gallery and museum universe of New York City and beyond.
Besides perspective, Grotjahn also explored the ideas of color restriction, seriality, and the sublime in his Butterfly series, available in many museum shows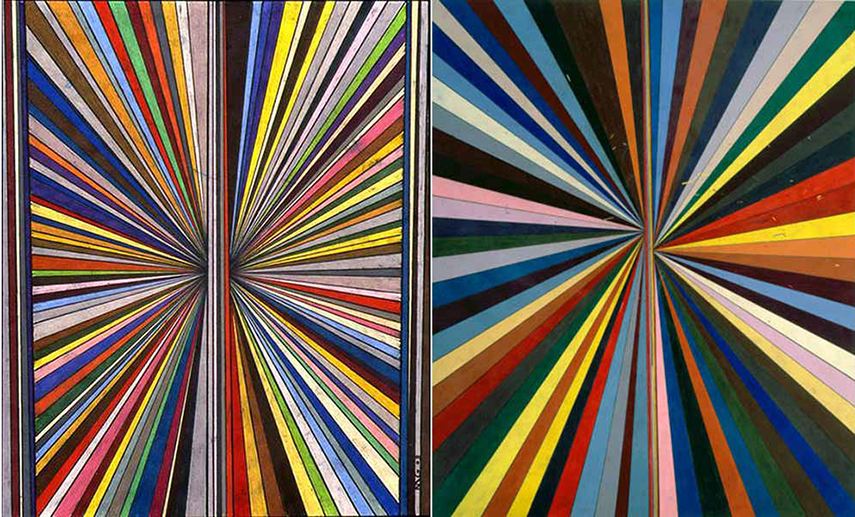 Mark Grotjahn kept the radiant motif while changing from complex new geometry to a more ritualistic art in his Face series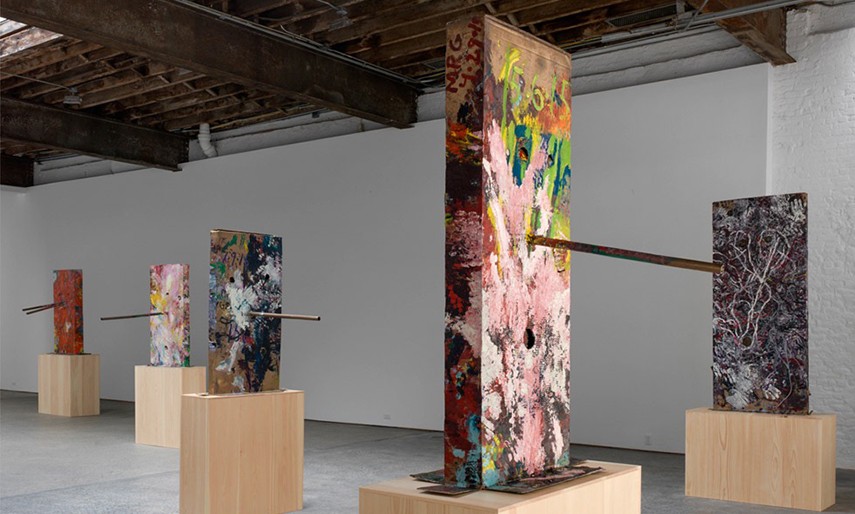 Mark Grotjahn: One Artist - Two Opposite Art Forms
Mark Grotjahn's contrasting bodies of work, the Face, and the Butterfly paintings — are two main milestones in his career until 2011 when he won a major award for his museum and gallery works. The former was distinguishable through their elaborate textures and primitive style, the point where planning met taking a leap of faith; the latter with their densely layered and nuanced monochromes. Like the artists before him, Mark Grotjahn distances himself from his influences by deconstructing the approach to how a piece of art is painted. Thus, his works are an homage to the art before and a greeting to the art that's yet to come. Grotjahn is the recipient of the 2003 Penny Mccall Foundation Award and in 2011 he was given the amfAR's Award of Excellence for Artistic Contributions to the Fight Against Aids.
The artist is represented by Gagosian in New York.
Mark Grotjahn lives and works in Los Angeles, California.
Featured image: Portrait of Mark Grotjahn - image via musemagazine.it