One of the most famous American urban artists, Mark Jenkins is widely known for his macabre and shocking street installations made of clear packing tape. Born in Alexandria, Virginia, his approach to street art includes using the streets as his personal stage. He installs his sculptures in such a manner that they inevitably interact with ordinary people passing by, turning them into actors. Often described as macabre, shocking, situationist, and whimsical, Jenkins' work often draws the attentions of the police. He cites the late figurative sculptor Juan Muñoz, Aphex Twin and Albert Camus' philosophies on the absurd as his inspiration. His career began in Rio with one figure in a refuse dump – now his work has sprawled across cities worldwide, making people question what is real and what is not.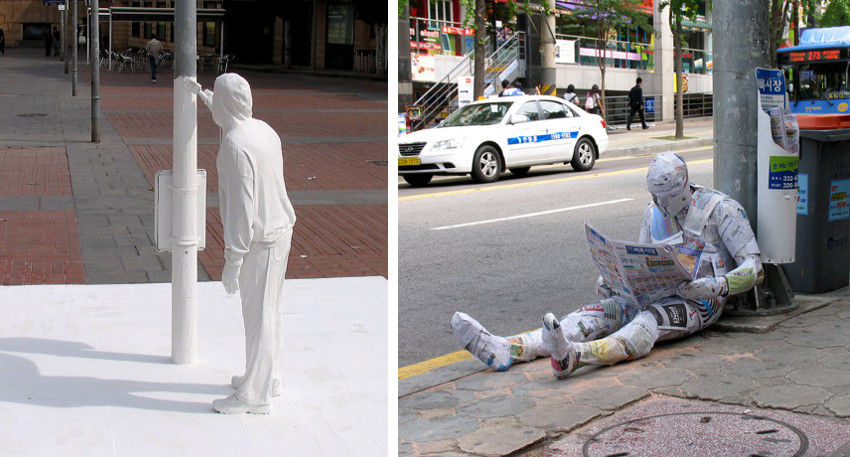 The Art of Mark Jenkins
His sculptural process involves "sampling" objects such as toy dolls, carousel horses, and his own body using a "dry-casting" process he first discovered while he was still in school. By wrapping objects in plastic wrap and then tape, he creates an external cast that he removes and then reassembles into surreal and ghostly sculptures. Every person he creates usually takes "…about 12 rolls"[1] of tape, with the artist's wrists that are taking the hits from all of those repetitive tasks. Mark Jenkins' surreal and absurd world of tape includes faceless figures sitting cross-legged on street corners, hooded bodies floating face-down under bridges and see-through babies playing in puddles. One would imagine that installing these types of sculptures is best done at night, in somewhat stealth manner, but the artist disagrees: "It's better to do this stuff during the day. Carrying around bodies in the night would be more dangerous I think. But when we install (I do this with my friend Sandra Fernandez) we try to do it fairly quickly and always if anyone comes up I say it's a photography project. That way the worst case scenario is that we'd have to take it down. But normally I just take a few photos and then sort of slip away."[2] And indeed sometimes the artist does provoke the people around – it was in Palestine where a small angry mob formed around Sandra and him after they installed a guy in a trash bin in an open air market. The viewers didn't care for this sort of absurdist humor, they simply found it offensive.
The world which Mark Jenkins creates is surreal and absurd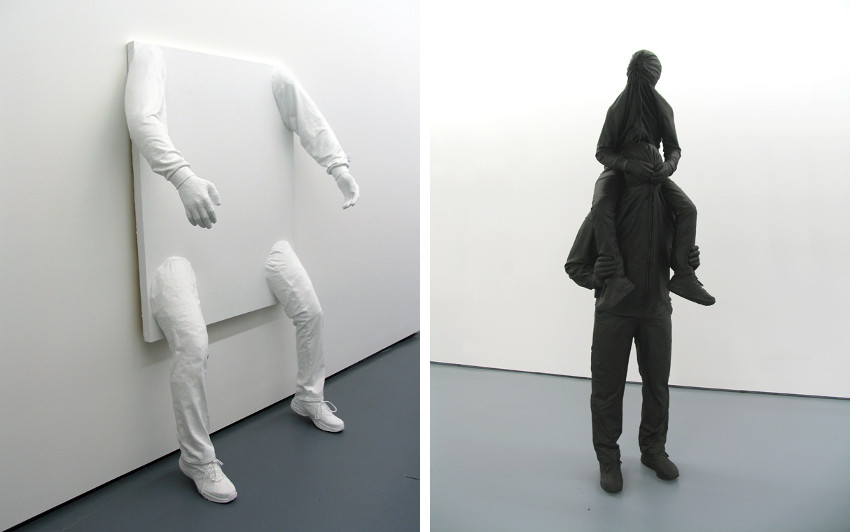 Jenkins' Projects
In addition to making artworks, Jenkins also teaches sculpture techniques and installation practices through various workshops. As mentioned above, he first began experimenting with tape as a medium back in 2003 while living in Rio de Janeiro. One of his first street projects was a streak of clear tape self-casts that he installed on the streets of Rio de Janeiro. Jenkins became immediately interested in the reactions of the people and considered his installation as much a social experiment as an art project. After all, the beauty of the street art is the reaction of the viewer. In 2004, the sculptor moved back to Washington DC, and a year later, he began working with Sandra Fernandez on the Storker Project – it's a streak in which they installed clear casts of toy babies in different cities, so the works could interact with their surrounding environment, including the people around. The groundbreaking success came in 2006 with the Embed Series. These casts, filled with newspaper and cement, and dressed to create hyper-realistic sculptural duplicates of himself and Fernandez, created mass confusion. They even caused some of the people who had seen them call 911, resulting in police and rescue units to sometimes arrive at the place of the installation. It was during this time that Jenkins gained an international media attention for his work. The Outcast Series (from 2007) features more macabre works that alluded to both the finality of death and a residual ghostly presence.
Mark Jenkins makes more than just artworks - each of them can be observed as a social experiment, with a goal of engaging the people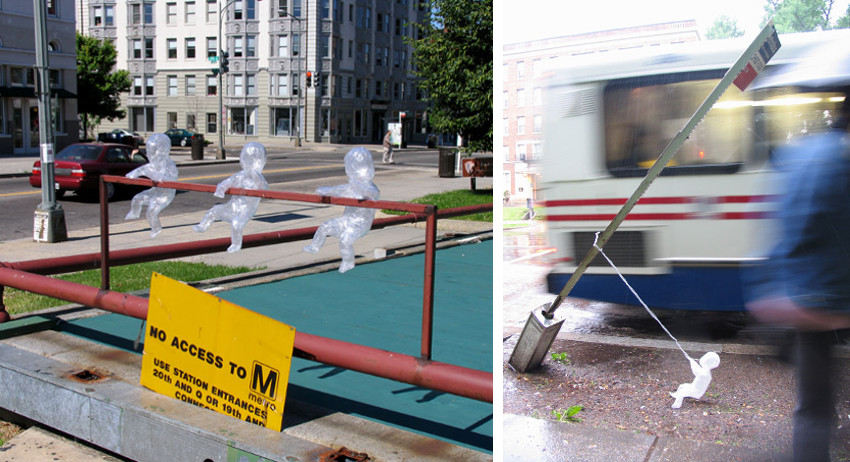 Mark Jenkins and Greenpeace
In 2008, Mark Jenkins once again drew the attention of the police when his polar bears sculptures were mistaken for suspicious packages. It was actually a collaborative project with Greenpeace, which was supposed to highlight the shared plight of polar bears and humans in the face of global warming. The artist stated: "My intention with this project was to leverage my street installations to promote awareness about the issue of global warming and the plight of the polar bear. It was our shared goal that the public would develop empathy for the polar bear as they have for the homeless which we see as two connected issues."[3]
He is represented by Lazarides London, Wunderkammern, and Fabien Castanier Gallery.
Mark Jenkins lives and works in Washington, DC.
References:
Anonymous., Exclusive interview with Mark Jenkins - Street artist, Notorious Mag [February 1, 2017]
Ibidem
Mathis S., Greenpeace, Mark Jenkins Take Responsibility for Polar Bears, DCist [February 1, 2017]
Featured image: Mark Jenkins with one of his works, image courtesy of Inhale Magazine
All other images courtesy of the artist