A master of subtle contradictions and general cuteness, Mark Ryden is an American painter and a key individual of the Lowbrow art movement, more commonly known as Pop Surrealism. Alongside his talented wife Marion Peck who is also an important element of the Pop Surrealism art movement, the duo is one of the most important art couples in Portland, OR. Ryden's mixes of classicistic and modern pop elements have reached an iconic status and his impact on the concepts of Lowbrow art is so impressive that Mark actually garners the nickname of The godfather of Pop surrealism!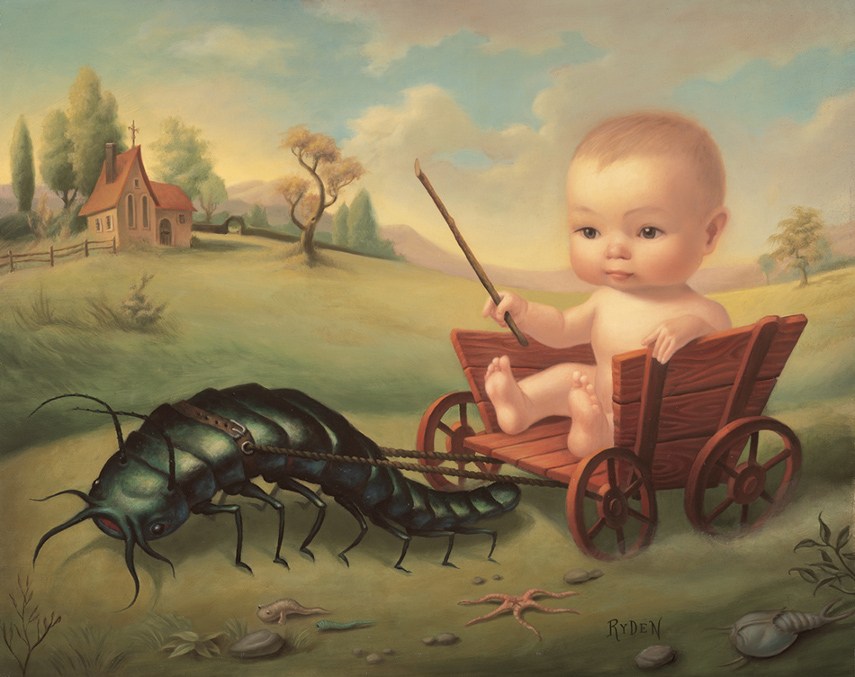 Before Ryden Was the Godfather of Pop Surrealism
Mark Ryden was born in Medford, Oregon, on the January 20th of the year 1963. However, the artist was raised in Southern California after his parents Barbara and Keith Ryden decided to move to sunnier lands. Mark had two sisters and two brothers, with one growing up into a fellow artist named Keyth Ryden (who now works under the name of KRK). His father made a living in an interesting way - by painting, restoring and customizing vehicles. Inspired by Keith's freedom to express himself while working, Mark wanted to pursue similar opportunities. Keeping that in mind, Ryden graduated from the Art Center College of Design in Pasadena in 1987. Right after he wrapped up the college days and left them behind him, Mark started working as a commercial artist available for hire. During that time, most of his profits came from the music industry as he used to design the album covers for numerous bands and singers - including Michael Jackson's Dangerous, the 4 Non Blondes' Bigger, Better, Faster, More!, The Red Hot Chili Peppers' One Hot Minute and Aerosmith's Love in an Elevator. He found another source of income in designing book covers. Among his most notable clients, Ryden created covers for Stephen King's novels Desperation and The Regulators. Mark made a living as a marketable artist until his work was taken up by Robert Williams, a former member of the Zap Comix collective, who in 1994 put Ryden's reproductions on the cover of Juxtapoz, a magazine devoted to lowbrow art.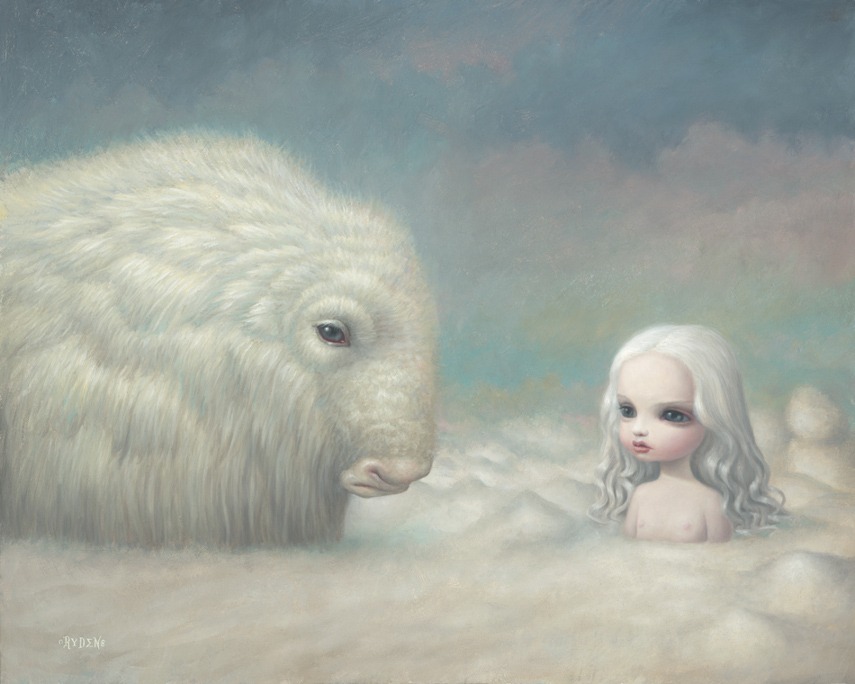 The Birth of Lowbrow
From the year of 1994 and the cooperation with Robert Williams, Ryden devoted all his efforts to the development of the Pop Surrealism, a movement that was really booming at the time. Mark's solo debut show entitled The Meat Show was in Pasadena, California in 1998. In this display, the motif of meat was a reoccurring theme in his work, taking central stage in most paintings. Ryden desired to emphasize the disconnect in our contemporary culture between meat we serve as food and the living, breathing creatures it comes from. This contradiction brought much attention to the exhibition, as well as the peculiar style Ryden applied to his paintings. Years that followed after that were a real cornerstone both for Ryden's career and his style which he managed to establish. Ryden became popular for blending themes of pop culture with techniques reminiscent of the old masters - he developed a unique style that blurs the traditional boundaries between high and low art. For those reasons, Pop Surrealism is also known as Lowbrow art, an ironic name that truly explains the movement's identity. Ryden would paint fairy tale creatures, historical figures and pop cultural icons in same compositions - such concepts were genius at the time and really brought on a revolution amongst the art scene and the way people perceive art. Ryden's paintings in oil are not only clever mixes of what is considered to be traditional and not, they are also incredibly beautiful to behold. However, a subtle disquiet always inhabits his paintings - the work is achingly pretty as it hints at darker psychic stuff beneath the surface that is shown to us. His visual vocabulary ranges from cryptic to cute, treading a fine line between what Mark himself likes to call nostalgic cliché and disturbing archetype.
Although Ryden's paintings are obviously beautiful to behold, they can get quite disturbing from time to time when you analize their content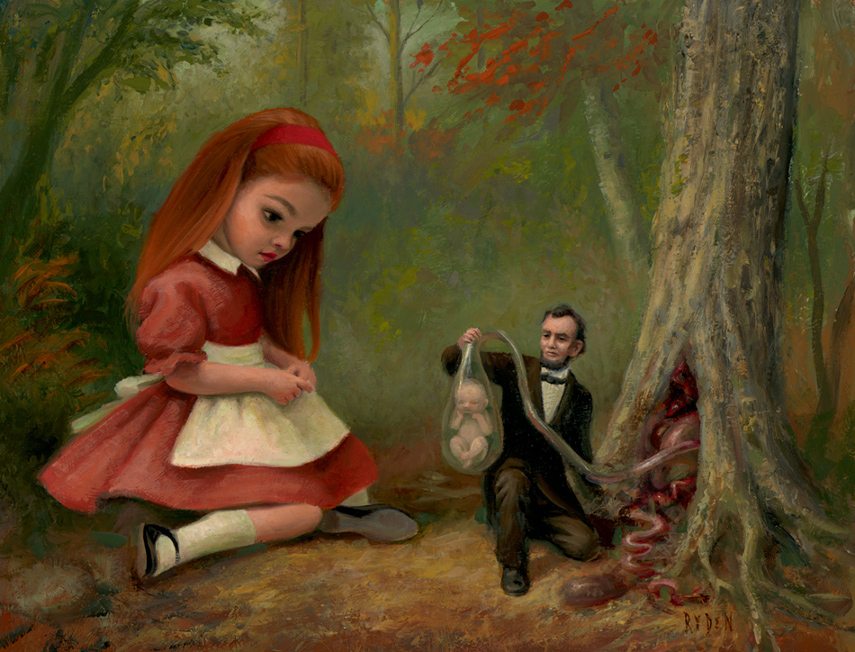 Ryden's Later Work
As was clued earlier, Mark Ryden's aesthetic is generated from subtle combinations of many sources, from Ingres, David and other French classicists to Little Golden Books, a popular series of inexpensive, well-illustrated, high-quality children's books. One of the rare rules Mark keeps to when drawing inspiration it that anything he uses must evoke mystery on some level - with that in mind, Ryden chooses to incorporate elements such as old toys, anatomical models, stuffed animals, skeletons and religious ephemera. Ten years after Ryden became The godfather of pop surrealism, he had already established an amazing personal mythology and symbolism, as well as an incredible dedication to small details and hidden messages. Ten years after Ryden became The godfather of pop surrealism, he had already established an amazing personal mythology and symbolism, as well as an incredible dedication to small details and hidden messages. In his more mature work, Ryden explored the modern human experience of nature - underlined by the The Tree Show exhibition. Some people look at these massive trees and feel a sort of spiritual awe looking at them, and then other people just want to cut them up and sell them, they only see a commodity, Mark explained. Another cornerstone and a midcareer retrospective came during the year of 2004, in a form of an exhibition titled Wondertoonel (a reference to a cabinet of curiosities or Wunderkammer) co-organized by the Frye Museum in Seattle and the Pasadena Museum of California Art. It was the best-attended exhibition since the Frye Art Museum opened in 1952 and also broke attendance records in Pasadena, both information indicating the importance and popularity of Mark Ryden. In 2009, Ryden's exhibition The Snow Yak Show revealed more serene compositions and suggestive of solitude, peacefulness and introspection unlike anything Mark showed before. In 2010, The Gay 90's: Old Tyme Art Show seen Ryden find a central theme that referenced the idealism and sentimentalism of the 1890s while addressing the role of kitsch and nostalgia in our current culture. Here Mark explored the line between attraction and repulsion to kitsch, an important segment of the Pop Surrealism movement. An album titled The Gay Nineties Old Tyme Music: Daisy Bell from the year of 2010 was similarly called but was not connected to the 2010 show. It featured artists such as Katy Perry, Stan Ridgway of Wall Of Voodoo, Danny Elfman, Mark Mothersbaugh of Devo, Nick Cave, Kirk Hammett of Metallica and Everlast, bringing in much critical acclaim.
Mark Ryden became famous for his aesthetics from the nineties, but his style continued to develop all through the next decade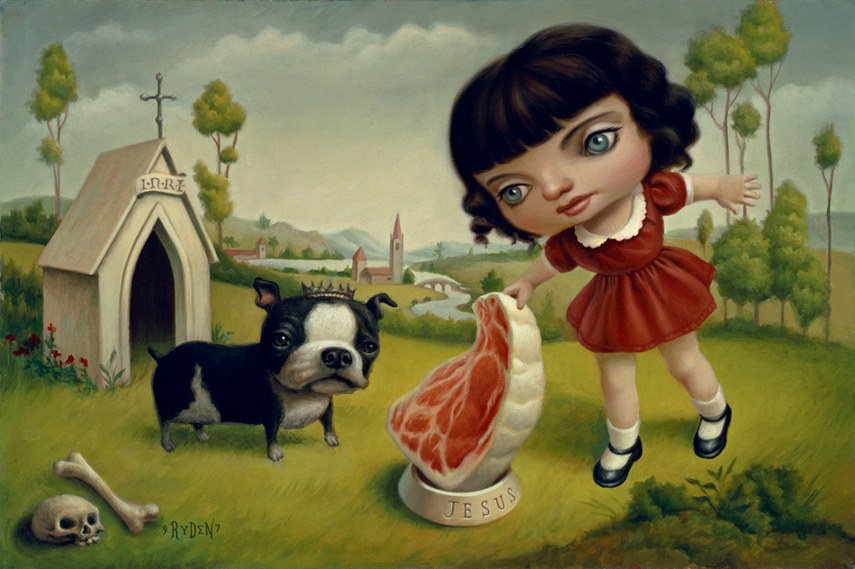 If You're Interested into Viewing the True Pop Surrealism...
To truly understand Pop Surrealism, one must experience the art of Mark Ryden. A bold statement, yes, but also a true one. Since Mark's concepts and style have dragged a good number of followers in his wake, if you desire to analyze the works of the Lowbrow, literally every road will somehow take you to Ryden's doorstep. Through his macabre motifs like meat grinders and disembodied presidents with eye-pleasing ingénues and seductive landscapes, Mark Ryder and his work serve as a true example of artistic independence and an inspiration for all the aspiring artist who wish to create something new and completely their own.
The artist is represented by Kohn Gallery in Los Angeles, Paul Kasmin Gallery in New York and Tomio Koyama Gallery in Tokyo.
Mark Ryden lives and works in Portland, OR.
Featured Image: Mark Ryden - Artist in front of his movable art feast Memory Lane - Image Via Huffington Post
All images courtesy of Mark Ryden