Mark Tobey was an American painter considered a pioneer of abstract expressionism. He became widely known for his innovative and delicate abstract works which are composed in a particular style called white writing. Mark Tobey has always strived to represent the mystical and otherworldly through his art, which was partially caused by his eastern religious beliefs. The artist has strongly embraced Buddhism, Arabic calligraphy, and classical music and mixed them together, which resulted in the creation of a unique visual language. This language got the name white writing and it combines all-over painting with gestural abstraction.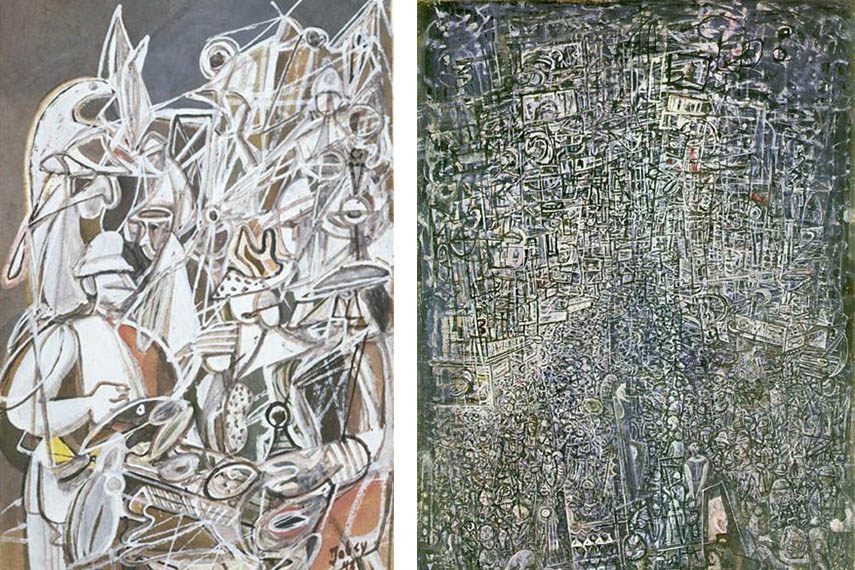 Experimental Works Related to Early Artistic Development
Tobey was born in Centerville, Wisconsin in 1890. He comes from the Segregationalist family and he was the youngest of four children. He was interested in visual arts and decided to study at the Art Institute of Chicago, but at the same time, he was mostly self-taught, which contributed to the pioneering and experimental nature of his work. In 1911, Tobey has moved to New York City and started working as a fashion illustrator for McCall's. Already after a couple of years spent in NYC, his first solo exhibit was held at M. Knoedler & Co. This show was organized by Marie Steiner and she has introduced Tobey to Juliet Thompson, a portrait painter from NYC. Thompson was a follower of the Bahá' í World Faith, and through her Tobey gained an interest in this religion. In 1918 he has formally accepted this faith and got converted at Green Acre the Bahá' í School, which had a profound influenced not only on his artistic development but also on his entire lifestyle. He started to explore the representation of the spiritual in art and read Bahá'í literature as well as more commercial literature based on Eastern philosophy, such as the poems of Khalil Gibran, which are based on mystical Sufi influences.
Religion had a profound influence not only on Tobey's later artistic development but also on his lifestyle over the many years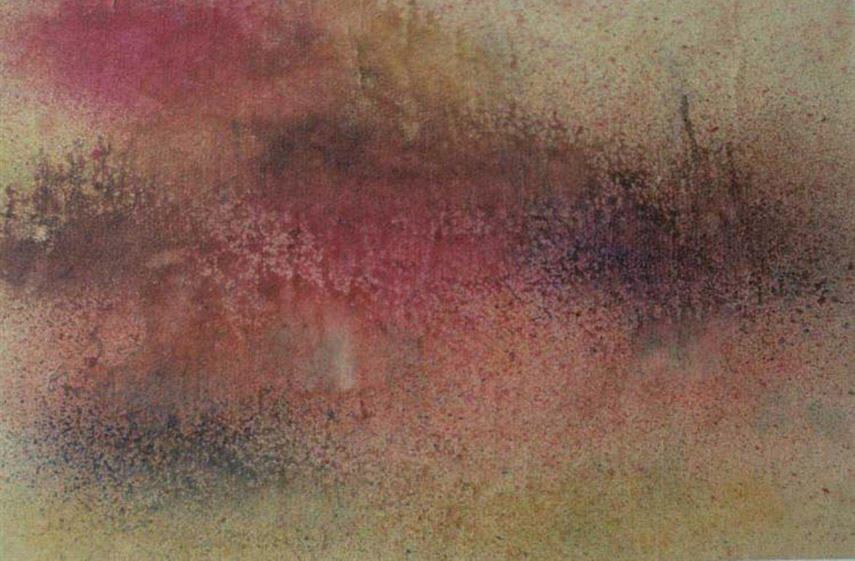 Mature Work : Interplay of Mass, Void and Light
In his early days, Tobey claimed that forms should be free and dynamic, and this approach was clearly against the old school, Renaissance sense of order. He wanted to shed a new light and give a certain release to lines and forms. Unfortunately, his works that illustrated this attitude got lost. Encouraged by a friend, Tobey left New York and moved to Seattle in 1922, where he was offered a teaching position at the Cornish School. During his days spent at this school, Tobey started to explore art much deeper and his personal works got transformed as well. According to the artist, it was at night in a small and classroom that he made his personal discovery of cubism. He imagined a fly moving around him and the objects in the room and the movement of this imaginary fly has created a complex network of lines, planes and shapes. In this unusual way, Tobey has experienced for the first time the interplay of mass and void, which became the essence of his best and most mature paintings. In 1923, Tobey met a young Chinese artist called Teng Kuei, and from him learned the technique of calligraphy that he was already interested in. The knowledge of calligraphic skills has enabled him to discover the power of freely moving brush, which helped him develop his concept of animated space. After working as an art teacher for a while, Tobey has started traveling around the world and he visiting Mexico, Europe, Palestine, Israel, Turkey, and Lebanon, then Persia, Shanghai, and Kyoto, where he visited a cloister and studied Japanese Zen painting, haiku poetry, and calligraphy.
Tobey claimed that forms should be free and dynamic and this approach was clearly against the old school of artists related to the Renaissance sense of order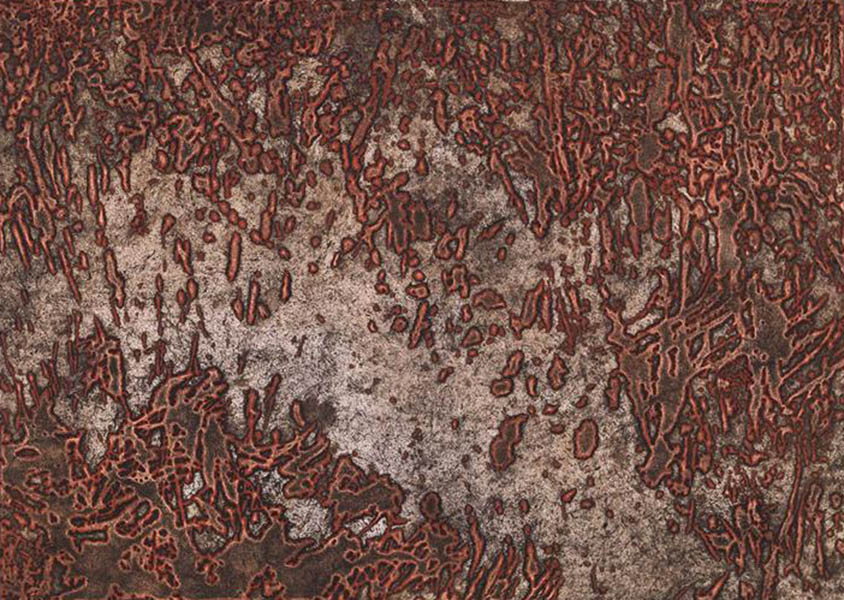 White Writing Techniques
Tobey is most notable for his creation of so-called white writing technique. This style includes an overlay of light-colored calligraphic symbols on an abstract field often composed of thousands of tiny, interconnected brush strokes. This method, in turn, gave rise to the type of all-over painting style, which was promoted by Jackson Pollock, an eminent American painter to whom Tobey is often compared, besides Sam Francis. What I had learned in the Orient had affected more than I realized, Tobey said.In a short, time white writing emerged. I had a totally new conception of painting. When it comes to his interpretation of this approach, Tobey was known to place very light calligraphic marks and symbols on the top of a darker abstract background, creating a strong and dynamic contrast. In 1944, the artist had his first solo show at the Willard Gallery in New York, and a couple of years later, in 1951, he had another show at the prestigious Whitney Museum of American Art. This exhibition was incredibly successful and it traveled to San Francisco, Seattle, and Santa Barbara afterward.
White writing style includes an overlay of light-colored strokes made by calligraphic tools
International Appraisal of Tobey's Artworks
Soon after his successful shows throughout the United States, Tobey became internationally recognized. In 1959 and 1964 he participated in exhibitions in Kassel, Germany. Eventually, he decided to move to Switzerland and he lived in Basel until his death in 1976. Since then, Tobey has had many retrospectives at the Smithsonian Museum and the National Gallery of Art in Washington, D.C., as well as at the Museum Folkwang in Essen, Germany, and the Foundation Beyeler in Basel, Switzerland. Four of his signed lithographs are showcased at the reception hall in the Seat of the Universal House of Justice, which is the main institution of the Bahá'í Faith that Tobey belonged to throughout his lifetime.
Soon after his popular shows throughout the United States, Tobey became recognized around the globe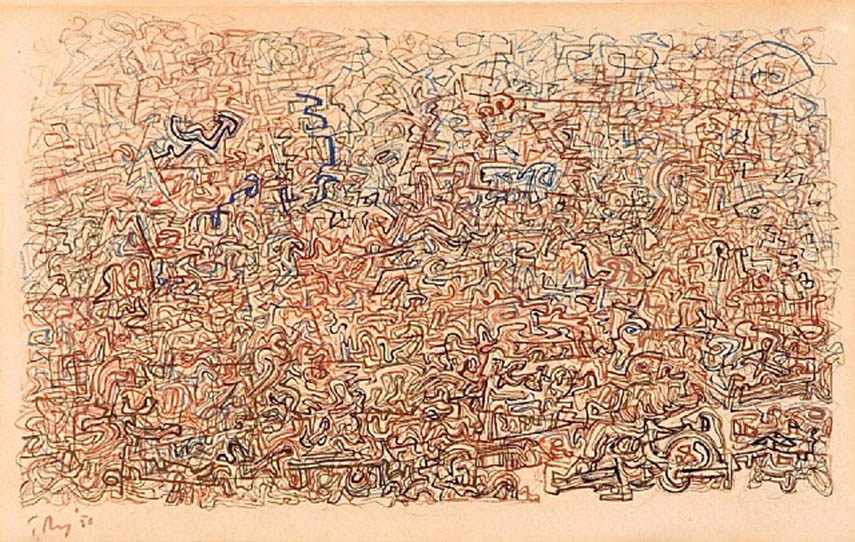 Fusing Ancient and Modern Cultures
Nowadays, in the 21st century, Mark Tobey is recognized as one of the key figures of abstract expressionism. His unique calligraphic markings and his invention of white writing were very unexpected elements introduced to this specific movement in expressionism. Also, his work stands apart from the other pieces of the same genre because of their delicacy and philosophical depth. Tobey has portrayed an intricate feeling of silence and emptiness in his abstract works, which represents a mysterious bridge between the ancient Eastern and modern Western cultures.
Mark Tobey lived between the United States and Switzerland.
Featured image: Portrait of Mark Tobey © Jeanne Bucher Jaeger
All other images via wikimedia.org