Mart Aire is an Argentinian artist who uses a fun-loving illustrative style to produce his figurative works, often featuring whimsical characters and contraptions. His murals adorn the walls of Buenos Aires with windows towards a world of dreams, fantasy and magic managing to convey feelings of joy, peace, freedom and positive energy. Using his unique technique, the artist creates an adventurous world that resembles children's book illustrations. His free, spontaneous and fluid style is characterized by an explosion of colors and fine, loose line with spray. Mart Aire's work ranges from murals to workshop practice where he experiments with different materials.
Aire's wall pieces convey the feelings of joy, peace, freedom and positivity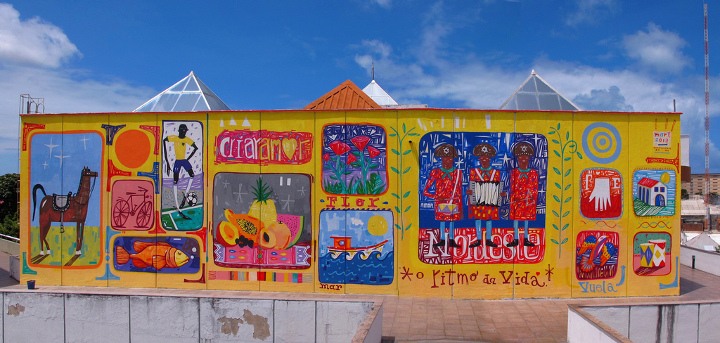 Mart Aire's Early Works
Born in 1986 in Buenos Aires, Mart Aires began painting on the streets of his native town in the 1990s. Aged 12, he joined older graffiti writers to participate in the first big wave of graffiti artists in Argentina. Working with these early writers, Mart became one of the first graffiti artists to paint entire trains, introducing this form of art to Buenos Aires. In 2007, Mart undertook a profound change to approach painting so to start painting pictorial murals with his unmistakable style.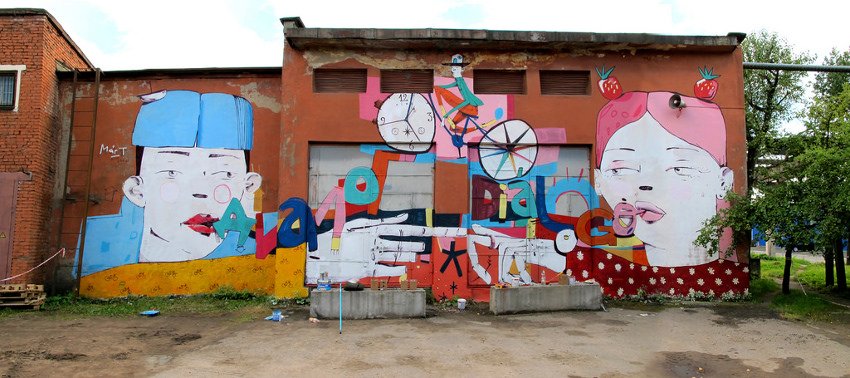 Bicycle Street Art
Unlike many graffiti artists who try to make people think about social problems and politics, Mart Aire likes to express optimism in his murals, essentially stating that no matter what his viewers are experiencing in their lives in that moment, there is always hope. His public works are predominantly figurative, and often appear to be whimsical in nature. Mart uses fine, loose lines of freehand spray and vibrant swaths of latex paint to elaborate joyful pieces where stylized people on bicycles are the protagonists of fantasy scenarios that make up his works are full of self-referential codes.
Whimsical in nature, Aire's murals are inhabited by protagonists of fantasy scenarios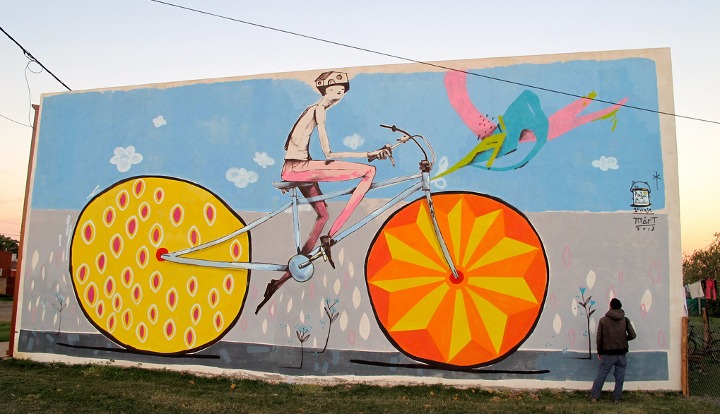 44309 Street//Art Gallery Representation
Over the years, Aire has become one of the leaders of street art in Argentina, which allowed him to show his pieces worldwide including at Mundiroff Galeria, Buenos Aires; The Friedge gallery, Washington DC; Londonewcastle Project Space, London; Causey Contemporary, New York; Galerie Issue, Paris; and Neurotitan Gallery, Berlin, among others.
The artist is represented by 44309 Street//Art Gallery in Dortmund, Germany.
Mart Aire lives and works in Buenos Aires.
All images credits © the artist