Marta Minujín is an Argentine performance artist, born in 1943 in Buenos Aires. After finishing her studies at the Escuela de Bellas Artes Manuel Belgrano and the Escuela Superior de Bellas Artes, she went to Paris to represent Argentina at the Paris Biennal. She returned to Paris upon receiving a fellowship to study painting with the Nouveaux réalistes, in 1963. Marta is a pioneer of performance art, video, happenings and soft sculpture. Minujin's abomination towards collectible art objects places as a paradigm in her creation process. Marta pursues irreverent practice to demonstrate her feelings about the notion of preserved art, all the while in a very public manner. This is the reason why Minujin's use of materials are those that are inherently ephemeral, such as cardboard, food or fabric, creating artworks both fragile and monumental. In 1964, the artist staged temporary interventions with living animals, and in 1975 she made an Obelisk of Sweet Bread, that models the national monument in the ephemeral material. Minujin's public installation Parthenon of Books in 1983 is worth the mention after the installation was dismantled, all the books were given to the people.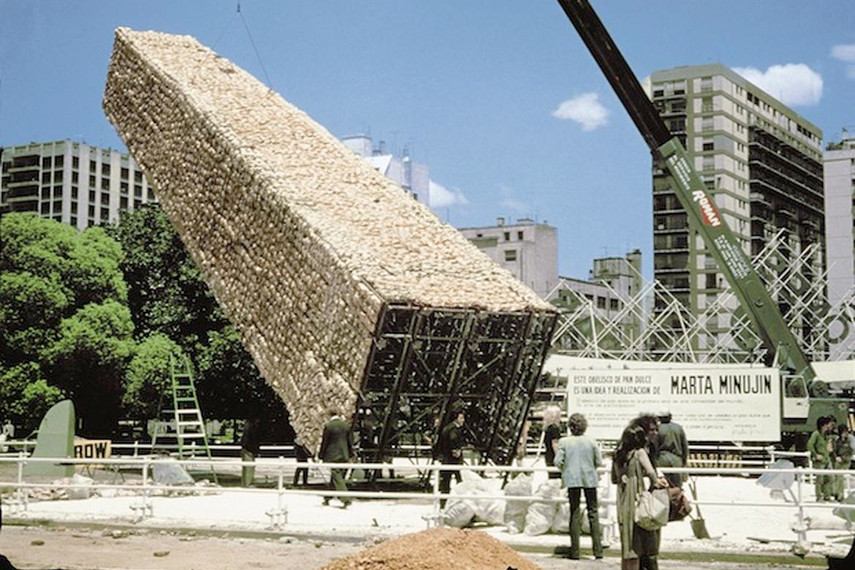 Destruction is Life
Following the end of her fellowship in Paris, the artist had decided to destroy all the works she's made in the previous three years. She had invited her fellow artists for an exhibit at the open air studio one early evening in June. This performance was colored with post-war desolation and ecstatic feelings at the same time. The artist wanted to destroy her works with a creative force of others, meaning that all the artists invited had to bring elements of their own work, but not just any – those that best described and expressed them. Their assignment was to create on pieces of Marta's work, thus modifying her work, implanting their images on hers. With this symbolic destruction, Minujín wanted to burn out her identity. Even the mere picture of her, as the paint was dripping from Marta's clothes, aligned with the artworks in the back, was evoking the notion of self-immolation. There was something visceral and symbolic in Minujin's appearance that depicted the intention of disintegrating her own identity and self. Paradoxically, this ending was the beginning for her art, as she considers museums and galleries the "cultural cemeteries", where art goes to die. Imprisoned in the walls of museums, artworks get the privilege of eternity, one in which Marta has no interest.
With this symbolic destruction, Minujín wanted to burn out her identity.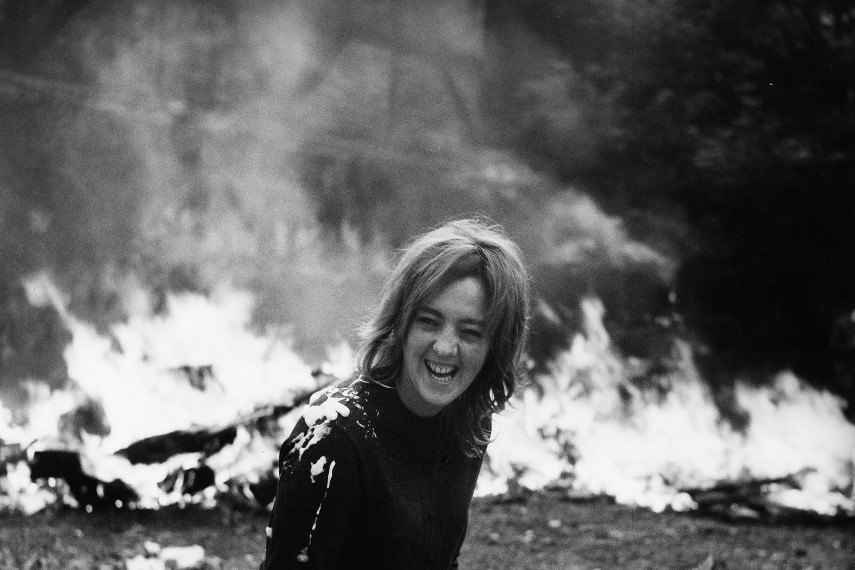 Minujin's Background and Influences
Given the fact that Marta is no stranger to a lineage of Argentine protest against dictatorship, it is no wonder that she strives to destroy all that tends to exist infinitely. The intellectual elite of the 1960s influenced her work as well. Minujín was around circles in which topics such as semiotics were everyday discussions. Psychoanalytic theories of Jacques Lacan, as the most notable post-Freudian, were a hot topic. This knowledgeable artist has had her solo exhibitions in New York, Buenos Aires, Seville, Paris, Tokyo, Connecticut, and the list goes on. In 1979, Marta contacted McDonald's Corporation with an idea for an artwork. She wanted to make an iron replica of the Statue of Liberty, lay it in public in New York's Battery Park, and let visitors enter the sculpture and walk around. After ten days the sculpture would be covered in McDonald's hamburger patties, grilled by flamethrowers, and presented to the visitors to feast. We have to wonder what she thought was eating up the notion of liberty.
Marta Minujín lives and works in Buenos Aires
Featured image: Marta Minujín - portrait, photo via butacaonartes.com